South Africa's Second Miss Universe
The last woman from South Africa to win was back in 1978 with Margaret Gardiner. It was a well-deserved win as Nel-Peters was a frontrunner even before their arrivals in Las Vegas. This diminutive (by pageant standards) beauty towered over her competitors with her beauty and charm. The first time I saw Demi in Planet Hollywood, I was struck by how short she was. But at the same time, that initial impression immediately vanishes as she mesmerizes you with her beauty. She had star quality written all over her. It was something that made her stand apart from the others. In recent years, Miss Universe has been about inclusion and breaking the stereotypes of beauty. Demi is no expection as she proved that height isn't what makes a beauty queen. (READ: Meet Miss Universe 2017 Demi-Leigh Nel-Peters)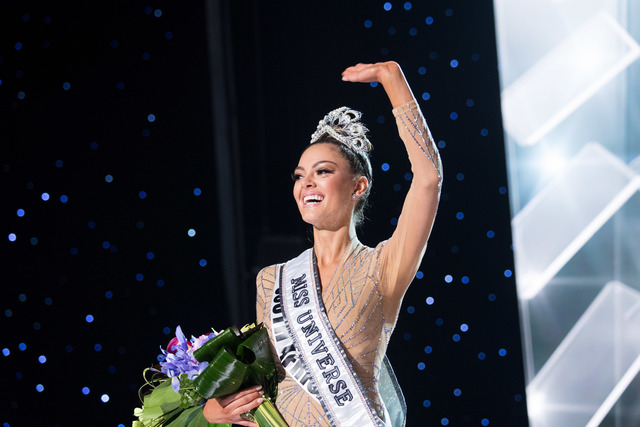 Once again Colombia was the bridesmaid for the third year in a row, with Laura Gonzalez emerging as 1st Runner-up. I am probably even more surprised with how far Laura went in the competition than Jamaica's placement. She didn't have the charisma of her predecessors, Andrea and Ariadna during the pre-pageant activities. But she clearly showed that Colombia knows how to compete when it counts.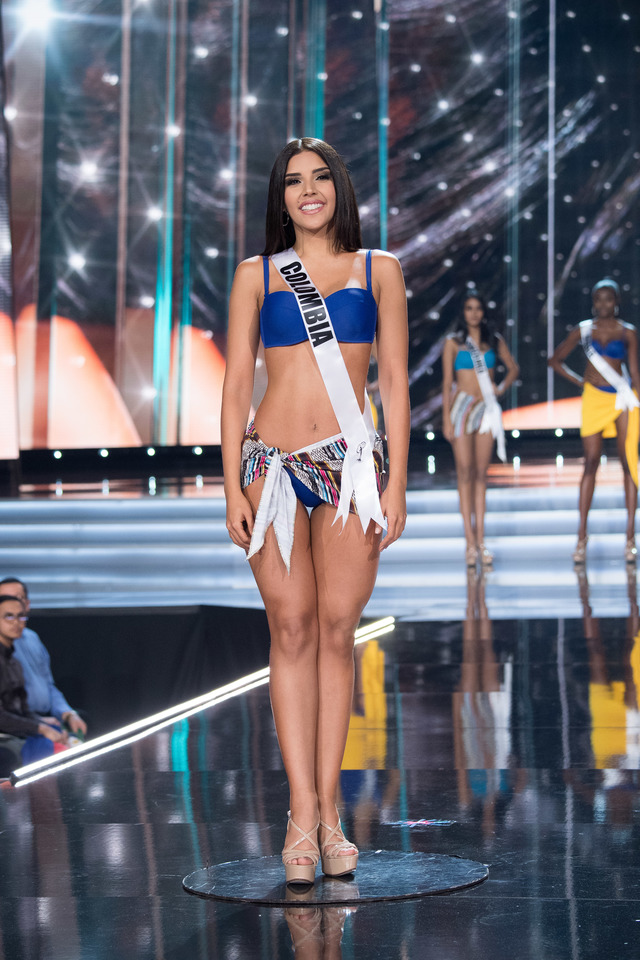 The surprise of the evening
Davina Bennett of Jamaica was undoubtedly the suprise winner of the night. It looks like Jamaica's lucky charm is Las Vegas. In 2010, Yendi Philipps became 1st Runner-up to Mexico's Ximena Navarete. The most recent placement of Jamaica was in 2014 with Kaci Fennell finishing as 4th Runner-up. It is interesting to note, that the audience was audibly disappointed with Miss Jamaica only finishing 3rd, as you could hear a very loud "Boo" come from the whole theatre.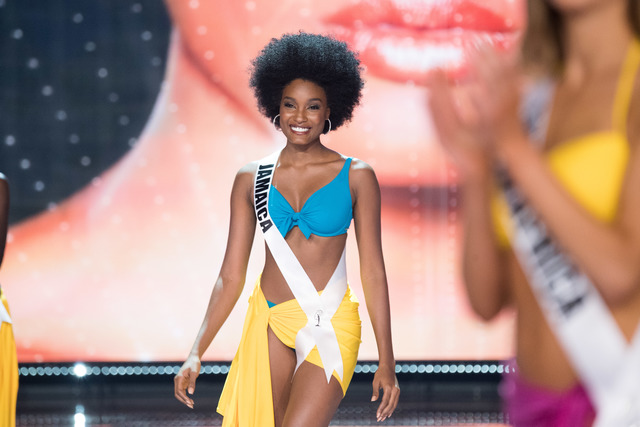 Almost there but not quite
Maria Poonlertlarp of Thailand, who is half Thai and half Swedish, was one of the candidates to beat and she performed extremely well throughout the evening. It wasn't until her final Q&A that she faltered. The Thai fans were hoping this was their time to secure their country's third crown. We will probably see more of the mixed heritage queens as the world is truly becoming a melting pot for all.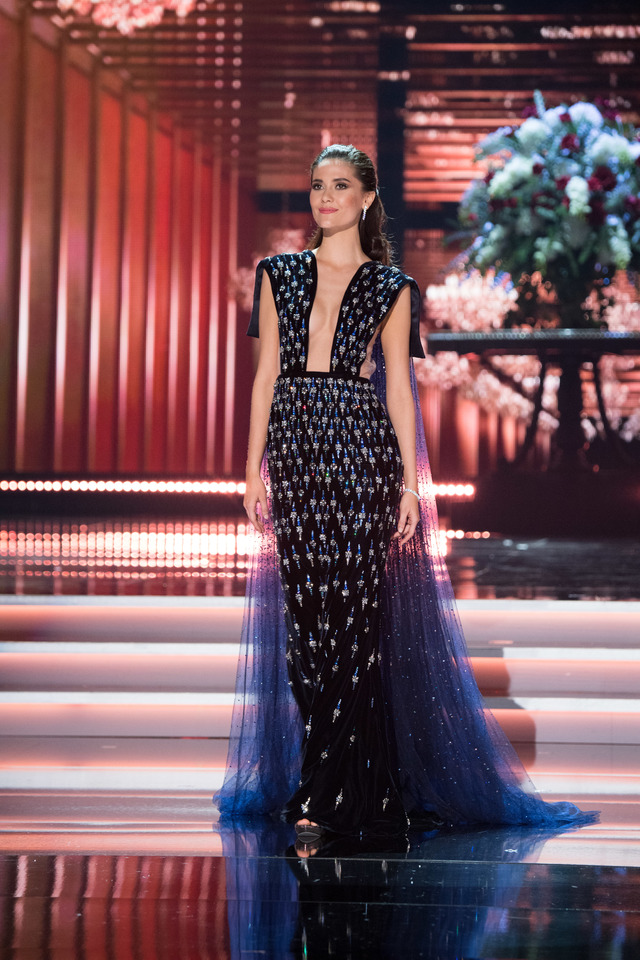 The Format Change
Love it or hate it, pageant fans seem to divided with this format that categorizes the women by region. Semifinalists are no longer chosen from the preliminary judging solely based on the highest numeric scores. Each contestant has to be one in the Top 4 in their designated region. The regions are classified as:
The Americas (North America + Central America + South America + Caribbean)
Europe
Asia + Africa + Oceania
Wild Cards (top scorers regardless of region)
Pros:
1. It's like Affirmative Action for beauty pageants: It aims to give equal participation to every part of the world in the semi-finals .
2. The number of countries in each assigned region roughly have the same number of countries. Again, the MUO is trying to give a fair chance to all countries.
3. Regions that have less competitive countries will be still be represented in the live telecast. This will prevent the continental exclusions that have occured in the past, such as when Asia was totally shut out in 2009. For many years, South America has dominated the semifinals while continents like Africa has only 1 or 2 delegates that advance.
Cons:
1. The classifications are based more on creating groups with the same number of countries more than anything else, because I don't see any other reason why Asia, Africa, and Oceania would be grouped together.
2. The strongest candidates don't necessarily get into the semifinals and weaker candidates end up with a spot simply because of their region has less competition. The Americas are the ones who will suffer major losses with this set-up since it is an extremely competitive region. In recent years, the rise of Asia (Southeast Asia in particular) as a pageant powerhouse region will also not benefit from this continental quota system.
Miss Universe is the pinnacle of beauty pageant competitions. A semifinals position for some countries is already a major achievement, particularly in less pageant-crazy countries. In the end, there will only be one winner and she has to be able to triumph regardless of pageant's format
If the format had not changed, I feel that Croatia and Ireland would not have made it. Europe benefits the most from this new format because they are not the most competitive region.
Best in Swimsuit
During this segment, some stood out because of their confidence and their amazing bodies. Spain's Sofia del Prado's swimsuit performance was especially exiting. Rachel Peters, especially in her bikini, is undoubtedly the best body we've ever seen on a Binibini. She rocked this segment with her long legs and perfectly bronzed body. Venezuela's Keysi Sayago was the queen of the catwalk as she sashayed in her two piece… And that ponytail whipping was perfection.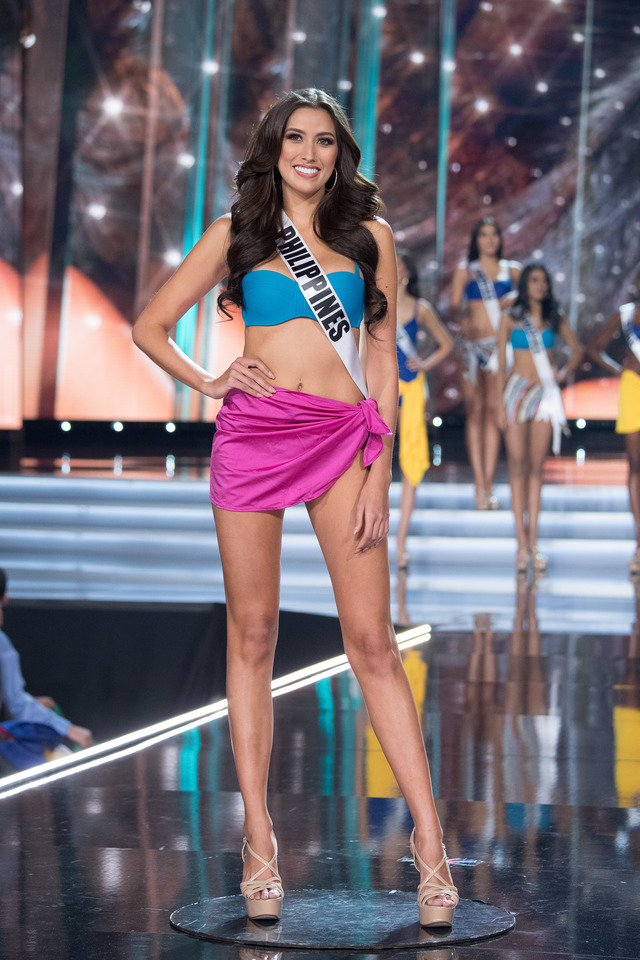 It was interesting to note that Thailand was the only delegate to wear a one piece swimsuit. Nonetheless, she advanced to the next round, proving quite clearly that it always boils down to how the contestant pulls it off more than what she's wearing.
Best in Evening Gown
The stage must have contained a ton of Swarovski crytals, sewn onto a thousand yards of nude mesh and molded onto the contestants bodies. Every iteration of the illusion crystal studded gown must have paraded down the runway. Yes, it is beautiful on stage but it did little to help set the contestants apart
Rachel Peter's light blue, crystal studded gown with a very high side slit was very refreshing to the eyes. It complemented her beautiful body and looked every bit a gown worthy of advancing to the Top 5. Val Taguba was the very kind and generous Filipino designer who made Rachel's national costume and several evening gowns.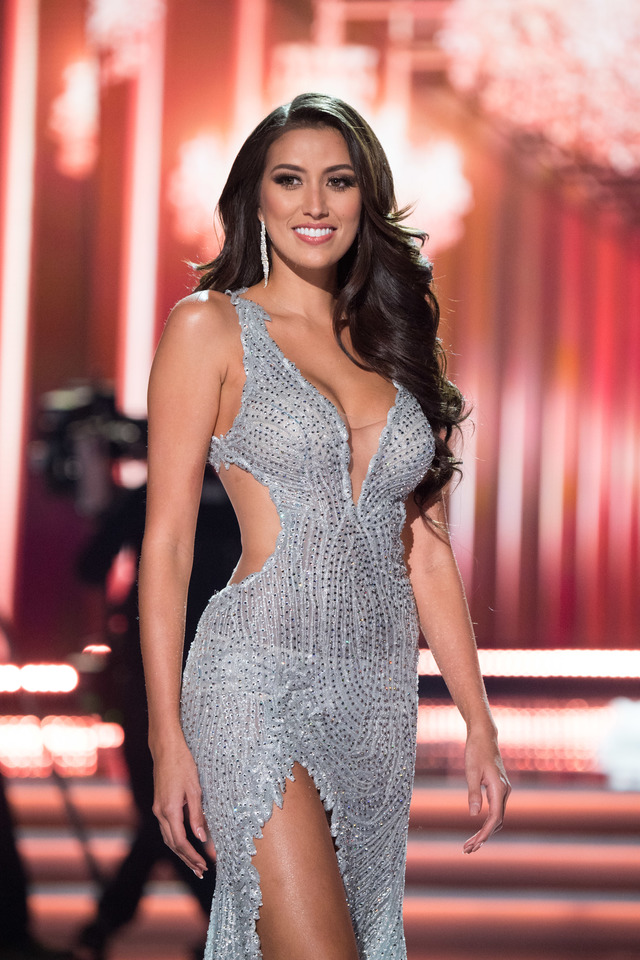 This is probably why Thailand and Jamaica stood out on stage. Thailand's gown had both high fashion and traditional elements. The black fabric with the dramatically huge crystals created major drama against Maria's milky white complexion. This gown screamed "Give me the crown!"
Jamaica had a gown that bordered on tacky and over-designed. But, Davina's skin looked fabulous against the canary yellow hue and her afro 'do gave it an edgier feel. The final effect was effective enough to advance her to the next round.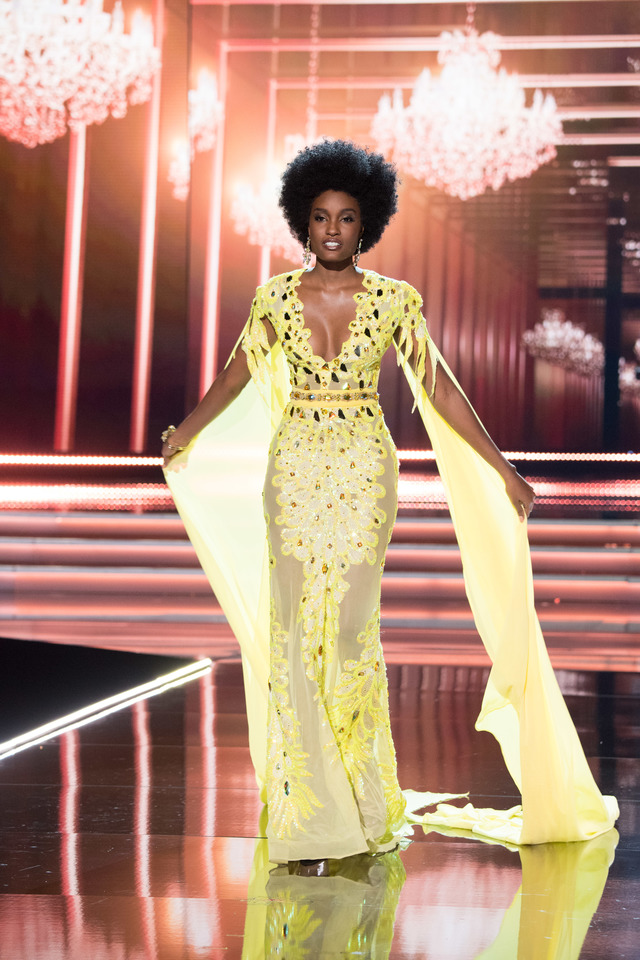 South Africa's long sleeved, nude gown with a center slit had less bling than the others but it was enough to make her sparkle and shine like a diamond. Her updo hair is classic beauty queen: regal and sophisticated. She was giving me Aiswarya Rai realness as she walked down that runway. Considering her height, it was a brave choice to wear basic pumps and not the platform pageant heels favored by the others. This was further testament to her confidence, and possibly a defining moment in future pageant trends. I seriously hope future beauty pageant contestants would ditch the sky-high platform heels and go for more classy pumps and heels.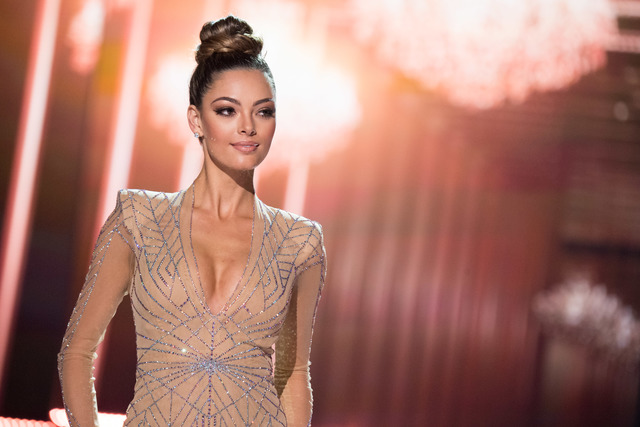 Production Value
The preliminary competition's makeshift venue was probably the worst in recent history. However, the finals glitzy staging, with the lights, props and giant LED screens, showed the audience what Miss Universe is all about.
The musical performances by Rachel Platten and Fergie were okay at best and did not bring the sort of heightened excitement we expect from pageants. Here's the thing: the audience at the Axis Theatre was filled largely by the pageant's gay following, who spend thousands of dollars yearly to travel and watch this pageant. During one of the breaks, the song "Suavemente" by Elvis Crespo got the crowd excited and started to sing along.
"Suavemente" was a hit during the Miss Universe 2000 swimsuit competition; but the songs chosen this year just did not do the pageant much justice.
Many pageant watchers were very happy to see the candidates have their individual moments in the spotlight on the large LED screens while parading in the swimsuits and evening gowns. It's truly the only reward they get for all the hard work they've put it.
The uninterrupted individual candidate introductions should, however, be brought back along with the continuous announcement of the semifinalists (rather than having commercial breaks after each region). The breaks don't create the build-up in audience energy like in previous editions. In fact, the guy who peps up the audience had to constantly remind people to keep the energy up.
At one point, even host Steve Harvey appealed to the audience to continue cheering even when their delegate did not advance. This fell on deaf ears because the audience kept losing interest as the segments continued, resulting in a dragging and anti-climactic show.
Steve Harvey is an amazing and very funny host, but I sincerely hope the 2015 Miss Universe blooper references would stop next year. I think it has reached its saturation point.
I am very happy to see the return of the Mikimoto crown. It is truly one of the most beautiful crowns ever produced for Miss Universe. Another happy return is Carson Kressley's incredibly witty stint as commentator.
Conspiracy Theories
The amount of air time that South Africa received during the telecast videos was noticeably longer than the others. Although I do not blame the MUO or the production for doing so because she was very engaging in every shot and frame. She blended an advocacy and a back story and packaged it all in a fun and flirty presonality.
Just before the evening gown competition, Ashley Graham had interviewed Miss Jamaica about what she was wearing. Her somewhat cheesy answer made the audience laugh and certainly that glimmer of personality gave her an added boost in the scores. Future queens should be very engaging, read: camera ready, playful and attention-grabbing. That's probably why we kept seeing the same candidates in the videos over and over.
At the end of the day, the Miss Universe beauty pageant is also a business entity that needs to attract viewers and generate income. Otherwise, it would be unable to provide for its charities. Having said that, it is probably why they have decided to use this new way of selecting semifinalists: to make the whole world feel included, resulting in pageant trending on social media worldwide.
The question on a lot of Filipinos' minds is what happened to Rachel. Many are trying to put the blame on numerous things – gown choice, styling, advocacy, etc. But there is nothing and no one to blame. To be included in the top 10 is a wonderful achievement and something to be very proud of. Have the Filipino fans been so spoiled in recent years that they now expect a win every time a beauty queen competes? It wasn't so long ago that a semifinals spot would have been greeted with a heroes' welcome. It is sad that some Filipinos look at such an achievement with disdain and disappointment. I hope this changes.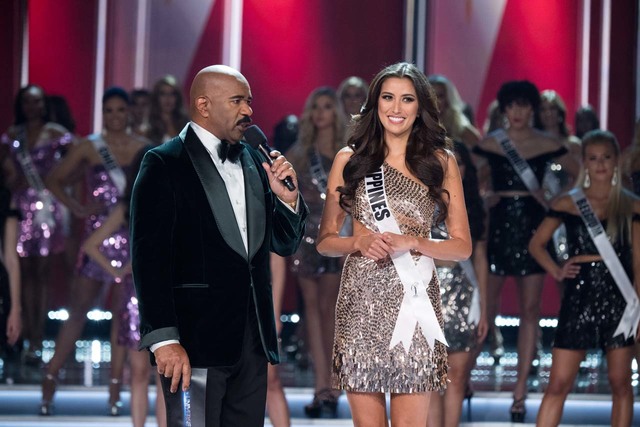 Sure, we can support them, pray for them, and rally for them during their pageant hoping for a win. But here's the thing: if they do not win, we should continue to support and pray for them. We should thank them for the hard work and sacrifices they undergo to represent our country. Their placements are their destiny.
Thank you very much, Rachel Peters, for an outstanding performance in Miss Universe 2017. You have made our country very proud of your achievement.
—
This article originally appeared in Rappler.
All photos courtesy of Miss Universe Organization unless otherwise indicated.