This year, Binibining Pilipinas Charities Inc (BPCI) set out to find outstanding young Filipinas to embody the qualities of a modern beauty queen. She is beautiful, confident, empowered, and has an advocacy beyond pageants.
On April 30, 2017, 6 winners were crowned, all of whom were equally amazing. All 6 winners and the two runners-up were predominantly returning Bb Pilipinas candidates from previous Bb Pilipinas editions or crossover candidates from other national pageants.
Days after the coronation night, the social media and news agencies couldn't seem to get enough of our newly crowned beauty queens. Although the victory of the winners was momentarily overshadowed with a controversy, I want to bring the focus back on all the winners and what makes them perfect choices to be women of change. (READ: Jonas Gaffud clarifies mix-up on Katarina Rodriguez's Bb PH title)
Miss Universe Philippines 2017 – Rachel Peters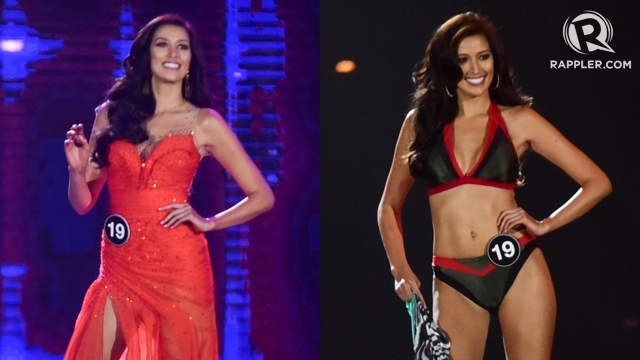 Facts: She is 25 years old and is from Camarines Sur. She is a graduate of La Trobe University in Australia.
Special Awards: Best in Swimsuit, She's so Jag, Miss Photogenic
Pageant experience: Miss World Philippines 2014 4th runner-up
From the moment she walked on stage, Rachel owned the night. It was as if Rachel was already competing in Miss Universe. Her performance was flawless – fierce, flirty, full of energy, and she looked every bit a winner.
She was a runaway winner for the Best in Swimsuit award. It was also no surprise that she won She's So Jag, because Rachel has legs for days.
When she came out in her shimmering orange Val Taguba evening gown with a high slit and did her masterful pageant turn that sent chiffon flying, the crowd went wild. I knew then that she was that much closer to winning Universe. Only the Question and Answer (Q&A) portion was keeping that crown away from her.
In the end, Rachel got the perfect question and she delivered. If she were to speak to leaders at the ASEAN (Association of Southeast Asian Nations) Summit, she told the audience that night, she would tell them: "I believe one of the biggest problems that our country is facing today is divisiveness in politics, in religion, and also in culture. And I believe that it is something that is the same across the world, and that is something I would want to address. I believe that when people can learn to tolerate each other's differences and respect each other's opinions, then we will just be a stronger nation and world."
Rachel is that cool girl that everyone wants to hang out with. She has that Gabriela Isler body (Miss Universe 2013) and that Paulina Vega vibe (Miss Universe 2014). I am confident that Rachel can continue our placement streak in Miss Universe 2017.
It looks like the opening of the coffee shop Rachel wants to put up might be delayed, but its for a very good reason.
Bb Pilipinas International 2017 – Maria Angelica de Leon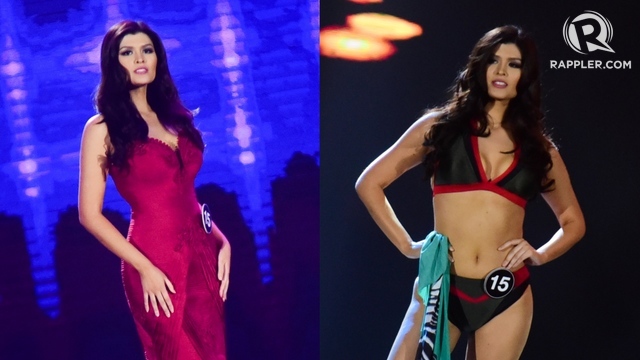 Facts: She is 23 years old and is from Las Pinas. She is an opera singer.
Special Awards: Best in Evening Gown, Miss Creamsilk
Pageant Experience: 2013 Bb Pilipinas semifinalist
Since her 2013 stint, Mariel has blossomed into this beautiful goddess. But don't be fooled by her exterior. She also happens to be very down to earth and humble.
Mariel came out and showed everyone she was out to have a great time no matter what. She rocked the swimsuit competition and showed off her figure with a lot of confidence.
During the evening gown competition, she came out in a deep red mermaid gown with very intricate pleating details by Cary Santiago. She was a vision. It showed off her beautiful shape and highlighted her beauty. Mariel looked like a sultry, seductive, screen siren as she glided onstage. She was luxury and subtle sophistication at its finest, earning her the Best in Evening Gown award.
In one of our casual conversations, I asked Mariel what special award she would like to win. She said Miss Creamsilk because she loves her hair. Well, it looks like two of her dreams came true that night. She would be perfect for a Creamsilk commercial.
During the Q&A round, Mariel was asked, "What activity that is male-oriented can you do as well as, if not better than, males?" She replied, "Well, I think I can box better than males. I believe I can do everything better than males because it isn't about gender at all. It's about your abilities, your strength, your weaknesses, and your confidence within yourself. With that, you can achieve anything."
Hopefully, Mariel doesn't take up any boxing lessons any time soon, because she needs her gorgeous face to win Miss International 2017 in Tokyo, Japan. Reigning Miss International 2016 Kylie Versoza was very happy to crown Mariel as her successor. They will try to achieve the first back-to-back victory in the said pageant. If there is anyone who can make this a possibility, it is Mariel de Leon.
Bb Pilipinas Supranational 2017 – Chanel Olive Thomas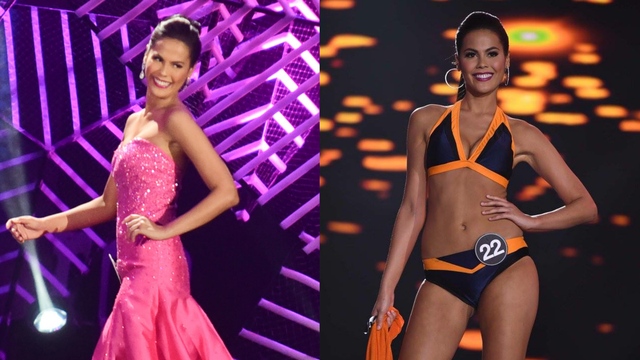 Facts: She is 26 years old and is from Nueva Ecija.
Special Awards: Best in National Costume (Designer: Edwin Uy), Miss Friendship
Pageant experience: 2015 Miss Philippines Earth – Air
If there was one candidate who was beaming with happiness that night, it's Binibini 22 Chanel Olive Thomas. Her joy was infectious and the entire Araneta Coliseum was giggling alongside her when she tripped ever so slightly during the evening gown competition. That's the great thing about Chanel – she may be a pageant veteran, but she remains very natural, spontaneous, and genuine.
Chanel's swimsuit and evening gown performances were oozing with confidence. She's equipped with good runway skills, but she put a lot of personality into her performance too. She looked like very statuesque in her pink custom Odelon Simpao gown. Simple sophistication with a dash of Barbie.
Chanel was asked a controversial question regarding same-sex marriage. She replied: "As a Christian, I do believe that marriage is between a man and a woman. However, I do believe that everyone, every single person in the world, deserves to be with whoever they want. And if they want to get married, that is fine."
Chanel dreams of becoming a motivational speaker and winning this pageant will certainly help pave the way. Her message of empowering young girls is not only timely but very necessary to a lot of young people. There's a lot of pressure and stress in schools and social media. Someone like Chanel can inspire and motivate young people to believe in themselves.
She was very happy that her mom was in the audience to support her. Apparently, her dad said that he would go to watch her international competition. Chanel won Bb Pilipinas Supranational 2017 and will try to get our second win at that pageant. It looks like Mr Thomas will be going to Poland later this year.
Bb Pilipinas Intercontinental 2017 – Katarina Sonja Rodriguez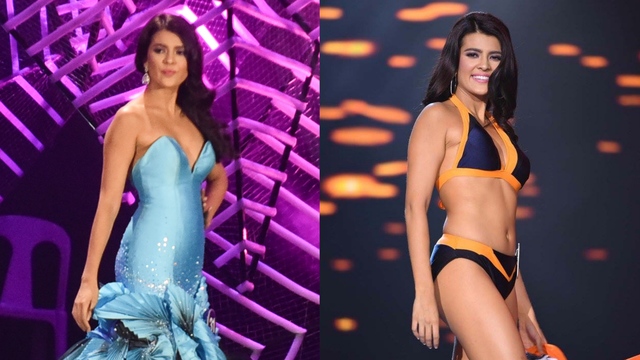 Facts: She is 24 years old and is from Davao City. She is a Philosophy and Business Management graduate from De La Salle University.
Special Awards: Miss Philippine Airlines
Pageant Experience: None, though she was in the Top 3 of Asia's Next Top Model cycle 2.
I had no doubt that Katarina would shine during the competition. Her beauty is one that simply cannot be ignored, and it is complemented by her bubbly personality. (READ: Katarina Rodriguez confirms she is keeping her Bb PH title)
One could have overlooked her runway skills during the swimsuit competition because you were more drawn to her energy. Her ocean-inspired, aqua Francis Libiran evening gown matched her fresh and youthful spirit well. But because Katarina looks so young, the gown bordered on making her look like a teen. For her international pageant, I would love to see Katarina styled to look like a beautiful woman more than a pretty teen. Because her beauty is so sweet and classic, a sophisticated yet edgy style can help her slay the competition.
Katarina is one of the best speakers in the group. She delivered a winning answer about what it means to be… a winner. She said: "My definition of a winner is somebody who understands that winning isn't just because of the reward. It's because of the responsibility that comes along when you win and how you execute the job after you win. I think a winner is somebody who knows how to inspire others, who is kind and brave, and so, ever-curious."
It was a serendipitous Q&A, as the surprising twist of events days after the pageant almost cost her the title. I think this event has motivated Katarina to prove not just to herself, but to BPCI and the country, that she is a winner. She is more determined than ever to win our country's first Miss Intercontinental crown.
Bb Pilipinas Grand International 2017 – Elizabeth Clenci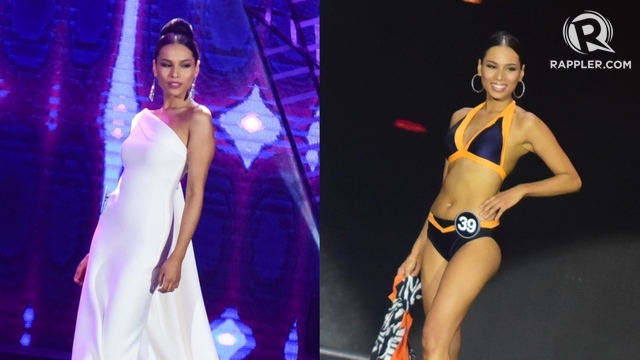 Facts: She is 26 years old and is from Mandaue, Cebu.
Pageant experience: Bb Pilipinas 2011 candidate
I first took notice of Liz during the 2017 Bb Pilipinas Talent Competition, where she played the bass guitar to "Isn't She Lovely" by Stevie Wonder.
She is one of the major suprises to come out strong in this year's batch. This was a very competitive batch and having a frontrunner status doesn't guarantee your placement. As I've said before, if the other candidates did everything right on pageant night, they could overtake the frontrunners. Liz did exactly that.
During the swimsuit and evening gown competition, Liz didn't have any gimmicks for her presentation. But her strength was that she was very natural onstage. I think that the judges were attracted to a candidate who showed a lot of confidence in being herself.
However, when Liz came out in that simple, clean, asymmetric white gown with a dramatic skirt by Jaz Cerezo, everyone took notice. It highlighted her beautiful morena complexion. Her styling was on point, with her gown paired with very sleek high bun and simple dangling earrings. But to give justice to a simple white gown, one needs to have the body and the confidence to pull it off beautifully.
Not all questions are created equal. In the Q&A round, Liz didn't get a question that would allow a candidate to shine. In many cases, I would say that this type of question can cost a candidate a higher placement or any placement at all. How can you compare answers dealing with ASEAN, same-sex marriage, and women empowerment with a question about traffic? Thankfully for Liz, that didn't happen.
She was asked, "If you are caught in heavy, traffic, what's the best way to make your time productive?" She replied, "If I'm caught in traffic, what I usually do is read and sleep. Because time is of the essence, soo I feel like when you're stuck in traffic, you really need to make use of your time. So, I read or sleep or talk on the phone with a loved one."
Liz had the chance to meet Nawatt Itsaragrisil, owner of the Miss Grand International Pageant, at the VIP After-party. Last year, Nicole Cordoves, Bb Pilipinas Grand International 2016, almost snatched the title, landing in first runner-up. Hopefully, Liz can capture our very first MGI crown.
Bb Pilipinas Globe 2017 – Nelda Ibe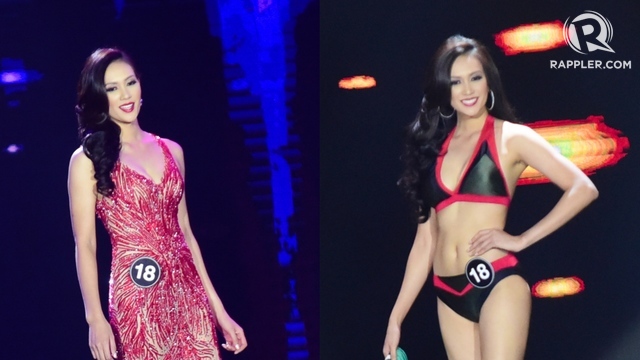 Facts: She is 24 years old and is from Tarlac. Nelda is a cadet pilot.
Pageant experience: 2014 Miss World Philippines second Princess
You have to see Nelda in person to fully appreciate what a stunner she is. In my predictions list, I mentioned that if Nelda shows a lot of energy and does everything right on pageant night, I would love to see her win one of the crowns.
Nelda is one of the tallest girls in the competition, her height is between Mariel's and Rachel's. Now, that's a very tough situation to be in, and Nelda proved that she also had what it takes to be a titleholder. She looked fantastic in her Jeffrey Rogador swimsuit and smiled with a lot of confidence. She carried her Paolo Blanco evening gown beautifully. I love that she wore her hair in full pageant style. It suited her well in both rounds of the competition.
During the Q&A portion, Nelda was asked about her stand on death penalty. She replied, "Well, I believe that we should not condemn life. We are sinners, but then we have to give importance to the life that God has given us. So, my stand is, I am against it. Because we should celebrate what God has given us, and that is life."
I'm excited to see Nelda compete in the Miss Globe 2017 pageant. She has what it takes to capture our second Globe crown after Ann Lorraine Colis, Miss Globe 2015.
This year's runners-up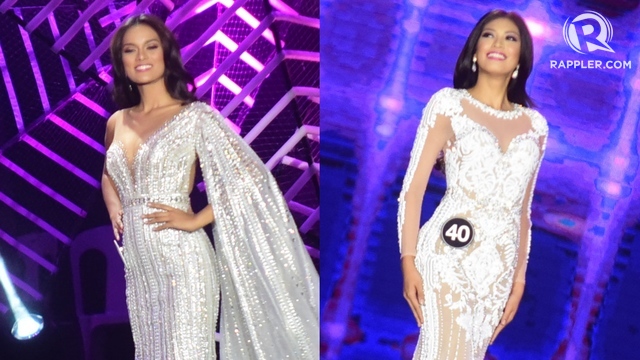 First Runner-up – Charmaine Elima
Throughout the pre-pageant period, Charmaine was one of the heavy favorites for Bb Pilipinas Universe. She looked every bit a winner. She was consistently "on" in all her photos and never disappointed her fans. She has even mastered that slightly open-mouthed smile that is very beauty queen. Some pageant fans cleverly and affectionately coined it "ngangang Gloria Diaz (Gloria Diaz smile)," after the Miss Universe 1969 queen from the Philippines.
She looked spectacular in her Pablo Mendez silver gown that could very well be a competition gown in Miss Universe. But the stars weren't aligned for Charmaine that evening and she had to settle for First Runner-up. But the great thing is that she is still eligible to join again, if she so desires. There is no doubt that her legions of followers would love to see her rightfully crowned. But let's give Charmaine time to enjoy her duties with the other Binibini queens. She's getting all the additional training and preparation that might help her clinch that title in the future.
Second Runner-up – Kristel Guelos
Kristel surprised everyone on pageant night by sailing through to the Top 25, then Top 15, and eventually to the Second Runner-up title. She had very good performances in swimsuit and evening gown. Her Adriano Samar evening gown could have easily swallowed her petite figure, but Kristel's simple style made the look very chic and fresh. Like the other queens, I think Kristel seemed very natural and genuine on stage. That's why she emerged as one of the runner-ups.
The outgoing batch of 2016 Bb Pilipinas queens all placed in their respective pageants. Most notably, Kylie Versoza won Miss International 2016, Nicole Cordoves placed as 1st Runner-up in Miss Grand International, and Maxine Medina was in the Top 6 of Miss Universe 2016.
The 2017 Bb Pilipinas beauty queens have a lot to live up to. Being the strong, empowered women that they are, they will rise up to that challenge gracefully. I'm optimistic that it will be another magical year for the Philippines and these newly crowned women of change will make our country proud.
—
This article originally appeared in Rappler.
All photos courtesy of Rappler unless otherwise indicated.