Beauty is in the eye of the beholder, the saying goes. But in the case of international photographer, Raymond Saldaña, we rely on his eye to show us beauty.
For the past 11 years, he has been the official photographer of the Binibining Pilipinas beauty pageant. It's during this golden renaissance of local pageantry that his amazing shots of the most beautiful Filipinas have been noticed. Although many people have seen his work, not many have gotten to know the man behind the lens.
Saldaña is currently in India for work as the official photographer of Supermodel International. That Supermodel International felt the need to import a Filipino photographer, says a lot about the quality of his work.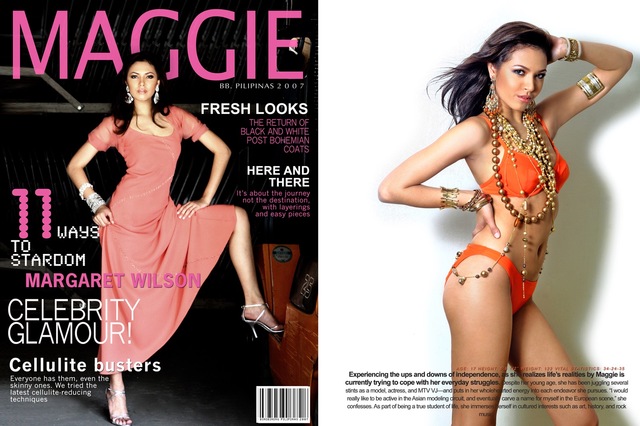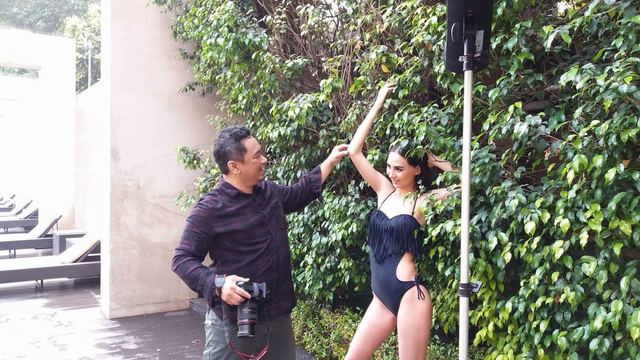 He invited me to interview him during the 2018 Bb Pilipinas swimsuit photoshoot. He wanted to show his process. It was both thrilling as it was distracting.
He was there very early, along with his crew and the set designers. His professionalism was evident from the well-thought-out setup and his relaxed demeanor. Saldaña has a very cool personality, which helped create a peaceful environment on set. He uttered instructions in a calm yet commanding way – it's no wonder many people love to work with him.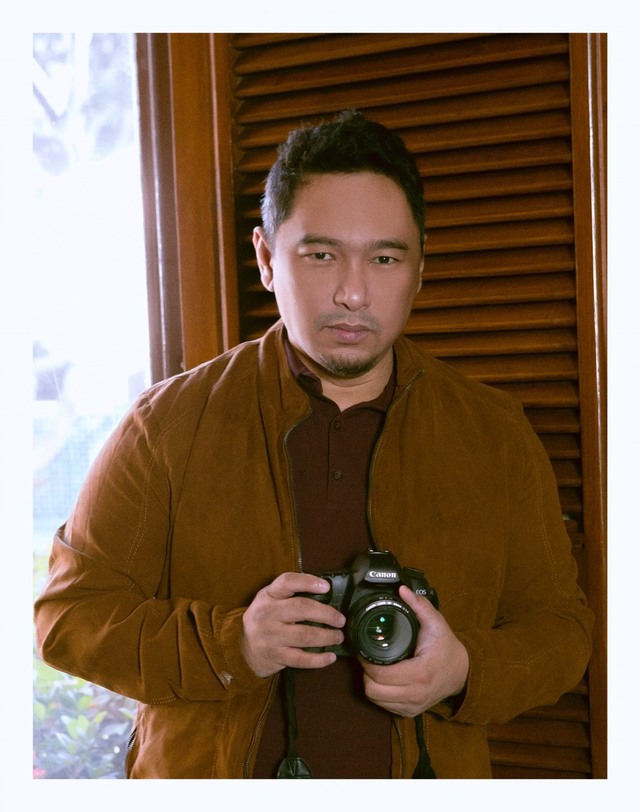 Sitting inside an empty Kia Theater, I finally got to interview Raymond Saldaña. He grew up in San Fernando, Pampanga before his family transferred to Manila when he was in the 6th grade. Photography wasn't even in his mind back then.
"I took up architecture. I enjoyed photos of houses and interior design. I didn't realize that I actually liked the photos more than the subjects," he said, as we began the interview.
Voltaire Tayag: Why and how did you get into photography?
Raymond Saldaña: I started photography because I'm not photogenic. I'd rather take photos of other people. I was already 30 when I got into it. I thought, "Why don't I take photography?" My close friends were saying, "Don't you think you're too old to start?"
VT: Did you take course?
RS: I took workshops. I was 30 years old, which was 20 years ago. It was still during film days and not digital.
VT: Do you miss working with film?
RS: Yeah, but I don't miss [it]. Before you had to take your film to the camera store and have it developed. It takes a day or two. Now you see it right away and edit them.
VT: Most people know you as a pageant photographer, do you do other types of photography?
RS: I also shoot corporate photo, ad campaigns…for clothing, for skincare. I shoot for BNY, Calayan, Gold's Gym, and for hotels like Sofitel's coffee table book.
VT: How did you get tapped for the job of official Bb Pilipinas photographer?
RS: When I started photography, I started [photographing landscapes], then portraits and weddings, then I was doing events. One of my clients was the [PR firm] Fuentes Group of Companies. One of their clients was the Araneta group. So they had me take some campaigns for Araneta Coliseum and Gateway Mall. Incidentally, the models happened to be the Binibining Pilipinas queens like Lia Andrea Ramos, Gionna Cabrera. Then the year after, the 2007 Pageant, I started shooting for Binibini already. For the magazine and the website. I also shot for their campaigns and their international pageants.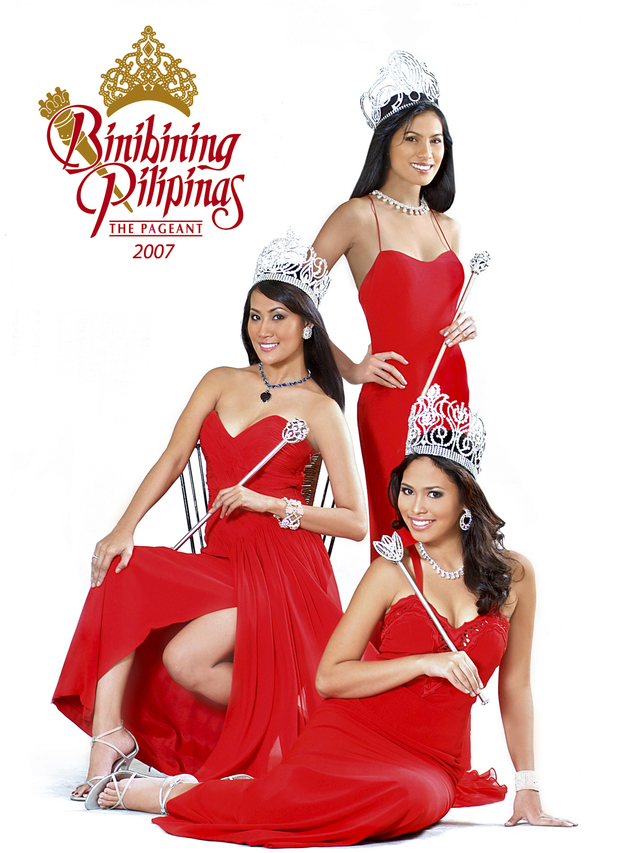 VT: Is there a difference between the girls who joined Bb Pilipinas when you started and the girls who compete now?
RS: Oo (Yes), a lot. Like now, everyone especially after Venus, everyone is more into [the] MU (Miss Universe) aura already. Before they were more beauty queens with their typical posing and legs crossed. Now they're more fierce. They've really changed. After Venus, maybe more women felt that the Phlippines was being noticed already. So there were a lot more beautiful women who started joining. When people hear us saying, "This is the best batch ever," they probably think we're just saying that. But really, it's true.
VT: Is there a particular batch you remember the most?
RS: I like the batch of Shamcey Supsup, Bb Pilipinas Universe 2011. Kasi andaming maganda (There were so many beautiful women). I also like this batch, it's also good.
VT: Is there a particular Binibini whom you can photograph all day?
RS: All the girls are really nice naman. I like Pia [Wurtzbach], she's photogenic. I like Ara [Arida], she's really nice. Mutya [Datul], these are the girls I think photograph well. I like Bea [Santiago], Janine [Tugonon]. I like Rachel [Peters]. Mariel and Sirene – she's really photogenic – I don't think I can take bad photos of them.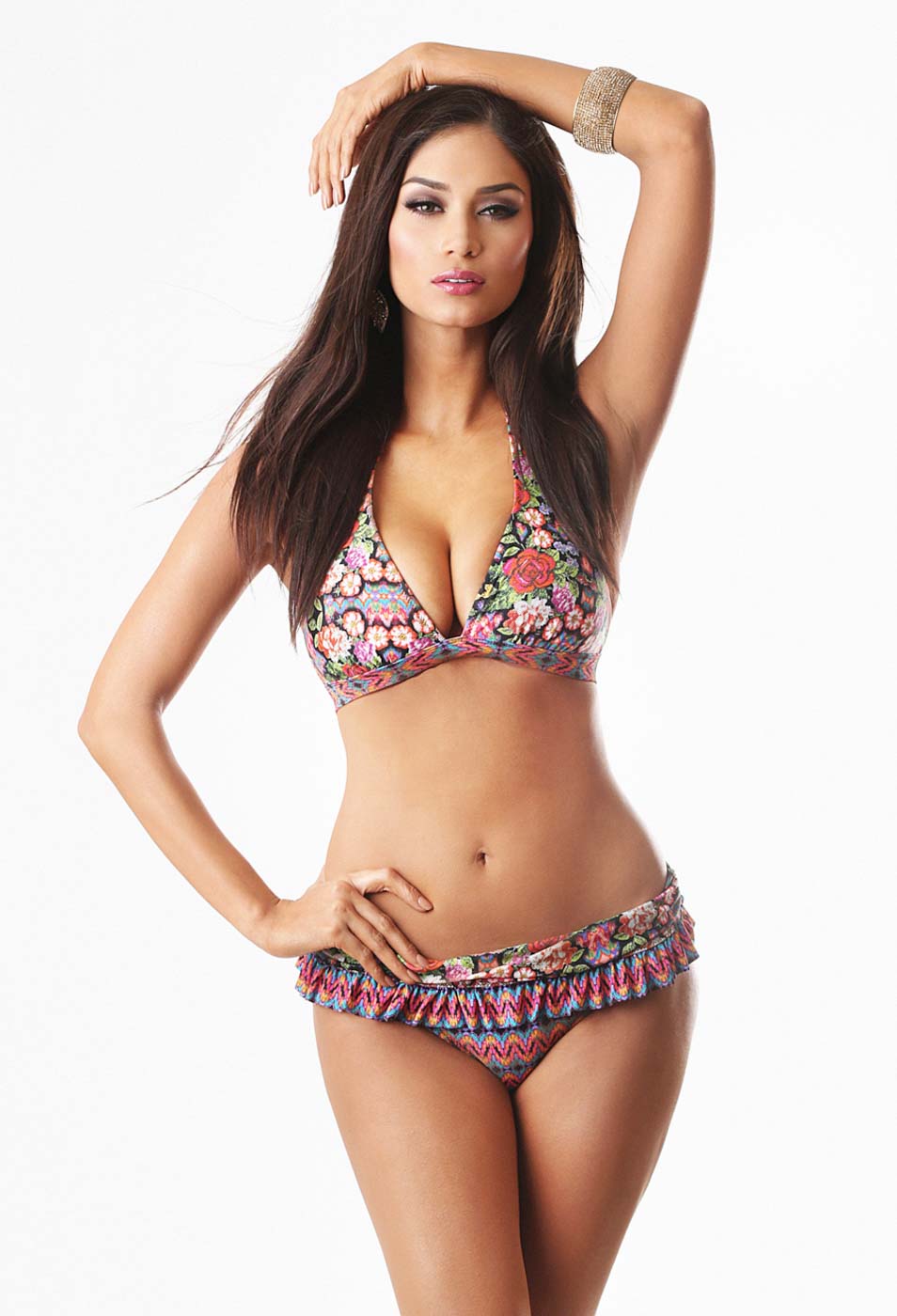 VT: How do you come up with pegs? Do you have 100% control?
RS: When we were starting, we [didn't] really have control of the shoots. I guess, we had to gain the trust. So we had to do what they wanted, like have a plain background. We [got] to suggest but within the area where we were shooting. We [had] to work with what we [got].
We've been working with them for about 11 years now. We get to bring props, etc. Now I feel I have a say and they trust me. Pero talagang research yan. (But I really do a lot of research.) Every day, I google to see pictures that inspire me.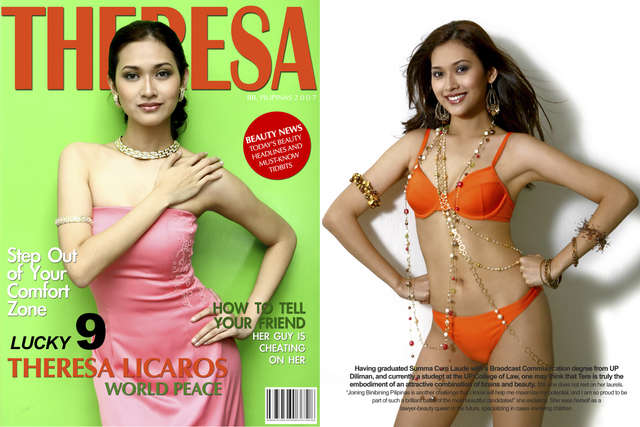 Q: For the swimsuit shoot, what was your inspiration?
VT: We wanted to be festive – even the makeup is colorful. We just wanted to do something different. Last year was [in] black and white, so it was clean.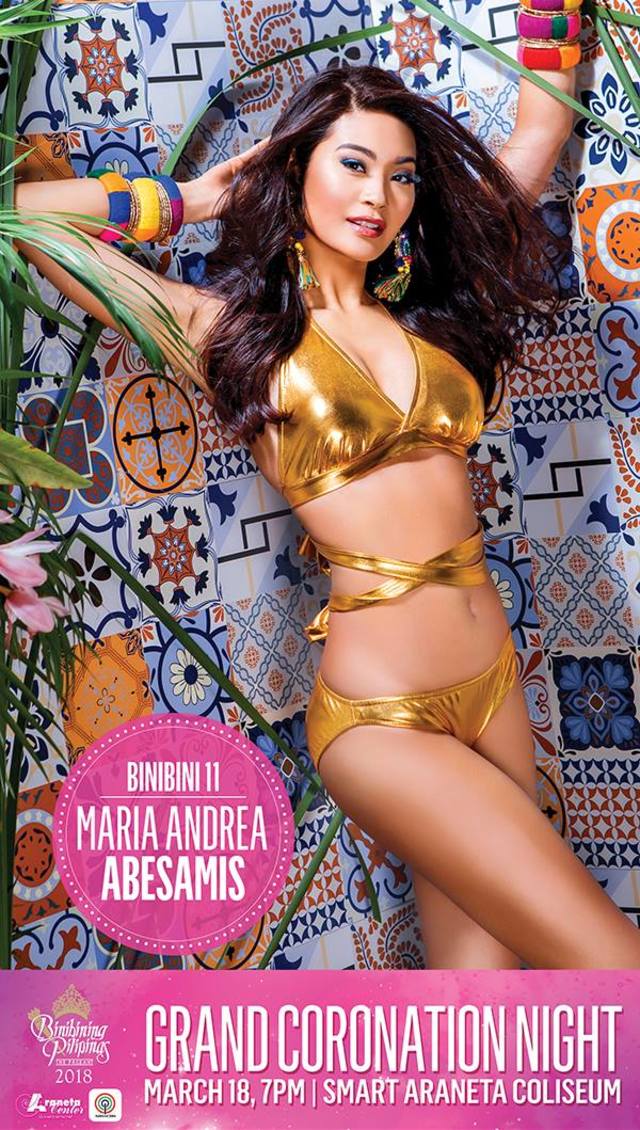 VT: Was there a photoshooto that was bashed?
RS: Oo, madami (Oh yes, many). Especially when you just follow directions of the client. Kasi (Because) before it was really just plain background. It all changed when Fadil Berisha started taking photos in Miss Universe.
Q: How do you feel about (iconic Miss Universe photographer) Fadil Berisha?
RS: I'm a fan of Fadil. I like his style. He brings out the best in the women. Madami din naman talagang hindi photogenic (There really are so many who are not photogenic too). So you have to look for that best side. But you also have to experiment because you don't want [to take] all the photos from one side.
VT: Have you met him?
RS: I haven't met him. It's too bad he doesn't shoot anymore for Miss Universe. When I saw the MU program this year, na miss ko si (I missed) Fadil.
VT: Some people said that you copied Fadil's work, what can you say about that?
RS: I understand before when they say that I copy. We are learning. First, we copy the poses kasi (because) it's becoming the standard and it's what is considered beautiful. Kasi (Because) if you don't do it, they'll [also have comments]. They'll complain either way. But it was important to prepare the candidates for their international pageant. So by the time the girls get there, they know how to do it. They are exposed and have done it. So when they get to their international competitions, alam na nila ang gagawin (they know what to do).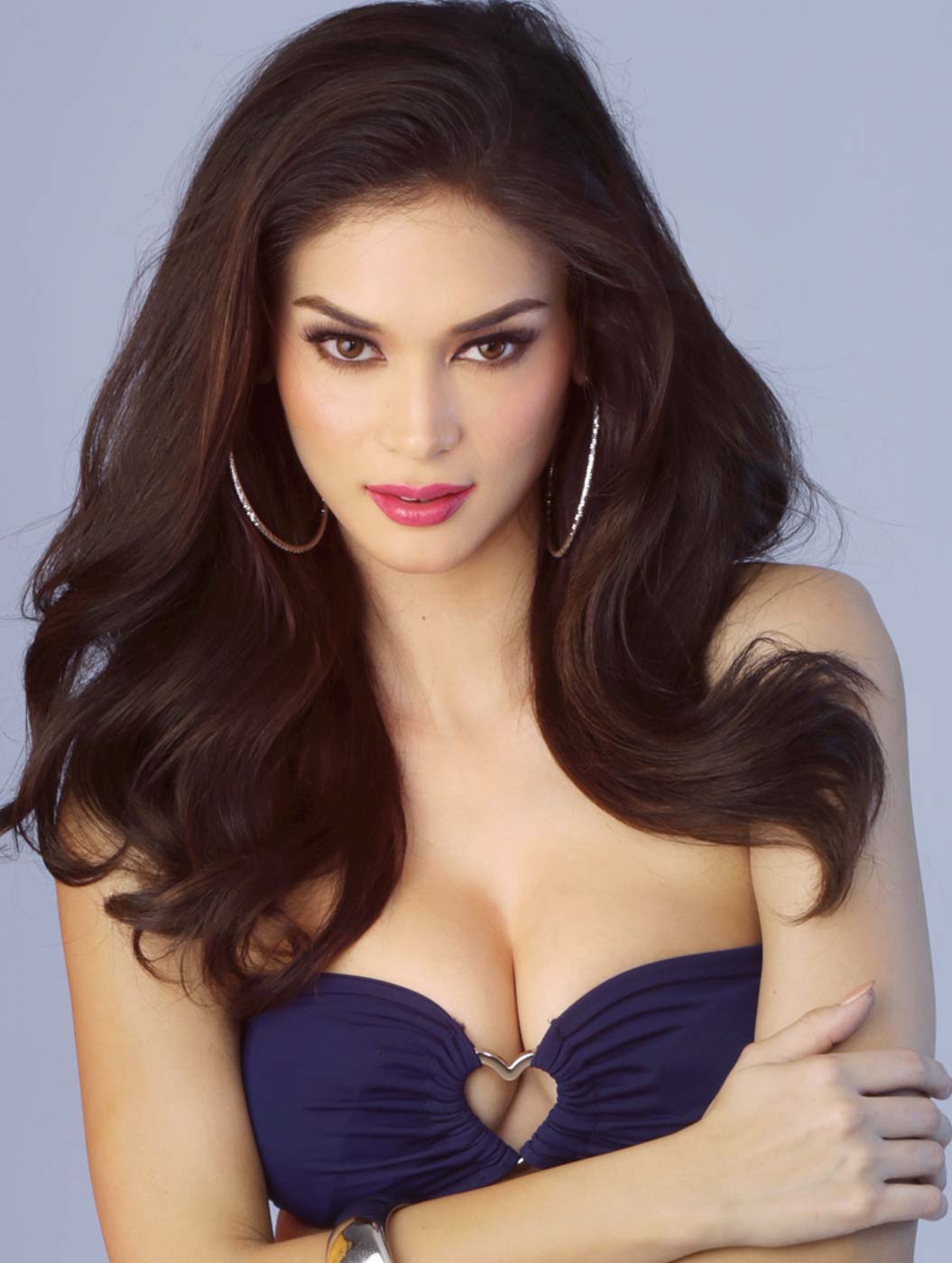 VT: After shooting Binibini for 11 years, do you still get excited?
RS: For Binibini, when you post them and they are used in international sites, I feel a lot of pride. But the best part is when the grils come up to me and say thank you for a beautiful photo.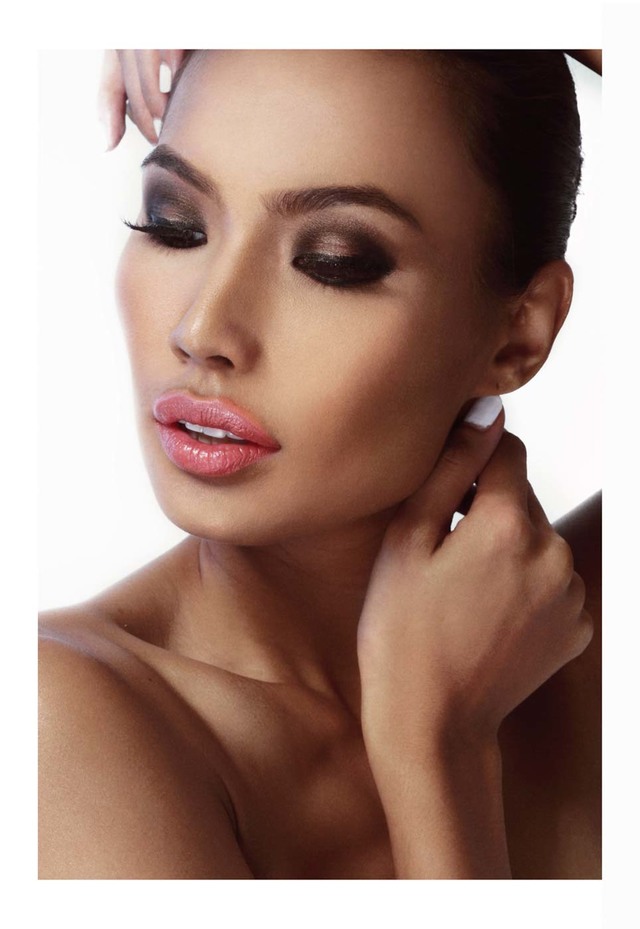 VT: Do you get messages from fans in other countries?
RS: I've been shooting for other pageants in other countries. I'm [about to leave] for India for Supermodel International. I also do male pageants [such as] Mr International. I've been doing this for two years now.
VT: Not all the candidates are models. How do you teach girls who are new to this?
RS: It's easy, we just show a photo and tell them to copy it. We usually start shooting headshots and the T-shirt [profile photos]. Those are the first shoots and [it] helps them practice posing.
VT: How do you feel when people grab your pictures, and turn it into collage?
RS: Well, I don't like that. I even message them directly. For an artist, its my artwork. Sometimes, you can't control it. So I just request a photo credit. But I don't like it when they edit it because when others see it, they might think, "O, ang sama naman ng photos nito (These photos are bad)." I've seen it when they post a heavily edited version of my photo and then I get blamed for it. The fans, they try to imagine candidates with different things, like how she [might] look with straight hair, in this gown, or wearing this [kind of] makeup.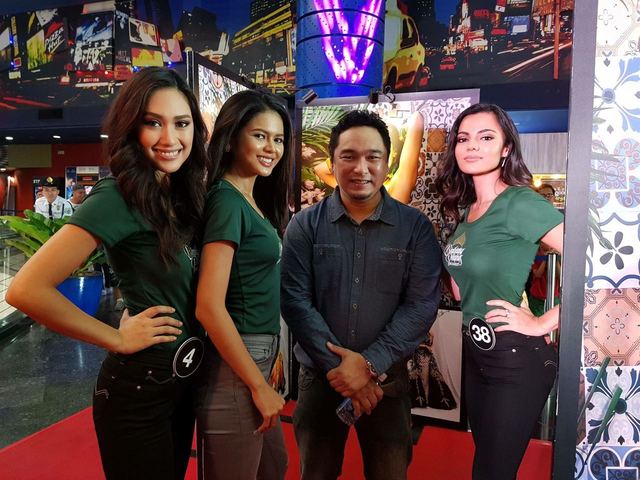 VT: Are you working with Bb Pilipinas exclusively?
RS: Yes, for major pageants. But for smaller pageants, I have [my company], Clickbox Company [to] do that.
VT: Do you do weddings in the Philippines?
RS: Only for close friends. My team was one of the photographers of Mar Roxas and Korina Sanchez.
VT: There are a lot of people now on social media always after the perfect profile pic. Do people ask you to do personal photoshoots?
RS: I went to the US recently. I was going to be there for work. But when I posted that I was going there, there were people who messaged me. I even photographed a wedding. They've asked me to take [the] photos [for Filipino pageants abroad]. In fact, they request that I put my watermark on their photos. Ako pa nahihiya (I actually get embarrassed to do so), but then they really want to say I was the one who took it.
Raymond Saldaña's success in the field of photography also comes from a professional work ethic and a great personality. He is easy to work with and is oozing with talent. That's probably why his clients choose to work with him over and over. He's established relationships which have lasted for years, testament to his consistency and outstanding work. Saldaña is already part of Philippine pageant history. With him, there is beauty to be found in front of the camera and behind the lens.
—
This article originally appeared in Rappler.
All photos courtesy of Raymond Saldaña unless otherwise indicated.