To become a Binibini is to be loved by thousands of adoring Filipinos. That is the best souvenir that these Filipinas will carry in their hearts for the rest of their life. This, along with the support of Binibining Pilipinas Charities, Inc (BPCI), headed by Chairperson Stella Marquez Araneta, is a gift and partnership that the Binibinis can count on.
This year's pageant theme was art and beauty, and it celebrated two renowned Filipino artists, Jose "Pitoy" Moreno and Betsy Westendorp Brias. There is truly nothing more beautiful than the Filipina who is a work of art in every way.
As soon as the music started and the candidates came out in their black swimsuits with a floral print chiffon wrap in the opening number, it was pandemonium. The energy was electric and the vibe was classic Bb Pilipinas finals night. When the introductions began, it became very evident who the crowd favorites were.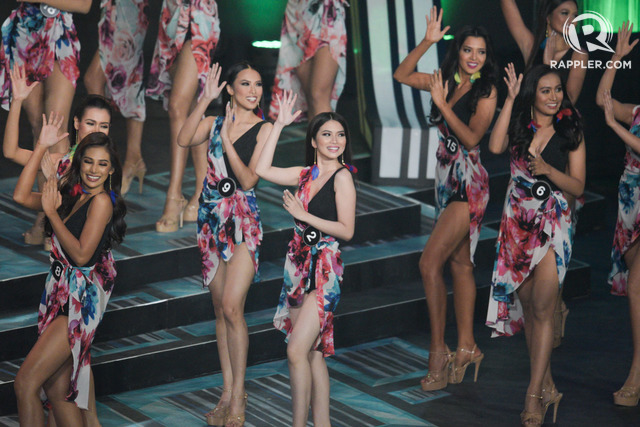 Richard Gutierrez and Miss Universe 2015 Pia Wurtzbach hosted the program. Pia appeared to be much more at ease and natural in her hosting. She broke out into an impromptu song number during a commercial break. That's what I love Pia. She has a self-deprecating sensibility that is endearing.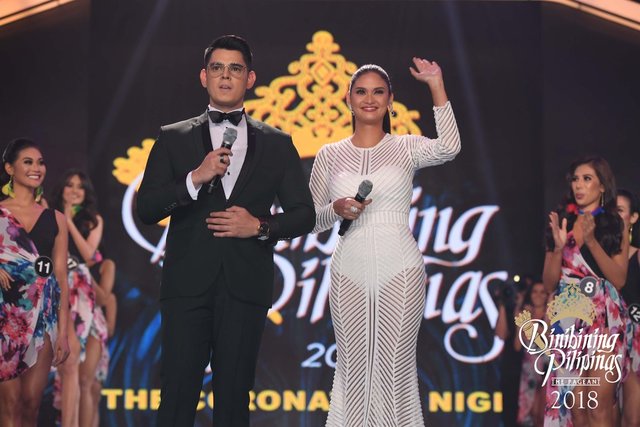 The biggest revelation of the night was Nicole Cordoves, Miss Grand International (MGI) 2016 First Runner-up. She looked stunning in her two looks and her styling was fresh to perfection. She maneuvered the Smart Araneta Coliseum like no other co-host has ever done. She was engaging, articulate, very natural, and confident.
Creative pageant fans wasted no time making memes of Nicole carrying a variety of goods in place of the glass bowl that contained the candidates' names. Nawat Itsaragrisil, owner of Miss Grand International, was present at the Big Dome too, awaiting our country's bet for the 2018 MGI and to witness one of his queens do such a fantastic job at hosting.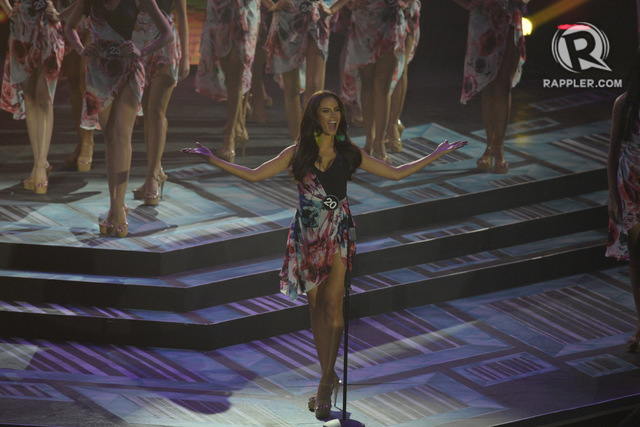 Bb #8 Shane Quintana Tormes won both the Miss Friendship and Miss Talent Special Awards. Bb. #32 Eva Psychee Patalinjug won Miss Photogenic, while Bb. #14 Samantha Bernardo won the Manila Bulletin Reader's Choice Award.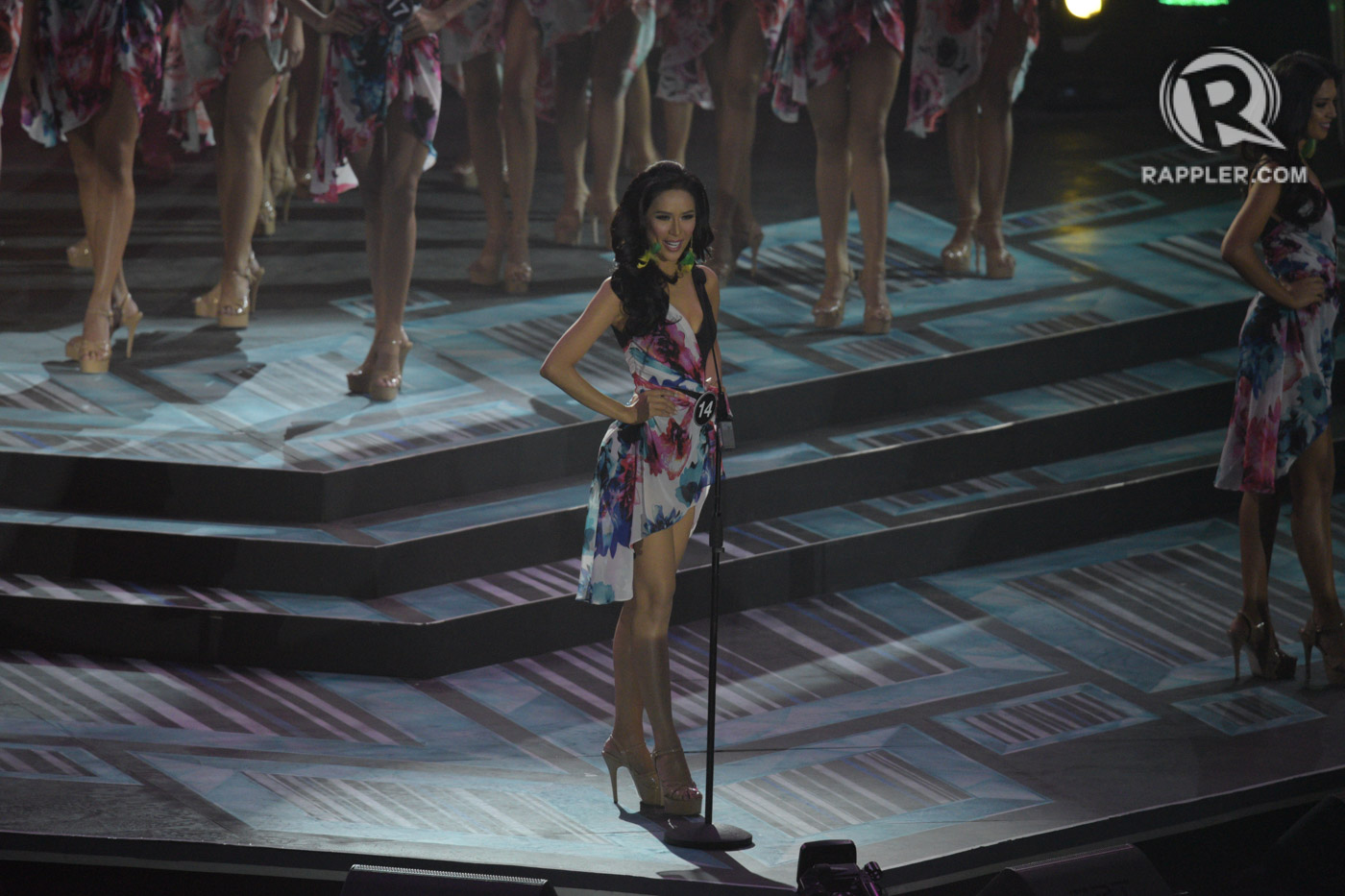 This year, they decided to immediately narrow the field down to 25 semifinalists.
I'm still getting used to that idea because we have been accustomed to seeing all the women compete. In a way, I feel bad that the remaining 15 candidates do not get to walk the stage and have their moment to shine. Many have families and supporters came from provinces to support them and cheer for them in portions other than the opening segment. They were also unable to show off the evening gowns made for them by Filipino designers. If I were to suggest a change, maybe give them all a chance to walk during the swimsuit round before cutting it down to the Top 25. I would sacrifice production numbers and video presentations to give time for the 15 candidates.
On the other hand, this is a competition and a TV program. It has to be quick and interesting. I was very happy that 21 out of the 25 candidates in my "best bets" list made it into the semifinals.
The select group of people responsible for choosing this year's lucky queens were:
Edgar Saavedra – Megawide Construction Corporation Chairman
Mike Brown – General Manager of Novotel Hotel
Gerald Anderson – Actor/celebrity
Alyssa Valdez – Professional volleyball player
Martin Lopez – ABS-CBN Chief Technology Officer
Thirdy Ravena – Professional basketball player
H.E. Victor Hugo Echiverri – Colombian Ambassador to the Philippines
Precious Lara Quigaman – Miss International 2005/actress
Ces Oreña-Drilon – ABS-CBN Lifestyle Ecosystem Head/news anchor
H.E. Sung Kim – United States Ambassador to the Philippines
The panel would not be complete without the BPCI Executive Committee Chairperson Stella Marquez Araneta, Vice Chairperson Conchitina Sevilla Bernardo, Betsy Westendorp Brias, and Raymond Villanueva.
Some fans were quick to point out the presence of two professional athletes in the panel of judges – one of whom is a volleyball player – afraid that it would create a bias towards Bb #19 Michele Gumabao. But this is like any international beauty pageant scenario wherein a Filipino may be in the panel of judges, but we trust that they will be voting fairly. If this were the case, then Miss USA would be winning every year in Miss Universe because it is comprised mainly of American judges. We just have to trust that those given the responsibility act fairly and justly.
The swimsuit competition showcased green organza cover-ups with handpainted floral designs inspired by the late Pitoy Moreno to reveal sexy, mustard two-piece Domz Ramos swimsuits. The candidates wore the official Jojo Bragais nude platform heels that seem to be the pageant staple. One look at all the candidates showed that being sexy in a swimsuit is a combination of having a healthy, active lifestyle and a whole lot of confidence. They were serenaded by Inigo Pascual during this segment.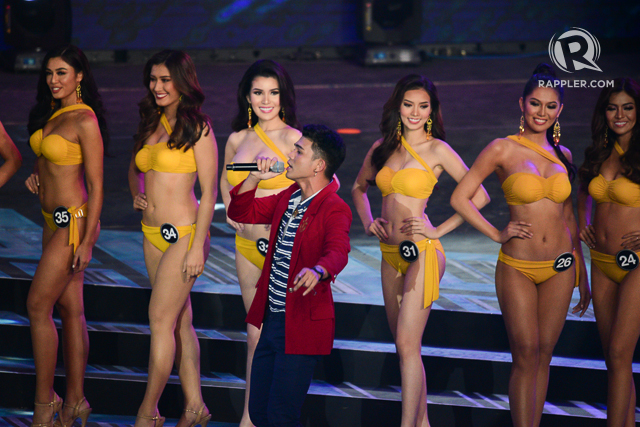 Probably one of the most awaited and definitely my favorite part of the competition proceeded after. The evening gown competition paid tribute to the works of art of Betsy Westendorp Brias. Her portraits of women and orchid paintings provided a dreamy backdrop for the evening gown competition. There was beauty and artistry everywhere one looked on stage: Brias' works of art, the Filipino designer's talent, and the beauty of the Filipinas.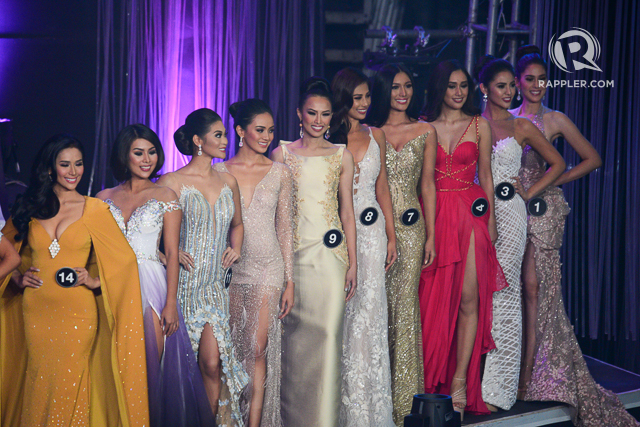 Then, the second batch of special awards were given. In previous years, the winners of these particular awards all placed or won a title. Miss Philippine Airlines (PAL) was Bb #3 Muriel Orais. As she is already a face of PAL campaigns and a Presidential Cabin Crew member, so she was the most fitting winner. Miss Creamsilk was awarded to Bb #19 Michele Gumabao
If her first 3 special awards weren't enough to make her competitors nervous, Catriona Gray's double win as Best in Swimsuit and Best in Long Gown caused the audience in Araneta to erupt in the loudest cheers and excitement. At this point, only the Q&A portion separated her from her goal.
Next up was the announcement of the Top 15 Finalists. I was very happy that 13 of the Top 15 were in my best bet list. At this point, I had a very good feeling that those whom I predicted would be titleholders were well on their way.
The dreaded Q&A portion was as exciting as it promised. There were a few misses, some with very good saves but mostly, it proved that the level of competition is stronger than ever. Most of the eventual winners had very impressive answers that had depth and delivered with conviction.
Bb #35 Sandra Lemonon was the biggest miss of the night. I felt so bad for this young lady as I know she worked very hard. She was poised to win one of the titles and was absolutely gorgeous. When she came out in her very clean, modern blue Edwin Uy gown, she looked every bit a Bb Pilipinas beauty queen. Unfortunately, her question about the government's "Build, build, build" program flustered unnerved Lemonon. Many are questioning why she couldn't make something up. Unless one has actually been in that situation, it is very difficult to simply pass judgement and say she should have done this or that. I applaud Lemonon for her directness and honesty in answering the question.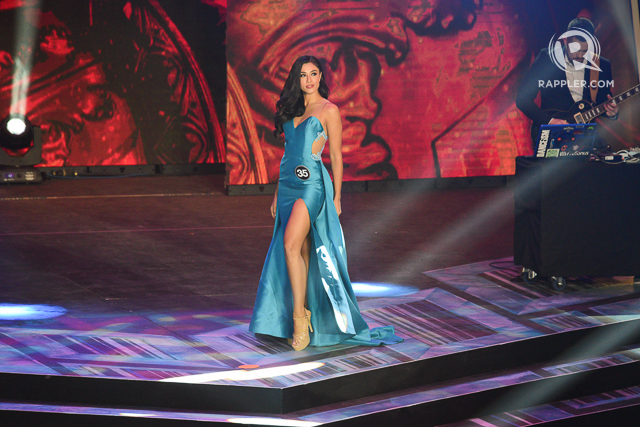 Another big shocker was the non-inclusion of Bb #11 Aya Verdadero Abesamis in the winners circle. It led some to question what the criteria for judging were and what area of the competition was given a higher percentage.
And now for the winners circle. All the the eventual winners were in my final list, either as titleholder or alternate options. They all performed exceedingly well during the finals.
Second Runner-up: Bb 14 Samantha Bernardo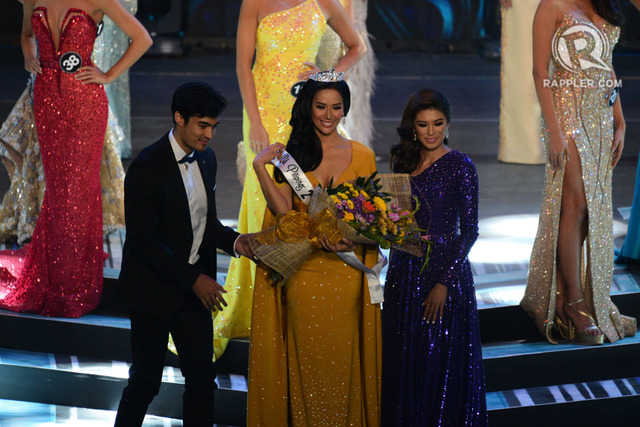 Puerto Princesa, Palawan, 25 years old
Model/Hotel Guest Service Officer
Special award: Manila Bulletin Reader's Choice Award
Q: "What do you think is the biggest misconception about beauty pageant contestants?
A: "I think the biggest misconception in beauty pageants today is that we're just beautiful. But we are not. We are confidently beautiful. We're compassionate and we're very competent. We are in a year wherein we have surpassed odds about women. And we continue to prove ourselves in a society. We can be at home, raising a family, or [in] an office having a career. Or just like me here, joining pageants, celebrating our femininity. Thank you!"
From the initial screening, Samantha Bernardo was always one to look out for. She is beautiful, has an amazing body, and is very pleasant. I did, however, find her gown to be a bit heavy. The cape swallowed her and the color washed her out. Luckily, her beauty and charm were strong enough to pull her through. Many are already urging her to join again next year.
First Runner-up: Bb 1 Vickie Marie Rushton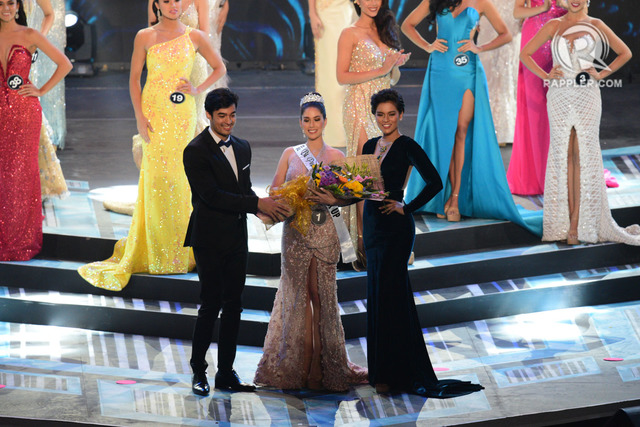 Talisay, Negros Occidental, 25 years old
Model/Actress/Businesswoman
Q : "Do you believe hazing and fraternities has its own good? Why and why not?"
A: "I believe that any violence is no good, because one person alone can't stand up for herself or himself. And as a Bb Pilipinas, I can be that influence to spread the word that violence is not acceptable. Thank you."
It wasn't a surprise to see Vickie land in the winner's circle. It is also very difficult to say she should be a titleholder without discrediting the other winners. The simple truth is that all 6 queens performed really well. That's the nature of the competition and the hand of fate at work. It could very well be the slightest point differential that separated her. But the judges had a tough job of selecting and placing the candidates. As first Runner-up, Vickie can be a perfect replacement for any of the queens, should they be unable to fulfill their duties.
Bb Pilipinas Globe 2018: Bb 19 Michele Gumabao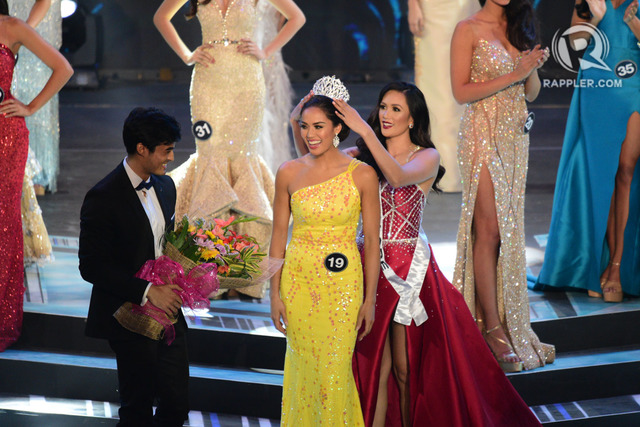 Quezon City, 25 yrs. old
Professional Volleyball player, host, social media influencer, businesswoman
Special award: Miss Creamsilk
Q: "What can you do to fight fake news?"
A: "I know that fake news is very rampant nowadays, but in order to fight this, we must first, know what we are reporting, know what we are reading and at the same time, be accountable for what we say, especially online. And I hope that media always filters their news, their resources, to always deliver truth and authentic news. Thank you."
From a professional volleyball player to a full pledged beauty queen, now that's a transformation to applaud. Michele came into the competition as a bright eyed newbie willing to work hard to achieve her goal. That, she did so beautifully. She worked that runway like she does the volleyball court, with lots of passion and strength. She aced the Q&A round, which left many to wonder why she did not get a higher placement. If I were to nitpick on her performance, I would say styling was her weak point. I would have wanted to see Michele in Hollywood glam hair and a different gown. The Miriam Quiambao-esque look didn't work for her. I would have loved to see her in a more modern style with more personality and spunk. Michele will surely be a force to be reckoned in Miss Globe 2018 and possibly win our second crown.
Bb Pilipinas Intercontinental: Bb 38 Karen Gallman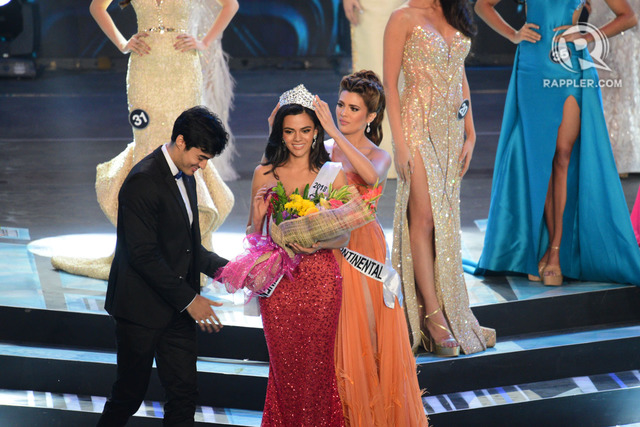 Bohol, 25 years old
Financial Analyst
Q: "Do you agree that a 3rd restroom should be built for transgender [people]? Why or why not?"
A: "I definitely agree there should be a 3rd restroom for transgender [men and women] because us women would like a privacy and also with men, and we have a separate room for the transgender. It just serves as an equality and privatization. Thank you."
I have always said that Karen Gallman has one of the most beautiful faces and that worked to her advantage. Karen addressed her perceived weakness which was lacking energy onstage, and it paid off. She had a noticeably more lively presence and more flirtatious facial expressions. She lured the audience in with her beauty and charm.
Then came the Q&A. I thought that she had lost the chance to be a titleholder with her answer. She clearly did not answer it well and was on the brink of political incorrectness.
The television crew was also quick to zoom in on an audience member who was transgender. It makes me wonder how they were able to do this in a matter of seconds. Did they scour the audience prior to the show and took notes?
Even with that flubbed Q&A, I feel Karen is still a good choice. Karen possesses a beauty that will make a splash in the Miss Intercontinental competition and hopefully claim our first ever win in that pageant.
Bb Pilipinas Grand International 2018: Bb 32 Eva Psychee Patalinjug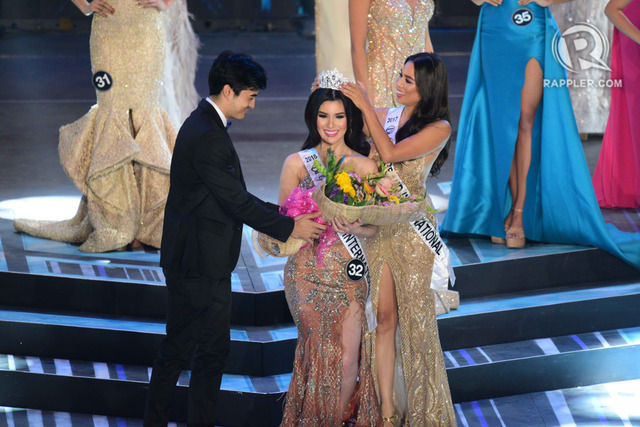 Lapu-lapu, Cebu, 23 years old
Registered Nurse and law student
Special Award: Miss Photogenic
Q: "What is the role of beauty queens in the pursuit of our country's economic success, if any?"
A: "A role of the beauty queen is to be a voice. I am here to make a message to all of you. In these times of uncertainty…taking over our country, we have remained steadfast and have faith in all of its challenges. As a united nation, what we should do is to set aside our political differences, economic and social preferences. Let our love and loyalty to our country rise above all, in the hopes of making a peaceful country. Thank you."
Eva Psychee Patalinjug was one of the fan favorites from the beginning of the Bb Pilipinas season. She is a social media favorite. It's no wonder that she bagged the Miss Photogenic award. Eva was in full pageant mode with her big hair and nude illusion, embroidered gown. Eva's beauty reminds me of the Thai beauty queens. This will bode very well for her in the Thai owned Miss Grand International pageant. Her final answer talked about peace and is perfect for MGI, as their mission is to promote peace. This is one of the pageants that have eluded our beautiful Filipinas. Hopefully, Eva is the answer.
Bb Pilipinas Supranational : Bb 31 Jehza Mae Huelar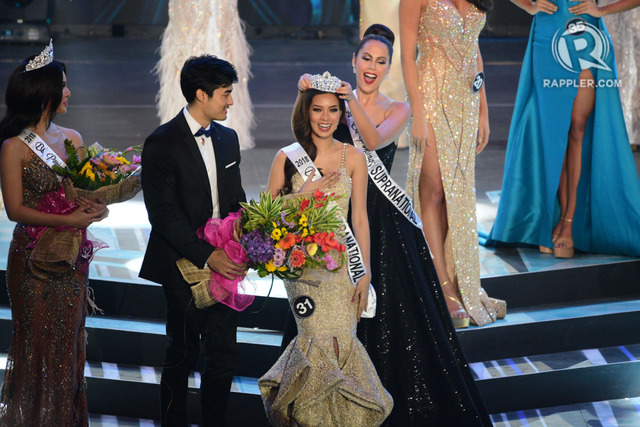 Davao, 23 years old
Former Executive Assistant
Q: "What do you think is the most important quality of a millennial woman?"
A: "I think the most important quality a millennial woman have is to have a vision. With her vision, she should have this attitude and perseverance so that she can achieve her goals. And if she's good at [having a] vision, she will be able to express herself freely. So I would hope that all the millennials out here would really adhere to our culture and our tradition so that we can inspire others, we can impact people. Thank you."
After her 3rd attempt, Jehza Huelar finally secures a title. She is still very young and the question to her was most fitting. Jehza has a very kind spirit and a sweet personality. But she turns on the fierce the moment she steps onto the stage. She has a very modelesque figure which would be a great advantage in the Miss Supranational pageant. The great thing about Jehza is precisely the fact that she is fierce and yet maintains a very charming appeal. That's a very difficult balance to achieve. But that's Jehza. She perfectly fits the "lovely, pretty, captivating" lyrics of the Bb Pilipinas theme song.
Bb. Pilipinas International 2018: Bb 17 Ma. Ahtisa Manalo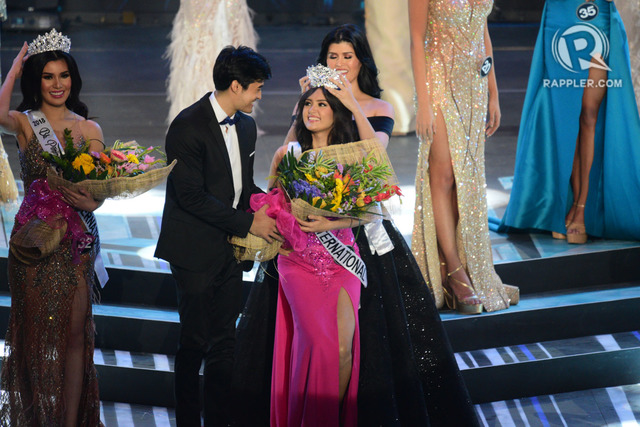 Candelaria, Quezon, 20 years old
Student, graduate of Accountancy
Q: "How should a beauty queen respond to ruthless criticism?"
A: "A beauty queen should always respond to criticisms constructively. We beauty queens are public figures and we put ourselves in a position to be judged. But nonetheless… we should always filter which comments we should accept and what we should not. Thank you."
I am very happy that BPCI crownwed this young lady did not make her join multiple times. Ahtisa Manalo gained ground very quickly to become a frontrunner from the press presentation. In person, she is quiet and demure. But she wowed everyone the moment she stepped onto that runway. She carries evening gowns extremely well and that was evident in her fuschia Mikee Andrei gown.
She epitomizes the qualities that are very appealing to the Miss International Organization. Tall, thin, porcelain skin, doll-like beauty with a very sweet, charming aura. She will undoubtedly be a hit among the Japanese. Ahtisa's beauty allows her to be styled in many different ways but still look fabulous.
Miss Universe Philippines 2018: Bb #20 Catriona Elisa Magnayon Gray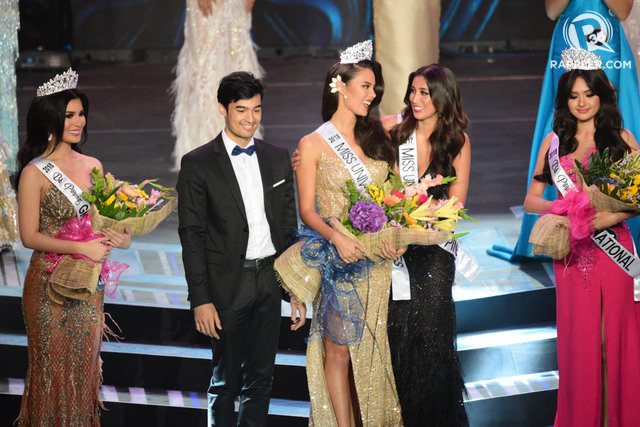 Albay, 24 years old
Fashion and commercial model, host, singer
Special Awards: Best in Swimsuit, Best in Long Gown, Pitoy Moreno National Costume Award, Miss Ever Bilena, Jag Denim Queen
Q : "After the devastating war, Marawi is now on its way to recovery. What is your message to the young women of Marawi?"
A: "Thank you for that question. My answer and my message to the women is to be strong. As women, we're the head of the household and we have amazing influence not only in our families, as mothers, sisters, and friends, but also in our community. If we could get the women to stay strong and be that image of strength for the children and the people around them, then once the rebuilding is complete and is underway, the morale of the community will stay strong and high. Thank you."
High risks, high reward. Don't think for one moment that it was a walk in the park for Catriona Gray. For someone with an already amazing achievement in the world of pageantry (Miss World 2016 3rd Runner-up), choosing to join Bb Pilipinas was a very risky move. The only way for Catriona to move up from World is to conquer the Universe. And that's what she did on Sunday at the Big Dome.
Catriona Gray becomes the first ever Filipina to hold both the Miss World Philippines and Miss Universe Philippines titles. Fueled by her disappointment in Miss World, she channeled this energy into pursuing this enormous task. That alone shows Catriona's strength, determination, and passion.
If her unmatched beauty and presence weren't enough, the roar of the crowd said it all. From her opening introduction, it was clear that Catriona was in it to win it. But you wouldn't be able to tell how hard she was fighting because she seemed relaxed and happy. If there were nerves, you wouldn't have seen it. That's the beauty of pageants. Masking an inner warrior in an outward vision of a goddess of love and beauty.
She is a dream candidate to have. Stunning, tall, charming, talented, articulate, and oozing with appeal. When I first learned of Catriona joining, I said that she should have a very convincing victory in order to avoid naysayers. Having won 5 special awards cemented her unbeatable status as frontrunner. But Catriona will be the first to tell you that even when she was winning the special awards, she did not take one moment for granted and assumed she would win. She's right in doing so because there have been candidates in the past that won so many special awards but did not win Miss Universe Philippines.
Segment after segment, Catriona came out smiling and occasionally waving to her supporters. During the announcement of the Top 15, host Richard Gutierrez paused a little too long in saying "Twenty… four." Catriona, who was Bb 20, started to walk forward but moments later found herself in a pickle because it wasn't her number. She was unfazed by the funny moment and laughed it off.
Catriona Gray is poised to become an early favorite for Miss Universe 2018. She's known the world over and is loved my millions of pageant fans. She again has to face the unenviable position of being a favorite. Sometimes, it's easier to be unnoticed or to be a dark horse because there are no expectations. If there is anyone up for this challenge, it is Catriona Gray. She has unfinished business and seeks redemption. I am certain that the entire nation will rally behind this amazing, empowered, confident young Filipina in her quest for the Miss Universe crown.
Again, the Binibining Pilipinas Charities Inc. is the biggest winner for having produced a fantastic batch of Bb Pilipinas 2018 beauties. We are lucky to be in a country with an abundance and never ending source of beautiful women and a people who support them with all their heart.
—
This article originally appeared in Rappler.
All photos courtesy of Rappler unless otherwise indicated.