Iconic Filipino fashion designers like Pitoy Moreno, Aureo Alonzo, Auggie Cordero, Ben Farrales, and Renee Salud have all dressed up many of our beauty queens. What they treasure most aren't the creations that have won international admiration but the lasting friendships they have with their beauty queen muses long after their reigns.
Maxine Medina, Binibining Pilipinas Universe 2016, and renowned fashion designer Rhett Eala have now joined this special group. From Bb. Pilipinas to Miss Universe, these two brought out the best in each other. It's a collaboration reminiscent of those golden years, when beauty queens and fashion designers created magic.
In an exclusive interview with Rappler, I asked Rhett what his reaction was when then-candidate 29 Maxine Medina first asked him to design her evening gown and national costume for Bb. Pilipinas 2016. Rhett said: "I knew it would be a lot of work, but I immediately said yes because it was Maxine. I always loved working with her."
Rhett's aesthetic and choices then were less pageant and more red carpet. He drew flak from some netizens at that time. But when the awards shows like the Oscars and Golden Globes came along, it was fringe frenzy, and he was suddenly being praised for being a fashion trendsetter.
Even though the Miss Universe pageant has passed, Rhett is still inspired by the pageant experience. His latest collection, aptly called "Queen," was presented at the Manila Fashion Festival (MFF) at the Edsa Shangri-la Hotel on March 24.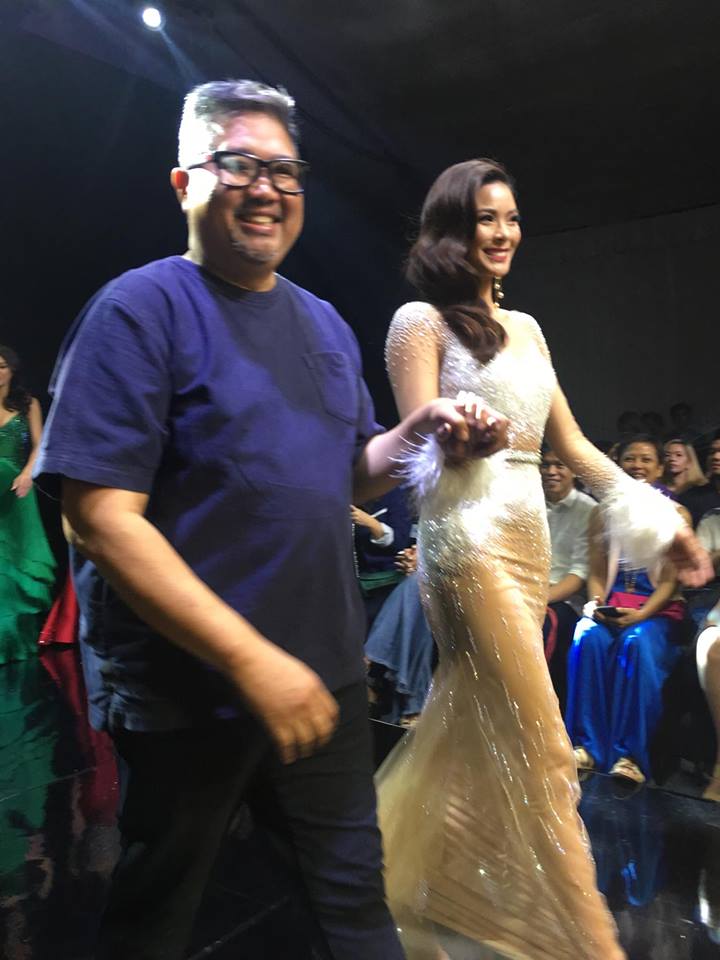 This collection is for the woman who wants to be noticed and knows that the stage is wherever she walks. It will surely bring out the beauty queen in every woman who wears these couture pieces with handsewn embellishments – fringe work, beading, sequins, crystals, and feathers – which took weeks or even months to create.
I asked if all of the gowns in the collection were for ready for the Miss Universe pageant. Rhett said: "I actually did about 10 gowns for Maxine, specifically for the competition. Some were left unfinished. So after the pageant, I decided to finish all of them and add a few more."
As part of the Miss Universe preparations, Rhett had to present his designs to the Binibining Pilipinas Charities Inc (BPCI) committee, headed by Stella Marquez Araneta, who gave the final approvals. Maxine's gowns for the various events were selected and some alternative gowns that were not chosen were no longer finished.
One of Rhett's favorites is the emerald green fringe gown that Maxine wore during the Preliminary Evening Gown competition. It was evident in the "Queen" collection because there are 5 designs that feature fringe details.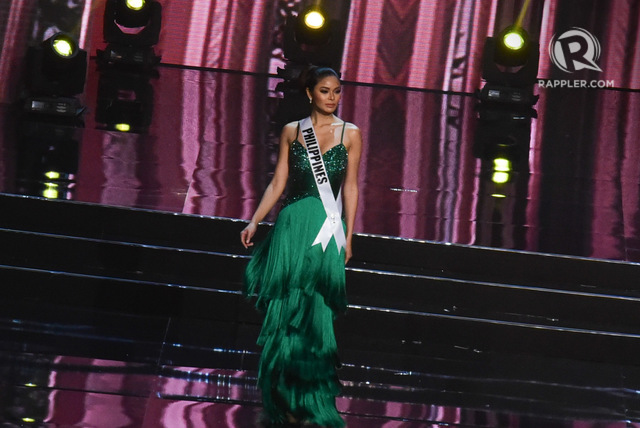 The collection also showcased another emerald long sleeve gown with a tulle top, strategically placed beading, and a flowy chiffon skirt. This was an alternate gown for the finals which Maxine mentioned in other interviews as the one she wanted to wear.
During the fashion show, Nicole Cordoves, Bb. Pilipinas Grand International 2016 and Miss Grand International 2016 1st Runner-up, looked every inch a queen in the red gown with crystal bodice which Maxine wore during the finals. She looked so good that I daresay it looked better on her.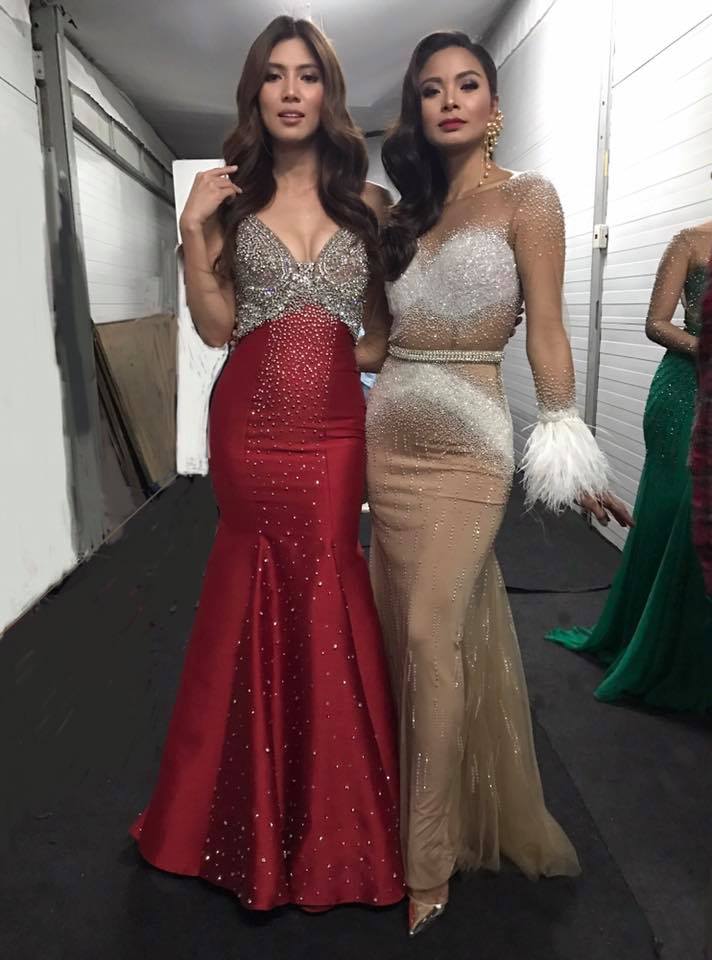 There were a few barely-there, sheer gowns that emphasized the body, which would have also been pageant perfect. Former Bb Pilipinas World 2009, Marie Ann Umali-Lontoc, walked the runway in a high neck, black gown in tulle with cut beads on the bodice and shoulders, and ostrich feathers at the bottom and hem of the gown.
For the finale, Maxine wore a boatneck, nude tulle gown with white beadwork on the bodice, ostrich feather cuffs, and crystal details on the skirt.
When asked how he felt about the pageant experience and his friendship with Maxine, he said, "Well, we became closer as friends because we talked alot and spent alot of time in fittings. But that time wasn't about me. Designing a Miss Universe competition gown and national costume was about the candidate. Our mission was to bring pride to our country."
Rhett and Maxine also had time for more bonding, as they were guests at the maiden voyage of Star Cruises' flagship vessel, Superstar Virgo, which took them to Laoag, Kaoshiung, and Hong Kong. The passengers were the first to see part of the "Queen" collection during an on-board fashion show.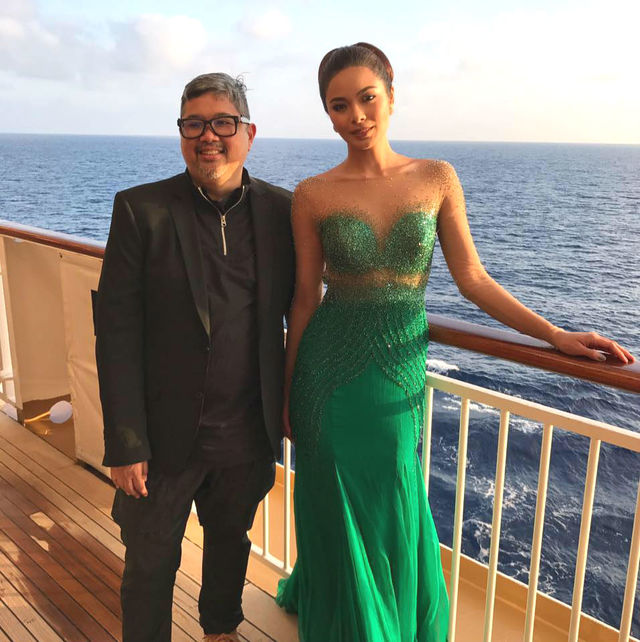 A lot of people are wondering if Rhett is dressing up any candidate for this year's Bb. Pilipinas. Rhett decided to take some rest from the pageant world and said, "I don't see myself designing for any candidate in the near future." It seems like he is still open to doing it and if the right candidate comes along, he will take on that challenge once more.
Despite having an entire collection inspired by Maxine, Rhett is still very excited to do something very special for her farewell walk on April 30, 2017 at the Smart Araneta Coliseum.
The way Rhett Eala has taken care of Maxine Medina throughout her Bb. Pilipinas and Miss Universe journey, it is clear that friendship, kindness, and generosity of heart are forever in fashion.
Will their collaboration inspire the next beauty queens to also work closely with specific fashion designers? Whatever the future holds, Filipino pageant fans can look forward to more years of beauty queens dressed by world class, talented Filipino designers.
This article originally appeared in Rappler.
All photos courtesy of Rhett Eala unless otherwise indicated.