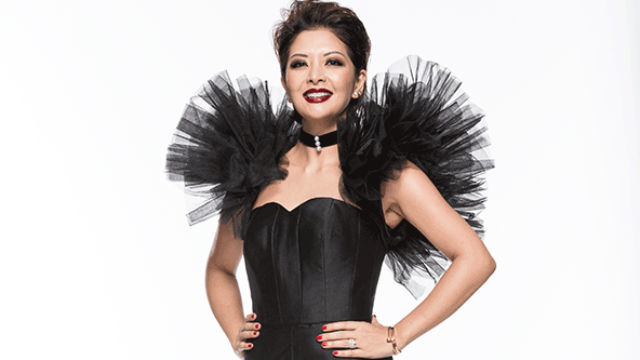 SPOTLIGHT. Cat Arambulo-Antonio lends her styling expertise, as judge of the show 'The Apartment.' All photos from Apartment website
Born in Manila and raised in Los Angeles, Cat wasn't your typical girly-girl growing up. "I definitely did not play with dolls or Barbies. I'm a very active person. My dad was a professional shooter and taught me how to use a gun as early as 5-years-old. Playing for me was target practice with my rifle in our backyard, roller blading on streets, or biking and playing in the park, climbing monkey bars."
Cat is the very definition of a modern, empowered woman. But this fashionista, businesswoman, blogger and now TV personality has quite an interesting choice of career during college.
"I was expected to take up medicine since all of my dad's siblings are in the medical field. So, I took up Psychology, Sociology at the California State University and I got a minor in Criminal Justice and Corrections. Oh my god, I wanted to be part of the CIA in forensics!"
She got the science gene from her dad but the creative gene was from her mom. "My mom is a very crafty and creative person. From arts and crafts to construction of our houses. She does everything from being a foreman, project manager to do the interior design and landscape. My lola was like that too. So I think I got the creative gene from my them!"
It is this sense of belonging to a family that proved to be the decisive key in Cat pursuing interior design. "After getting married and having kids. I was in search of a profession that interests me plus I thought I'd have more control of my time. I took up interior design in Philippines School of Interior Design after I got married because my husband didn't like the work hours of my job as a fashion stylist," says Cat
Considering that there plenty of interior designers, Cat shared that being selected as a judge wasn't just about design. "My interior design background is secondary. They chose me because I'm not afraid to speak my mind. I have no brakes, filter and refuse to edit to 'conform' and be diplomatic or politically correct. I'm real and unapologetically myself. And the producers saw it live on my IG stories." In fact, she did not have to audition because the show producers were already so entertained with her Instagram stories posts.
Although having a TV show also takes us a lot of time, Cat is able to juggle the responsibilities. "I am able to balance because I'm aligned with myself. I have goals. I'm very ambitious, passionate plus driven.. No matter how hard or crazy, I make it work – gagawan ko ng paraan. I work very hard!"
Cat said one of the most rewarding aspect of judging was "working with top design and TV personalities in the industry. Laurence is from London and Tyler is from New York. They both brought so much of their own expertise to the table. I'm a hardcore black & white person. I hate to say this, but after this experience, I learned to love and appreciate color, pattern and prints."
The most challenging part is being away from her family for so long. "Micromananging everything via security cameras, WhatsApp and FaceTime made it so much easier. The challenge was when the kids and my yayas (helpers) were getting sick! I was calling and harassing everyone constantly. My husband and I would sleep next to our laptops every night [while on] FaceTime, too!"
When asked if she would do it all over again, she happily said, "As a matter of fact, I was offered to be part of The Apartment season 7. Gosh, I'll have to discuss it with my husband."
Viewers of The Apartment will surely take notice of how fabulous she looks. So how does she balance all her jobs and still look great? "I believe that I can't give what I don't have. I really make an effort of take care of myself. When I look good, I feel good about myself. I can do anything! [My] confidence level is on full speed."
Her style icons are Victoria Beckham, Twiggy and Nicole Richie. When asked to describe her style in three words, she said, "Effortless, timeless, and polished."
Cat wears Filipino designers whenever possible. It helps that she's gorgeous and makes championing local designs very chic. She has a huge social media following for being that fashionista mom who has her own successful businesses.
"Fashion is my passion and I've used plus worked with alot of our local designers in the past. I wanted to showcase our local homegrown talent too. So even if the production team had a stylist and clothes ready for me, I insisted to use my own.
Cat was the willing model for Filipino fashion designers Patty Ang, Bango Niu, Make Bumgarner, Bea Valdes, Maureen Disini, Rajo Laurel, Vania Romoff, Two Chic Manila, Puey Quinones, and her friend's store LCP. "I brought all of my Ann Ong statement pieces [for my accessories]."
Cat shared that wearing Filipino fashion was important. "I am proudly Pinoy. I believe in supporting local and working global. I want to bring every Pinoy part of my and showcase it in the global stage. I make my outfits make a statement without me having to speak."
When asked how different her everyday personal style from the TV style, she said: "Not very far. I just don't have as much make up on a 'normal' day. Well, let's just say that I once used a ballgown during my final exam when I was taking my MBA in Ateneo. I've also worn dresses and cocktail outfits straight from a construction site to an event…in full hair and makeup."
Her luminescent aura and strong, positive presence on the TV show is an indicative trait of someone genuinely happy from within. "My journey always has passion at its core. From my experiences being a brand manager, fashion director, business owner and social media personality, I seek to continue to inspire to make a difference by empowering women through fashion, and hopefully men, by helping lead their lives with passion," she says
"The Apartment" Passion for Design is a reality TV show shot in Malaysia wherein 12 contestants from various professions compete to win a luxury condominium unit in Kuala Lumpur. Each week, the contestants have to decorate a room and the losing contestant goes home. Contestants are teamed up and given themes for a particular room. It's like a Project Runway for interior designers.
Even when all eyes tend to go towards Cat, she understands that it's not so much about her but on the 12 contestants. She truly values her role on the show saying: "Being a judge on The Apartment: Passion for Design has enabled me to inspire and motivate the 12 talented and ambitious aspiring designers."
Now on its 6th season, The Apartment has become Asia's most successful interior design competition. Cat's fellow judges include Laurence Llewelyn-Bowen, and Tyler Wisler and is hosted by Jamie Durie.
The Apartment: Passion for Design Season 6 aired last March 22 on Sony Channel Originals and will air on AXN on March 25.
—
This article originally appeared in Rappler.
All photos courtesy of Rappler unless otherwise indicated.