Binibining Pilipinas 2017 is turning out to be one of the most epic editions in the pageant's history.
BPCI has done an outstanding job in selecting an amazing group of candidates who are all beautiful, confident, young Filipinas eager to represent the Philippines on the international stage.
During the Photo Exhibit Launch on April 1 at the Gateway Mall, the public got a preview of the national costumes that will be paraded at an upcoming event. All the candidates looked their best in their national costumes, beautifully photographed by Raymond Saldaña.
The national costumes showcase the creativity of Filipino designers from all over the Philippines. The amount of love and dedication that these designers have poured into each creation also reflects the Filipino designers' passion for pageants.
Doing a national costume for a beauty contestant isn't for all designers, as many would think. In fact, there are some well-known fashion designers who shy away from doing them. The challenge for a designer is to create a unique costume that represents our country, is reflective of their aesthetic as a designer, and highlights the beauty of the candidate.
Veteran and young fashion designers showed us their design aesthetic translated into a national costume. Many were inspires by our beloved terno. These are so beautiful that some transcend costume. It's a fascinating way to see these national costumes in a different light. Imagine them as: Red Carpet Showstoppers, Bridal Fantasies, Flore de Mayo Fashions, Traditional Costumes, and Filipiniana Fantasies
RED CARPET SHOWSTOPPERS
If the butterfly sleeves or costume elements are removed, these gowns are red carpet-worthy – current, trendy, showstoppers. Unless you are making a fashion statement or butterfly sleeves are on trend, then go with it. If you keep the sleeves, some are SONA appropriate look.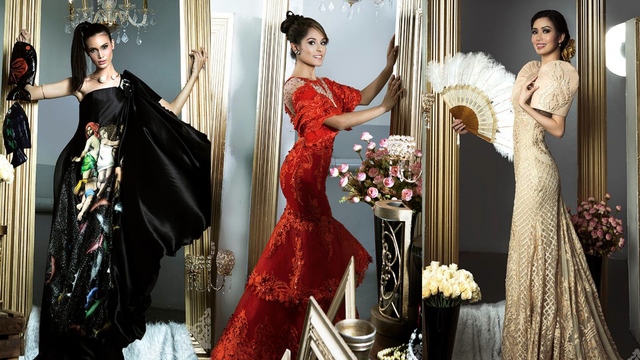 #13 Sirene Sutton's assymetric, black silk satin gown with handpainted/beaded embellishments by Roland Alzate is very youthful and fresh. Sirene's overall styling gives the whole look a fashionista vibe befitting a supermodel.
#34 Gabriela Ortega's red lace gown with multi-tiered skirt by Nat Manilag is very feminine, flirty, and reminiscent of a Spanish flamenco dress. A perfect look and match for this Barcelona-educated beauty.
#8 Leitz Camyll Ang in a fully beaded and embroidered gold gown with train by Bing Cristobal. The simple silhouette and perfect fit translates into red carpet or even a competition pageant gown.
#7 Jennyline Malpaya in Jonti Martinez, #9 Vanessa Saliba in Christ Lee Mrcelino, #26 Ruffa Nava in John Cliff, #27 Beatrice Valente in Paul Semira, #30 Mae Liezel Ramos and #36 Gillian Colcol both in Manny Halasan, and #37 Sammie Anne Legaspi in Marco & Oyama. All these looks can be red carpet-worthy gowns.
Special mention to #23 Arah Salientes' exaggerated wrap top with tailored pants by Richie Bondoc. This look can be an alternative style for those attending Filipiniana-themed weddings and who don't want to look like a ninang. Losing the gloves will make it more chic.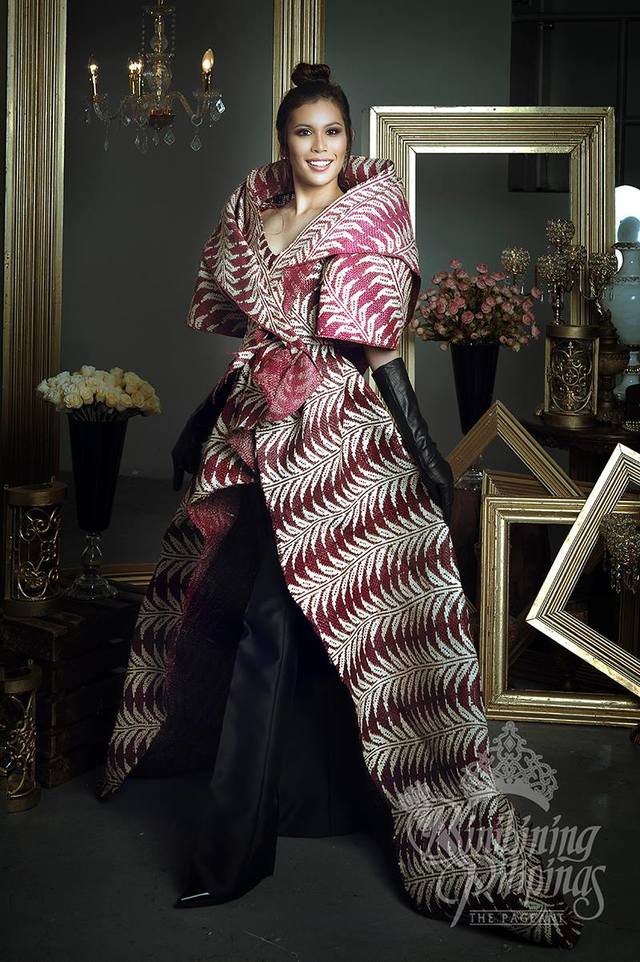 BRIDAL FANTASIES
Wouldn't it be amazing if one of these candidates actually wore their national costume to their wedding? These elaborate, exquisite designs are worthy of being worn to that very special walk down the aisle.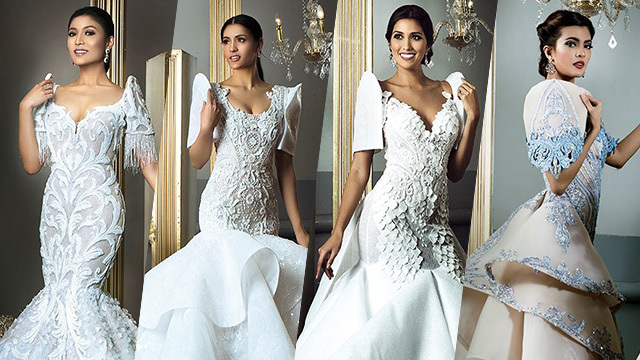 #2 Arienne Calingo looks tall and beautiful in this Mark Tumang figure-flattering mermaid gown. The butterfly sleeves with fringe detail are perfectly sized, so it doesn't become too much like a costume.
#12 Angelique de Leon and #19 Rachel Peters are twinning in their Val Taguba gowns. The heavily embroidered bodice and ultra voluminous skirts are a bride's fantasy. They look like real-life Barbie dolls. These are haute couture creations in the truest sense of the word. If these candidates were to take any souvenirs from their experience, these gowns are definitely it.
#31 Katarina Rodriguez in a stunning Francis Libiran gown with dramatic cascading train and embroidered, studded bodice and hemline. You can't mention bridal without mentioning the wedding gown designer of the moment, Francis Libiran. Katarina looked polished and expensive.
#21 Jamaica Ambal in Polly Lagyap, #39 Elizabeth Clenci in Ben Leguiab, #40 Kristel Guelos in Rian Fernandez, also look like blushing brides in their beautiful costumes.
FLORES DE MAYO FASHIONS
The Filipinos' love for pageantry, beautiful women, fashion, and religion, all come together in the Flores de Mayo traditions and the Santacruzan. These national costumes certainly fit that bill perfectly.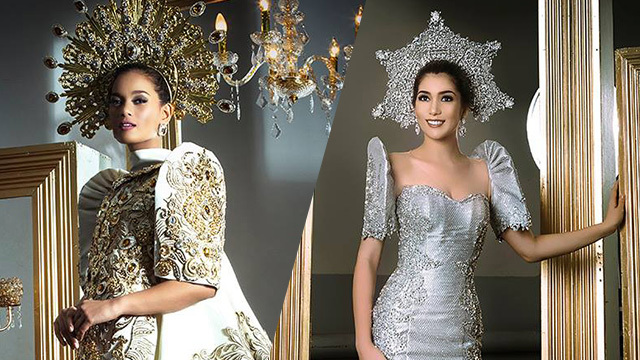 #32 Charmaine Elima in Pablo Galicia Mendez III's "La Reina Emperatiz" creation is probably a sight to behold in person. In photos alone, this national costume creates excitement, brings a sense of mystery and definitely awes anyone who sees it. The delicate embroidered details, the exquisite headdress, the spectacular waterfall cape, and Charmaine's regal bearing came together in the most magnificent way. I am most excited to see this costume in person. A part of me wants to see Charmaine atop a carosa, but I would not want any sort of controversy to distract from the beauty of this costume. It's proof that not everything has to be sexy to be beautiful in pageants.
#1 Dane Felisse Marasigan in a Rau Uson-Ablaza creation. This is another example of the craftsmanship that Filipinos are capable of, and using uniquely Filipino materials too. Unfortunately, the photo does not capture the intricate embroidery details and embellishments on this terno made of pure piña silk. The striking headdress is by Dennis Celestial is also inspired by a religious icon, Our Lady of Manaoag.
#3 Maria Gail Tobes in Joel Acebuche, #4 Jessica Ramirez in Albert Figueras, #5 Joselle Mariano in Julius Ornum, #6 Marie Benjieleen Nama in Dennis Santos, #14 Sarah Cruz Asido in Sonny Boy Mindo, #17 Maria Camille Manalo in Emar Vida, #24 Dindi Pajares in Mark Bumgarner, #25 Clarice Villareal in Jontie Martinez, #29 Karla May Manongsong in Jun Ilusorio, #33 Kristi Rose Cequena in Julius Ornum and #35 Thoreen Halvorsen in Arnu Camay, complete our Flores de Mayo Fashion group.
TRADITIONAL COSTUMES
These national costumes are probably the closest interpretations to the real deal.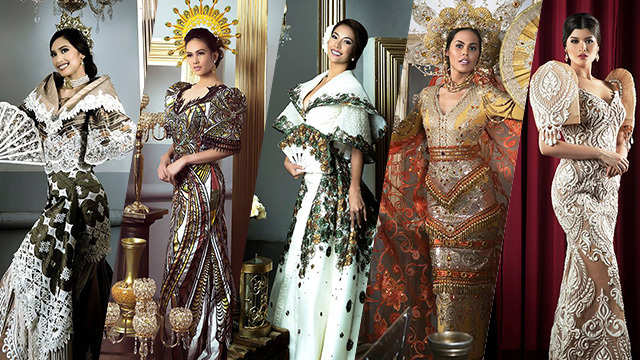 #38 Ana Patricia Asturias in Dave Ocampo. Of all the costumes, this is the most authentic. It was inspired by the traditional Mascota de Zamboanga. The golden earthy tone of the panuelo, olive green tapis with white embroidery and fringe detail, and the brown hues of the camisa and skirt add to the authenticity of this beautiful costume. The low chignon, moderately sized paineta and pearl choker give this costume a finished and cohesive look.
#18 Nelda Ibe wore a Frederick Berches creation. The simple silhouette highlights the handpainting that gives a stained glass window effect and a vintage feel. It has a beautiful neckline, a sweeping train, and a headdress that perfectly matches the gown. I love his use of color and he wasn't afraid to execute a look that isn't typical of most ternos.
#16 Larah Grace Lacap in Adriano Samar. His beautiful costume looks like those drawings we see in the history books. Very few designers featured the panuelo in their designs. Samar's dramatic panuelo with floral embroidery and puff sleeves give that classic Filipianana silhouette. I love how this costume holds its shape.
#22 Chanel Olive Thomas in a Muslim-inspired Edwin Uy design. Chanel is a beautiful Maranao princess in this gold and red costume featuring a beautiful headdress and two matching fans. Edwin Uy was the only designer to go in this direction.
#15 Maria Angelica de Leon in Cary Santiago is also very traditional. Hopefully, the finished look during the parade will have that wow effect that Cary Santiago's creations usually have. It was lacking the drama and pizzazz that is typically Cary.
FILIPINIANA FANTASY
I am very happy that these designers dared to be different. I think many designers take a safe route, afraid they will be bashed on social media. These designers succeeded in creating out-of-this-world costumes that may not be to everyone's taste, but definitely for everyone to enjoy.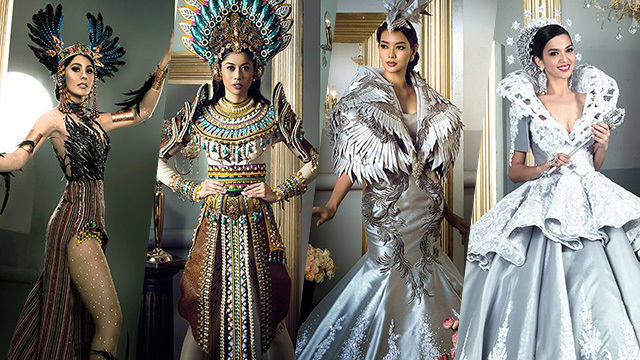 #11 Kimberly Pajares is a strong, sexy warrior goddess. Patricia Santos' design features a high waisted, high-slit skirt made of what looks like t'nalak, and a black sequined bodice with feather patterns. The look is finished with a beaded and feathered headpiece and a feathered spear. I hope Kimberly wears black strappy heels decorated with the same beads on her skirt or headdress and gets rid of the bejewelled pantyhose during the parade. I think gold shimmer body make-up would be more tasteful. It would make this look less drag and more couture glamazon. But I absolutely love this idea and wouldn't mind seeing this worn to Miss Universe.
#20 Christagale Borja is a showstopper in this Nick Guarino/Festivali design. Christagale said that this costume represents the "Pintados," the tattooed indigenous people from the Visayas. I'm not seeing the "pintados" part of her costume, as the Waraynon warrior is more pronounced – the armor, which is made of "banig," is dominant. Many say it looks more Aztec warrior, but maybe we just aren't as familiar with the Pintados' history. Then again, a designer always has that creative leeway to weave fantasy into their designs. It is a stunning costume nonetheless.
#10 Jehza Huelar in an Erich Miñoza mascota design, inspired by the Philippine eagle. The panuelo features very crisp, pointed pleats, carefully layered to mimic the wings of an eagle draped over the wearer. The abstract headpiece symbolizes the head of the animal. The skirt features heavy embroidery and beadwork. It is a beautiful concept and I wish that the pleating detail carried all the way down to the skirt.
#28 Juliana Kapeundl looks like a carnival queen in this Chico Estiva creation. The stiffened shawl collar, embroidered peplum and giant ballgown skirt will certainly steal the spotlight because of its volume. It's very nice to see that this period and style of costumes is being revisited. She looks like a Filipina Disney princess.
At this point, it is still difficult to come up with a list of the best because several costumes are still unfinished. A better assessment can be done after the fashion show/parade on April 23, when we see these costumes in motion and in their full glory. Will the candidates be able to move gracefully in them? Will the designers be tempted to add to their designs after seeing all the others?
One thing we are sure of is that the Filipino designers succeeded in showing off the beauty of the Filipina and the Philippines.
—
This article originally appeared in Rappler.
All photos courtesy of Rappler unless otherwise indicated.