The 40 beautiful candidates of the Binibining Pilipinas 2017 pageant wowed the crowd during the JAG Denim Fashion Showat the Ali Mall last Saturday, April 8. The candidates turned up the heat in their sexy JAG outfits and Jojo Bragais nude platform heels. They also introduced themselves as if it were already coronation night, much to the excitement of their fans.
Some of the candidates who received the loudest cheers were #1 Dane Felisse Marasigan, #2 Arienne Calingo, #10 Jehza Huelar, #12 Angelique de Leon, #13 Sirene Sutton, #15 Maria Angelica de Leon, #19 Rachel Peters, #22 Chanel Olive Thomas, #24 Dindi Pajares, #25 Clarice Villareal, #31 Katarina Rodriguez, and #32 Charmaine Elima. As soon as all the ladies were introduced, the program immediately went into the talent competition.
Binibining Pilipinas Charities Incorporated (BPCI) chairperson Stella Marquez Araneta headed the panel of judges responsible for deciding who would get the Best in Talent award, which will be announced during the live coronation night on April 30. This year, only 13 out of the 40 candidates bravely signed up for the talent competition.
Interestingly, in the international competitions that the Bb Pilipinas winners compete in (Universe, International, Intercontinental, Supranational, Grand International, and Globe), there is no talent portion involved. Also, the talent portion is not part of the overall scoring in determining the Bb Pilipinas winners.
So why is there a Bb Pilipinas talent competition? Why would a candidate join knowing that it is not part of the scoring?
The traditional pageant answer to that is so a candidate can share her God-given talent to others and be an inspiration to young girls. The fresh and spunky pageant answer would simply be that they are born performers, love to entertain people, and get an adrenaline rush by being on stage. (WATCH: Bb Pilipinas 2017 candidates perform at talent competition)
Outstanding performances
Bb # 17 Camille Manalo – It was very refreshing to see a pretty girl in a ponytail and full makeup beating up some guys. Camille was accompanied by 4 guys during her taekwondo demonstration, where her flying kicks cut wooden boards in half. She showed everyone why she was a member of the Philippine taekwondo national team and a gold medalist during the 2011 SEA Games. Maybe she can teach the rest of the candidates some self-defense moves.
Bb #3 Maria Angelica de Leon – Mariel mesmerized the audience with her beauty even before she started to sing, and they fell in love with her as she sang the operatic version of "My Heart Will Go On" both in Italian and English. The first half of the song showed the soft, tender side of her angelic voice. By the latter part of the song, her powerful voice hit those high notes like a dream.
Bb # 2 Arienne Calingo – Everything about Arienne's performance was on point (pun intended). She looked divine in her white ballet costume performing Mikhail Fokine's "The Dying Swan". From the moment she went up on her tippy toes, her arms flailing gracefully and that strained facial expression grasping for air, Arienne was elegance personified.
Bb #5 Joselle Mariano – Looking stunning in her red asymmetric gown, Joselle belted out "I Dreamed a Dream" flawlessly. She could have very well been competing in one of the reality-based talent competitions. Her voice had power and it was filled with emotions.
Girls and their guitars
Bb #25 Clarice Villareal – She channeled her inner Audrey Hepburn by playing the guitar and singing "Moon River". It was a calming number that highlighted Clarice's chill personality.
Bb #35 Thoreen Halvorsen – Thoreen played the guitar and sang Katy Perry's "Roar", getting the audience singing along. Her song choice proved key to a memorable performance.
Bb #39 Elizabeth Clenci – There was just something really cool about Elizabeth's vibe as she played the bass guitar to Stevie Wonder's "Isn't She Lovely". It was evident that this is something she's really passionate about as she's been a full-time session bassist.
The other candidates had the following performances.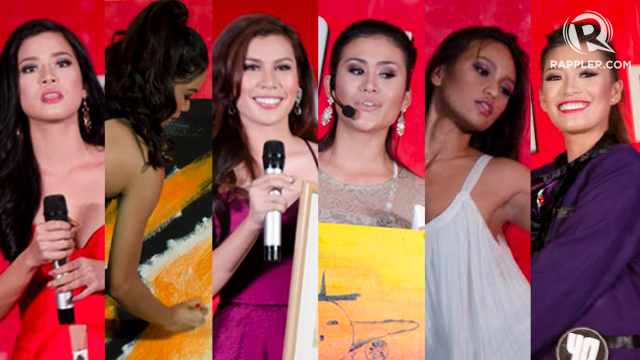 Bb #1 Dane Marasigan – Dane sang a very ambitious song – "It's All Coming Back To Me Now" by Celine Dion.
Bb #23 Ara Salientes – Ara performed a spoken piece dedicated to her mother.
Bb #40 Kristel Guelos – Kristel delighted the audience with a magic routine.
Bb #4 Jessica Ramirez and Bb #27 Beatrice Valente both showed what speed painting was all about.
Bb #36 Gillian Colcol – Gillian was the only dancer in the group, performing a contemporary piece.
It takes a lot of guts to perform in front of others, but it's even more nerve-racking when you know you're being judged as a beauty pageant contestant. These women know that the audience – and also social media – can be vicious, but they chose to join the talent competition. For that alone, they deserve applause. As strong role models, they showed that you can pursue your passion regardless of what others think.
Even if the scores won't be part of the scoring in the actual pageant, these candidates left a great impression on those who saw them perform. Taekwondo, ballet, singing, playing an instrument – these all take discipline as well as hours and hours of training. It is a testament to the candidates' character that they are willing to put in the effort to learn something and be great at it.
These women aren't just confident, beautiful, intelligent, and charismatic. You can definitely add talented. This year's talent competition certainly echoes BPCI's effort to showcase Filipinas who are "women of change."
—
This article originally appeared in Rappler.
All photos courtesy of Rappler unless otherwise indicated.