STYLISH LADY. Miss Universe Philippines 2018 Catriona Gray is one of the awoardees of this year's 'People Asia 's' Women of Style and Substance. All photos by Voltaire Tayag/Rappler
MANILA, Philippines – The Philippines is touted as a pageant loving country. Our love affair with pageants dates back to the carnival queens of the early 1900s. In the 1960s, television made it possible for the entire nation to witness a Filipina becoming Miss Universe 1969 (Gloria Diaz) and shortly thereafter Miss Universe 1973 (Margie Moran).
The first ever Miss Universe 1952, Armi Kuusela, married a Filipino. The first ever Miss International 1960, Stella Marquez Araneta, married a Filipino and also started the most prestigious beauty pageant in our country (Bb. Pilipinas). We have hosted the Miss Universe pageant three times (1974, 1994 and 2016).
It's easy for certain groups to conclude that Filipinos give too much importance on an otherwise outdated and superficial practice. Yes, we do love our beauties. But a closer look at how they are treated shows how much the nation respects them for their totality.
The country's obssession intensified once more in 2010 when Venus Raj started a golden age of Philippine pageantry. More than ever, the Filipinas are being celebrated not only for their beauty but their charm, intelligence and powerful ability to touch people.
Miss Universe Philippines 2018, Catriona Gray, is a perfect example of a Filipina who possesses beauty and brains, strength and charm, style and substance.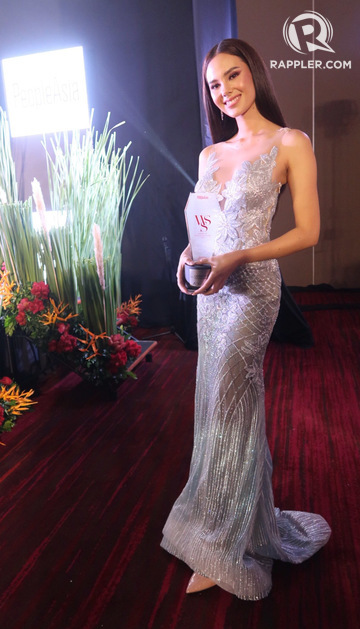 It's no wonder she was chosen as one of People Asia's Women of Style and Substance 2018. The list includes Tourism Secretary Berna Romulo-Puyat, ABS-CBN's cluster head for advertising and sales Tootsy Angara, BPI Executive Director and VP Mariceis San Diego, GoNegosyo adviser Ginggay Hontiveros-Malvar, broadcast journalist Zen Hernandez and several other female industry leaders, movers and shakers.
"If there's one thing that can be said about these women, it's that they are all women of action. They walk their talk, whether on the corridors of power, the catwalk, the rice fields, or battle zones in Marawi," said People Asia's editor-in-chief Joanne Rae Ramirez about the magazine's awardees.
In Catriona's case, it's a testament that our country doesn't stereotype beauty contestants and given respect when it is deserved.
People Asia wrote: "Catriona Gray – a mathematician, musician and celebrity who is redefining what it means to be a beauty queen in modern times"
Let's get to know more about what makes her stylish and what to her is substance.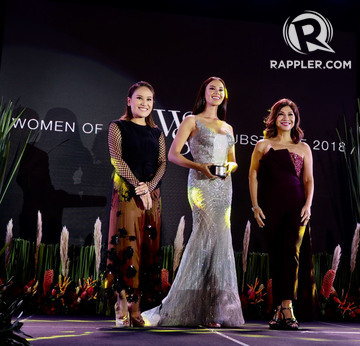 STYLE ICON. Catriona Gray receives the award from People Asia's Joanne Ramirez and Dr Aivee Teo.
Q: What was little Catriona's style? Was she a princess wearing frou-frou dresses and tutus or was the casual type?
Catriona: Little Catriona was definitely a very girly girl. I loved dressing up! I think it really influenced me to have a regard for style and appreciation for fashion and how it makes you feel, at a very young age.
Q: What is Catriona's personal style?
Catriona: Timeless, simple and feminine.
Q: Growing up, what was one style you thought you rocked and years later looking at photos, you say 'What the heck was I thinking?
Catriona: The front hair trendrils ala Spice Girls.
Q: What is one fashion trend you wish would never come back?
Catriona: Low crotch pants!
Q: Who are your major style icons and what do you like about them?
Catriona: My mother; very timeless and classic. [She] taught me to invest in timeless pieces. Rosie Huntington; also classic, structured and timeless with a touch of modern.
Q: What is you home design style aesthetic?
Catriona: Cozy, artsy chic. I love lots of natural light with touches of earthy elements like timber and colorful accents in decor. And a huge art gallery wall!
Q: Do you think style can exist without substance and vice versa?
Catriona: No because style makes you feel a certain way. Whether it's just a boost of confidence or your a conscious consumer, your motives to how you dress are a part of who you are – that in a way is your substance.
Q: Many people usually say "style over substance." Do you think that discriminates women who just want to focus on style? Do you think there is anything wrong with wanting one over the other?
Catriona: Not necessarily. Usually women dress well not just for other people, but for themselves.if looking good makes you feel like your showing your best self to the world, and that makes you happy, then just do you.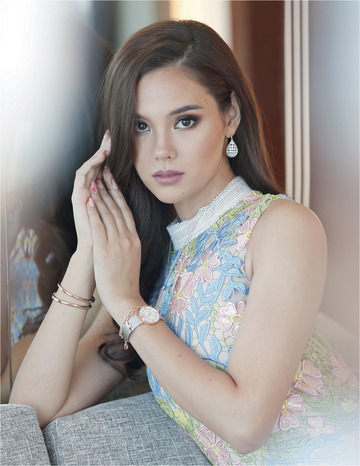 People who barely know beauty contestants or Catriona Gray as the girl who competed in Miss World and is now going to represent our country in Miss Universe, can easily dismiss it as a very easy thing to do.
They think that a beautiful woman just wakes up in the morning, gets a gown and swimsuit and then competes. These days, beauty contestants can be likened to athletes. They endure months or years of training, disciplined lifestyles and diets, physical preparations and mental conditioning.
Catriona is the first ever Filipina to represent the country in both Miss Universe and Miss World – two of the world's most sought after titles. Just think of how much hard work and sacrifices Catriona has done to fulfill her dreams. This strong determination and drive, the balance of strength and femininity.
She's been at it for years and she is at her peak. Catriona's beauty lies not just in her physical form and strength but she possesses intangible qualities that are felt by people and draws them to her.
Beauty or power that intimidates or pushes people away loses its essence. But beauty becomes incomparable when it brings positivity and pride to an entire nation. Quite simply, that's Catriona Gray, the incomparable beauty with strength, style and substance.
As first appeared in Rappler.com