The Miss International Beauty Pageant holds a very special place in the Filipinos' hearts.
First, the first ever Miss International 1960 is Stella Marquez of Colombia. She is more popularly known as Madame Stella Marquez Araneta, the woman who founded and has tirelessly championed the Bb. Pilipinas Charities Inc. since 1964.
Second, the Philippines has won the title 6 times – Gemma Cruz (1964), Aurora Pijuan (1970), Melanie Marquez (1979), Precious Lara Quigaman (2005), Bea Santiago (2013) and Kylie Verszosa (2016). Only Venezuela has more wins but only by one.
In a special solo send-off last October 11, 2018 at the Novotel Manila Araneta Center, the 21-year-old Ahtisa Manalo, Bb Pilipinas International 2018, wowed the press with her beauty and confidence. She may have been the youngest among her batch but her youth has not hindered her. Since winning, Ahtisa is noticeably a lot more engaging and more comfortable on stage in front of the media.
Gone are the days when beauty queens can just pack a swimsuit and an evening gown and go to their pageant. Now, it takes a group of people to help prepare, train, style and dress our queens.
Ahtisa happily shared, "My national costume is inspired by Subanon tribe from Mindanao. It's by Amir Sali and my evening gown is by Micheal Cinco but he told me not to share anything pero it would be bongga (grand)."
How have you changed since winning Bb. Pilipinas?
Ahtisa: In a way, I've changed and I haven't really changed. I'm still the bubbly, madaldal na bunso (talkative baby sister) of everyone. But I'm also now stronger. I've been through a lot preparing for Miss International. I'm stronger and I know how to decide better.
What do you think is your advantage over the other women in the pageant?
Ahtisa: I think being a Filipina itself is my advantage over the other contestants. As I said, the Filipinos and Japanese people are almost the same. We are very friendly and hospitable. I think the Miss International Organization is looking for someone who is really aligned with how the organization works.
What is one thing you find very fascinating or interesting about the Japanese culture?
For me, I think it's very interesting how they value their personal space, personal bubble. Everyone in the Philippines, you can just beso (kiss) anyone, tap anyone on their back. Everyone respects everyone's personal space. So I think, in a way, it's really helpful and that's what makes their country really progressive and a really good place to go to.
If the Japanese or the other contestants were to ask you, what place in the Philippines would you tell them to visit?
Ahtisa: I'd tell them to visit Palawan, specifically, El Nido, Palawan. That's the first place I've visited when I travelled alone. It's really a paradise. I've seen alot of photos from different countries but it's really different when you are there. It's like you are lost in another world. Most especially the people, they're very hospitable, they really take care of you even though they thought I was a foreigner. But when I started talking Tagalog, they said "OMG, you're a Filipina. So whether you are a foreigner or a Filipina, they really take care of you."
Besides that, Ahtisa has sought the advice of former Bb. Pilipinas International winners. She said the common tip she was given was, "Always be on time! Because the Japanese, they're really specific sa time, so that's one thing they told me – just be on time always."
Ahtisa possesses the type of beauty, charm, demeanor and physique that the Japanese adore and can win the Philippines' 7th crown.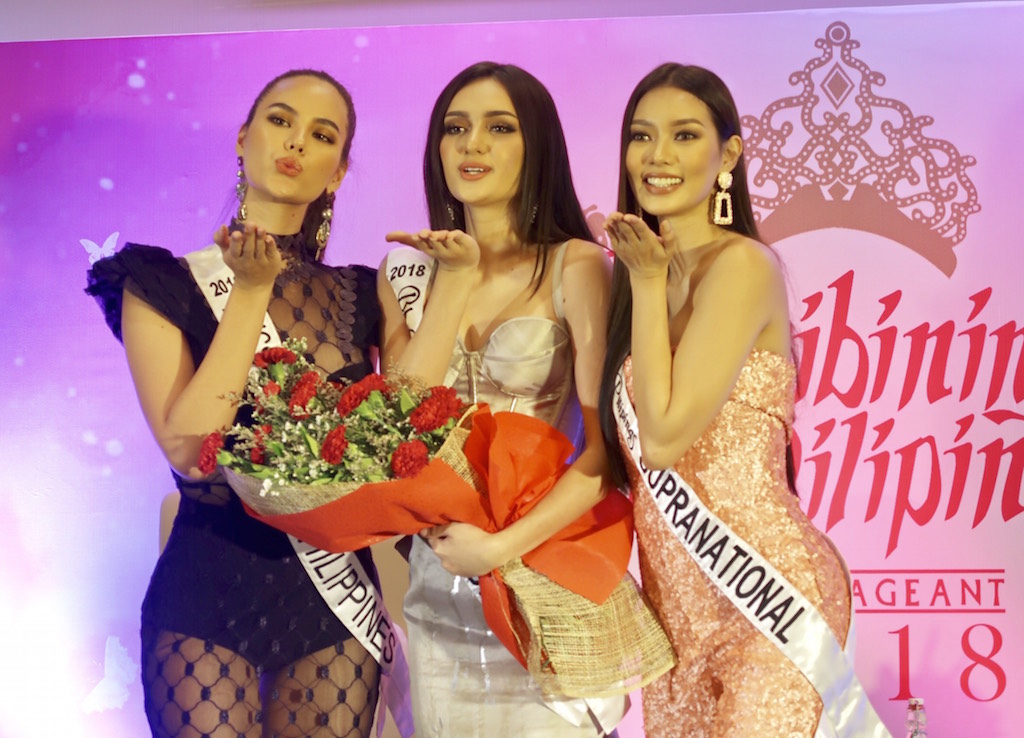 At the send-off, she was joined by her fellow queens, Miss Universe Philippines 2018, Catriona Gray and Bb. Pilipinas Supranational 2018, Jehza Huelar.
Bb. Pilipinas Globe 2018 Michele Gumabao and Bb. Pilipinas Grand International 2018 Eva Psychee Patalinjug are competing abroad in their respective pageants.
Ahtisa flew to Tokyo, Japan on October 18. The finals will be at the Tokyo Dome on November 9, 2018.
As first appeared on Rappler.com