Last January 2017, the Philippine pageant scene was shocked at the news that TV host and personality Cory Quirino gave up the Miss World (MW) franchise. It left many pageant fans speculating about the fate of Miss World Philippines (MWP). Many worried that it would affect our unbroken placement streak in Miss World since 2011.
The Miss World Philippines Media Conference was held on July 7 at the New World Hotel, Makati City.
Although there are plenty of exciting changes ahead, the most signifcant part of the event was the presence of the most recent Miss World Philippines.Gwendolyn Ruais (MW first Princess and MWP 2011), Queenierich Rehman (Semifinalist and MWP 2012), Hillarie Parungao (Semifinalist and MWP 2015), Catriona Gray (MW 3rd runner-up and MWP 2015) and the beautiful Megan Young, Miss World 2013. It was heartwarming to see the former queens show their support for the new organization and express their desire to train future MWP winners.
Here's what's new with Miss World Philippines 2017.
1. New national director and general manager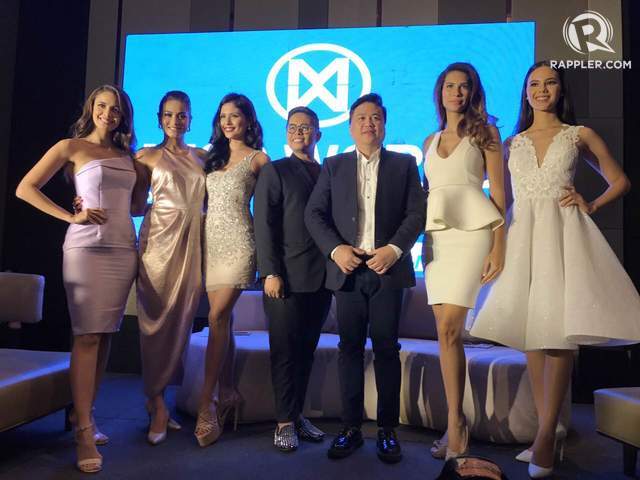 Miss World Organization (MWO) Chairwoman Julia Morley offered the franchise to Arnold Vegafria of ALV Talent Circuit at a chance meeting in Beverly Hills, California. Vegafria is very conscientious of the fact that he is not merely staging a beauty pageant. Most importantly, he believes in the charity component of the organization.
The new MWP general manager is Bessie Besana, an up-and-coming fashion designer and long-time pageant trainer (formerly with Aces & Queens beauty camp). Bessie knows the ins and outs of the pageant scene but his kind spirit makes him a favorite of the candidates.
2. New MWP 2017 finals night venue
Arnold Vegafria promises a pageant that is "bigger and better in more ways than one." Unlike in previous years where the MWP coronation night was held in smaller venues, this year's will be held at the Mall of Asia Arena on September 3. 

3. New Miss World crown
Megan Young will collaborate with a renowned jeweller to create a new Miss World Philippines crown. The organizers mentioned that it will be a sleeker and more elegant design and will be in tune with the Miss World color motif (blue and silver). Megan joked that she will have the final say in the design.
4. 3 new titles
The Miss World Philippines title will remain the main and top crown. However, there are 3 new titles that will give aspiring candidates a chance to compete internationally. This is the complete winners line-up.
Miss World Philippines 2017 – to compete in China on November 18, 2017

Reina Hispanoamericana Filipinas 2017 – to compete in Santa Cruz, Bolivia in November 2017

Miss Multinational 2017 – to compete in New Delhi, India in December 2017

Miss Eco Philippines 2017 – to compete in Miss Eco International in Alexandria, Egypt in April 2018

MWP First Princess

MWP Second Princess
5. New competition format
The MWP 2017 competition will more closely replicate the Miss World format.This year, they will have the following fast track events.
Brand Fashion Show – where the Top Model Challenge will be held

Charity Gala Night – where the Talent Competition will be held

Sports Challenge – where the candidates will be divided into 3 teams

Beach Beauty Challenge

Charity Day
The winners from the fast track events will automatically earn a spot in the semifinals.
6. New MWP theme song
During the media conference, the organizers gave the audience a sample of the new MWP theme song. It was written and performed by Jay-R and Kris Lawrence, two of the countries best R&B artists. Both have generously given their time and talent as their contribution to the charitable efforts of the MWO. It is a touching and heartwarming anthem that will sound even more inspiring when it is officially released featuring a full orchestra and a children's choir.
7. New website and hashtags
The new official website of MWP is www.missworldphilippines.org and the new official hashtag is #msworldphil. The new twitter account is MsWorldPhil.
8. New charity beneficiary
MWP National Director Arnold Vegafria is most passionate about raising funds for their chosen beneficiary, the Jose Reyes Memorial Medical Center. The hospital is located in Santa Cruz, Manila. Vegafria hopes that through their efforts, they will be able to renovate and build better wards (particulary for cancer patients and children) to provide better medical attention to those in need.
The tradition of "Beauty with a Purpose" as Miss World's main advocacy lives on through the efforts of the new Miss World Philippines organization. Vegafria is also inviting all former titleholders and candidates who competed at Miss World (regardless of franchise) to join them in preserving the legacy of Miss World Philippines.
The presence of the previous queens ensure the continuity of this beautiful sisterhood because they are there not only as beauty queens, but also as individuals who want to help others. 
—
This article originally appeared in Rappler.
All photos courtesy of Rappler unless otherwise indicated.