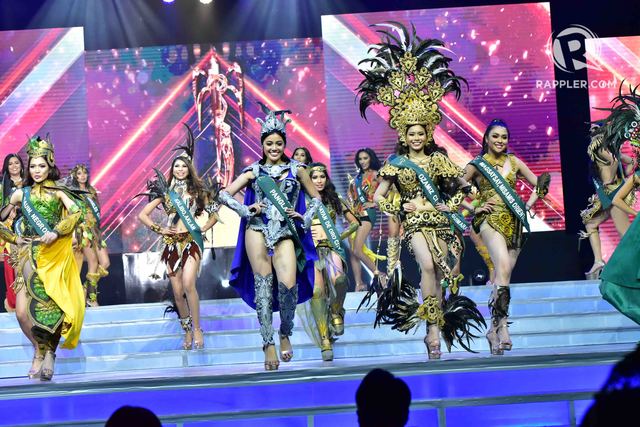 With an emphasis on the transparency of the results, the organizers decided to announce the Top 15 scorers from each of the preliminary events. Many felt this was a time-consuming and confusing portion for both the live audience and social media followers. They could have just flashed the Top 15 scorers from each preliminary segment on the monitors and eliminate the actual announcement. This was the only issue that prevented the format from being one of the best pageants.
The Top 10 semi-finalists were finally announced. In the swimsuit competition, designer Ricky Abad created swimsuits that played off of the warrior theme. The chocolate brown one-piece, strapless swimsuits with cut-outs with gold accents beautifully showed of the candidates well-toned bodies. If Wonder Woman were to have a swimsuit, this would be a good choice.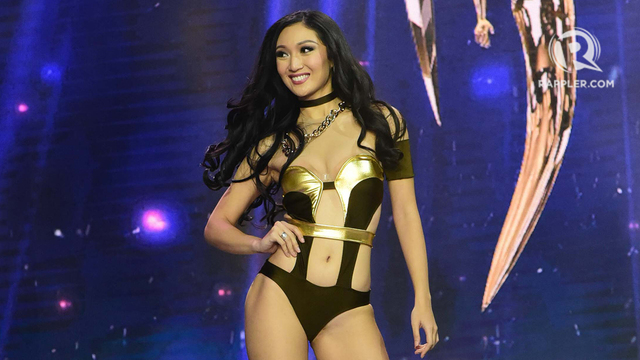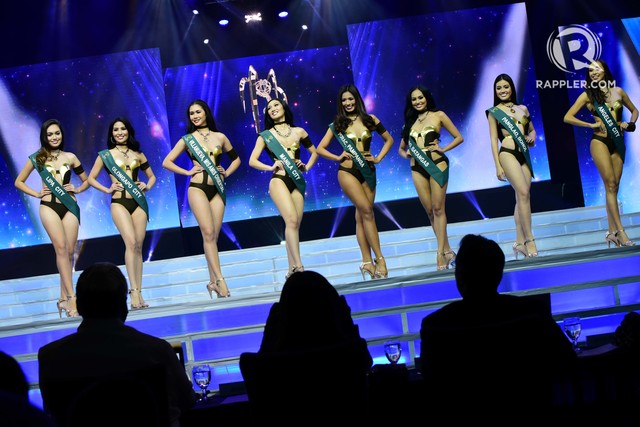 Not to be confused with the eco-warrior costumes was the Cultural Wear portion where candidates wore costumes representing their hometowns. Elizabeth Amahan of El Salvador City, Misamis Oriental, won the Best in Cultural Wear designed by Jie-Jie Aisa. It was featured a huge intricate backpiece in a matte gold finish using native materials. The pattern was repeated on the hemline of the full ballgown skirt.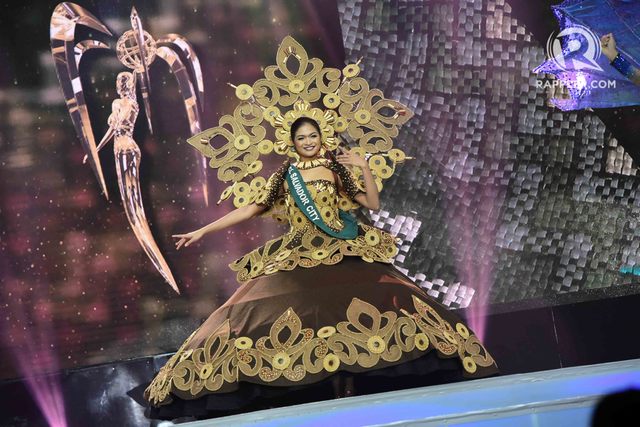 Rianne Kalaw's (Lipa City, Batangas) cultural wear designed by Louis Pangilinan was one of the most eye-catching pieces on stage. The aqua Maria Clara fantasy costume was accented with golden yellow fringes on the panuelo and lime green beaded tassles on the tapis. It was a refreshing color combination accented with gold appliques and religious stained glass effect on the skirt.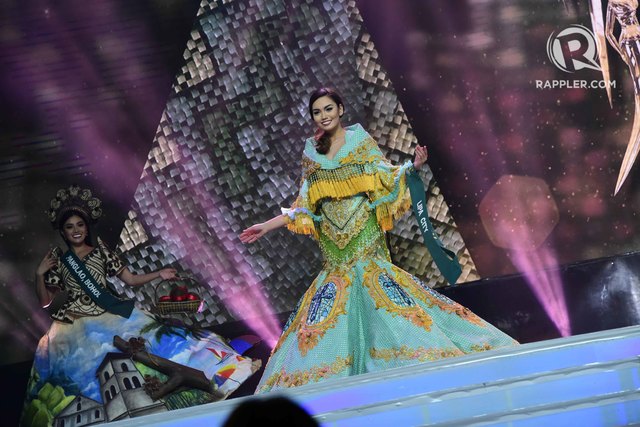 Celine Pangan (Ozamiz City) wore a creation by Edwin Nano. The basic black dress was accented with colorful beadwork, creating an interesting contrast. She is carrying a bedazzled representation of a hagalong (a long, two-stringed guitar).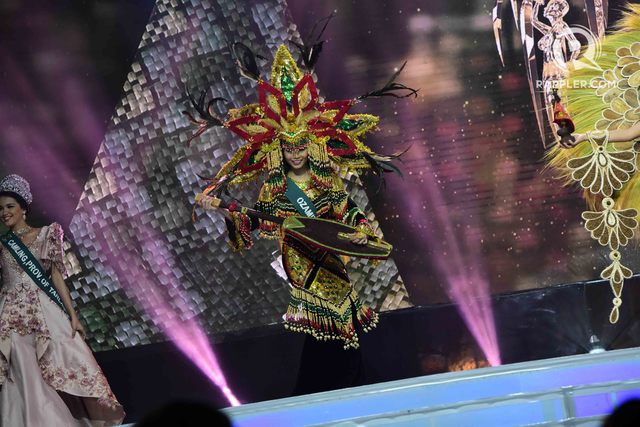 Coming from the town of the Ati-Atihan, it is no wonder that May Adel Ahmed Salman from Kalibo, Aklan, wore a costume befitting this festival. Peter Rian Casisid created this eye-catching costume that shows off a lot of skin.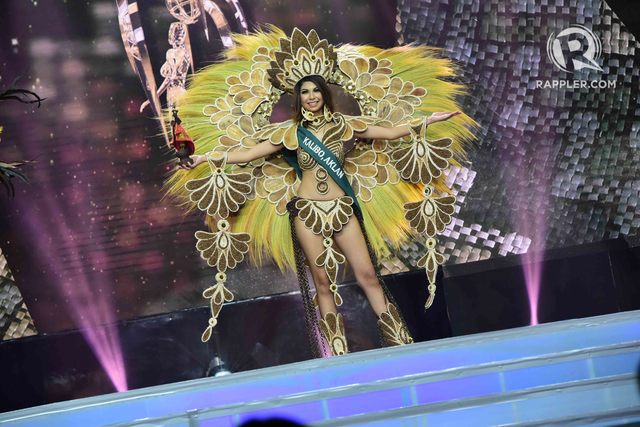 Fredrick Berches of Lumban, Laguna, created this religious-inspired, yellow-green costume with a dramatic train for Samantha Viktoria Acosta of Pulilan, Bulacan. The matching yellow-green headpiece frames Samantha's beautiful face. Many pageant watchers were shocked with her non-inclusion in the semifinals. She's definitely someone to watch out for in future pageants.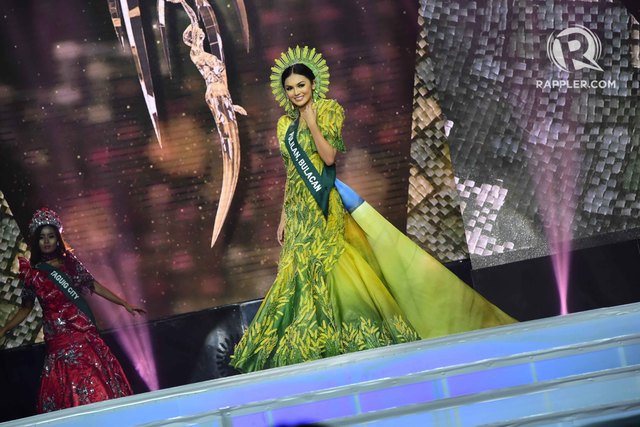 The winner, Manila's Karen Ibasco, also wore a Fredrick Berches creation, a more modern take on the terno featuring a mullet skirt.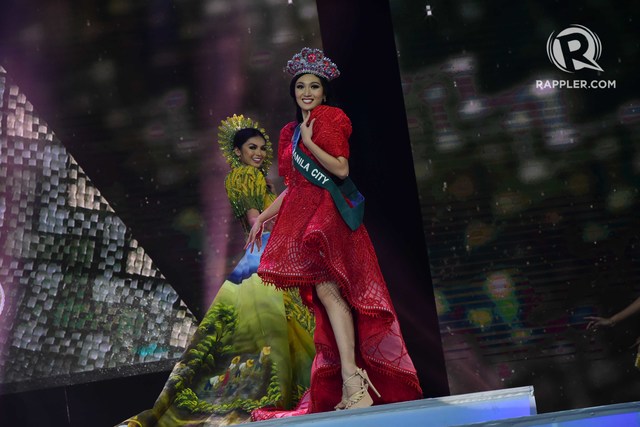 Unfortunately, some designers opted not to follow the brief and decided to just make what they wanted. San Fernando, Pampanga, came out in a Muslim princess costume typically identified with Mindanao. Dauin, Negro Oriental, wore a beaded, sheer bodysuit with pop-up wings that looks more like a costume for Priscilla: Queen of the Dessert. With designers like these, it's no wonder some beauty pageant organizers want to screen all the costumes.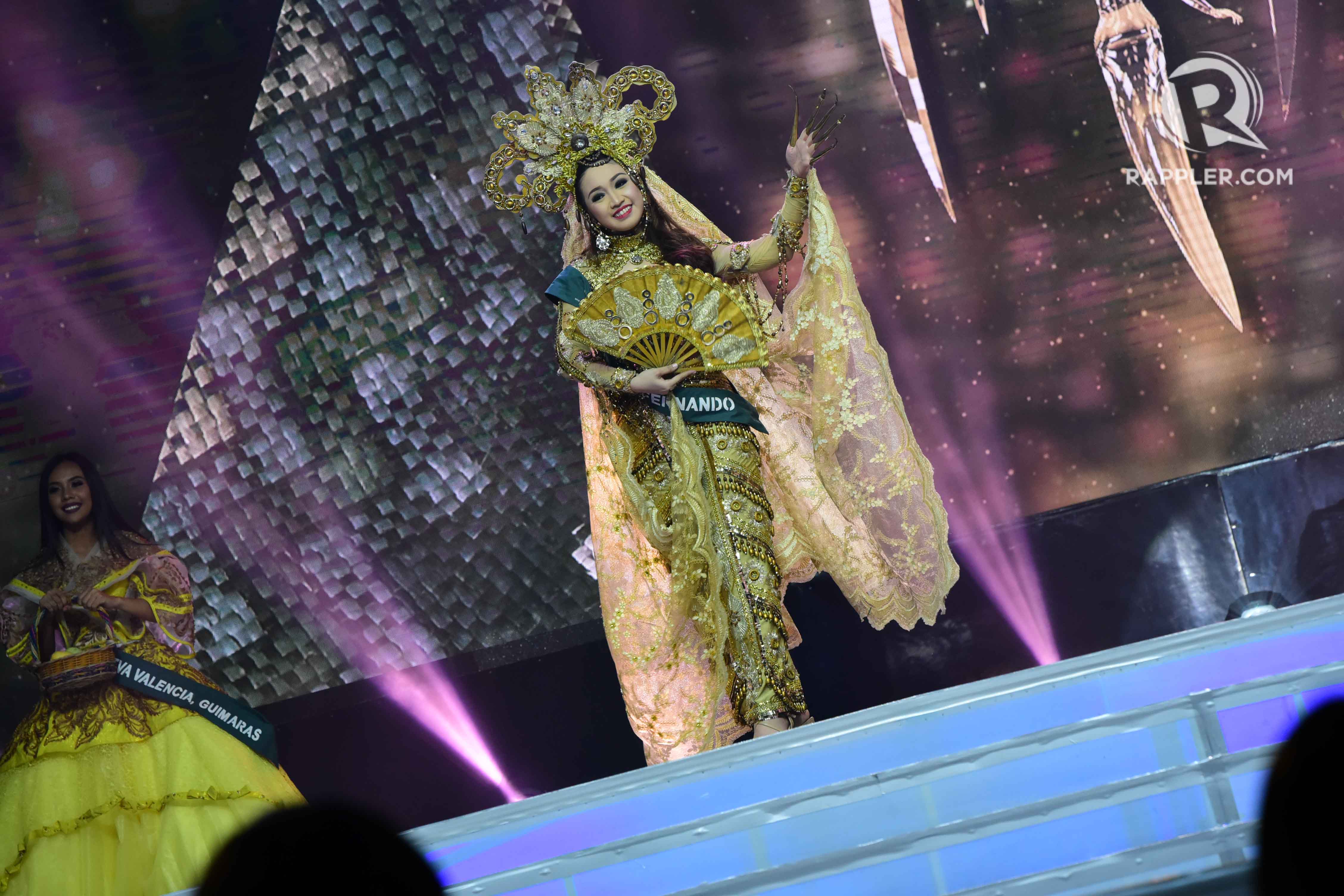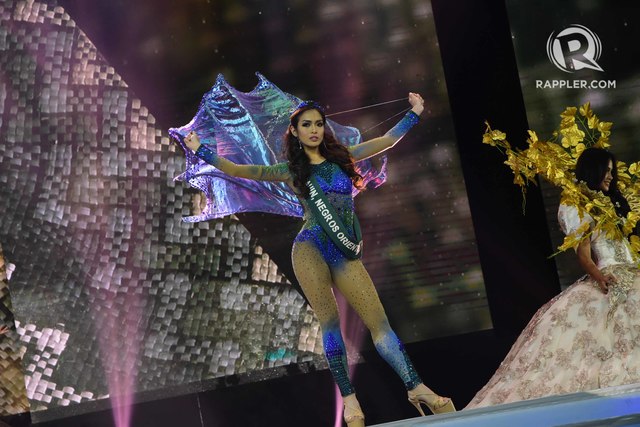 The Cultural Wear segment might be remembered by those who watched the pageant live with the incident involving Miss Lucena City. Unfortunately for Shaina Louis Kim, she had a very bad fall as she was sashaying down a flight of stairs in her Patty Gonzales costume. The stiff material and high heels made it very difficult for her to get up. She was assisted by fellow delegates and eventually the organizers. Upon resetting this segment, she came out more confident than ever and the audience cheered as she successfully maneuvered the stairs the second time around.
During the Q&A portion, the Top 10 changed into the brightly colored, eco-friendly wraps of Ditta Sandico Ong, who showcased the versatility and beauty of Filipino creativity with wraps made of banaca, a special fabric made of banana and abaca fibers. It was truly a fitting collaboration between the pageant's cause and sustainable fashion.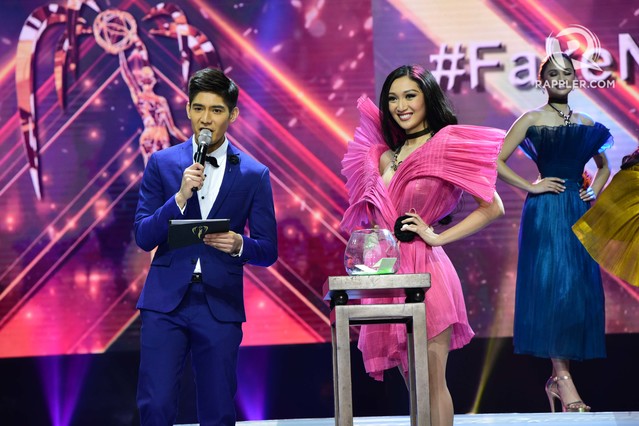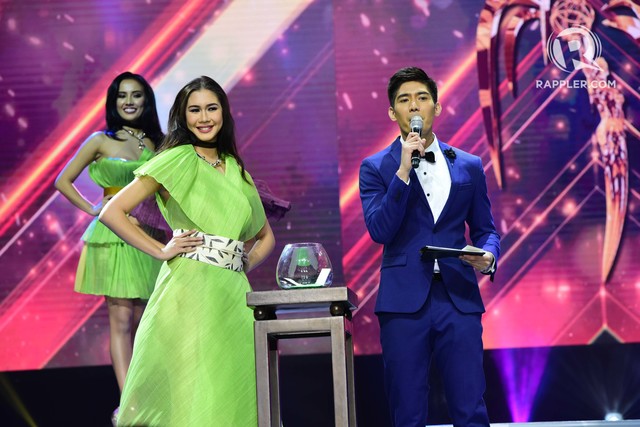 One of the most awaited portions of a beauty pageant is the Evening Gown Competition. The collaboration between the designer and the delegate is a labor of love which conveys the sense of pride for both – when a candidate from the designer's province is able to show the entire country the beauty of his creation.
Miss Earth 2015 Angelia Ong looked like she was draped in liquid gold in her high- neck, long-sleeved, fully-sequined gold evening gown by Pat Santos. She proved that you do not need to show any skin to be sexy – elegance and sophistication personified.
As was the trend in recent pageants, there were many skin-tight nude illusion gowns encrusted with thousands of strategically placed Swarovski crytals. This year's Miss Philippines Earth Top 10 semifinalists did not disappoint. It would have been nice if the voice over during this portion described the gown and identified the designer.
Jessica Rose McEwen (Filipino community of New Zealand) came out in Benj Leuiab IV's nude illusion gown that sparkled as she walked across the stage so gracefully. It featured an intricate design on the bodice with nude panels and very slimming beaded columns. The skirt and overall look was very reminiscent of the evening gown of Miss Universe 2014 Paulina Vega. Jessica's hair and make-up highlighted the beauty of her face. It was a surprise that she did not make the finals.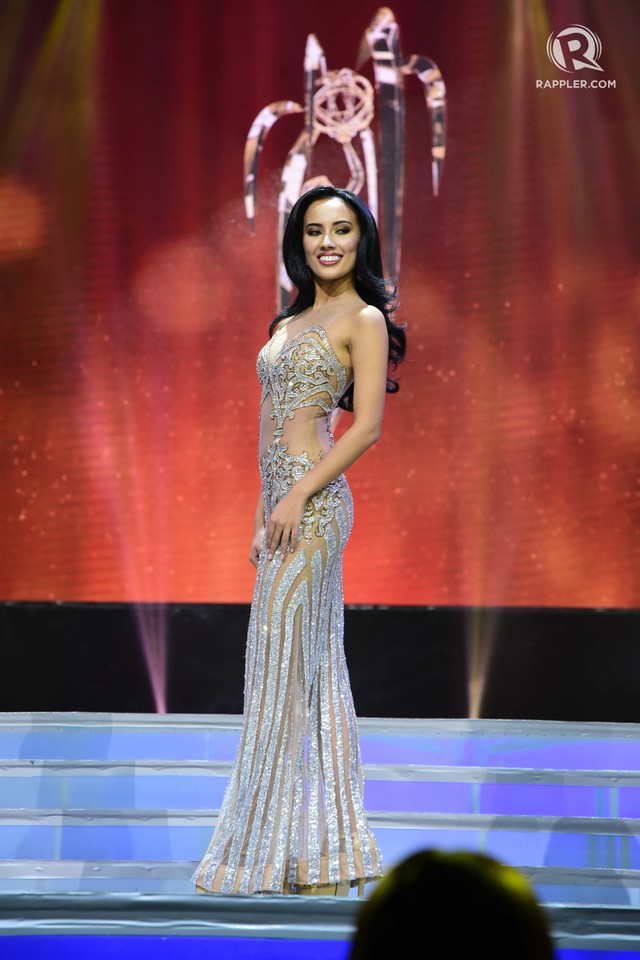 Jessica Marasigan (Caloocan City) wore a strapless light pink gown with a flared skirt. The bodice was accented with crystals that emphasized her tiny waist and statuesque physique. Her sleek ponytail gave a modern, fresh look to a classic silhouette. It was designed by pageant trainer veteran turned fashion designer Bessie Bessana.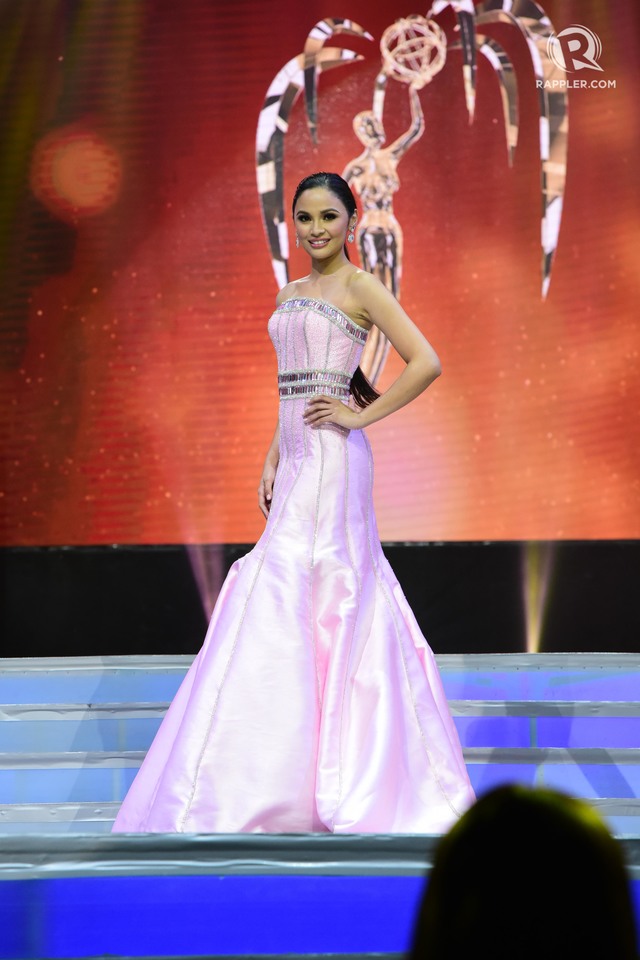 Rianne Charlotte Kalaw (City of Lipa) was in a deep red fully sequined evening gown with nude accents on the hips. The white buttons on the back of the dress distract from the whole look. It was designed by Louis Pangilinan. Unfortunately, pageant afficionados can easily identify elements of this design similar to very popular pageant gowns. The designers clearly have the skills but it would be nice to see more original designs rather than a variation of other gowns.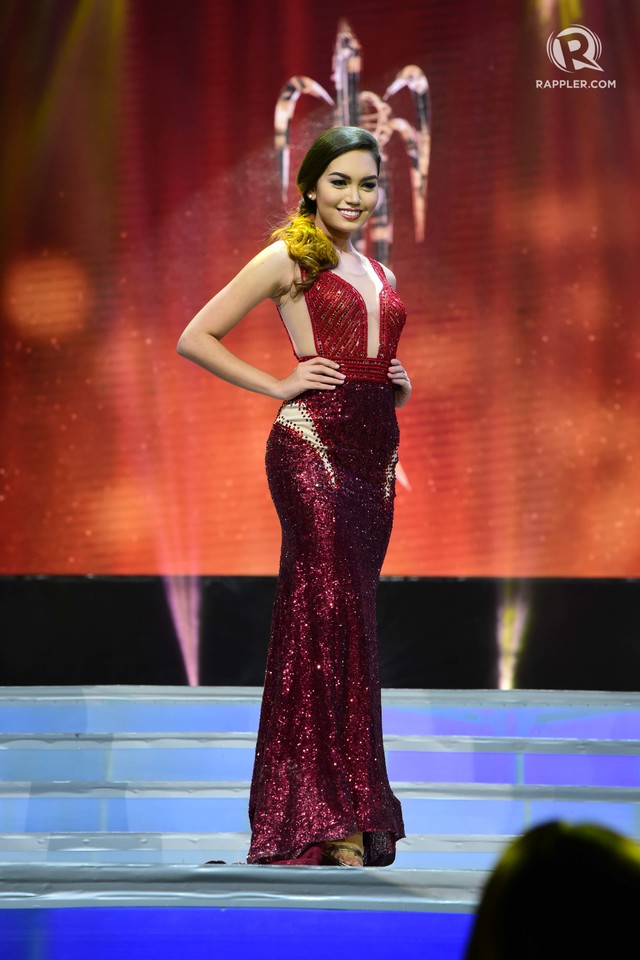 Kim de Guzman (City of Olongapo) was also in a nude mesh long-sleeved gown with a fuller skirt. The crystals were concentrated on the bodice and arms. It was a softer take on the otherwise sexier versions. It was modified enough to differentiate her from the nude illusion gowns. Kim's sleek, slightly wet-look hair showed of her beautiful face that was shining brighter than all the crystals on her gown designed by Paolo Blanco.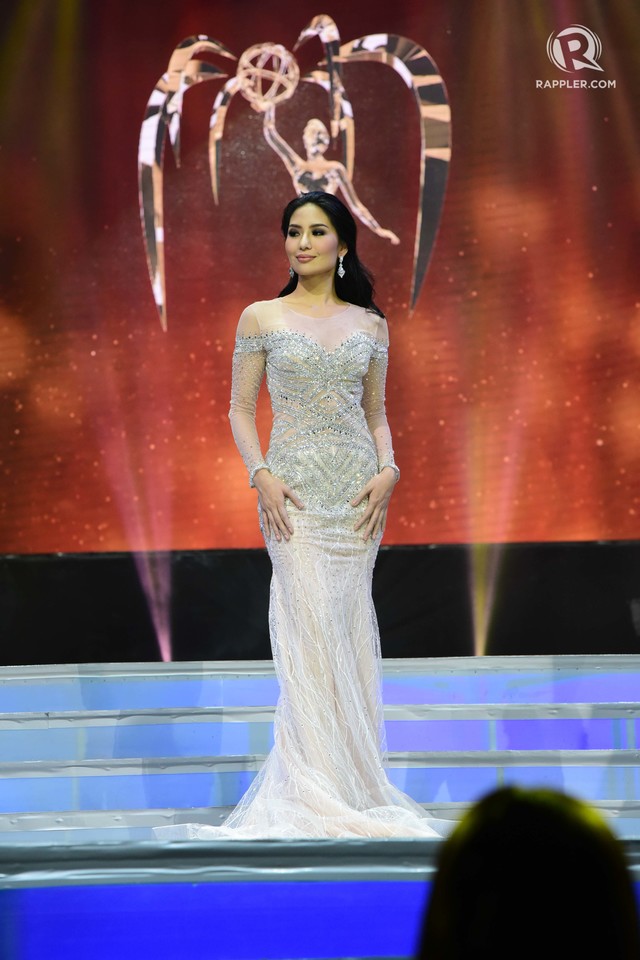 Nellza Bautista (Villanueva, Misamis Oriental) was in an evening gown designed by Juniel Doring. It had a striking mermaid silhouette and a very dramatic train. The black mesh fabric with the green/gold embroidery and beadwork was an interesting combination. It was very haute couture and Nellza wore it beautifully.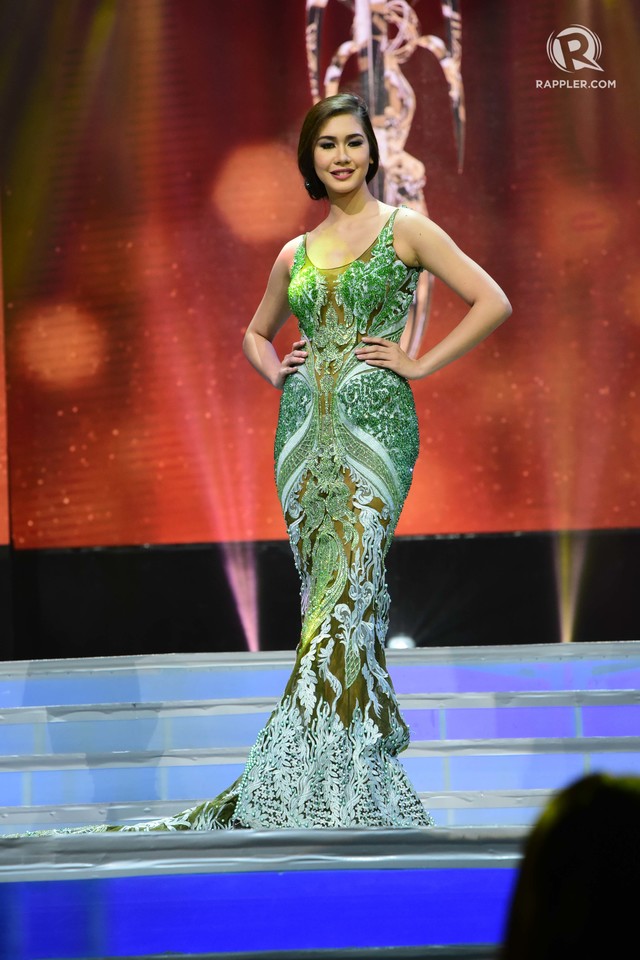 Karen Ibasco (City of Manila) came out smiling and beaming with confidence in a white Chico Estiva gown. The crystals, beading, and embroidery on the bodice accentuated Karen's sexy figure. The full panels on the skirt and the thigh-high slit showed off her long legs. Her side-swept hair and commanding runway was classic pageant form at its best.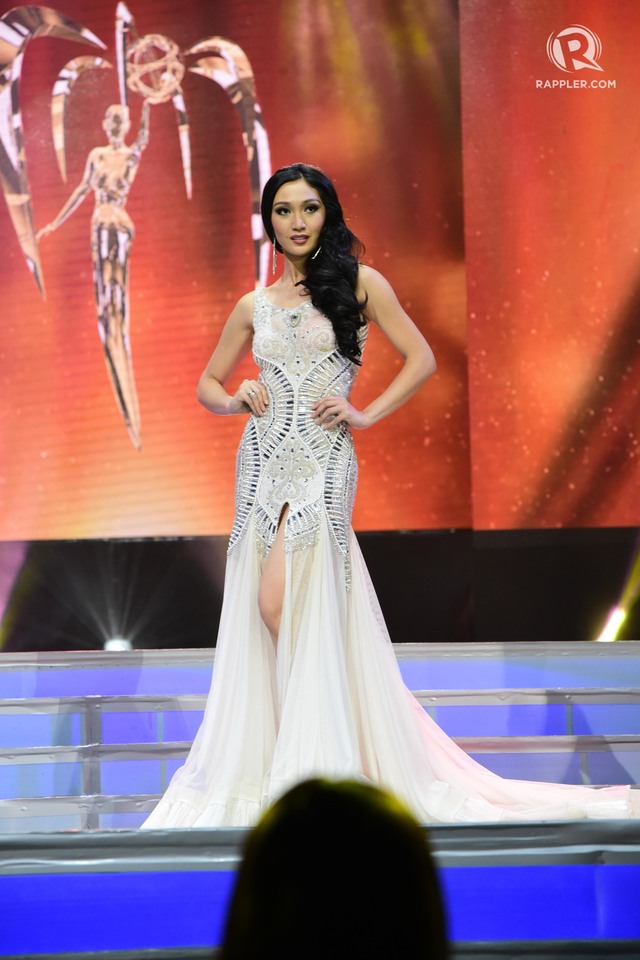 Anne Krishia Antonio (Porac, Pampanga) defied the current pageant trend and wore a simple white gown with draped panels on the shoulder that formed a ribbon on the back. It would have looked better if the fit on the bodice was tighter and the length of the skirt covered the shoes. It was a risky choice, knowing that mostly everyone will be in full crystals. But Anne's statuesque figure and morena skin perfectly complemented the gown designed by Jaz Cerezo.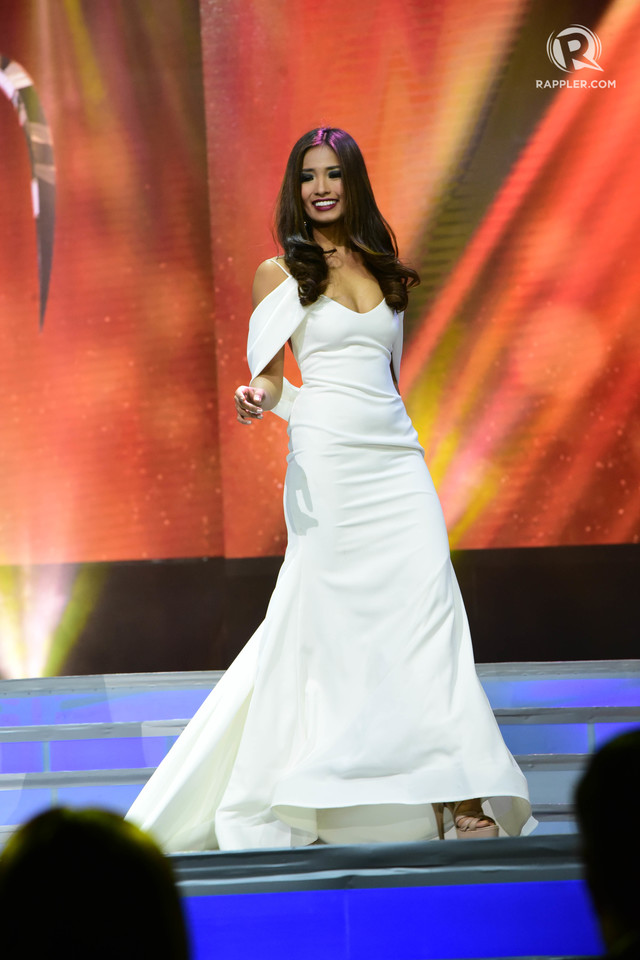 Vanessa Mae Castillo (Lobo, Batangas) was in a gown by Roy Erwin Tizon that is the current trend in pageants. The fit and the length were on point and Vanessa looked every bit a winner in this gown. The only problem with this look now is that there are other candidates with very similar evening gowns (like Jessica McEwen's gown).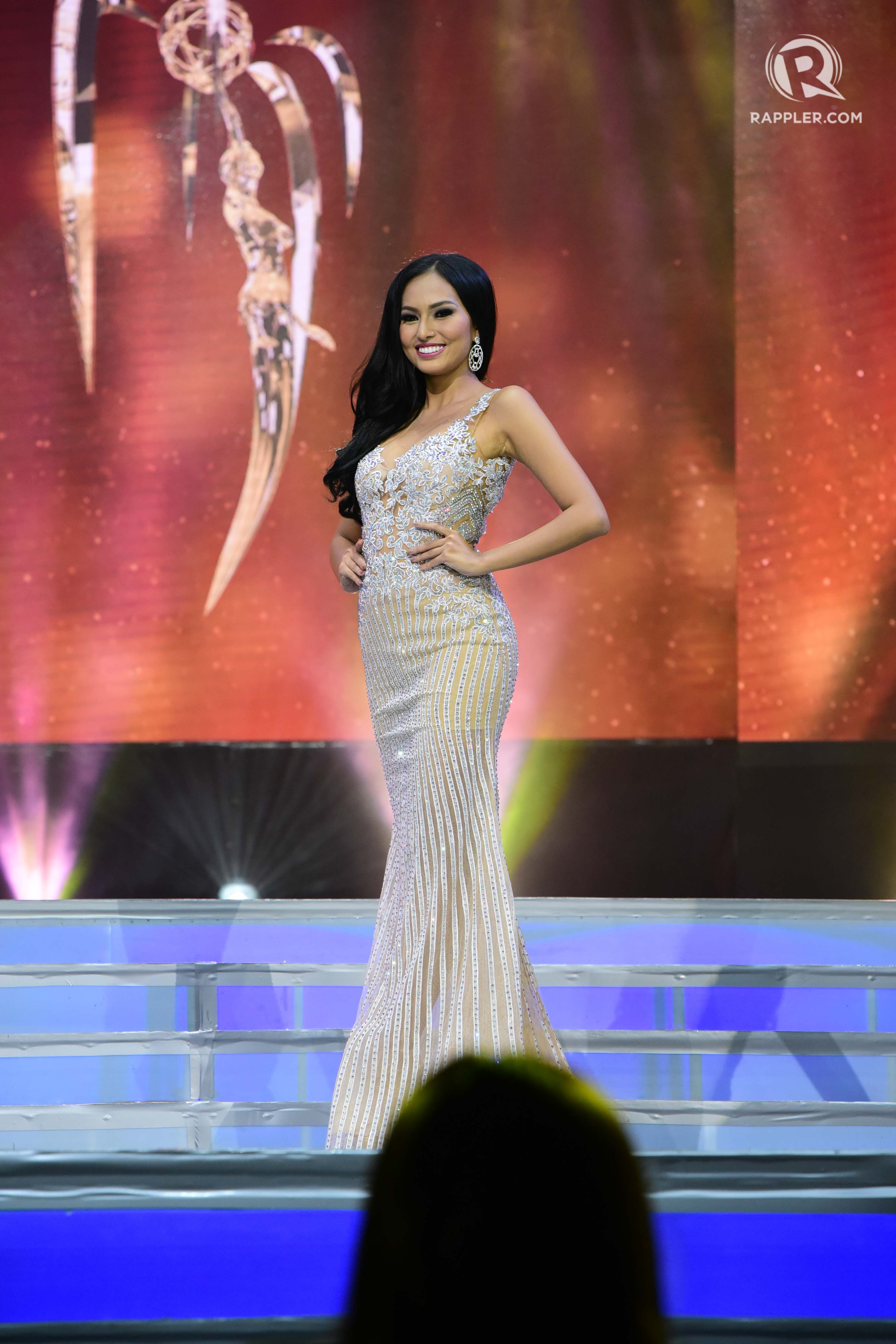 Catherine Tabaniag (Panglao, Bohol) was very strategic in her gown choice as it made her stand out from the rest of the crystal/sequin brigade. It was a classic mermaid silhouette in a striking red fabric with laser cut appliques on the bodice that transitioned to the back, creating an off-the-shoulder look. The long, straight, shiny black hair was the perfect accessory to this stunning Mikee Andrei creation.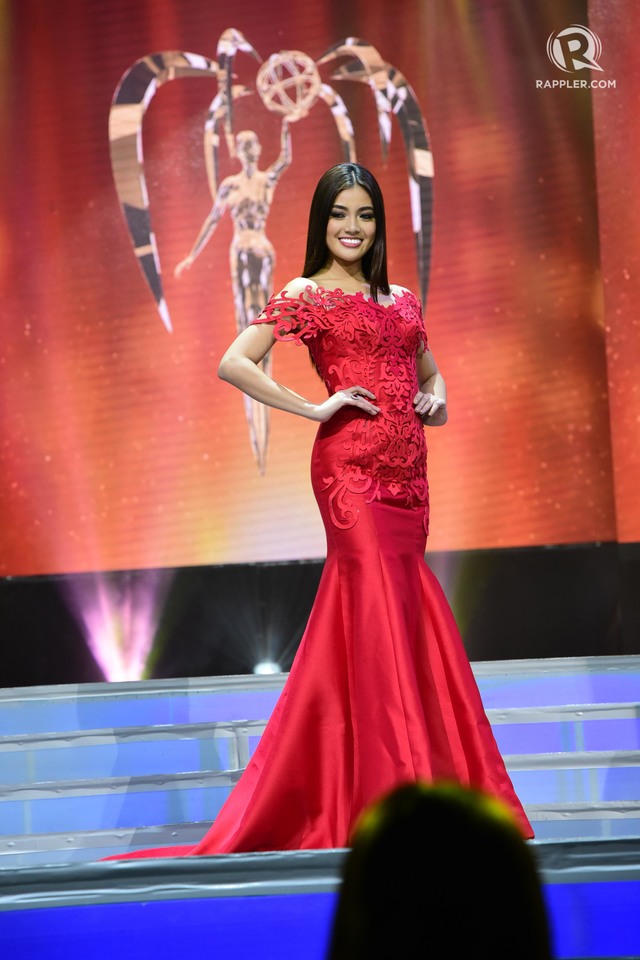 Lastly, Korin Frances Dizon wore a Cathy Capistrano nude/gold evening gown with a sheer cape. It seemed dramatic on stage but this cape trend was already overdone a couple of years ago in the pageant scene. It really didn't add much to the gown which was a bit loose on Korin's slender figure.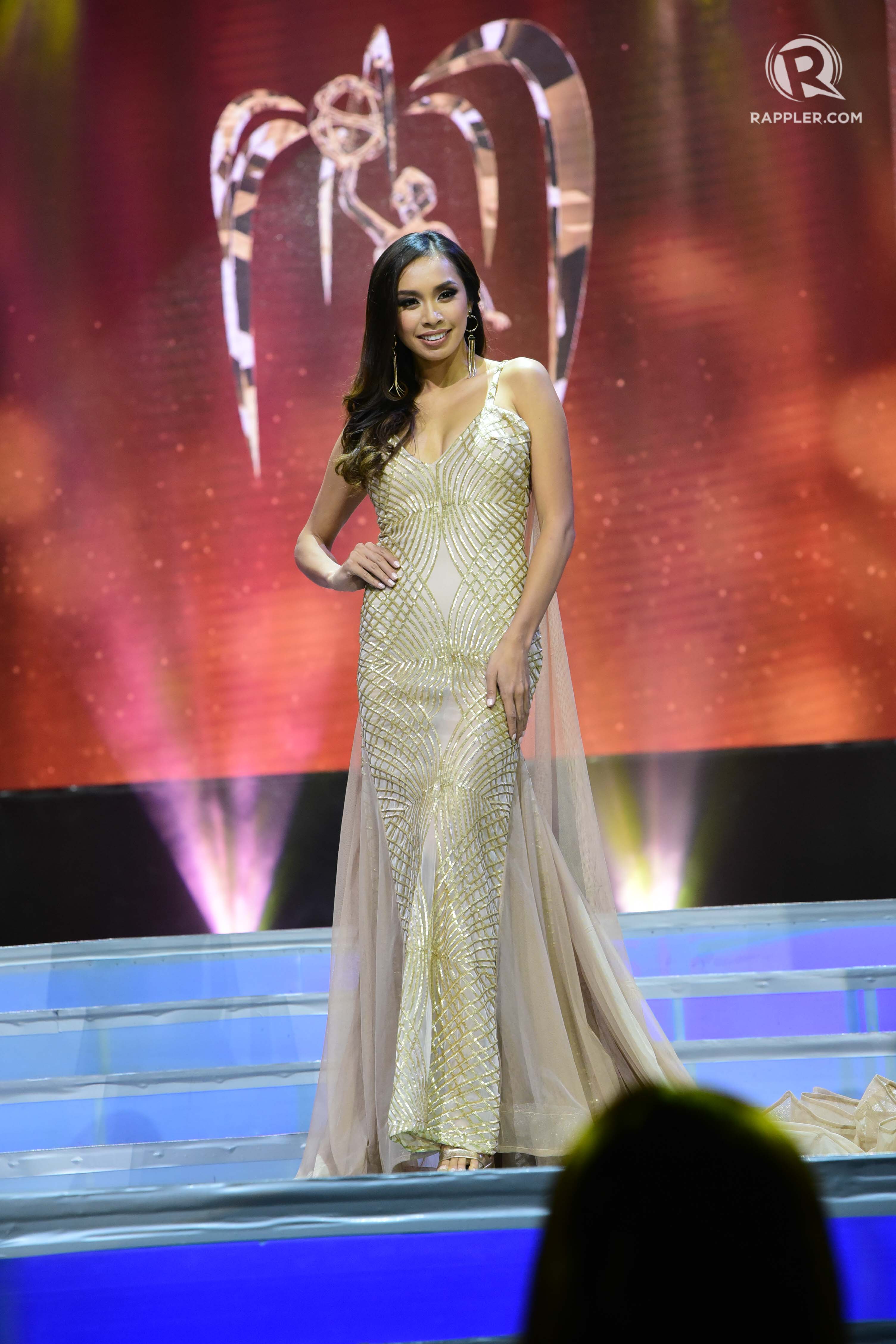 Miss Philippines Earth 2017 was an overall success in terms of fashion and production. When organizers and local fashion designers collaborate, we are all uplifted through their efforts in promoting our creativity, artistry and ingenuity. Our Miss Philippines Earth titleholders can show to the world the beauty of the Filipina and the Philippines.
—
This article originally appeared in Rappler.
All photos courtesy of Rappler unless otherwise indicated.