Even longtime pageant afficionados were surprised at the fabulous levels of fashion they witnessed. Adding butterfly sleeves to a beautiful couture gown and calling it a national costume just didn't cut it. Many of this year's costumes also paid homage to the late Pitoy Moreno, one of Binibining Pilipinas Charities Incorporated's (BPCI) former executive committee member.
The giant video wall provided a backdrop showcasing amazing drone shots of the countries most beautiful landscapes. The dramatic, modern, ethnic inspired music gave a majestic allure to the competition. And the best part, there was a narration of each costume's designer and inspiration.
The BPCI, headed by Chairperson Stella Marquez Araneta, showed their gratitude to Filipino pageant fans by selling the tickets at very low prices. It gave so many fans the opportunity to watch the event and give that needed morale boost to their candidates as the coronation night draws closer. Their cheers and high energy helped power such a memorable competition all the way up to the announcement of the Top 10 Best in National Costume Finalist.
The Top 10 Best in National Costume Finalists
Candidate 20 Catriona Gray
Designer: Jearson Demavivas
Theme: Muslim Princess
Catriona electrified the theatre with her stellar performance. Coupled with her facial expressions and her elegant movement, this was costume drama at its finest. The gold gown was accented with intricate beadwork that gave Catriona a sexy figure. Her veil was also the proper length and given a clean border and tassles. It was a very polished look.
When she put down her umbrella and segued into her dance runway movements, the crowd went wild. She was fully committed to the character and it paid off. Catriona cemented her frontrunner status with an exclamation point that night.
Candidates 35 Sandra Lemonon
Designer: Edwin Uy
Theme: Warrior inspired by "Ibong Adarna"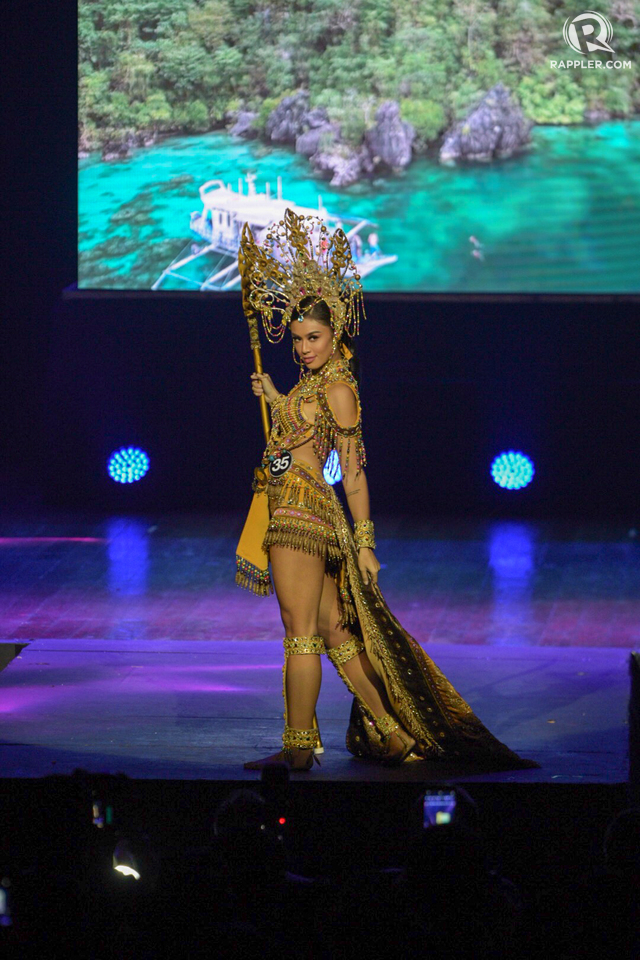 Sandra literally came out fighting as she twirled her staff (which was just as tall as her) all over the stage. Her usual subtle sophistication was left backstage and out came this warrior goddess. I love her dedication to the character as well because she ditched her Bragais platforms and went barefoot. Seriously, she gets extra points for that because she's confident in her height. Edwin Uy has a monopoly with these spectacular and elaborate warrior costumes and headdresses. Sandra's costume was a perfect representation of Edwin's craftsmanship.
Candidate 19 Michele Gumabao
Designer: Nat Manilag
Theme: Terno inspired by the Philippine Eagle
Before the show started, I overheard some fans worried about Michele's costume. Their fear… It was black. Typically not the color of winning national costumes but this creation by Nat Manilag looked expensive and luxurious. It featured butterfly sleeves on an exaggerated mermaid silhouette. It was one of two ternos that made it to the finals.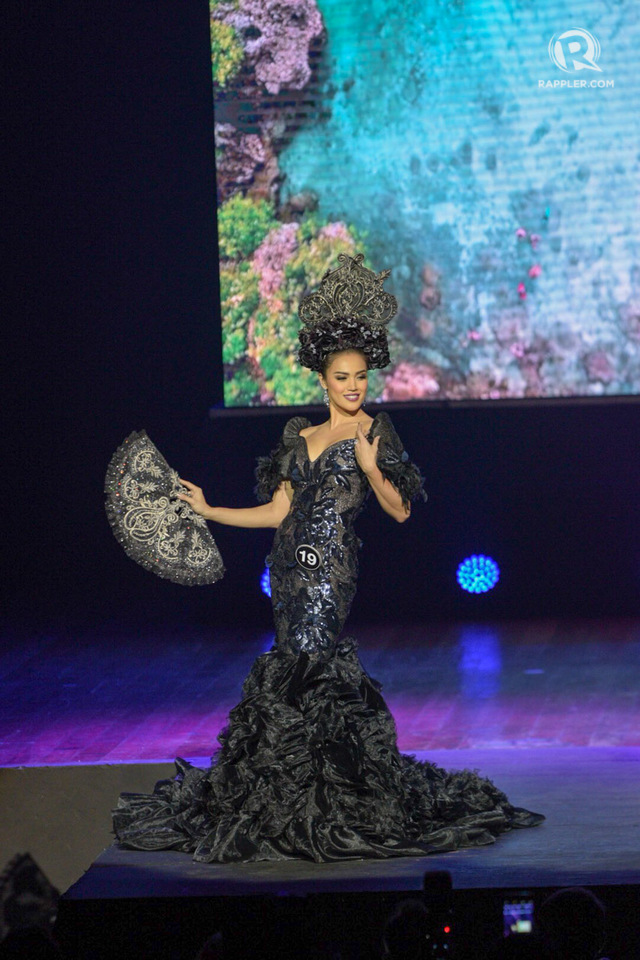 Michele oozed with class and sophistication as she sashayed across the stage. It was such a joy to see her execute an old school pageant turn wherein in she makes a 360 degree rotation in one spot. She literally looked like she stepped onto a turntable. She was flawless.
Candidate 11 Maria Andrea "Aya" Verdadero Abesamis
Designer: Chico Estiva
Theme: Muslim Princess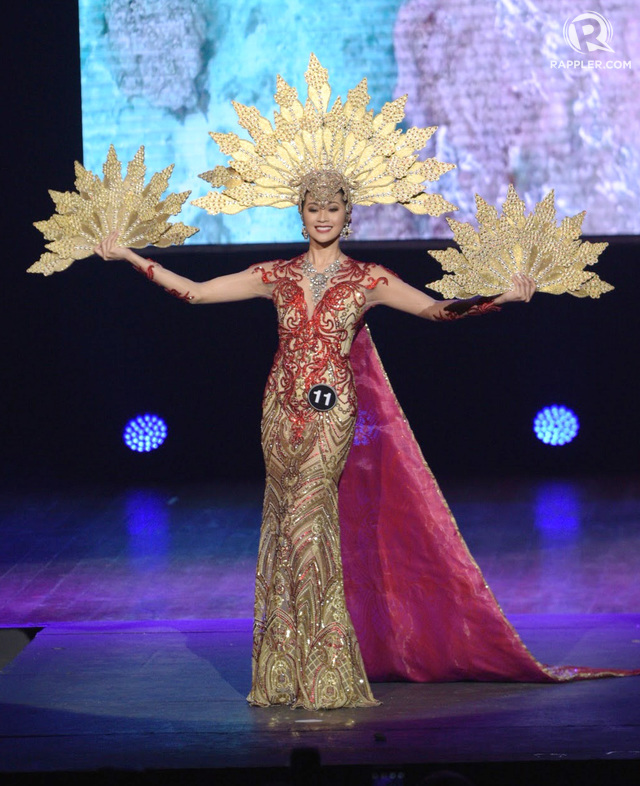 Aya was like a ray of royal sunshine with her headdress and two fans. The red/gold long sleeve gown by Chico Estiva was regal and queenly especially with the dramatic cape. The proportions were perfect for her making her look very tall and slender. Aya owned the runway as she maneuvered the stage with ease and the fluid choreography of her fan movements gave subtle drama. The glittery effect of the entire ensemble was far more impressive in person but did not translate into photos. She truly was a standout during this event.
Candidate 30 Sarah Margarette Joson
Designer: Jay-R Gamboa Flores
Theme: T'boli princess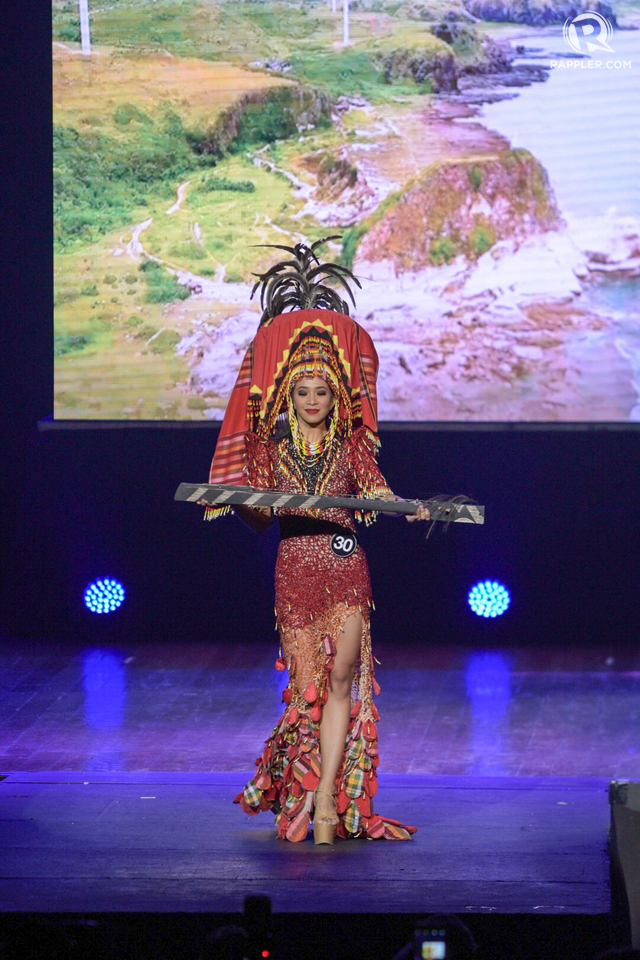 When you wear a striking, bright red costume, chances are you will be noticed. The gown is an interesting mash-up of various materials, colors and textures. In theory, it may sound like a mess. But the execution was amazing. But what doesn't register in photos is how sexy and see through the gown is. It is very refreshing to see the T'boli headdress in the competition.
Sarah channeled her inner Elizabeth Clenci when playing with the hegalong. Again, the level of commitment to the performance involved in presenting the national costume is key.
Candidate 18 Rosantonette Mendoza
Designer: Ryan Uson Ablaza
Theme: Sarimanok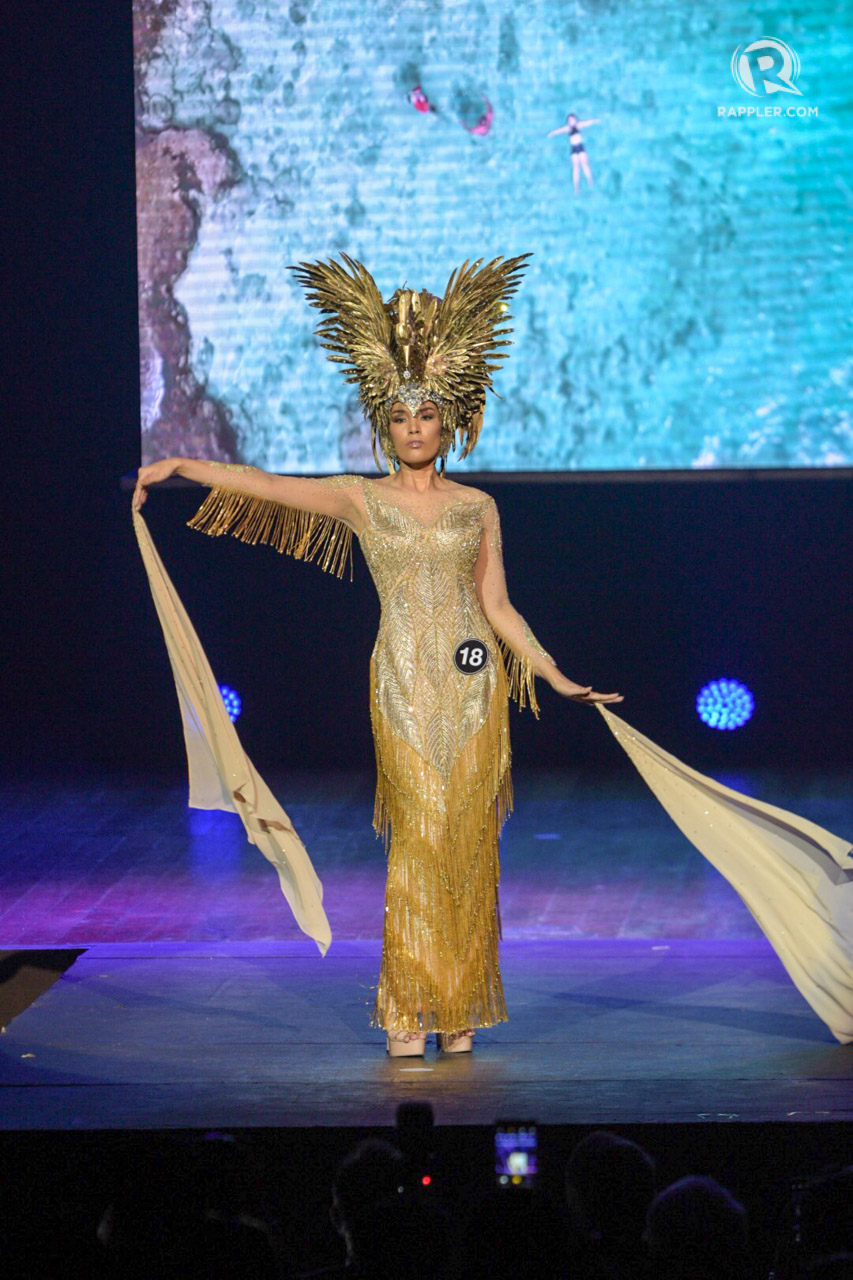 When Rosantonette came out, I was fixated and mesmerized by her shining, shimmering, splendid sarimanok headdress. From all angles, it feathered out into perfection. Hands down, this is the best headdress of the competition and probably the best executed sarimanok headdress I have seen. It photographs well, it stays on her head and is just a piece of art. I literally wanted to go on stage and snatch it from her.
The gold sequined gown with the gold fringed skirt was a perfect complement. The two fabric pieces she waves might be better if it had a bit of shine or sparkle. However, to polish this look further, I would suggest making the skirt long enough to cover the platforms. Better yet, use 4" gold, strappy heels (no platform) to make it more sophisticated.
Candidate 4 Ana Patricia Asturias
Designer: Dave Ocampo
Theme: Muslim hijab wedding gown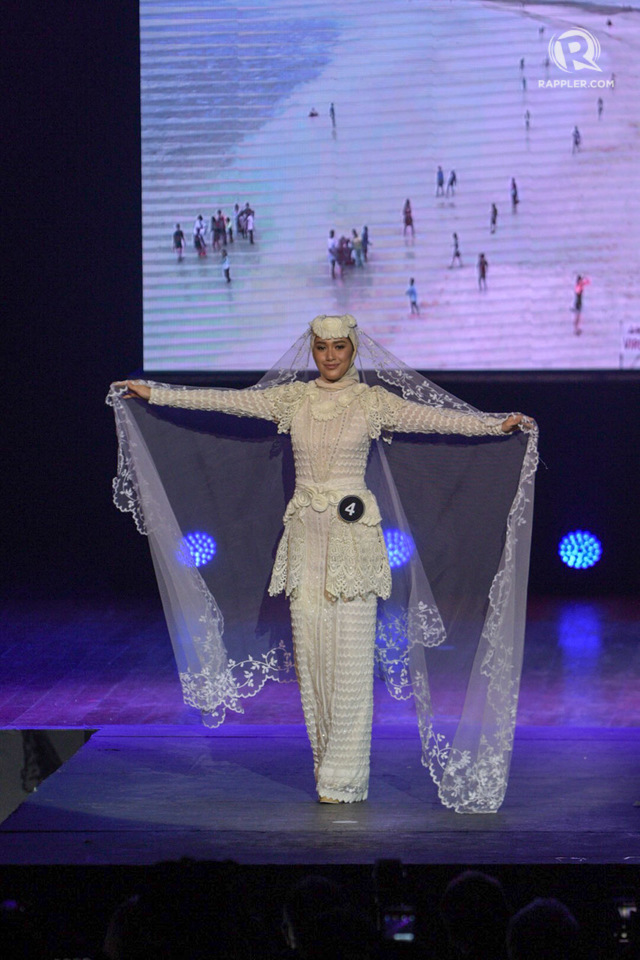 I was on the fence about this being featured as a costume as it is more of a proper Muslim hijab wedding gown. To many people, it may look like a costume because they aren't accustomed to seeing this outfit. But one can't deny the good design and craftmanship of this creation. It looks expensive, polished and a breathe of fresh air from all things that sparkle. Patrik carried it beautifully. On stage, it was a showstopper because it was so different from the typical ternos and Muslim princesses.
Candidate 29 Samantha Avestruz
Designer: Nick Guarino
Theme: Terno made with indigenous materials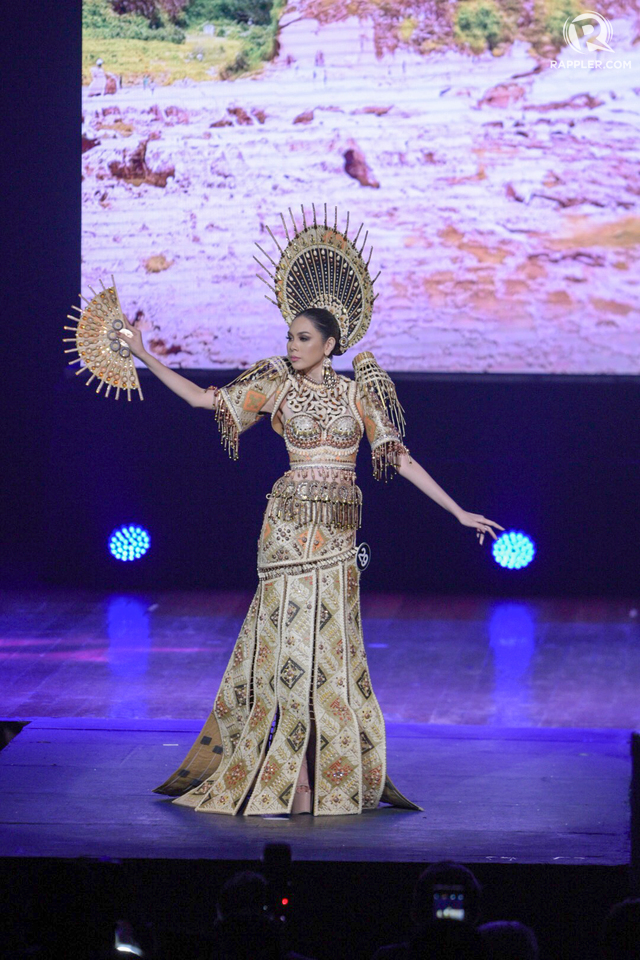 I am usually averse to costumes made with indigenous materials because they end up looking like fashion school projects on a limited budget. But Nick Guarino managed to create a very clean, fascinating creation. His creative use of the shells, beadwork reinterpreted the materials in a very fashion forward direction. Samantha's presentation was also fresh and modern which is why the judges took notice of this unique design.
Candidate 31 Jehza Huelar
Designer: Neil Patrick Jimlani
Theme: Terno made with tribal influence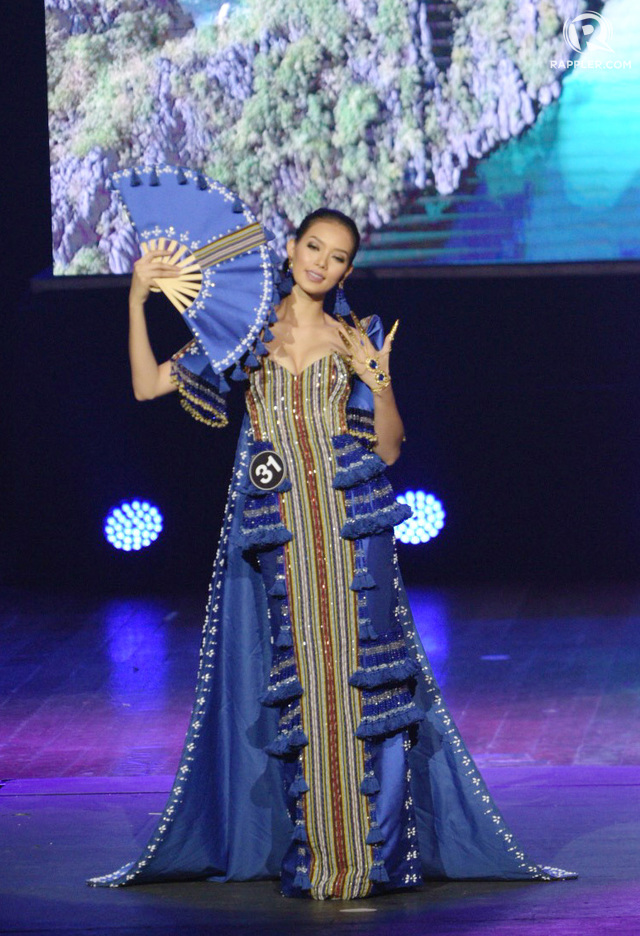 Jehza's modern terno features the striking "Pia" blue and meticulous beadwork to give a tribal feel to the gown. The fan and the long metal fingernail accesories gave an added flair to the whole look. Jehza was very beautiful and elegant in her presentation.
Candidate 33 Stephanie Joy Abellanida
Designer: Archie Castillo
Theme: Muslim princess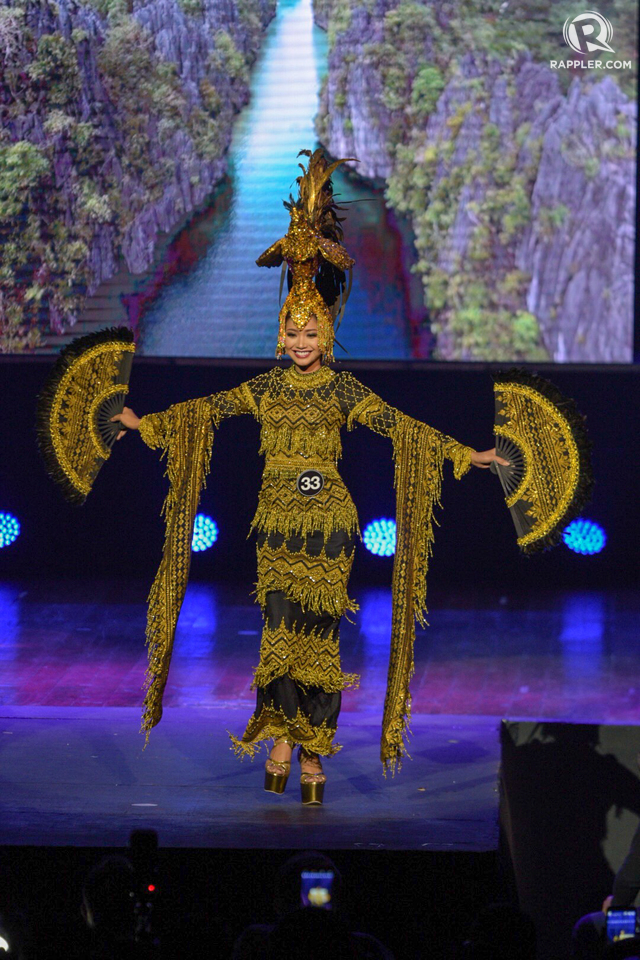 Another candidate with a sarimanok on her head. Although a beautiful costume, I was surprised that this made it to the Top 10. But I attribute this to the striking black and gold combination that gave it a sophistication of a properly edited costume. Whereas many designers want to show every skill and trick they have on a single garment, Archie Castillo managed to be restrained in his design choices. To create a more polsihed look, again, I would prefer the skirt to cover the platform shoes. If adding length is not an option, then changing the shoes would be a wiser move.
After seeing the Top 10, it was very clear that the Muslim princess inspired costumes and alot of gold reigned supreme.
In an interesting twist of fate, the ever reliable terno was a No-No for whatevever reason. Around 24 candidates wore a variations of the "terno" featuring the butterfly sleeve. Many were painstakingly embellished with beadwork, embroidery and sequins. Surprisingly, only two of these ternos made it to the Top 10 finalists. Maybe the judges are bored with terno and subconsciously were looking for fresh ideas.
Most Unique National Costume
Bb. #21 Anjame Magbitang
Designer: Sonny Boy Mindo
Theme: Katipunan or the KKK (Kataas-taasan, Kagalang-galangang Katipunan ng mga Anak ng Bayan).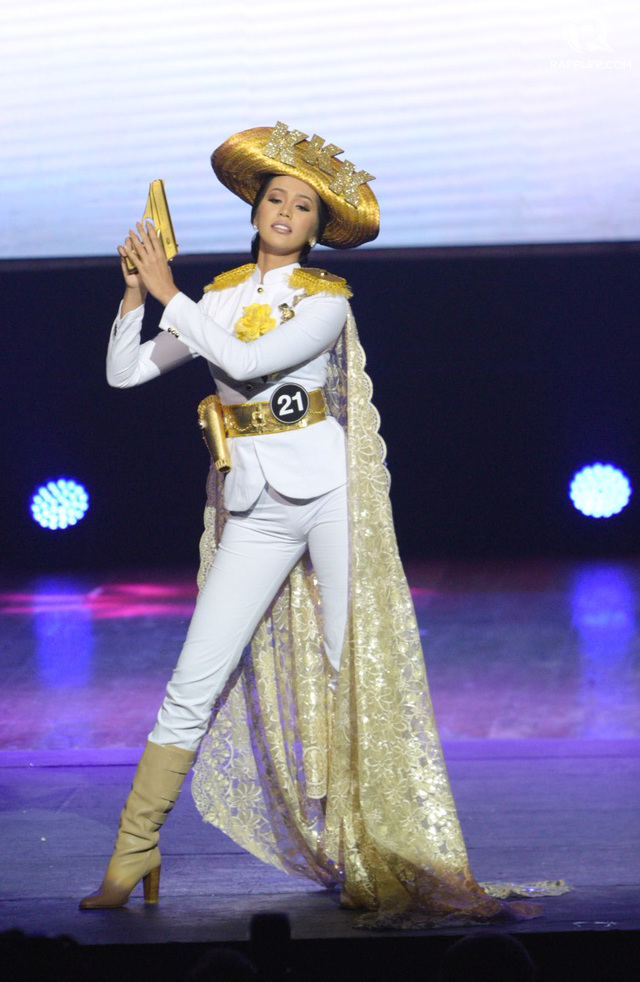 I applaud the concept but it would have probably benefitted with better styling choices and materials. For this look, it may have been wise to go with a more realistic uniform. Or if you want to go the theatrical version, then have more cohesive materials and accessories that go all out. I would have also removed the cape as it was unnecessary. This concept can be further explored in future pageants.
Best Use of Fan
Bb. #17 Ma. Ahtisa Manalo
Designer: Mikee Andrei
Theme: Maria Clara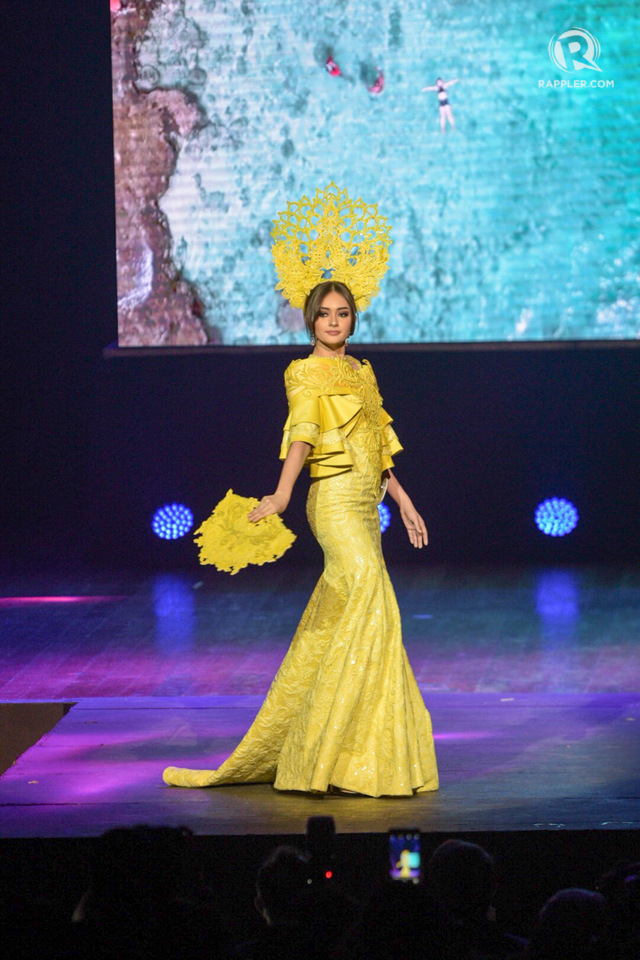 So many of the candidates had fan accessories but Ahtisa demonstrated the best fan work. She was wearing a beautiful bright yellow Maria Clara gown with a matching yellow fan. The audience was very entertained with her fan antics that it elicited joyful reactions. It was as if she was performing some magic trick. But it also helped that Ahtisa had a very fun persona with a doll-like beauty.
It was a very difficult task to narrow down the finalists and I feel there was one other costume that deserved some recognition.
Candidate 10 Kayesha Chua
Designer: Justine Navato
Theme: Ifugao goddess with a very tall stack of banga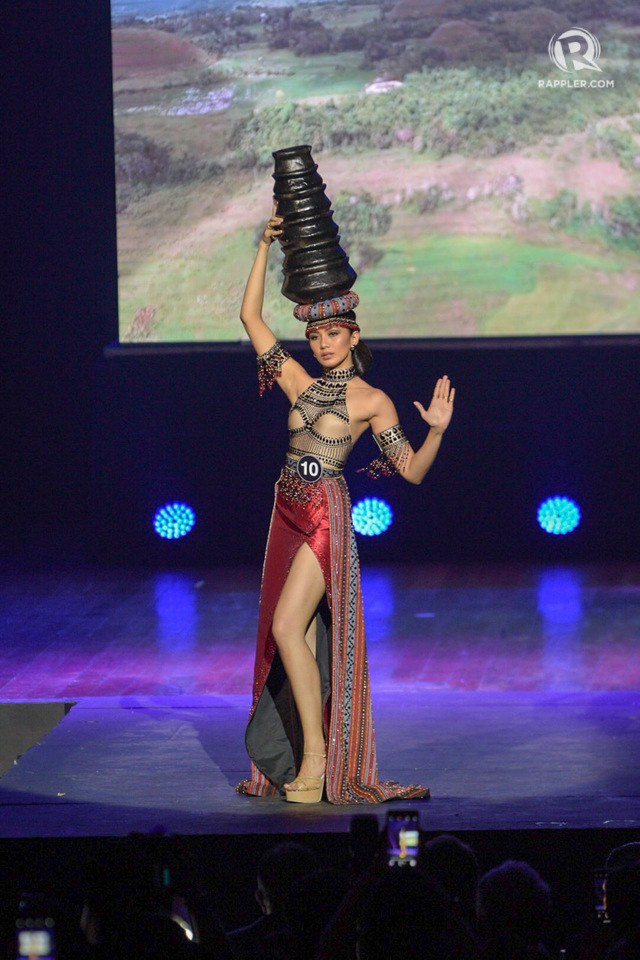 When Kayesha came out on stage, the audience gasped in delight. Her fierce look and amazing body was perfect for this ultra sexy costume that featured a red skirt with a slit as high as the mountains and a halter top that mimicked a tattoed body. Maybe the unadorned, beige bust area was a bit too visually jarring for the judges. Because that's where your eyes seem to focus on. Probably if this area was also embellished, it would have made a difference.
Candidate 26 Wynonah Buot
Designer: Hanz Coquilla
Theme: Terno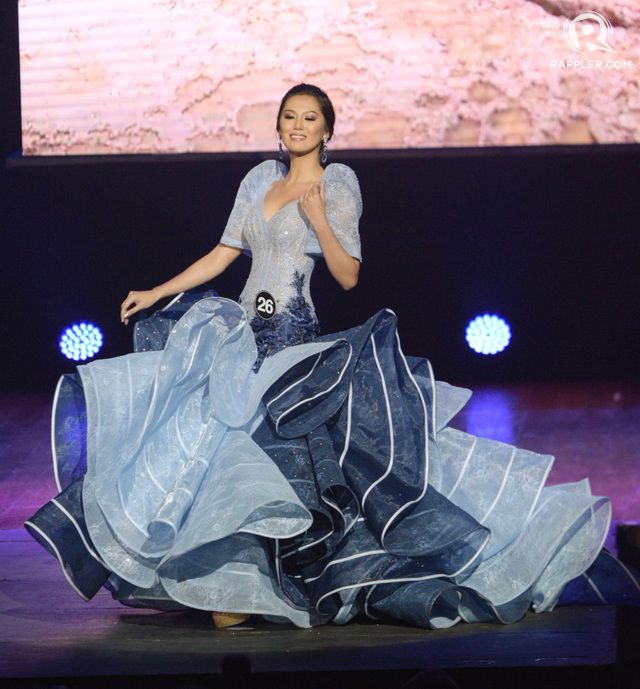 Fifty shades of blue to represent the beautiful beaches of Cebu. Hanz Coquilla skillfully tamed yards and yards of fabric to give this soft movement and yet stiffen the fabric. This is a gown befitting Barbie. In previous editions of Bb. Pilipinas, this would have surely made the finals but it was really a no-no for the terno this year. Wynonah looked effortless in carrying this giant piece across the stage.
The winner of the Best in National Costume will be announced on March 18, 2018 during Bb. Pilipinas Coronation Night at the Smart Araneta Coliseum.
—
This article originally appeared in Rappler.
All photos courtesy of Rappler unless otherwise indicated.