The beautiful people of ABS-CBN were out on Saturday night, September 30, for the Star Magic Ball 2017 at the Makati Shangri-La. It's probably one of the country's most anticipated showbiz events and has also become a fashion spectacle.
This year's theme was "Black and White." I am slightly disappointed that only less than a handful mixed black and white for their evening gowns, opting to wear just either black or white.
I decided to choose my top 3 black looks and top 3 white looks for the best dressed women.
THE BEAUTIES IN BLACK
Jodi Sta Maria in Mark Bumgarner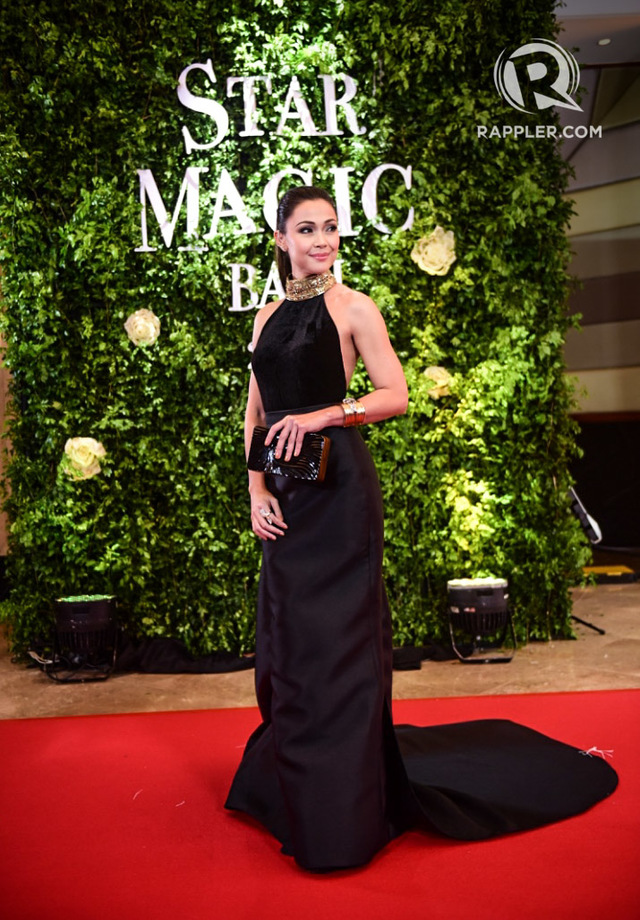 The gown: Antique gold and fully embroidered collar, backless velvet halter, fitted column skirt with a voluminous train.
The look: Simple ponytail, fresh face, gold cuff, rectangular clutch.
Why it works: There were 3 textures (beading, velvet, smooth) on the evening gown. The proportions were perfect and what could have been easily too many things in one gown just blended beautifully. It was an unexpected look because of its simplicity. Jodi always knows how to make an impression on the red carpet with a look that's all her own and doesn't follow any trends. She carries the gown well and has a very relaxed pose.
Maja Salvador in Michael Cinco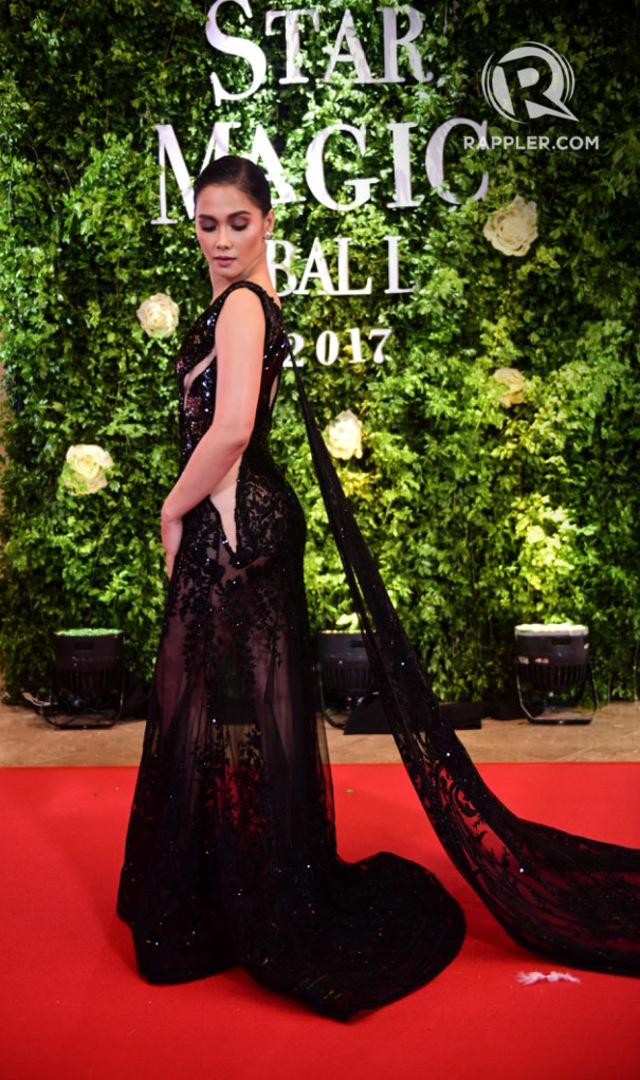 The gown: From the front, it seems like the usual sheer gown with strategic beading, sequins, and a deep V neckline. But this has a cleverly attached train that drops from the shoulder bones and cascades into sheer fabulousness.
The look: She paired this with a square clutch with black and white pearls, crystals, and beadwork patterns. Her earrings were very simple to complement the soft chignon and barely there makeup.
Why it works: This is "wow" from every angle. This is how you enter a ballroom and walk down a red carpet. This is also how you leave the red carpet where photographers would still be clicking away at you and not at the next celebrity coming in. The black embroidered cape trails beautifully and is striking against the red carpet. This is one of Maja's best looks ever.
Isabel Oli Prats in Andrea Tetangco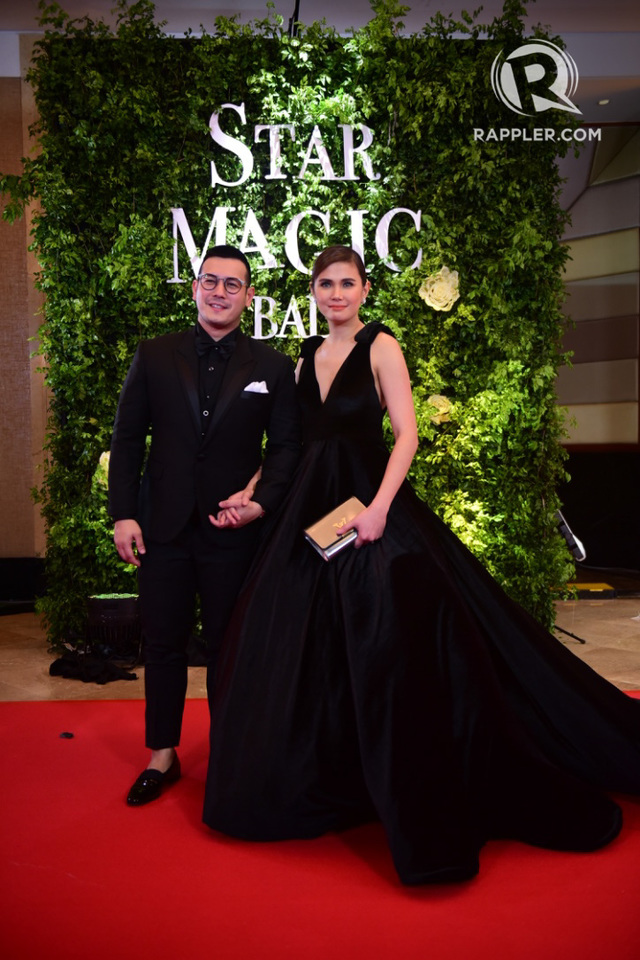 The gown: Features a deep V at both the front and back, bows on the shoulder, a fitted waist, and then a giant ballgown with a dramatic train.
The look: Sideswept chignon, smoky eyes, stud earrings, diamond tennis bracelet, and a silver clutch.
Why it works: Isabel looks radiant in this gown. The black against her beautiful skin is divine. She looks like an elegant princess off to a ball. The fabric reflects light in a very interesting way and creates excitement. Best of all, Isabel seemed to truly enjoy wearing this gown.
THE LADIES IN WHITE
Maymay Entrata in Mark Bumgarner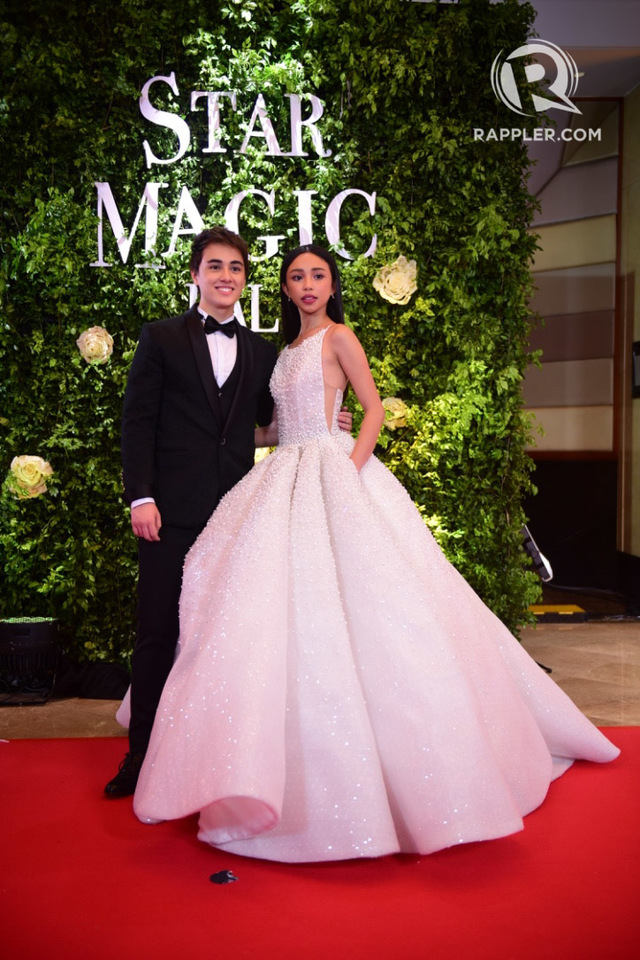 The gown: Sure, this Cinderella ballgown skirt is nothing new. In fact, I first thought it was a Michael Cinco. But there is something that felt very new and modern with the sheer side panel and those intricate bead embellishments.
The look: Sleek, center part black hair and small earrings.
Why it works: I admit, I had to google "Maymay" and find out who she was. Considering that it was a very huge gown, Maymay slayed it. It's one of those gowns that many girls will dream of wearing but only a handfull will ever do. It was a very, very fresh take on a red carpet favorite. This is how fashion evolves.
Erich Gonzales in Jun Escario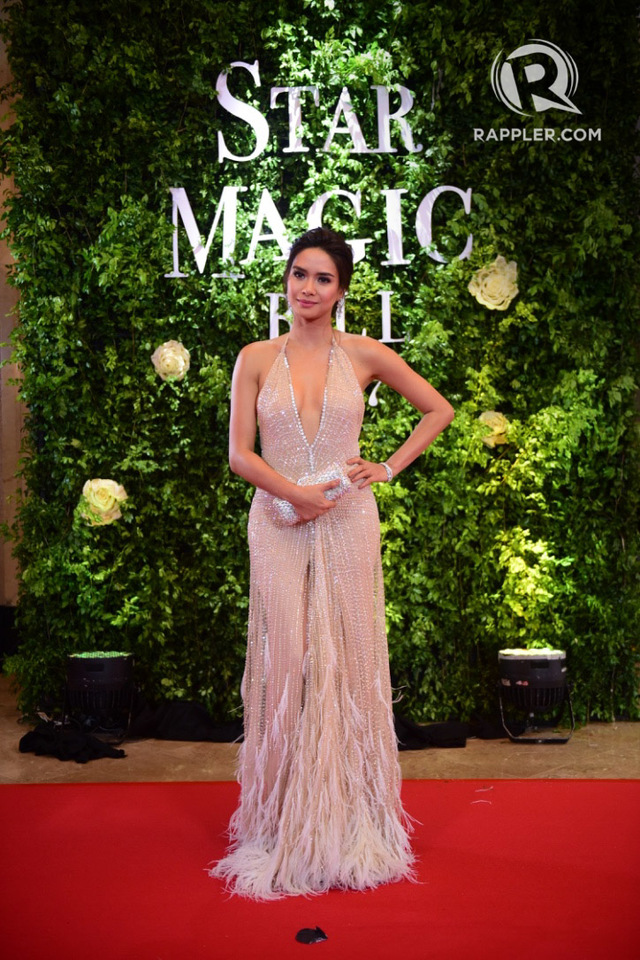 The gown: Pale nude, halter gown with a plunging V-neckline, crystal embellishments, and a spray of ostrich feathers on the skirt. There is some skin/leg showing at the front.
The look: Erich sported slightly tousled hair in a chignon, an ivory clutch, drop earrings, and a diamond bracelet.
Why it works: Erich has been a red carpet regular for years, and it's important to show her different sides. This is her grown-up, sexy dress which has a lot of class and elegance. Erich is also clearly comfortable in her own skin.
Kathryn Bernardo in Patricia Santos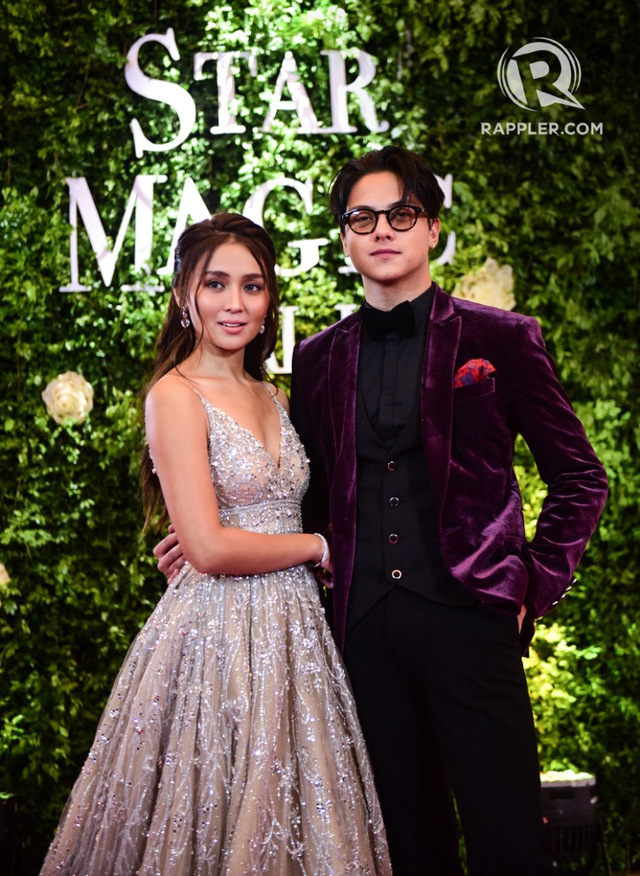 The gown: Nude base, with lots of beadwork and embroidery, spaghetti strap, V-neckline, full skirt with train.
The look: Wavy curls, half ponytail.
Why it works: This look is certainly on trend, but that doesn't really matter when you have your own personal taste. It seems that Kathryn is growing up into a very empowered woman. She looked amazing in her evening gown.
TRENDS
With a quick look at all the women at the Star Magic Ball 2017, it's very easy to spot today's major trends.
Cinderella ballgowns
Not so long ago, these typically debutante ball gowns were reserved for… debutantes only. But lately, women have been rocking their inner Disney princess in these huge, dramatic creations.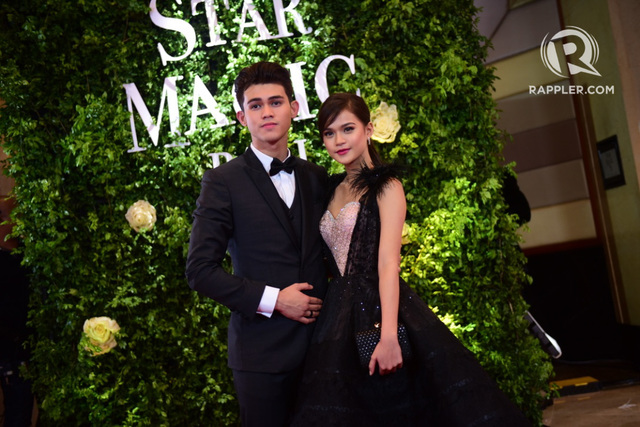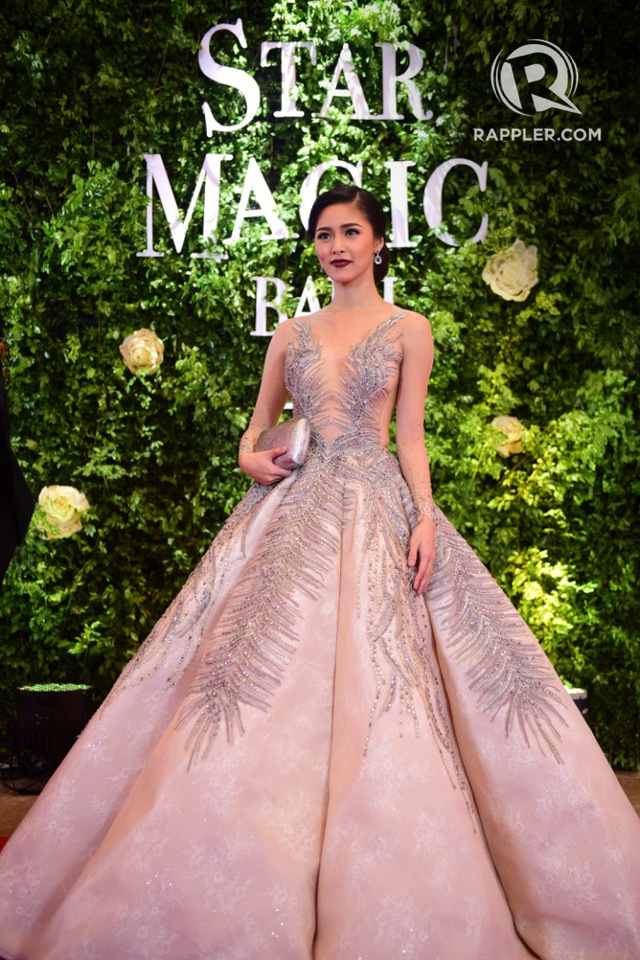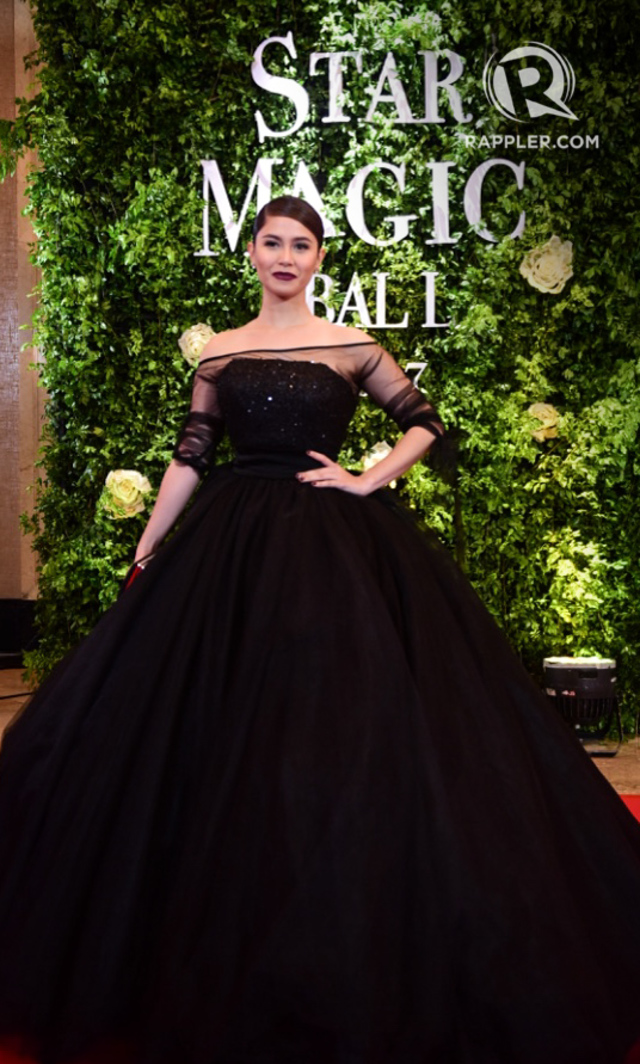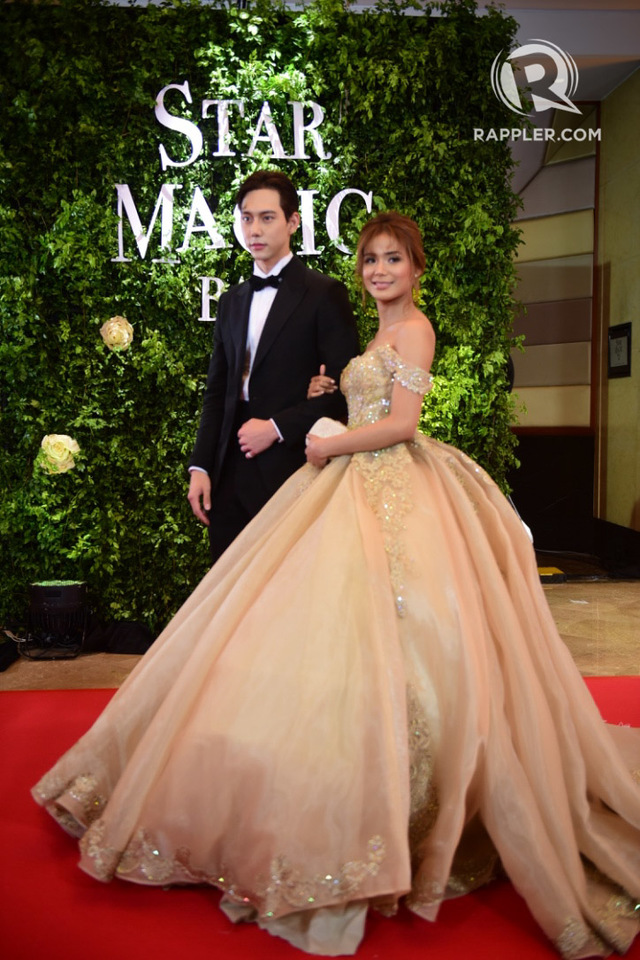 Fully beaded, bejeweled, barely there gowns
Sheer and embellished gowns have become fashion favorites, ranging from nudes, to creams, to white, ivory, and black. Not everyone can pull these off though, as these can easily venture into pageant gown territory or become trashy ensembles.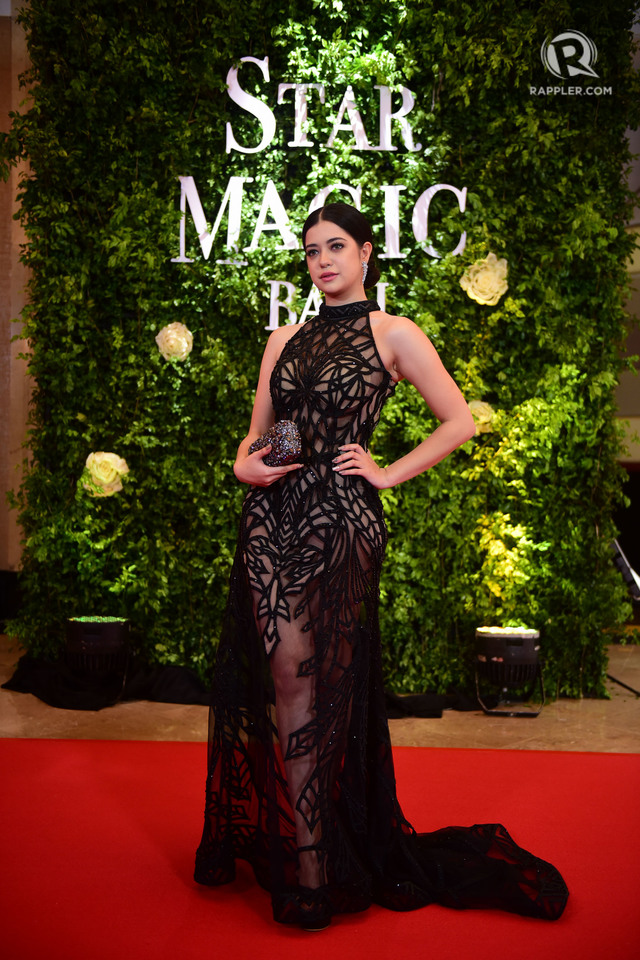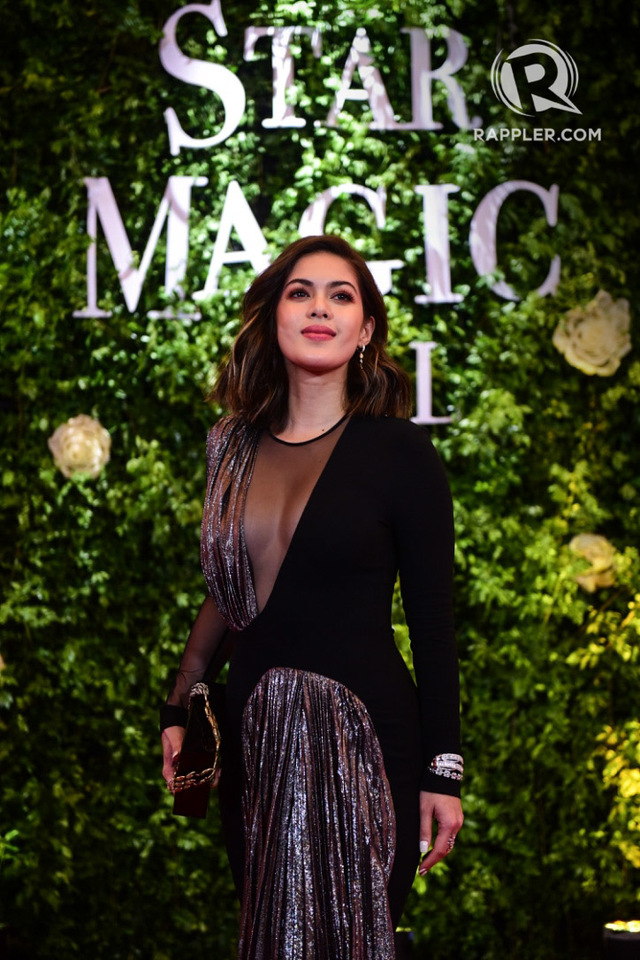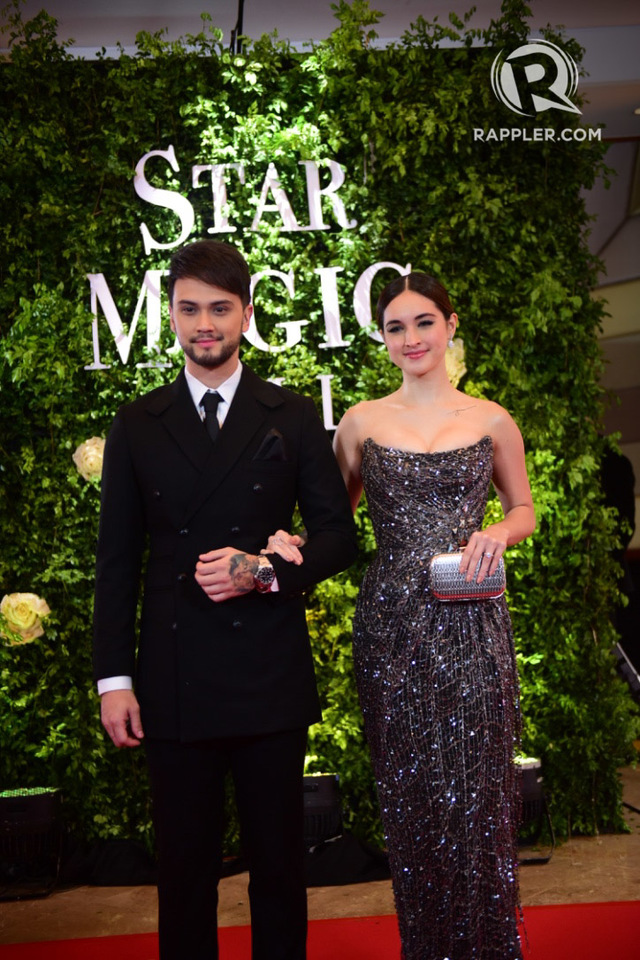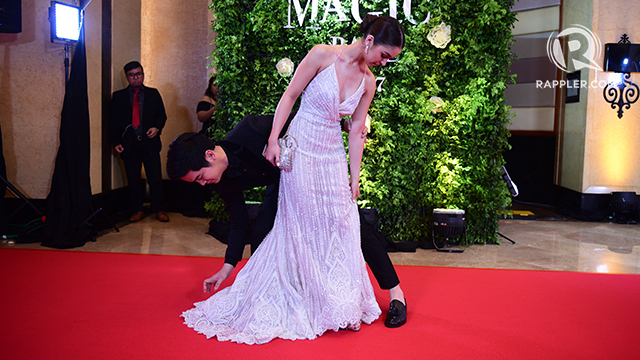 THE BEST MEN
The men seemed to struggle a bit more with the black and white theme. Many ended up wearing black and white combos that looked more like head waiter or cruise ship director than young celebrity.
When you are a good-looking guy, classic, perfectly tailored looks will always be your best bet. If you're young and hip, it's okay to experiment with more casual streetwear. Don't try too hard taking fashion risks in men's formal wear. The best accessory for these men is their confidence. That's really all it takes. And yes, maybe their killer smiles and rock hard abs (not shown in pictures).
Enrique Gil in Balenciaga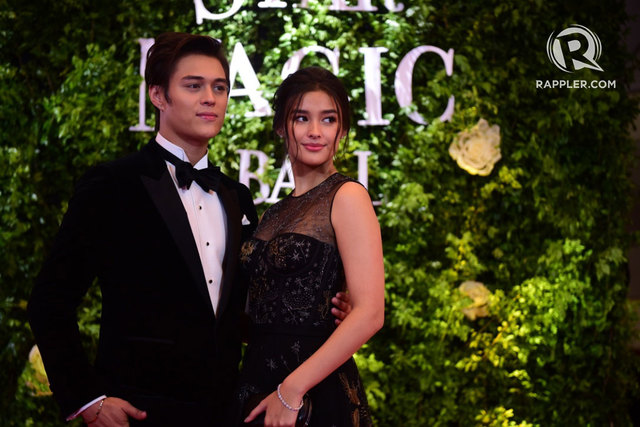 It's very refreshing to see a young, handsome guy like Enrique choose a classic Balenciaga tuxedo. The velvety texture, pocket square, simple black bow tie, and that satin stripe on the side make this traditional look very modern. He did not feel the need to be a risk-taker. Enrique was every bit a handsome leading man, with a fresh face and perfectly coiffed hair.
Piolo Pascual in Jerome Lorico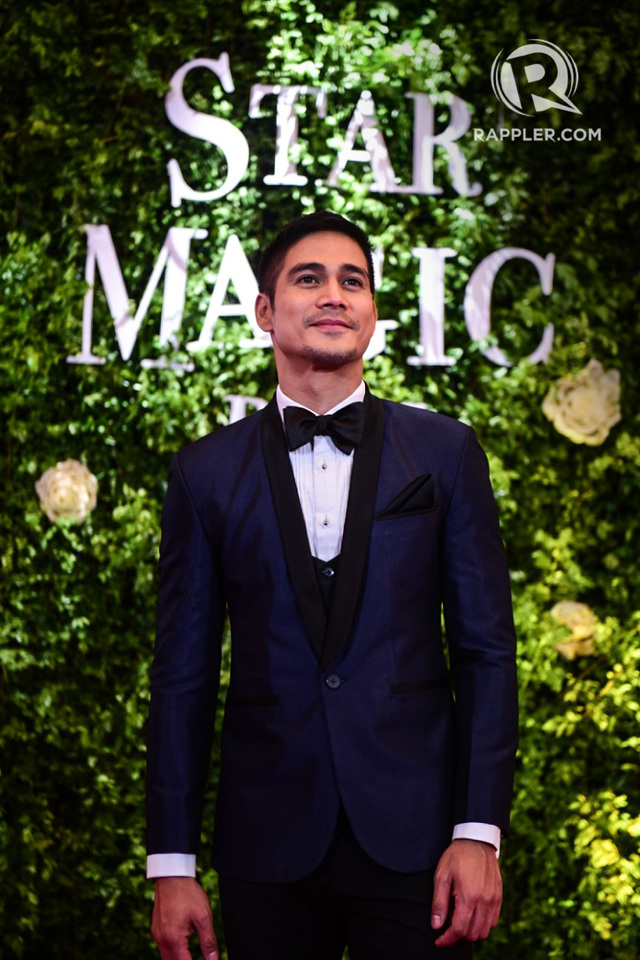 With various shades of black, Jerome perfectly tailored the tuxedo to Piolo's body. The addition of the vest peeking out of the jacket gave a nod to old school tuxedos but offered a modern take. His clean-cut look makes him a tinge more swoon-worthy, if that's even possible. Tailoring doesn't need to look stuffy and high brow. It can be sexy and modern like this ensemble.
Matteo Guidicelli in Joseph Aloysius
It was mentioned that the material used for the suit is an "environment-friendly" Filipino fabric from Ilocos. Among the men who decided to wear white jackets, Matteo was most successful because it was a purely white palette and did not try too much. The effect is an air of classy, old Hollywood masculine sophistication. Again, the simple black bow tie works beautifully. No need to add flash or pizzazz to menswear – confidence is all it takes.
BEST DRESSED COUPLE
Liza Soberano and Enrique Gil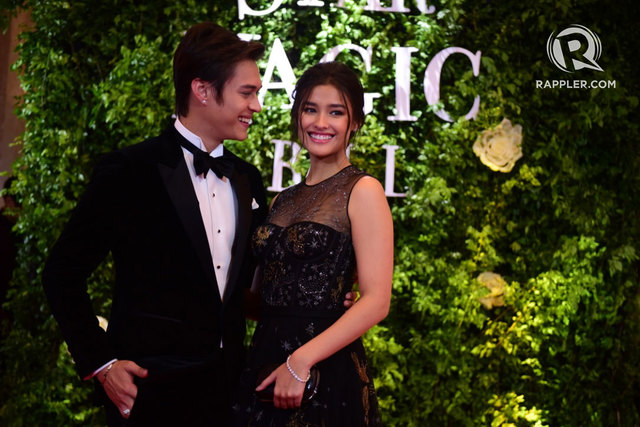 Christian Dior, Balenciaga. Enough said. Drop the mic, competition over.
Liza was young sophistication at its finest in her exquisite Dior gown which featured constellation-inspired embroidery. With a romantic, soft hairstyle, Liza looked as brilliant as the stars on her gown.
Enrique was a sartorial success in a classic black Balenciaga tuxedo. But what made this work was the ease with which Enrique pulled off his outfit. He had just the right amount of swag, without looking smug like some of his contemporaries.
—
This article originally appeared in Rappler.
All photos courtesy of Rappler unless otherwise indicated.