During the early years of the Miss Universe Pageant, the national costumes were mostly wearable traditional dresses that highlighted the countries' rich history and culture.
As the pageant grew bigger and the competition, stiffer, the national costumes became more extravagant as a way to be noticed. But it wasn't until 1962 that the Best in National Costume Award was given. The first recipient was Miss England 1962, Kim Carlton, who wore a sexy, mini version of a Beefeater uniform. Little did she know that decades later, popular Halloween costumes would be the ultra-sexy version of almost any uniform or profession.
The most successful continent is Asia with a total number of 21 wins. Thailand leads the pack with 6 wins (1969, 1988, 2005, 2008, 2010, 2015). Thai costumes exude a sense of royalty and are inherently rich and luxurious with the use of gold, embroidery, and silk. But the inspirations are quite varied and unique with only the 1969 and 1988 versions depicting the more traditional form.
In 2015, Thailand's Aniporn Chalermburanawong chose to wear a tuk-tuk inspired costume. It was made of chromium and featured working headlights. Hirankrit Paipibulkul designed this now iconic take on the iconic tuk tuk.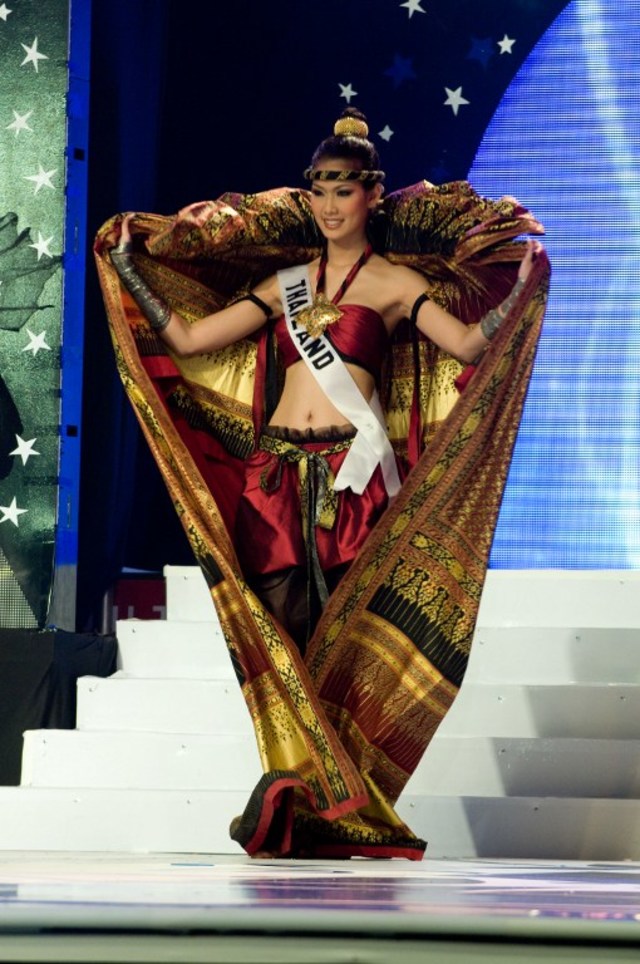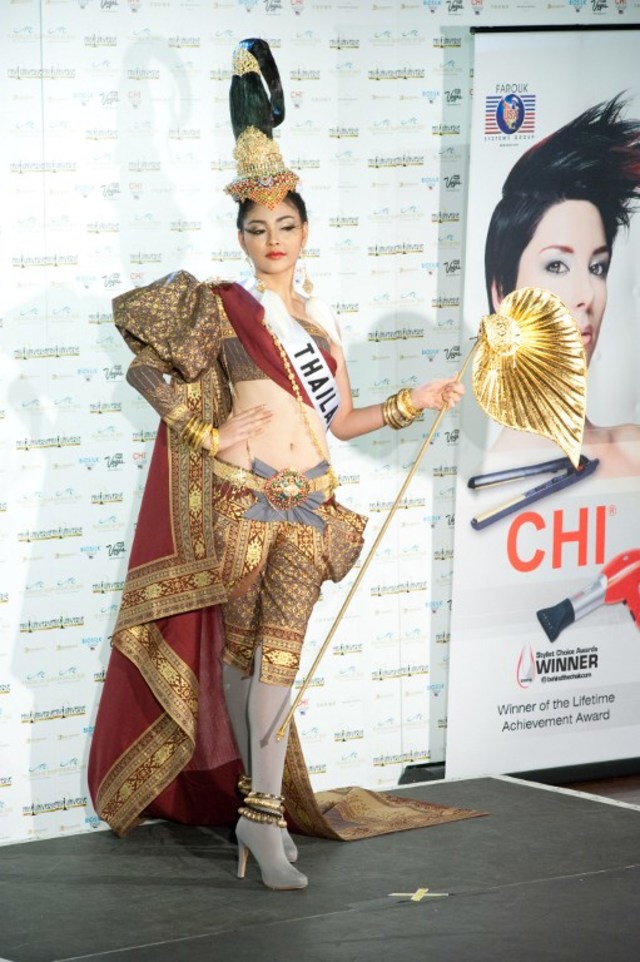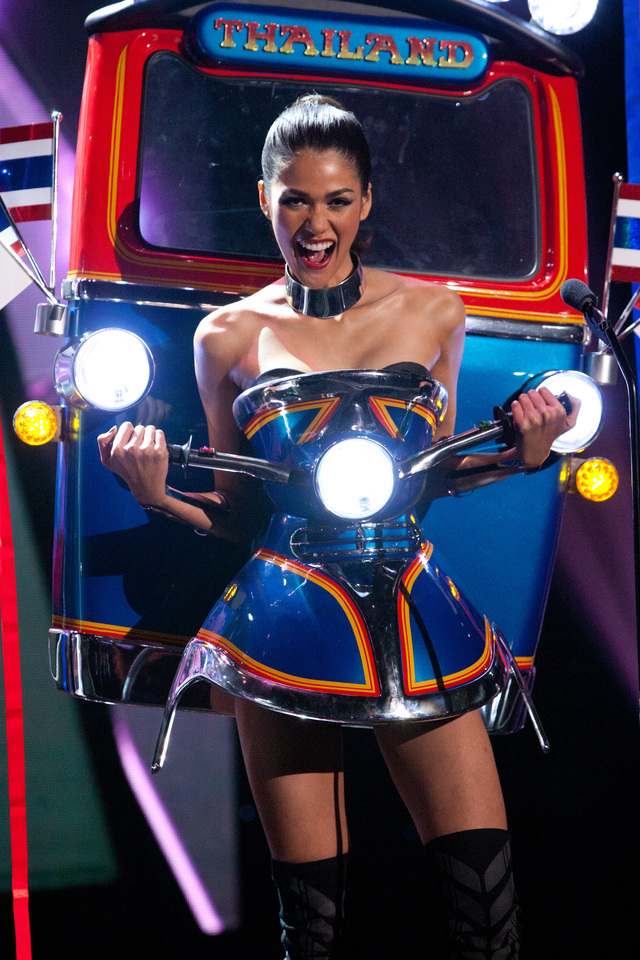 Paraguay
Before there were Victoria's Secret Angels, there were the jaw-dropping costumes from South America. This continent has scored a total of 16 wins. Most are the various depictions of pre-Columbian themes, featuring ancient civilizations and their deities. Expect a plethora of plummage, sequins, ornate headdresses, and dramatic wing pieces.
Although Colombia has the most wins with 6 (1968,1985,1990, 1991, 1997, 2002), the most memorable has to be that of Pamela Zarza, Miss Paraguay 1992. She wore what is believed to be the biggest (12 feet tall) and heaviest costume of all time. It was so enormous that she could barely move around on the stage and covered all the delegates behind her. Makes you wonder how she managed to transport this from Paraguay to Bangkok, Thailand.
Philippines
The Philippines won the Best in National Costume Award in 1994 when the pageant was held in Manila. Charlene Gonzalez wore a Pitoy Moreno creation inspired by the Bagobo and Higanon native dresses. The costume used native t'nalak materials with an authentic Bagobo belt and Higanon headdress. Charlene ended up among the Top 6 finalists.
Japan
Miss Japan 2006 Kurara Chibana is credited for popularizing the powerful female warrior national costume trend. She wore an ultra sexy, fierce, red samurai costume complete with a samurai sword. Shin guards never looked more sexy when paired with high heels. Kurara slayed the competition and won Best in National Costume. She showed that an empowered, strong woman doesn't have to act like a man. Her strength lies simply in being a woman.
Although she was the crowd favorite, Kurara settled for first runner-up to Puerto Rico's Zuleyka Rivera.
China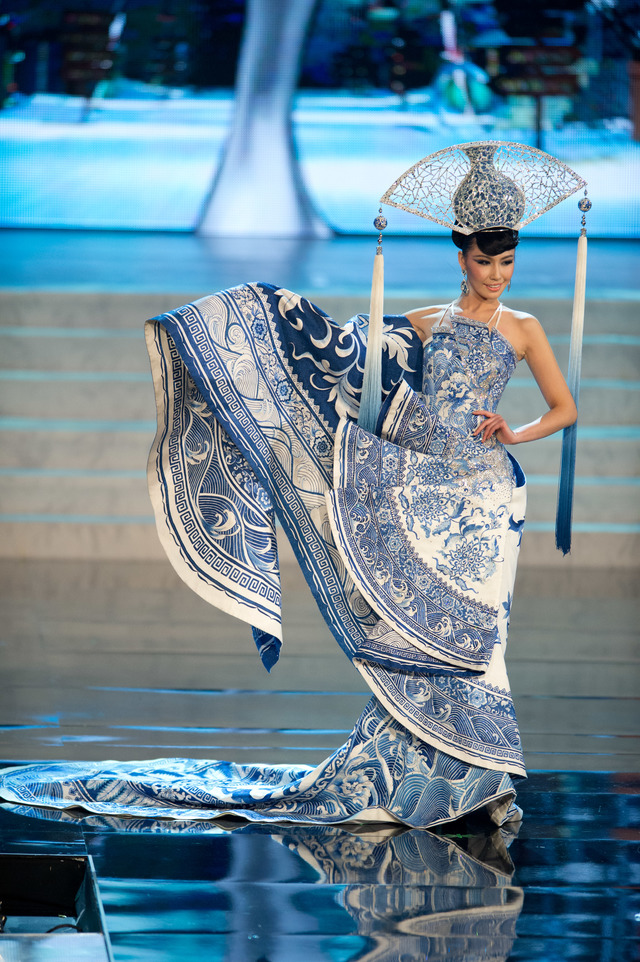 Miss Universe China 2012, Ji Dan Xu, looked exquisite in her white and blue gown inspired by a Chien Dynasty-styled vase from ancient China with a huge fan headdress accented with two very long tassles for more drama. This was created by Chinese designer, Guo Pei, and was featured in her Spring/Summer 2010 Haute Couture Collection. Luxury, class, and elegance are personified in this amazing costume. A perfect blend of costume, couture, and pageantry. It was very refreshing to see haute couture instead of the garish and outlandish costumes we are used to seeing on the Miss Universe stage.
Miss Universe winners who won Best in National Costume
The National Costume Competition is not part of the scoring that determines the semi-finalists and winner in Miss Universe. However, it is a great way to stand out from the rest of the candidates. There have been 3 instances where the Best in National Costume eventually won Miss Universe.
1988 – Thailand
Porntip Nakhirunkhanok wore a traditional Thai dress. By today's standards, this costume seems to be very simple, lacking the stage drama of previous winning costumes. She went on to win Thailand's second Miss Universe crown.
1998 – Trinidad/Tobago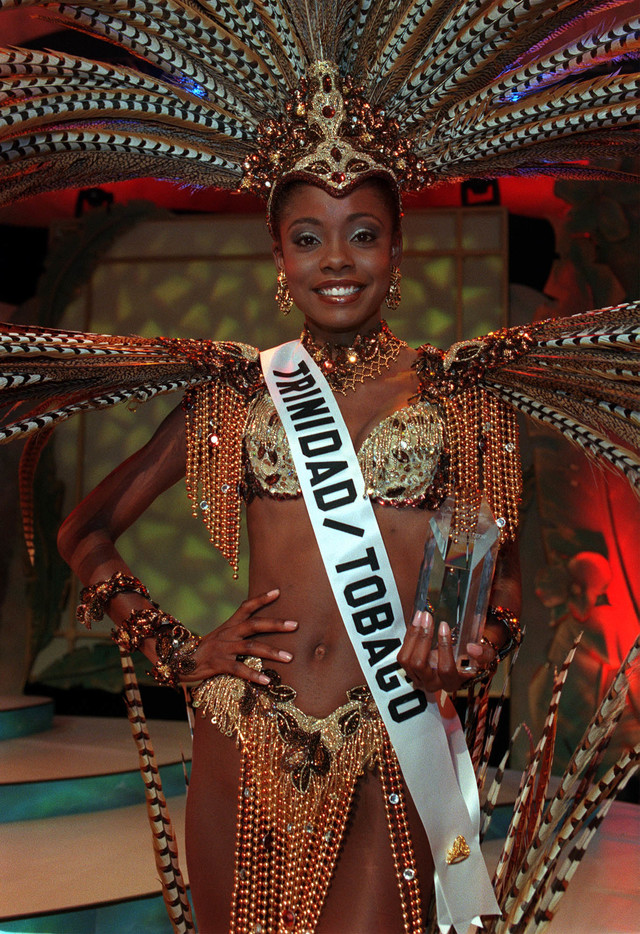 Wendy Fitzwilliam, in a very sexy, sequined, gold two piece Carnivale creation by Harts Carnival with very long pheasant feathers, perfectly complemented Wendy's golden complexion and 6' frame. Wendy convincingly won Trinidad and Tobago's second crown.
2003 – Dominican Republic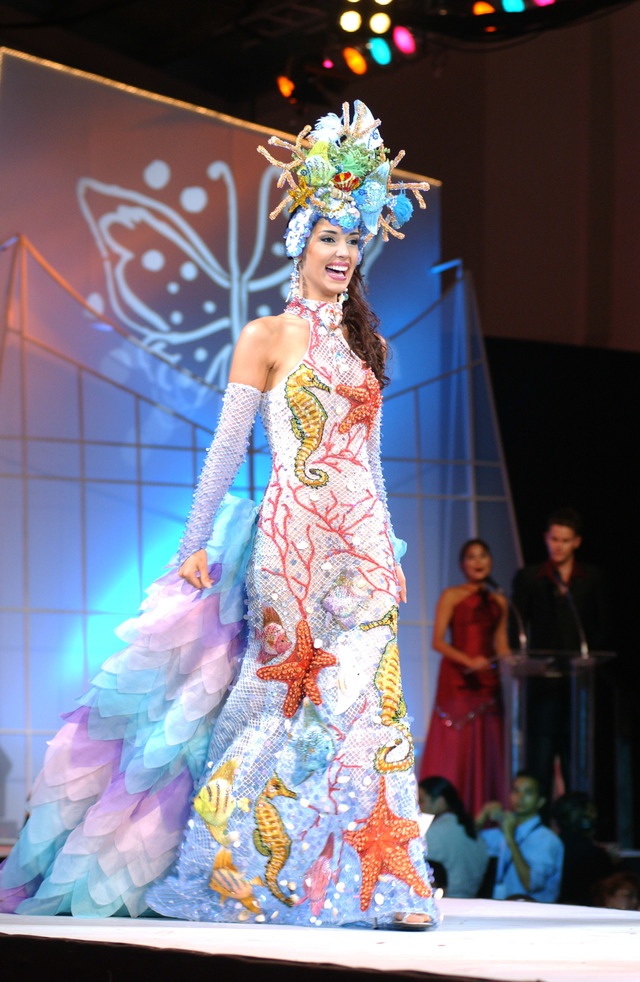 Amelia Vega wore this colorful, fantasy interpretation of the Carribean sea with corals, seahorses, and starfish. She is the tallest Miss Universe standing at 6'2". It's no wonder she could pull off this very heavily embellished costume and win the Dominican Republic's first-ever Miss Universe crown.
It would be interesting to see if the candidates will continue the empowered female warrior costumes; stick to the fantasy, Las Vegas, carnivale-inspired costumes; or go back to the wearable, native, traditional dresses of the past.
—
This article originally appeared in Rappler.
All photos courtesy of Rappler unless otherwise indicated.