On fashion design reality shows, judges often use the term "pageant" to describe gowns that are overly embellished, borderline tacky, and not in tune with current trends. In beauty pageants, however, selecting an evening gown focuses on enhancing the beauty of the the candidate and her impact onstage.
Throughout the history of Miss Universe, delegates have stuck to similar choices. Variations of the classic bouffant gown, the fully sequined Jessica Rabbit gown, and the draped goddess gowns are always in fashion at pageants.
Miss Universe contestants usually have a team helping them decide on their wardrobe. However, the success of that decision will ultimately rely on the candidates' confidence in pulling off a look.
Here's a salute to those delegates that defied conventional evening gown pageant choices. They not only succeeded in carrying the gowns well, but they also left mark that will be remembered.
Miss Universe 1971 Georgina Rizk, Lebanon
Culture and couture collided in this harem chic ensemble of a floral embroidered top and hot pants with the sleeves and pants made of light blue sheer chiffon. Some may argue that this would have been more suited for the national costume competition. It was a very daring choice to those watching the pageant. It could have gone either way, but the judges obviously approved. The risk paid off for Rizk and she won Miss Universe 1971, Lebanon's first and only Miss Universe. Can you imagine the uproar this would cause on social media if it were worn today?
Miss Universe 2002 Oxana Fedorova, Russia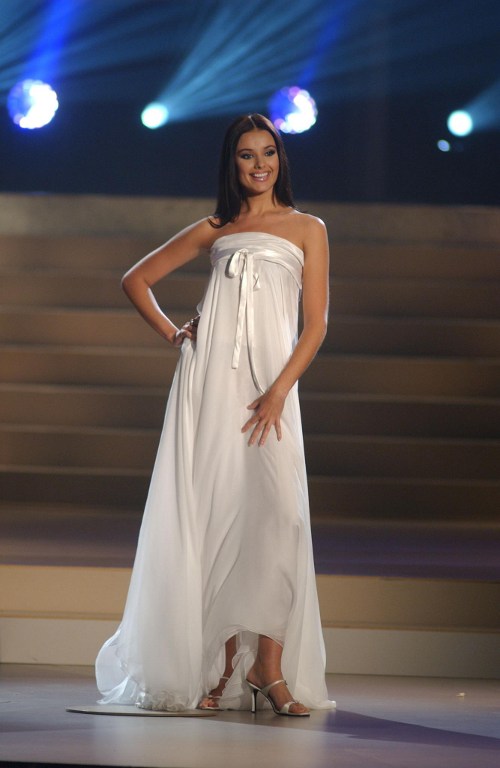 Oxana Fedorova, Miss Russia 2002, competed in San Juan, Puerto Rico. She wasn't a heavy favorite for the crown. But she captivated everyone the moment she was called as a semifinalist.
In this year's edition, it was unusual that the evening gown competition preceeded the swimsuit portion. The candidate's evening gown presentation sets the judges' overall impression.
While all the other semifinalists were in typical pageant style gowns, Russia chose to wear the bridal gown in the Gucci Spring 2002 RTW Collection. It was a white, strapless, floor-length, flowy gown with a satin sash and ribbon detail on the bust. It was the antithesis of a pageant gown and unlike everything else on stage that night. But it was everything. Oxana looked radiant with only her straight black hair and smile as accessories. She carried the gown flawlessly, like a goddess gliding across the stage. She dominated the evening gown competition with a score of 9.64.
Miss Universe 4th Runner-up 2003 Miyako Miyazaki, Japan
When Miyako stepped out in the evening gown competition, she was wearing a dramatic white, long sleeve, overcoat. After taking a few steps, she revealed the gown by Celine, a crystal studded bra top matched with a slinky, low waist, silver skirt with feathers on the lower half. It was a very daring but fitting choice for Miyako's fierce catwalk skills and diva aura.
Miss Universe 2006 Zuleyka Rivera, Puerto Rico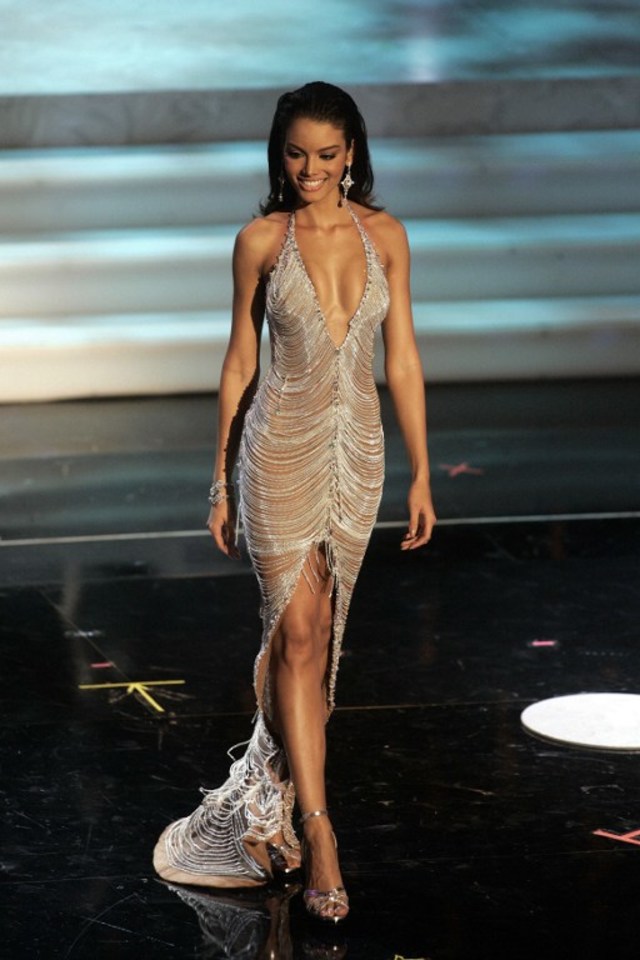 Zuleyka Rivera was not a favorite to win the crown; many pageant watchers and insiders allegedly did not like her because of her diva attitude. But she was a very strong candidate who was determined to fight for the crown in the pageant, held that year in Los Angeles, California.
Whether you loved her or hated her, the moment she came out in her Carlos Alberto gown you were transfixed. It was very, very fitted chain mail gown with a nude lining, deep V-neckline and a high center slit. This was a very heavy gown. It could have looked really trashy if a different candidate wore it. Zuleyka styled it with clean, slicked back hair, long dangling earrings, a bracelet and a golden tan. At this point, this look begged for the Miss Universe crown as its accessory.
Zuleyka struggled with walking in a couple of instances as her heel got caught on one of the chains. Immediately after the show ended, Zuleyka collapsed on stage. She later on revealed that it was a mix of the excitement, the very hot LA weather, and the weight of the gown that led to her fainting spell. The gown also left some red marks on her nape. For a Miss Universe crown, it was probably worth all that pain and suffering.
Miss Universe 2007 Riyo Mori, Japan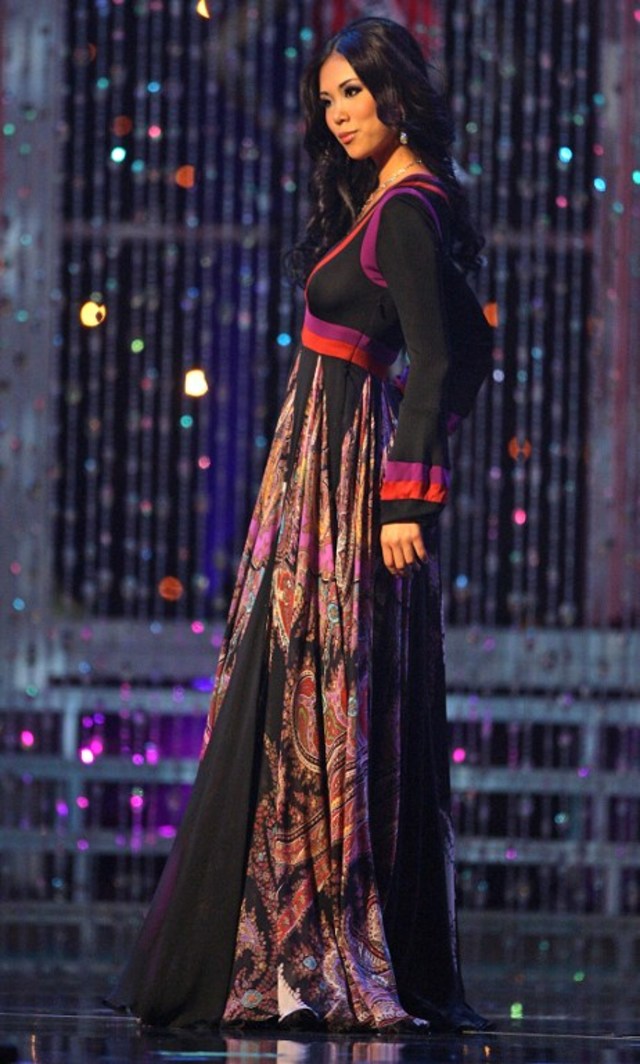 In 2007, Ines Ligron was at the helm of the Miss Japan pageant. She gave the Japanese beauty queens the fashion edge and styling that would help them capture the Miss Universe crown. The year before, Kurara Chibana almost won in her black Rochas gown.
Riyo Mori won Japan's second Miss Universe crown. She beat out heavy favorites like Brazil, Korea and Venezuela. Even though she only came in 4th during the evening gown competition, her runway walk and the twirl of her Gucci gown are what people remember. The black gown featured bold orange and purple bands and the colorful floral panels on the skirt gave it flowy drama.
It was famously featured in the "Who Wore It Better?" segments and pitted against Oprah Winfrey who had worn the gown a few months prior to the pageant.
In recent years, Miss Universe candidates have been impeccably dressed, featuring well-known international designers and outstanding designers from their own countries. Some countries have been fortunate to wear haute couture creations. Candidates also have the option of selecting beautiful gowns from one of the major sponsors that is very popular for proms and pageants. Hopefully, this year's pageant will surprise the world with fashion risk takers and their unconventional evening gown choices.
—
This article originally appeared in Rappler.
All photos courtesy of MUO unless otherwise indicated.