PALAWAN, Philippines – The world-renowned tourist destination of El Nido, Palawan played host to the Miss World Philippines 2018 Beach Beauty Competition on Thursday, September 20.
The 40 candidates were welcomed by Mayor Nieves Cabunalda Rosento and very accommodating local government officials.
The candidates were so proud to know that for almost 18 years, the town of El Nido has elected women to the mayoral post. It's not just the sustainable tourism advocacy and natural wonders that make El Nido a perfect venue for the competition, but the fact that empowered women have run the town for years. (WATCH: Miss World Philippines 2018 candidates explore El Nido)
The Miss World Philippines 2018 Beach Beauty Competition was the culminating event. It's one of the most sought-after fast track events, and a win guarantees a semifinals placement. It was truly a sensoral experience to be in a packed outdoor venue, watching a spectacular production with hundreds of people cheering for their favorites.
The coordinated dresses during the opening number, the enthusiastic individual introductions, the spectacular video montages of acitivites, and the hosts Miss World Philippines 2017 Laura Lehmann and Mr World 2012 first runner-up Andrew Wolff, really made the competition feel like it was the national finals already – with the exception of the evening gown competition and the Q&A.
All 40 candidates paraded in their navy blue and bright yellow Bench swimsuits which will also be featured in their official swimsuit photos. The Bench swimsuits reflect a nautical and sporty feel with the color selection, blue and white stripe details, and the Bench logo trims. These fit all the women beautifully. (IN PHOTOS: Meet the 40 Miss World Philippines 2018 candidates)
The candidates who were in their chosen resort wear came well-prepared to shock and awe the audience, as well as thousands watching the Rappler livestream. There was an abundance of free-flowing chiffon, a wide spectrum of colors from white to the bright shocking colors, palazzo pants, and head accessories.
But the ladies took it to another level with their dramatic reveals and powerful runway performances.
The Top 7 Beach Beauty finalists
The resort wear portion of the Beach Beauty Competition is slowly becoming a much anticipated event. When the ladies came out, it was evident that the candidates really prepared for it. When considering what to wear, they straddle a fine line between high fashion, costume, and everyday wear. Those in the latter category did not fare too well, as it lacked the drama needed onstage.
When the Top 7 Beach Beauty finalists were announced, some pageant fans questioned the inclusion of some candidates and the exclusion of others. There was a very long table of judges headed by Miss Eco International 2018 Cynthia Thomalla, who seemed to agree that the finalists gave something extra.
It's not what you wear but how you carry it. Taking a closer look at the finalists, that was what they all had in common: not necessarily groundbreaking designs, but a lot of joy, fun, and spunk in their presentations.
#39 Chanel Morales – Hat trick or treat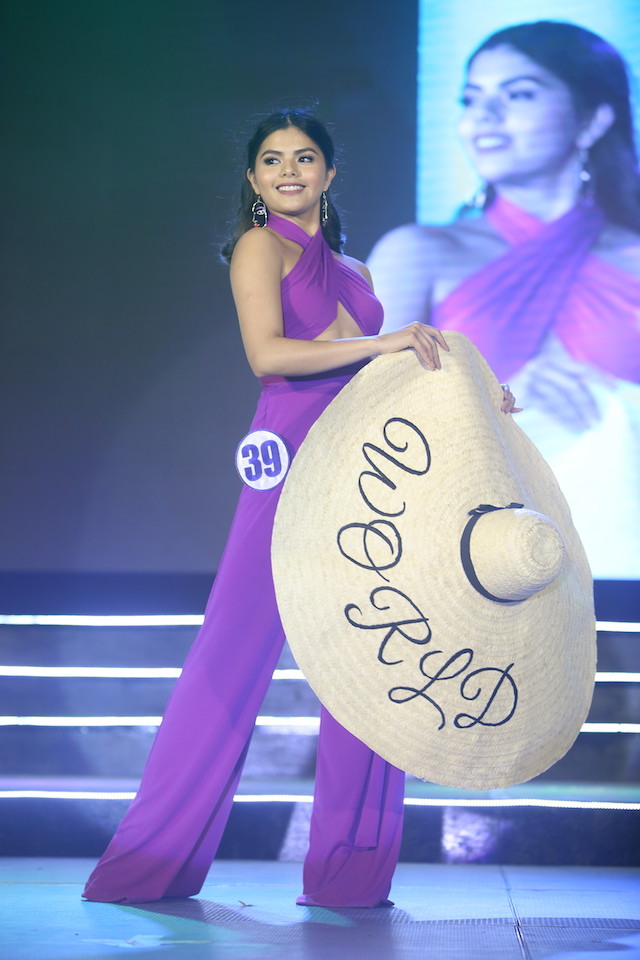 Chanel pulled her performance out of a hat, literally! She came out in a magenta crisscross, bare midriff halter top paired with high waisted, slightly flared palazzo pants that were just the perfect floor length. It was a cute contrast to have petite Chanel coming out in a gigantic hat with the word "world" emblazoned on it. She worked that hat and expertly showcased it like a matador's cape. With her playful and charming aura, Chanel won the judges and the crowd over.
#32 Kylah Sanchez – Handpainted flower drama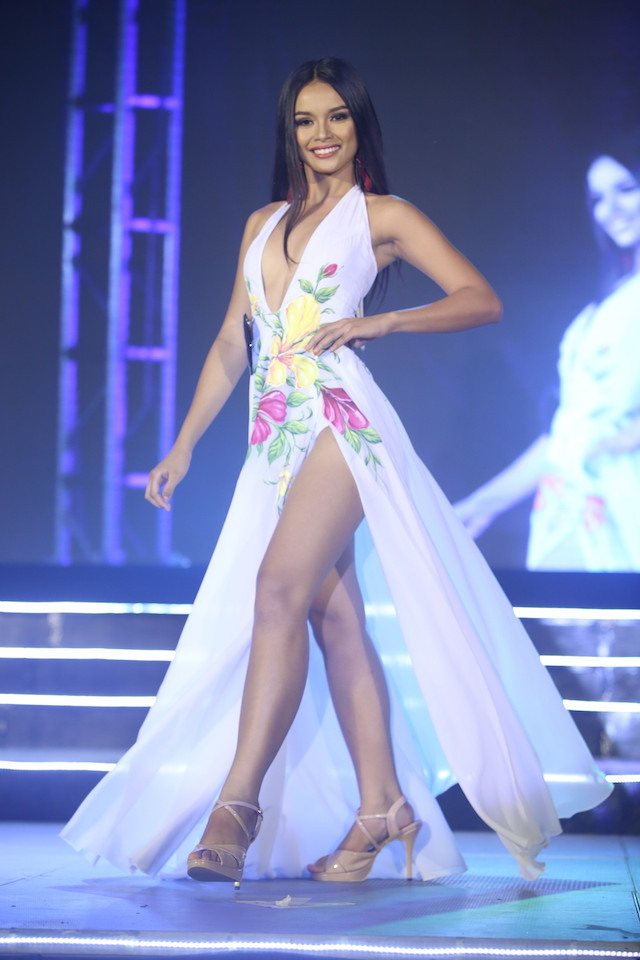 Wearing a white, deep V-neckline chiffon dress with handpainted floral details on the bodice and a flowy skirt with a thigh bone high slit, Kylah glided over the stage with an elegance beyond her years. Her shiny, straight black hair parted in the middle, and her morena complexion perfectly complemented the look. It was a very simple dress with a bold floral print without much else. But Kylah's grace, stage presence, and runway prowess gave her the edge over similar styles.
#33 Alyssa Muhlach Alvarez- Assymetric dreams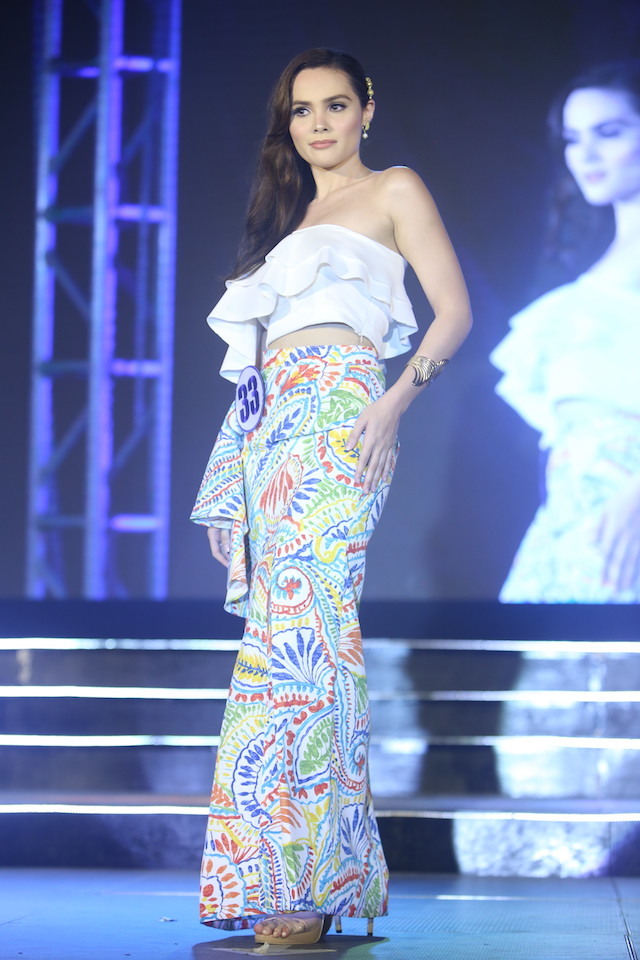 Alyssa came out in a white tube top with an exaggerated, assymetric ruffle paired with a colorful tropical print skirt. It felt a bit heavy, and a simpler top would have made it look more flattering. Her luscious hair was sideswept and held with a decorative barrette. Styling may not be on point, but it's very hard to ignore a gorgeous face and a sweet demeanor like Alyssa's. She exuded a calm and confident vibe, and that, more than the outfit, carried her through as a finalist.
#11 Pearl Hung – Beach boho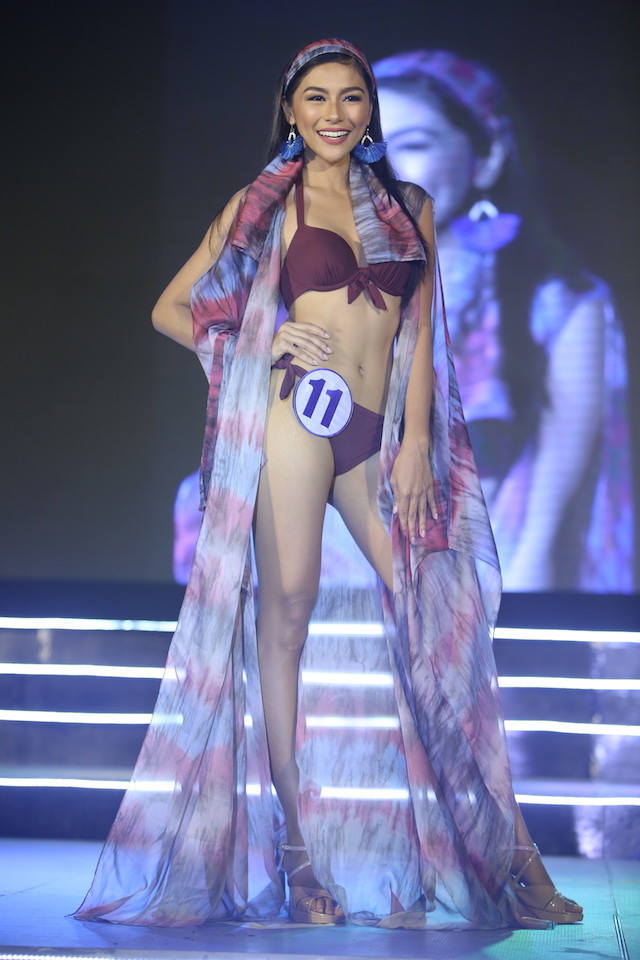 Palawan native Pearl Hung had the biggest cheers during the night every time she stepped onstage. Fueled by this energy, she came out in a tie-dyed effect chiffon cover-up and a chocolate brown two-piece bikini. With the matching head scarf and tie-dye look, this outfit looks like it could have come from the 1970s. This is one of those wearable outfits that also works onstage – a boho chic elevated.
#20 Angelica Estrevillo – Equestrian country club chic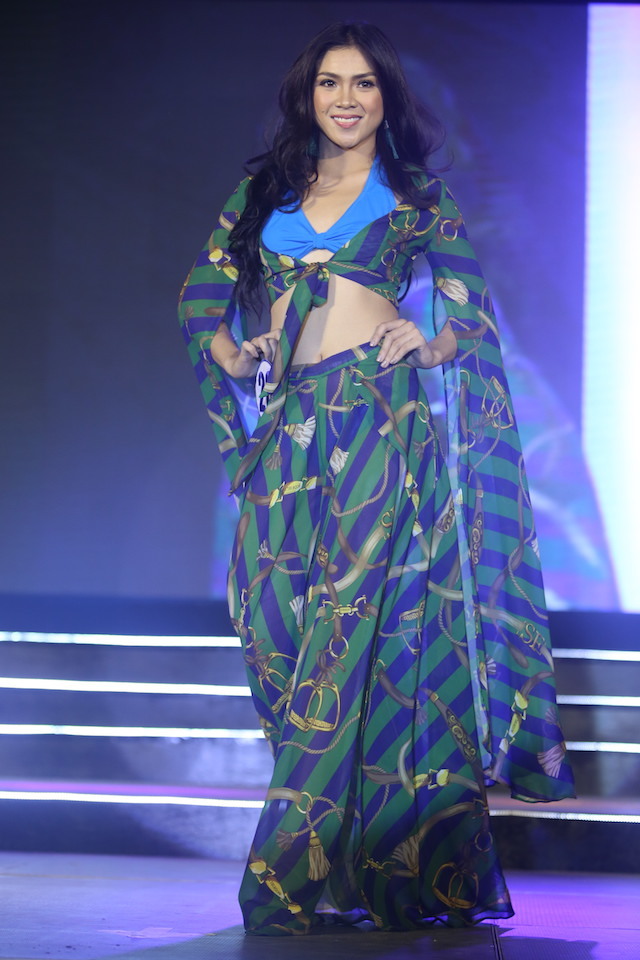 As one of the tallest candidates, Angelica's statuesque figure was her best asset during the resort wear segment. She is that beautiful, rich, chic woman who has brunch at the country club, sails in her yacht, and has a stable of horses. Well, at least that's what her Gucci-esque equestrian theme print two-piece ensemble suggested. It had dramatic long sleeves and a royal blue bra top to add interest. This look could have easily gone matronly with the wrong styling, but her long wavy hair made it look younger and cooler.
#27 Katarina Rodriguez – High fashion hippie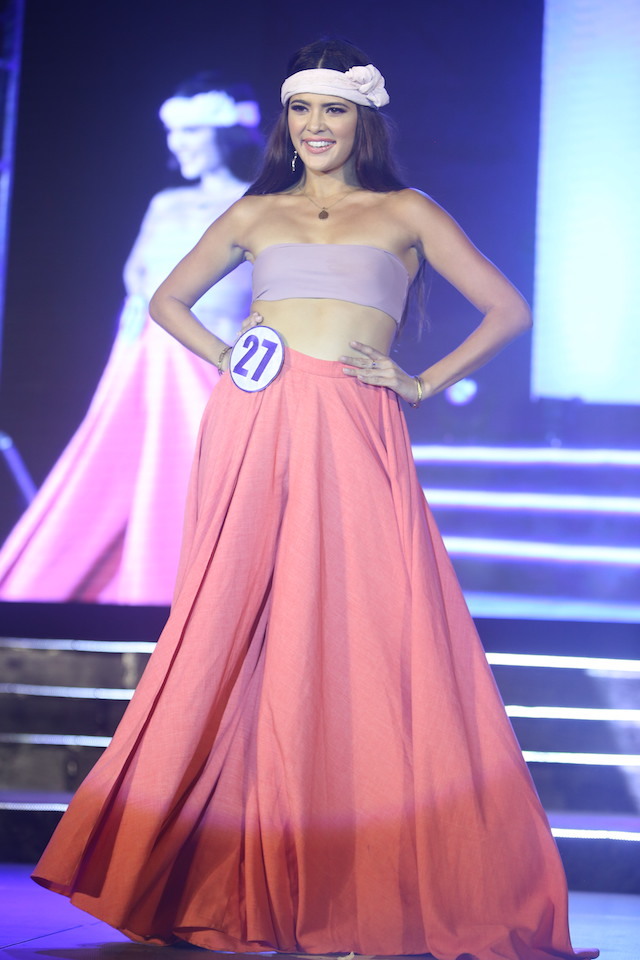 With over 222,000 Instagram followers, Katarina's fashion game has to be on point. She came out in a pink coral voluminous, ultra flare palazzo pants with a high slit on one side, paired with a light brown bandeau. With her tan skin care of the El Nido sun, she wore her hair very straight parted in the middle, finishing the look with a beige headband with a fabric flower. The overall look was a departure from the expected sexy drama and gave a very clean, fresh, and modern vibe.
#16 Maureen Montagne – Flower power with a bam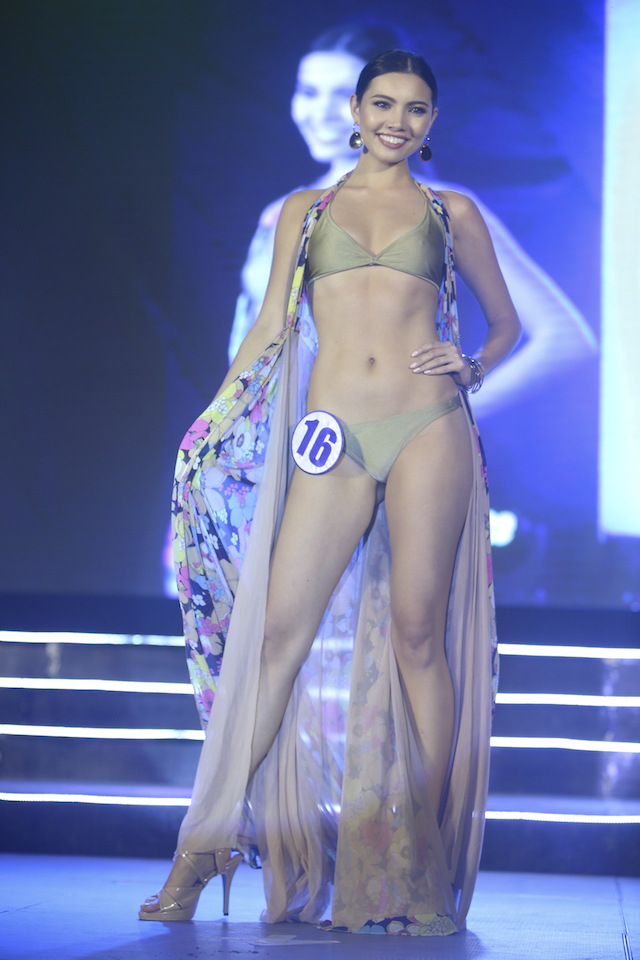 Maureen walked onstage ever so elegantly in this two layer, all-over floral print chiffon and beige chiffon, flowy dress. As soon as she hit center stage, she gracefully opened the dress to reveal a rock hard body in a sage color two-piece bikini. Maureen wore her hair in a low ponytail, accessorized with gold metal earrings, gold bracelets, and a killer smile. She wasn't being over the top in presentation but had a very strong stage presence – the "either you have it or you don't" kind. Clearly, Maureen had lots of it that night.
Tres marias
With so many amazing performances and the judge's preferences, it's inevitable that some candidates will not make the cut for whatever reason. Here are some of the candidates who did very well but failed to make the cut:
#38 Katrina Acaylar in her bright green two-piece ensemble could have easily been included in the Top 7 and it would make sense. Her runway was always quite good, and her energy was awesome.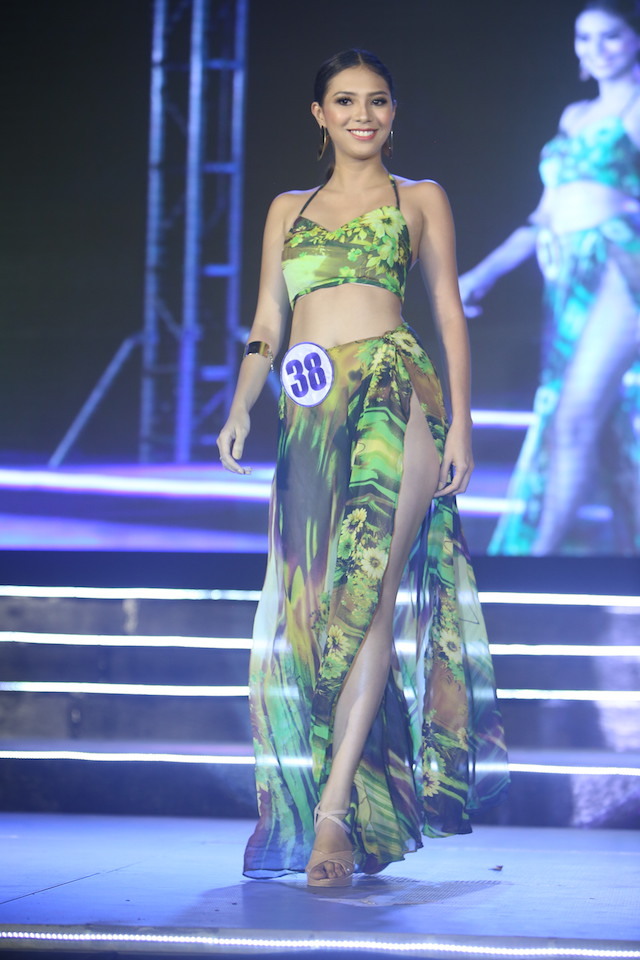 #5 Kim de Guzman – When she came out in this white outfit, I was wowed by it visually. After thinking about why it failed to make the cut, I feel it would be good for an event or concert. It looked more like evening wear than resort wear. Maybe if it was a one-piece swimsuit or a short jumpsuit with a white chiffon train, it would work better.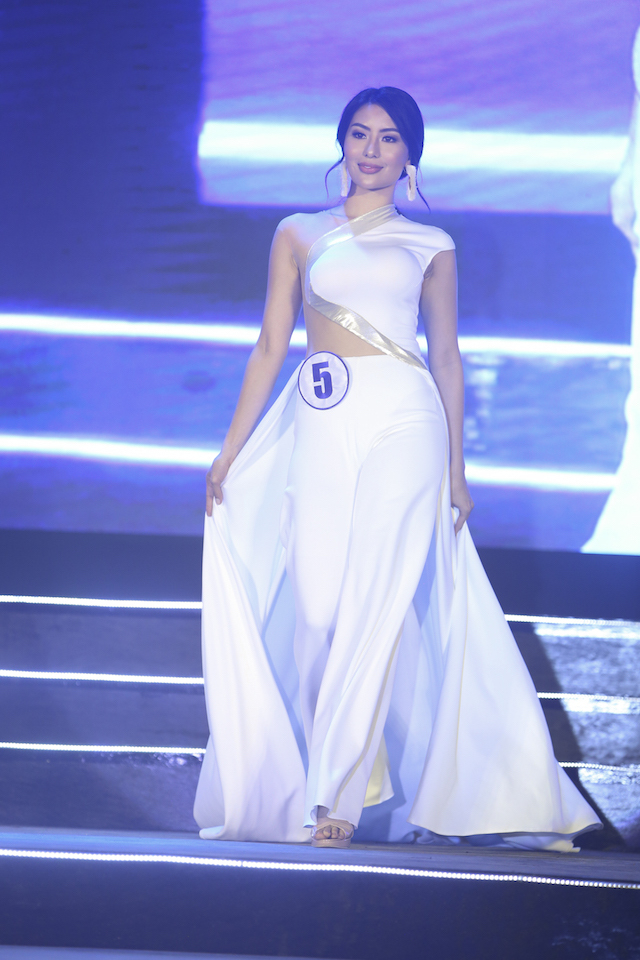 #22 Elaiza Alzona – Her royal blue printed, flowy outfit had all the elements for fab resort wear and she even had the swooshing and flying fabric performance to match. But something was amiss in this look that the judges were looking for.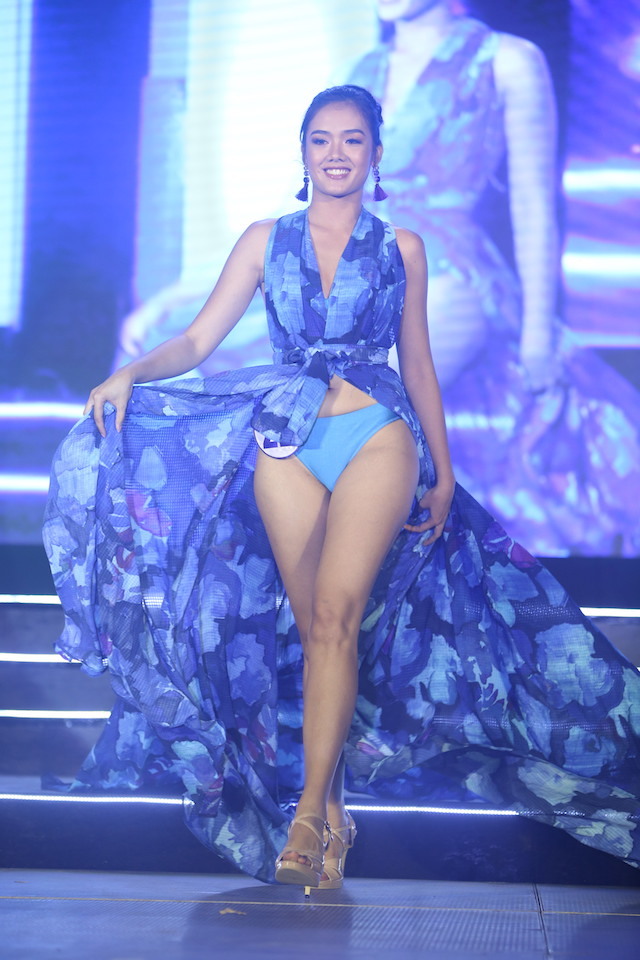 It's all in your head
Headwraps and Headbands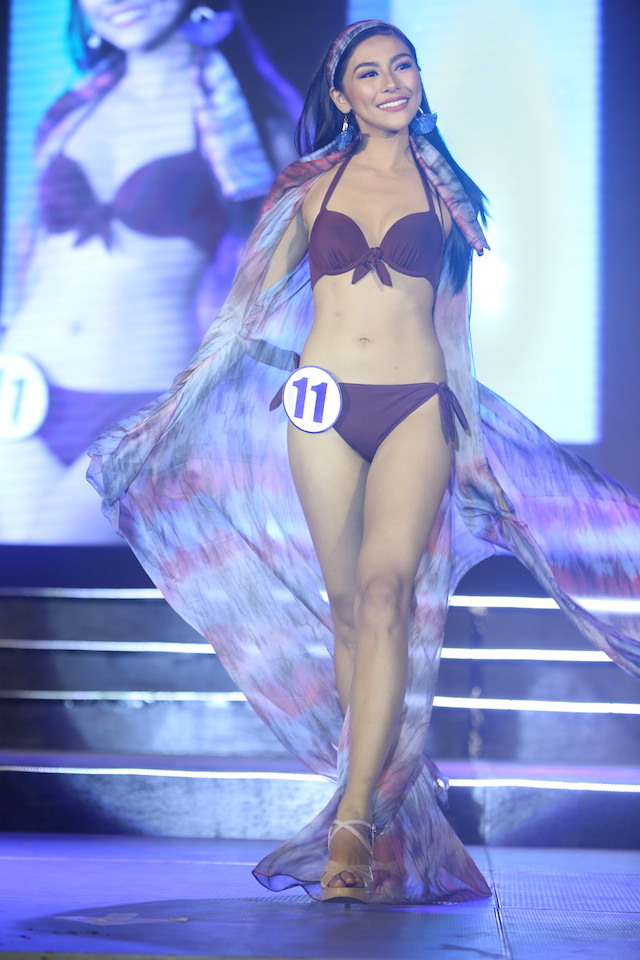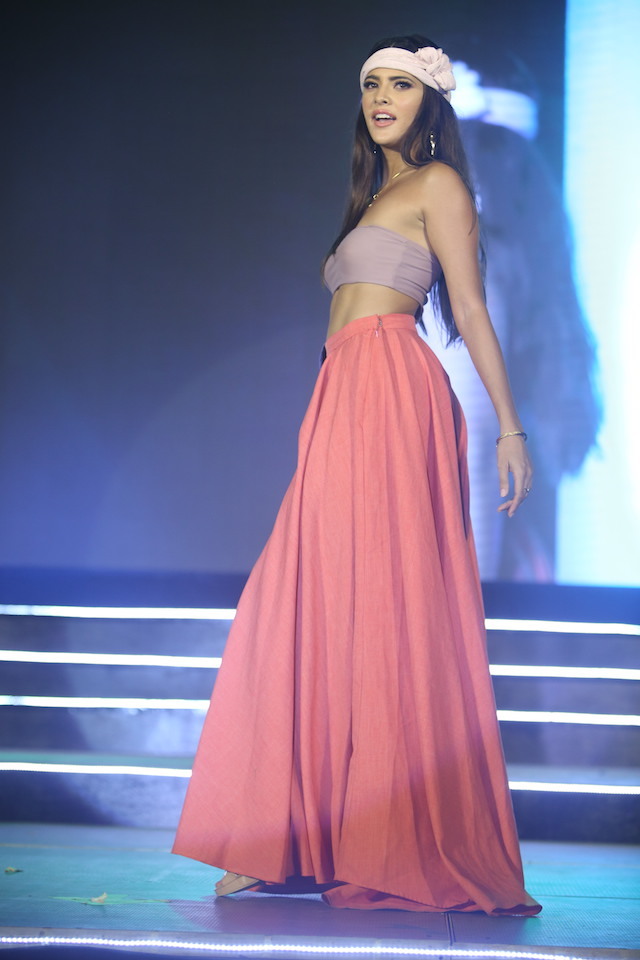 Aside from Katarina and Pearl, candidates #4 Bettina Penales, #7 Angeline Santos and #8 Pauline Deveraturda all decided to wear a variation of a headwrap to complete their resort wear look.
The Philippines is really not the most ideal place to wear these trends because Filipinos would just come up with the silliest comments. But onstage, it adds a bit of unexpected drama. For pageants, I'm personally not a fan of these because it either covers or distracts from the beautiful face of a candidate.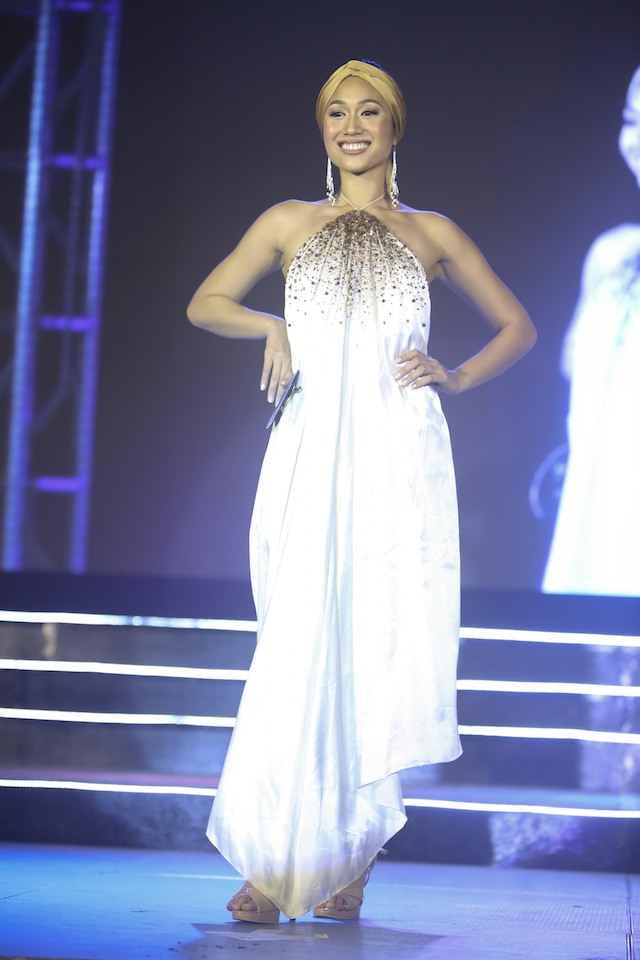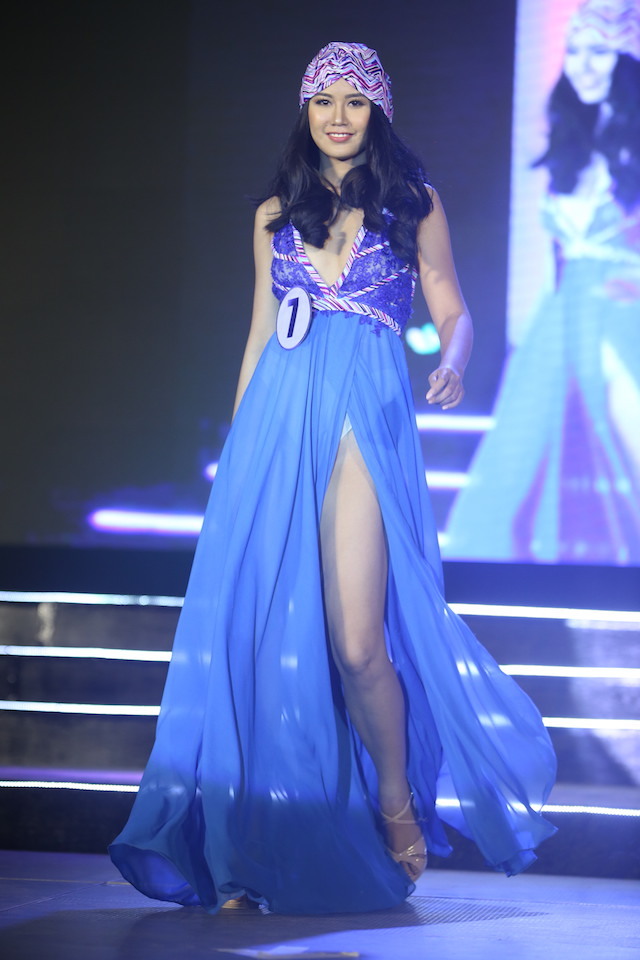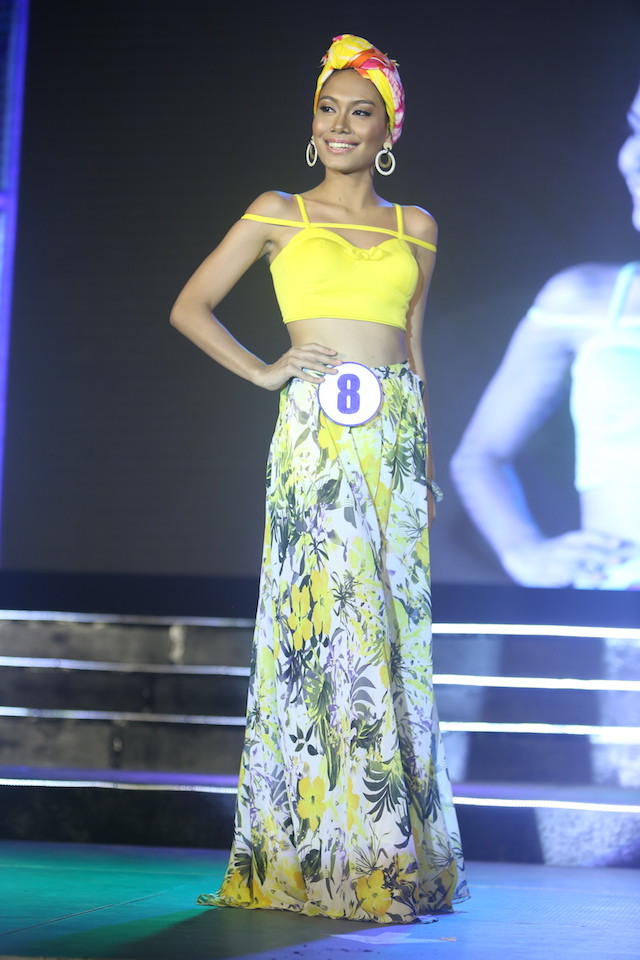 Hats, hats, hats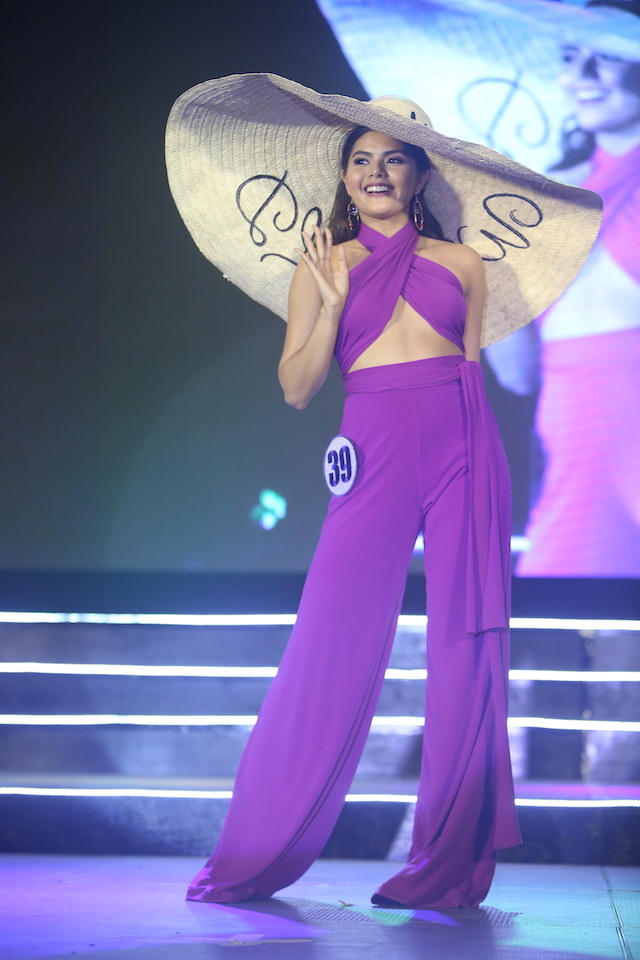 Chanel's hat was the mother of them all. But a close second was #35 Kimi Mugford's orange hat with a black border. It was definitely eyecatching.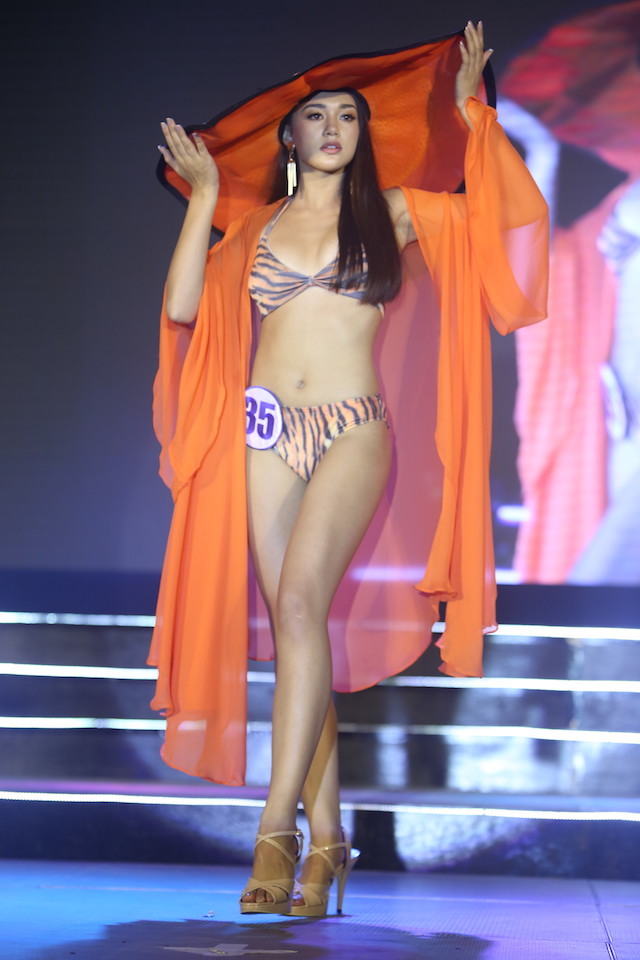 #21 Annalita Vizcarra and #6 Danica Reynes both sported black Panama hats to complement their looks.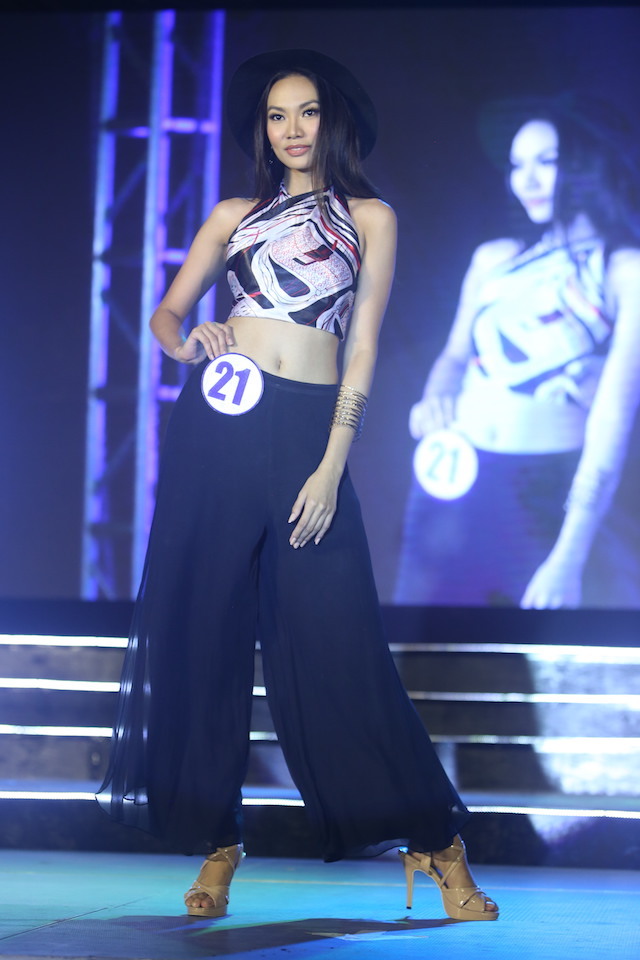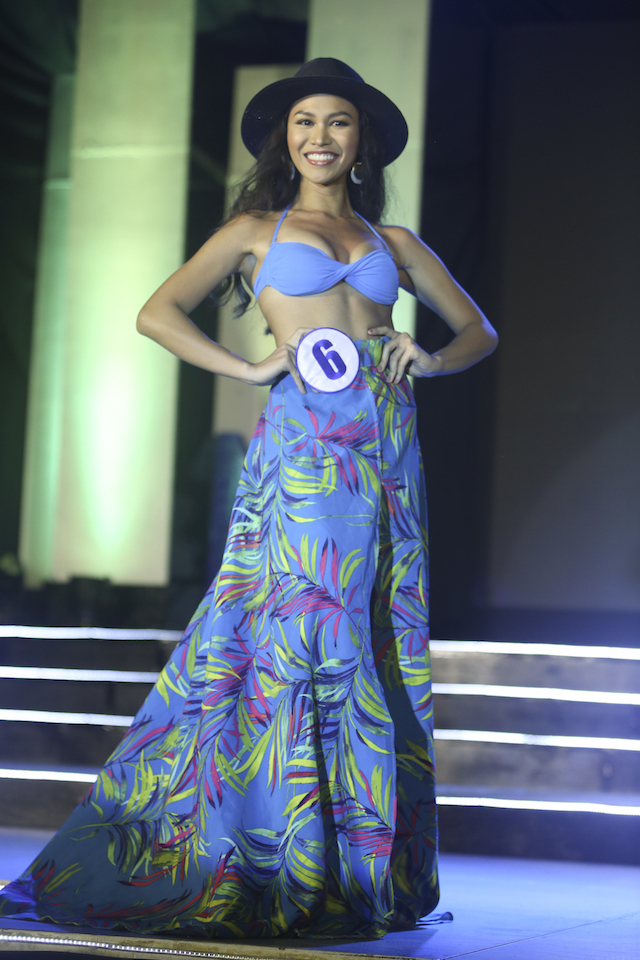 #9 Arienna Calingo in a very modern Carmen Miranda inspired outfit wore a floppy brown hat.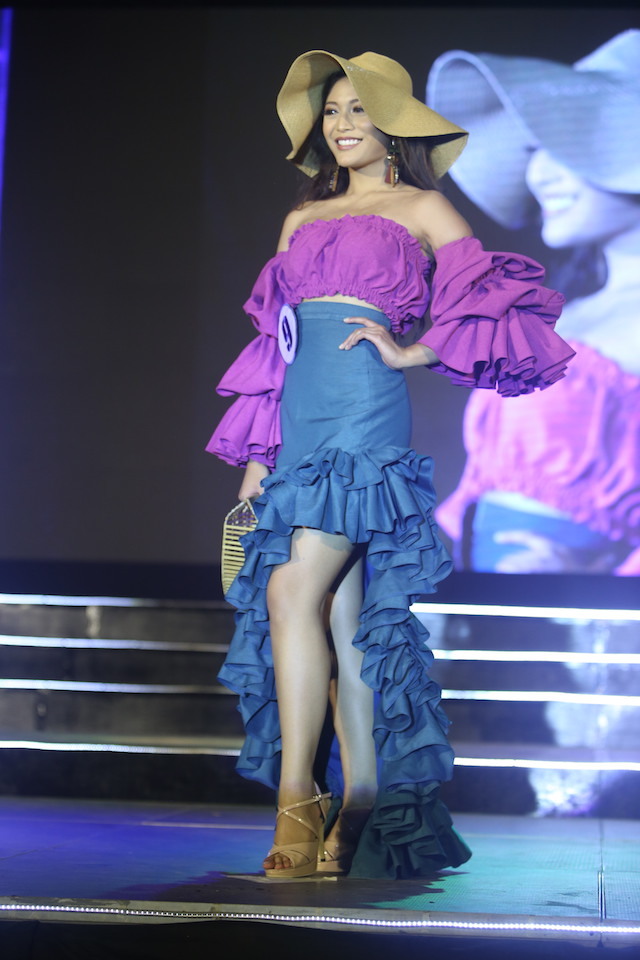 Future Miss World Philippines candidates should avoid doing the big hat gimmick, as Chanel's look ensured that this will be forever associated with her.
Miss World Philippines General Manager Bessie Besana was in El Nido with the candidates and he was pleasantly surprised at the high level of competition during this year's pageant.
With the style and sophistication at this year's event, the upcoming fashion shows and the Finals night on October 7 at the Mall of Asia Arena will surely set the bar higher for Miss World Philippines.
This article originally appeared in Rappler.