One of the biggest nights in Philippine entertainment dominated social media in its debut – the first ever ABS-CBN Ball held on Saturday, September 29 at the Shangri-La Makati. All the stars of the network graced the highly-anticipated red carpet event, which is the country's equivalent to the Oscar's.
For many people, it's seemingly a superficial event. But for these celebrities, it's about branding and imaging. It's a tool that helps them get publicity, attention and in some cases, notoriety. For months prior, fashion designers and stylists have been hard at work trying to come up with the most fabulous gown that is both unique and different.
Unfortunately for some celebrities, they fall victim to the creative experimentation of their stylists. Unless they have a strong sense of self and style, they end up as fashion road kill.
To the viewing public, it's a chance for them to dream about such a lavish, star studded event. The following celebrities did not disappoint their adoring public with their spectacular looks.
THE BEST DRESSED WOMEN
Sue Ramirez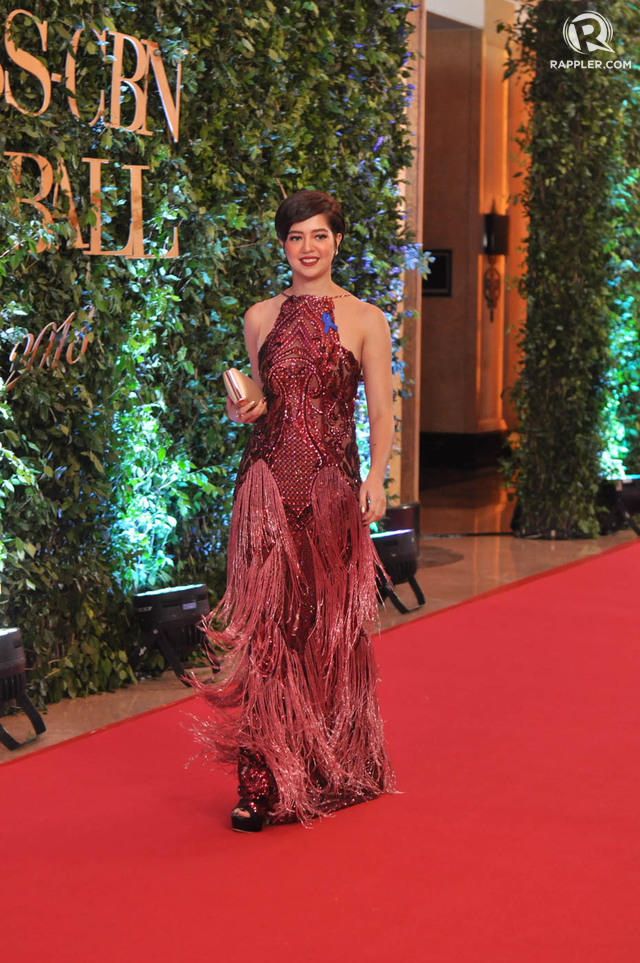 High fashion, flapper fabulosity. The 1920's inspired, burgundy/deep old rose gown by Mak Tumang is exquisite. She looks great from every angle. As she walks, you see this heavily embroidered, halter top bodice with assymetric, long fringe beads on the skirt. Exiting the red carpet, the cascading beads from the nape across her back on nude tulle creates even more interest.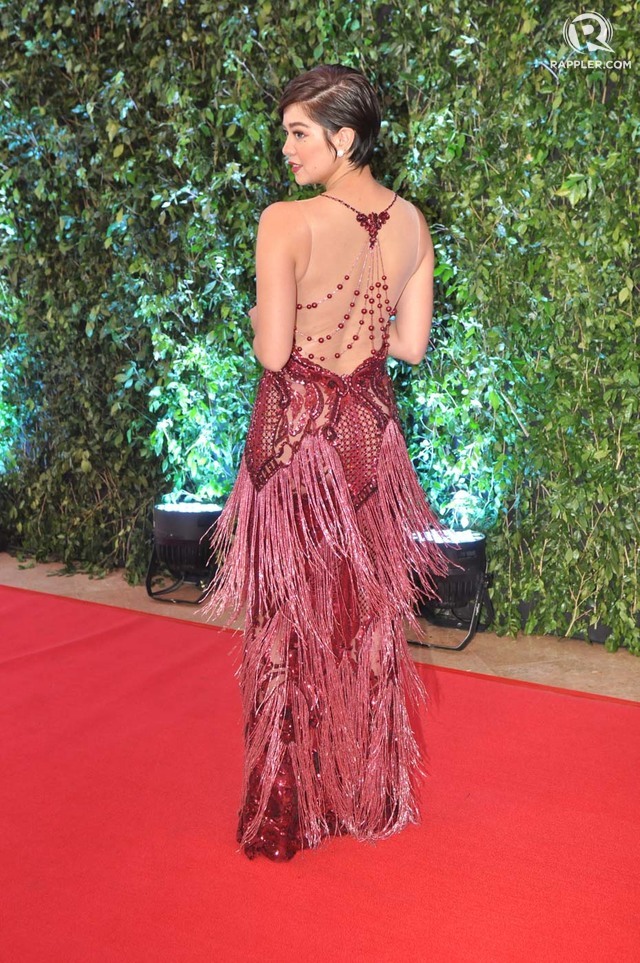 The short, sleek hairstyle with a side part and minimal jewelry made this look Oscar's red carpet worthy. If I were a celebrity, I would immediately book her stylist.
Jessy Mendiola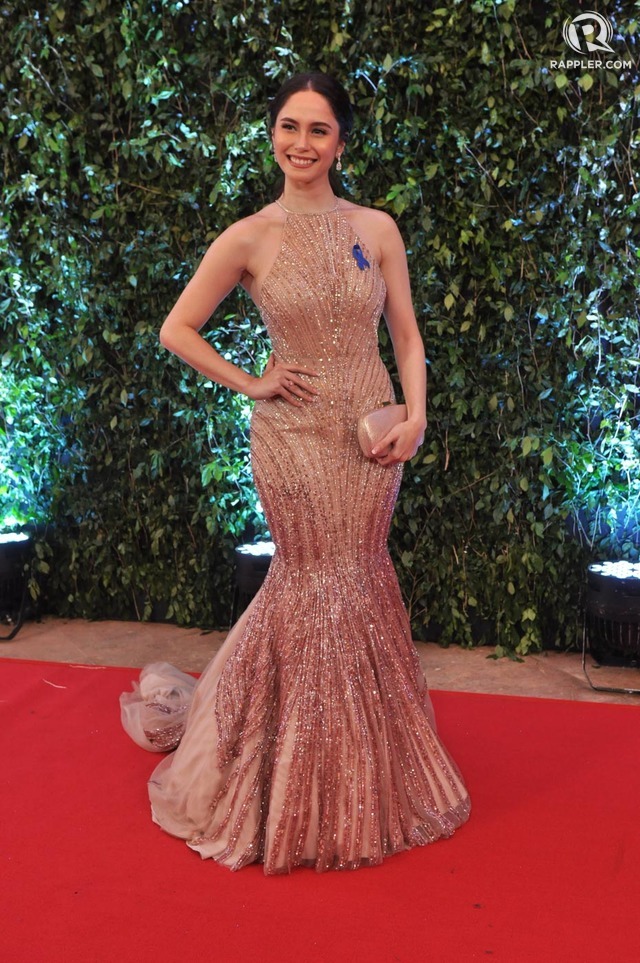 Golden mermaid eleganza. This nude illusion, a halter serpentina Patricia Santos gown looks like it was painted on Jessy. The fit is perfection and the very flattering beadwork pattern highlighted her curves. Her soft make-up and the center parted low ponytail complete this classy look.
Other celebrities should learn from Jessy's style. You can be sexy, hot, and still be classy. I love that Jessy was smiling and didn't feel the need to pout and project. This unpretentious air is what truly makes her sexy.
Janella Salvador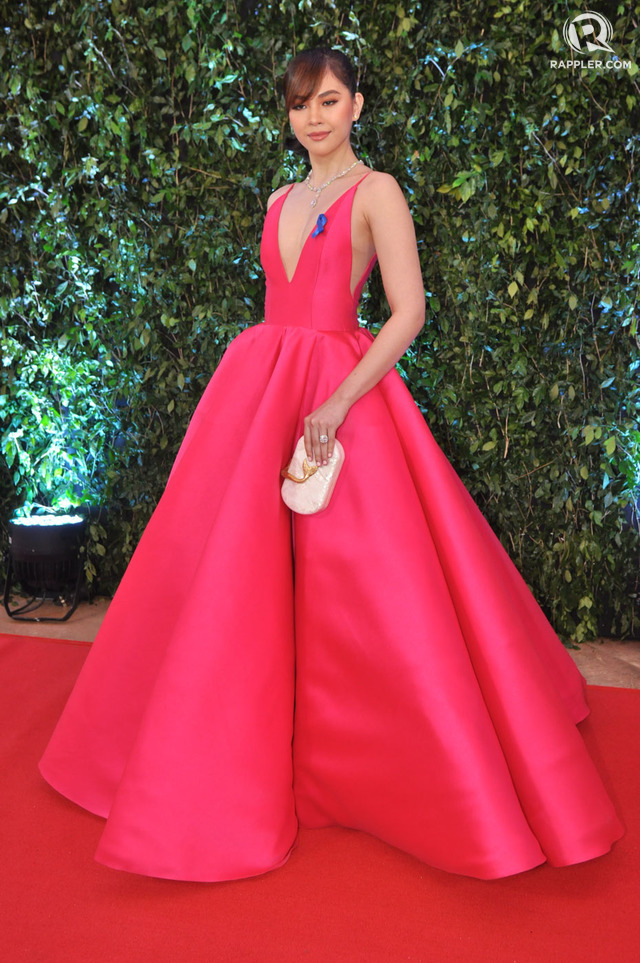 Haute in hot pink. If you want to pop against a backdrop of green foliage, hot pink is the way to go. This deep-V, voluminous ballgown by Michael Leyva is is perfect for this teen star. The high ponytail with bangs gives it a very youthful and fresh look. The diamond necklace adds a bit of sparkle to this bright ensemble.
Kim Chiu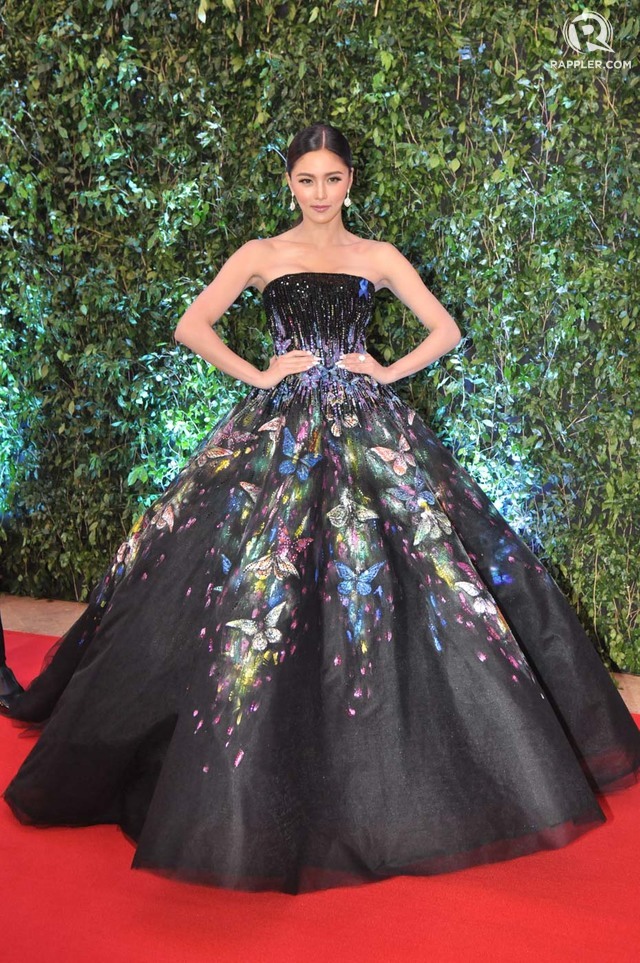 Madame butterfly couture. Kim's body proportions are a designer's dream and Michael Cinco is every woman's dream designer. It was a magical match made in couture heaven. She was a vision in this stunning black bustier ballgown with a very graphic spray of brilliant colors and butterflies on the skirt. Kim accesorized with single pearl drop earrings, a center part, and a sleek chignon.
Sarah Geronimo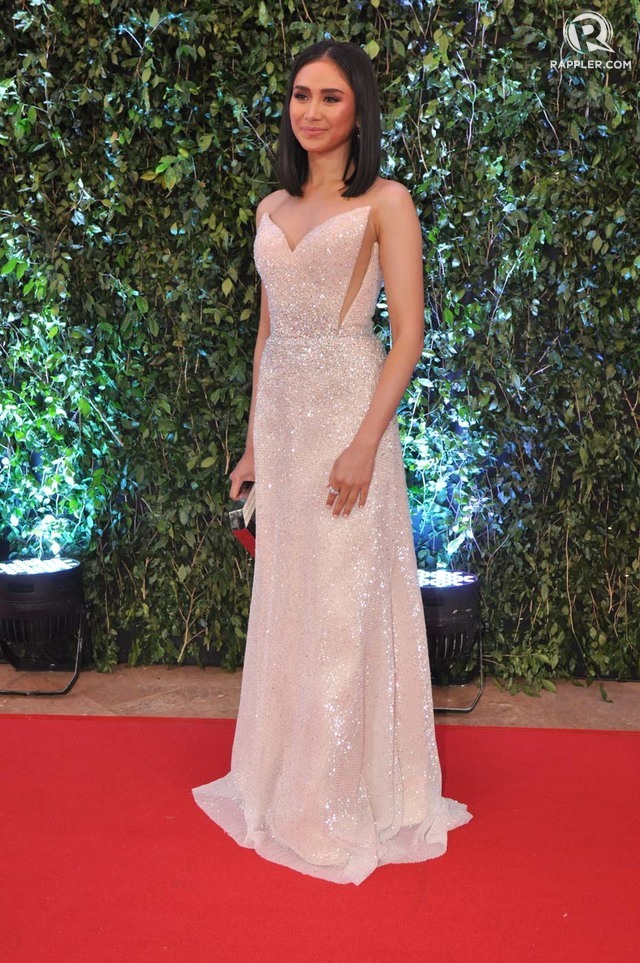 Pretty and petite princess. Everyone was talking about Sarah's first time at the ball with her boyfriend Matteo Guidicelli. All eyes were certainly on her when she arrived in this sparkly white, A-line skirt, pointy bustier with a side cutouts that seemed to defy gravity, a custom design by Mark Bumgarner. It's a very simple silhoutte that says understated elegance. Her clean bob and fresh face where all that's needed to perfect this look. Having Matteo by her side didn't hurt either.
Yassi Pressman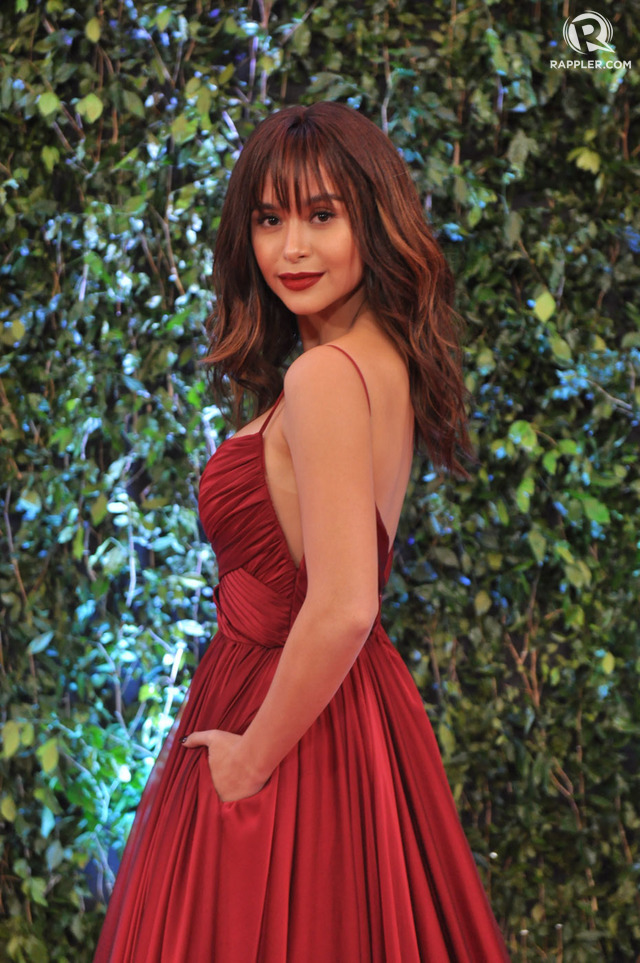 Rouched rouge radiance. There is nothing out of the ordinary about this Lauren dela Cruz gown. It's a classic, rouched, Grecian inspired, spaghetti strap top with a very full, flowy skirt. The immaculate construction and fit makes simple gowns look stunning. Yassi's hair had soft waves, wispy bangs and bold lipstick made the overall appearance looked relax. Yassi is the epitome of stylishly fashionable simplicity.
Erich Gonzales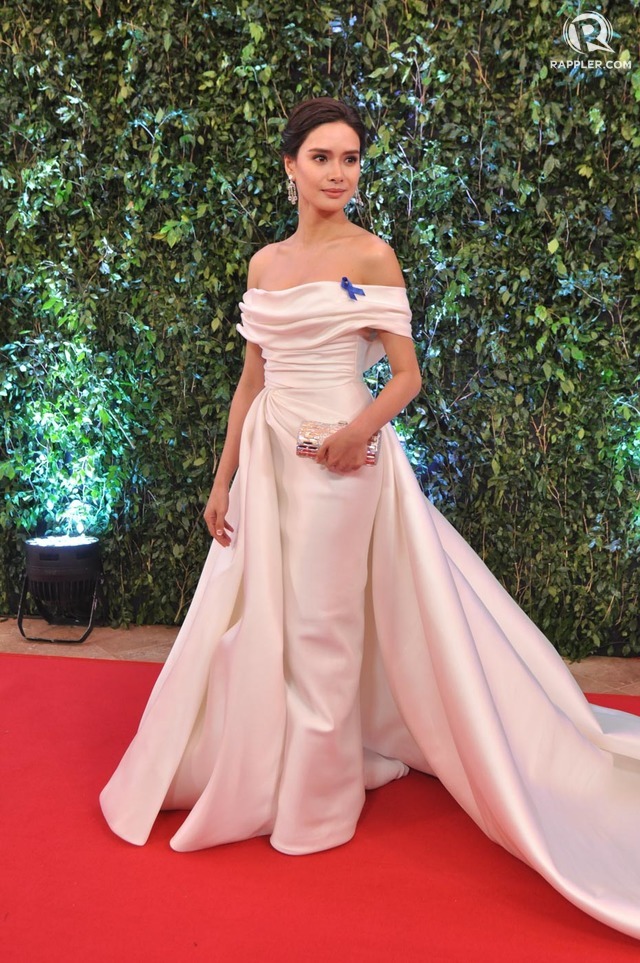 Nights in white satin. Vania Romoff's gown is a great example of draping. It's as if she just molded and sculpted one piece of fabric onto Erich's body to create this classic evening gown with a dramatic train. The off-shoulder element shows off Erich's enviable shoulders and clavicle. Her updo and drop earrings accentuated her beautiful face and long neck. I'm pretty sure brides to be will be adding this look to their Pinterest boards.
Catriona Gray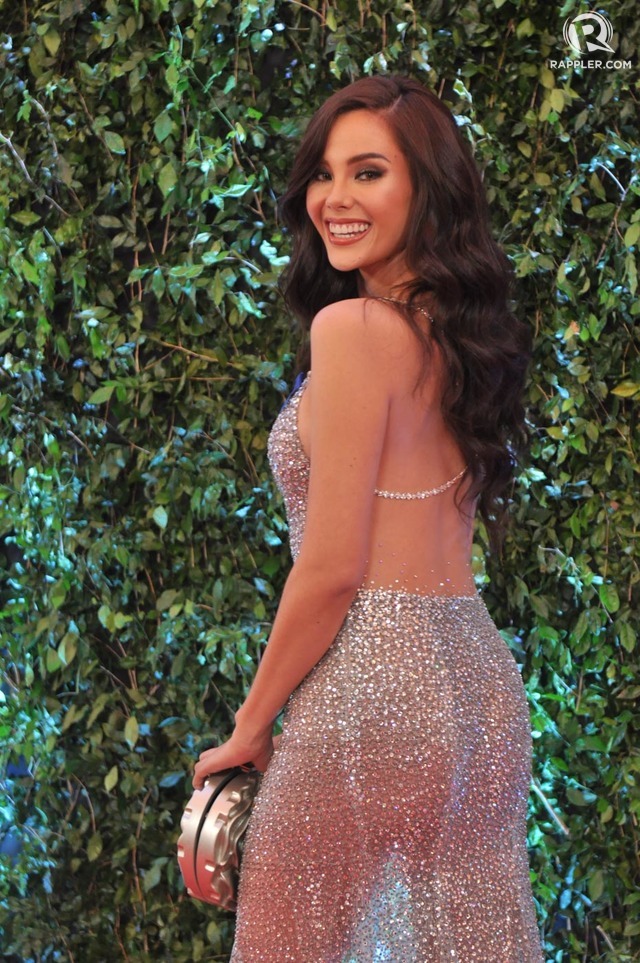 With her Veronica Lake inspired hair, gorgeous make-up and a very regal bearing, Catriona looked like A-list Hollywood celebrity. She literally lights up the room with her presence. Her very sheer, sparkly gown isn't my favorite but Catriona brought it to life and gave it the sophistication it lacked. I'm sure many pageant fans got another peak of how phenomenal she will look for the Miss Universe finals.
THE BEST DRESSED MEN
Santiago Brothers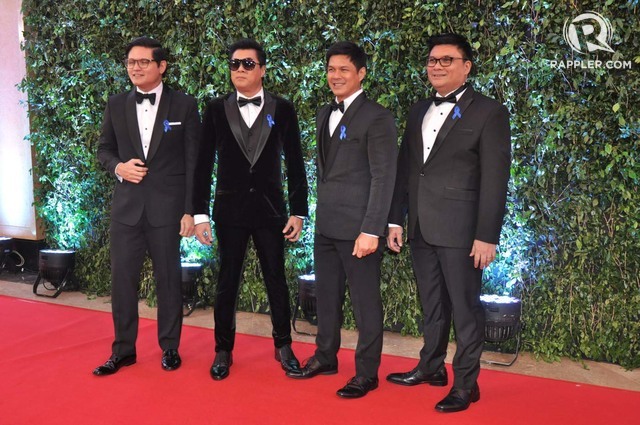 Many male celebrities tend to be lured into the shiny metallics, brocades and downright hideous suits in an attempt to be avante garde. But after seeing Rowell, Reily, Randy, and Raymart in their tailored, classic tuxedos with varying lapel styles and fabrics, crisp white shirts and black bowties, there is no question that traditional tuxedos are the way to go.
Sure, all the men can arrive in seemingly similar black suits or tuxedos. But their cool, sexy swagger is what will set them apart. They can look back at their photo 10 or 20 years from now without fear of cringing.
Piolo Pascual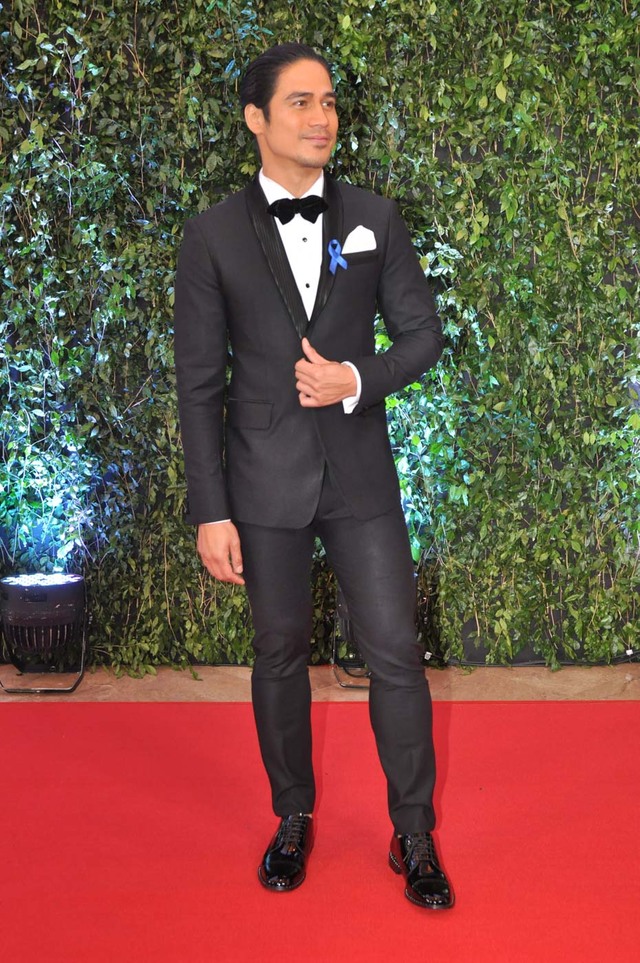 Classically handsome swagger. Piolo is proof that when you have "it," you don't need much else to make people take notice. From the first Star Magic Ball to the ABS-CBN Ball, Piolo has remained classic in his choice.
This year, he opted for a custom Randy Ortiz tuxedo. He looked like a real-life wedding topper with his hair slicked back. Guys, whatever you wear, always strive to look as clean and "mabango" as Piolo. It's all you need to make your look work for you.
Richard Gutierrez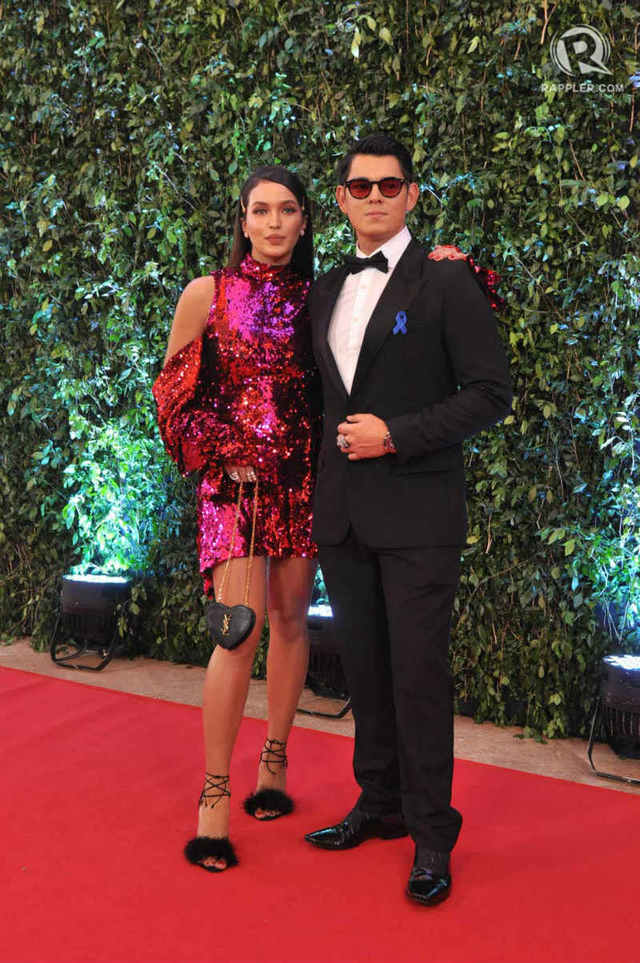 Leading man luxe. Dressed in a Maison Margiela tuxedo and with perfectly coiffed hair, Richard looked like the cinematic lead that women swoon over. His tinted spectacles give him a retro James Bond look. There is really no need to wear busy fabrics when you look this good.
BEST DRESSED COUPLE
Anne Curtis-Smith and Erwan Heussaff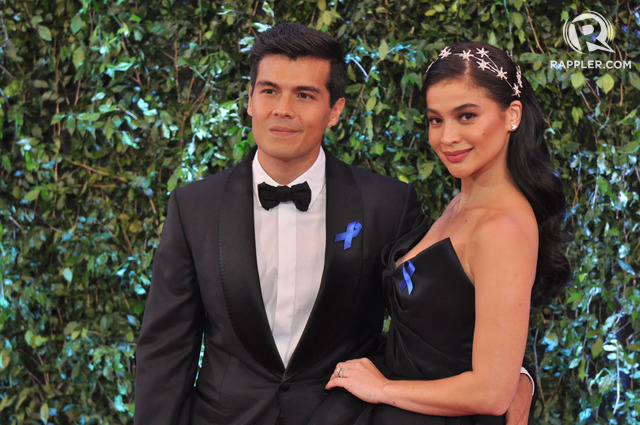 She wore a custom Monique Lhuillier. Need we say more? This black evening gown totally devoid of embroidery, sequins and beadwork is a breath of fresh air from all the heavily embellished gowns we've seen. Anne was captivating in this softly, sculpted fabric bustier with rouched skirt. She wore a "stars" headpiece that looked divine on Anne.
Erwan wore a classic, black tuxedo that was the ideal accompaniment to Anne's look.
Liza Soberano and Enrique Gil
The LizQuen duo seems to be saying: they're growing up. Liza wore a nude Alexander McQueen gown with floral embroidery. It is not the most photogenic outfit but looks stunning in person. It's says sexy but classy.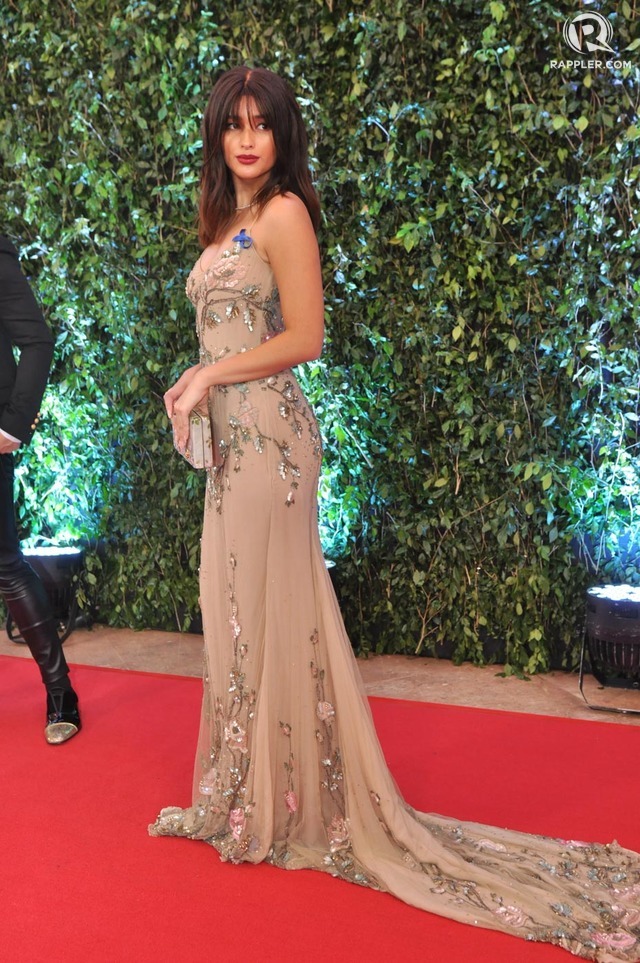 Enrique wore a Balmain jacket with Jail Jeans. He certainly went far off the classic ball tuxedo. But what makes this work is that he was totally owning the look. Something that would probably look sleazy on another guy, Enrique made fashionable. Again, it's all about the swagger and attitude. With this couple, their sense of style feels organic and real.
HAUTE COUTURE EXTRAVAGANZA
Not to be outdone is one of ABS-CBN's biggest stars, Vice Ganda. He wore a Michael Cinco gown with a dramatic, long cape which featured stained glass panel details common in old churches.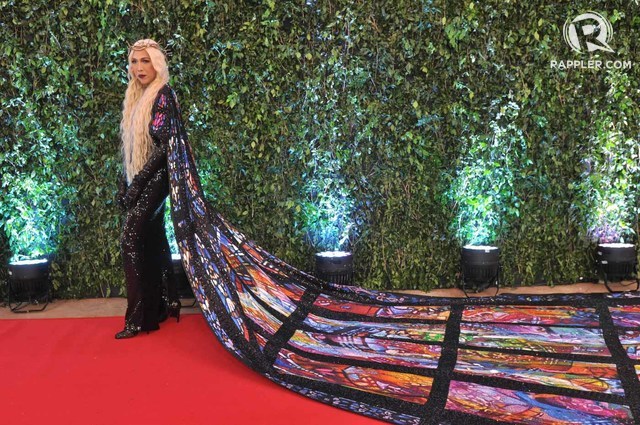 He could have very well been walking up the red carpet of the 2018 MET Gala whose theme was "Heavenly Bodies." He sported a long, wavy, Madonna-esque, blonde wig and a golden crown of thorns. Vice is probably the only artist that has the artistic license to go with costume drama because that, in fact, is reflective of his style.
The 2018 ABS-CBN Ball is truly the start of an annual tradition that will keep celebrities anticipating, their audiences fascinated, and the fashion industry talking and dreaming of the next ball.
This event has truly elevated the Philippine entertainment and fashion industry to another level. It was the night of the crazy beautiful Asians.
This article originally appeared in Rappler.