Binibining Pilipinas 2017 promises to be a year filled with beautiful surprises. The 39 outstanding young women paraded in their swimsuits during the traditional Press Presentation held at the Novotel Manila Araneta Center on Wednesday, March 22.
Binibining Pilipinas Charities Incorporated (BPCI) Chairwoman Stella Marquez Araneta gave a very warm message to the media, sponsors, guests, the candidates, and the woman who they all want to follow, Miss Universe 2015 Pia Wurtzbach.
Stella said: "I'm very, very happy to see how many of our friends have come here to meet, greet, and know what kind of candidates we have this year. I would like to start by saying that I am very, very proud of this group. I wish I could have crowns for all of you because this is a fantastic line-up this year."
I believe Madam Stella's sentiments because this is one of the strongest batches we've had in years. The candidates are so well-trained, beautiful, confident, and empowered that even a semifinalist can compete internationally and win.
It isn't surprising to see this high caliber of candidates because this year is dominated by Bb Pilipinas returnees (candidates who have competed in previous Bb Pilipinas editions) and crossover beauties (candidates who have participated in other pageants).
Malcom Gladwell's book, Outliers, suggests that to achieve greatness and success, one has to devote an enormous amount of time (10,000 hour rule) and come from a similar set of backgrounds. These ladies definitely fit that outlier mold.
We can say that a majority of the recent winners are, in fact, outliers. Venus Raj (Bb Pilipinas-Universe 2010) and Ariella Arida (Bb Pilipinas-Universe 2013) both competed in Miss Philippines Earth prior to winning their titles. On the other hand, Janine Tugonon (2011, 2012) won Bb Pilipinas-Universe on her second try. Proving that the third time's a charm are MJ Lastimosa (2011, 2012, 2014) and Pia Wurtzbach (2013, 2014 and 2015), both of whom won on their third attempt.
Miss Universe 2015 Pia Wurtzbach, (and all these successful returnees and crossovers) debunked any notion that a non-placement in previous years doesn't make you any less. Have they reached the 10,000 hour rule? It doesn't guarantee a win, but it does give you a better chance because you that much more prepared and determined to win.
The Returnees
In sports, athletes are celebrated for their drive, determination and perseverance for honing their skills for years. It's about time that pageant returnees are also given the respect they deserve for enduring losses and bashing on social media. It takes a strong sense of self, the discipline of maintaining a pageant body, and subjecting oneself to being judged by others.
This year, there are 8 candidates who are on their second attempt and two candidates on their third try.
#15 Maria Angelica de Leon
23 years old, Las Pinas City, Metro Manila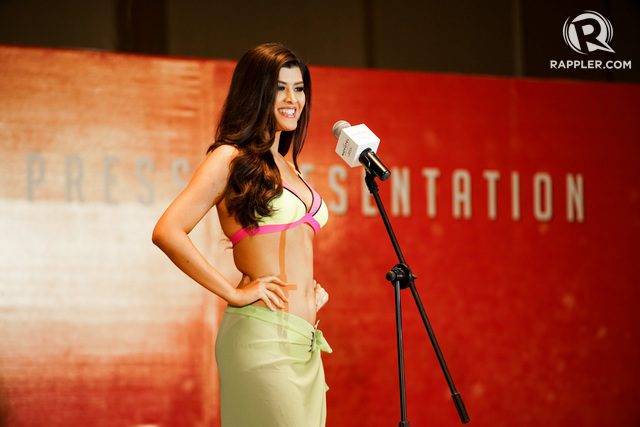 She first competed in the Gold Batch of Bb Pilipinas in 2013 where she was a semifinalist. Each time Mariel was on stage or in the room, there were audible gasps from the audience and onlookers and a great admiration for her beauty. She wows with her beauty but you fall in love with her kind aura and very humble demeanor. She's a classically trained opera singer and will most likely sing her favorite aria during the talent portion. Mariel calls herself a goth and loves watching horror films. She is a top favorite for the major crowns.
I asked Mariel why she decided to join again, and she said, "It was this just this year when I realized that I should try again. I was definitely inspired by Pia and I felt something in my heart. It was like a spark that just went off."
#32 Charmaine Elima
24 years old, Binangonan, Rizal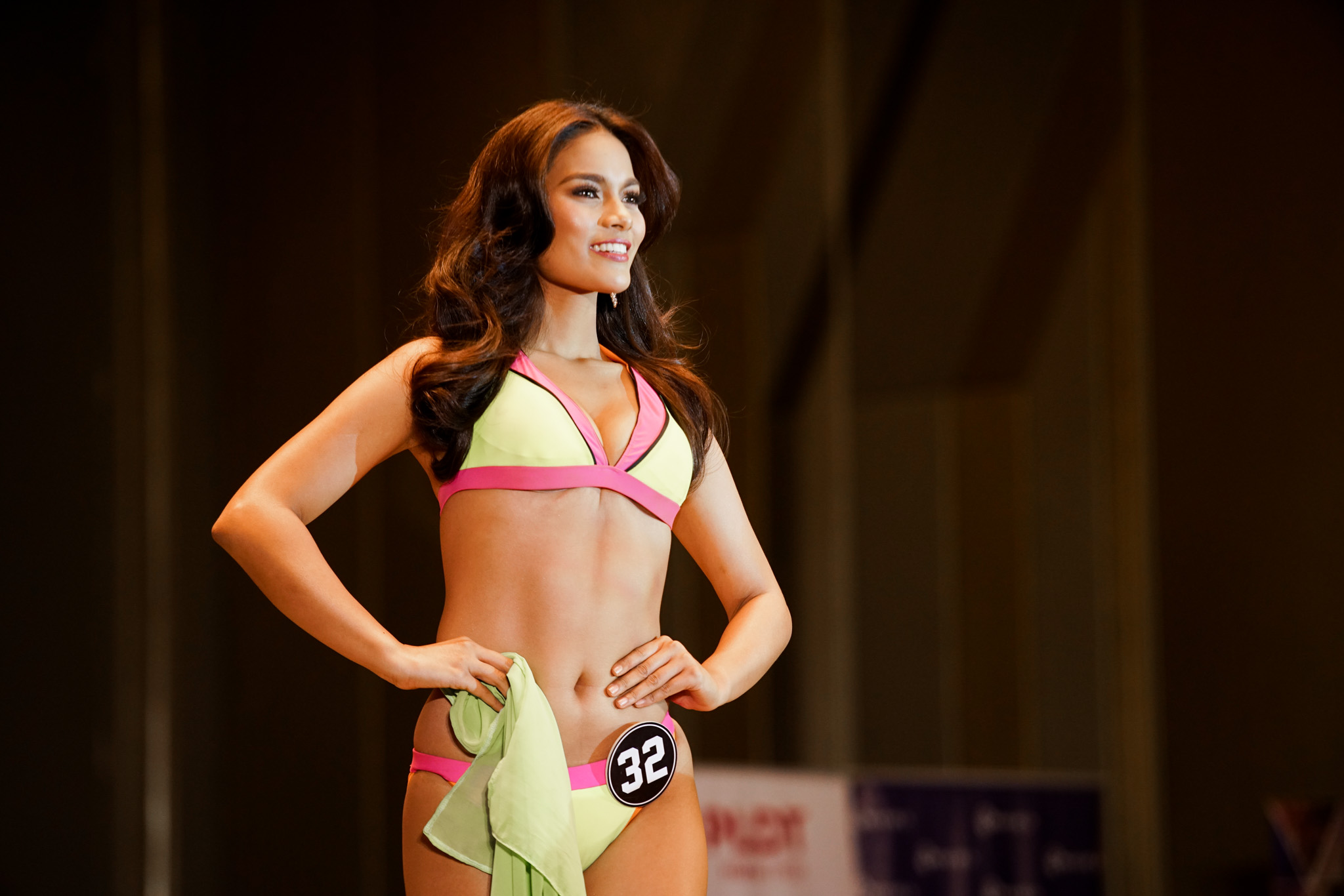 She was a semifinalist from Bb Pilipinas 2013 and is now a major frontrunner. Maine came prepared with amazing hair and a killer body. She has great stage presence but unfortunately, she is one of the shorter candidates. She is expected to place in the semifinals and possibly win a title.
#10 Jehza Huelar
21 years old, Davao City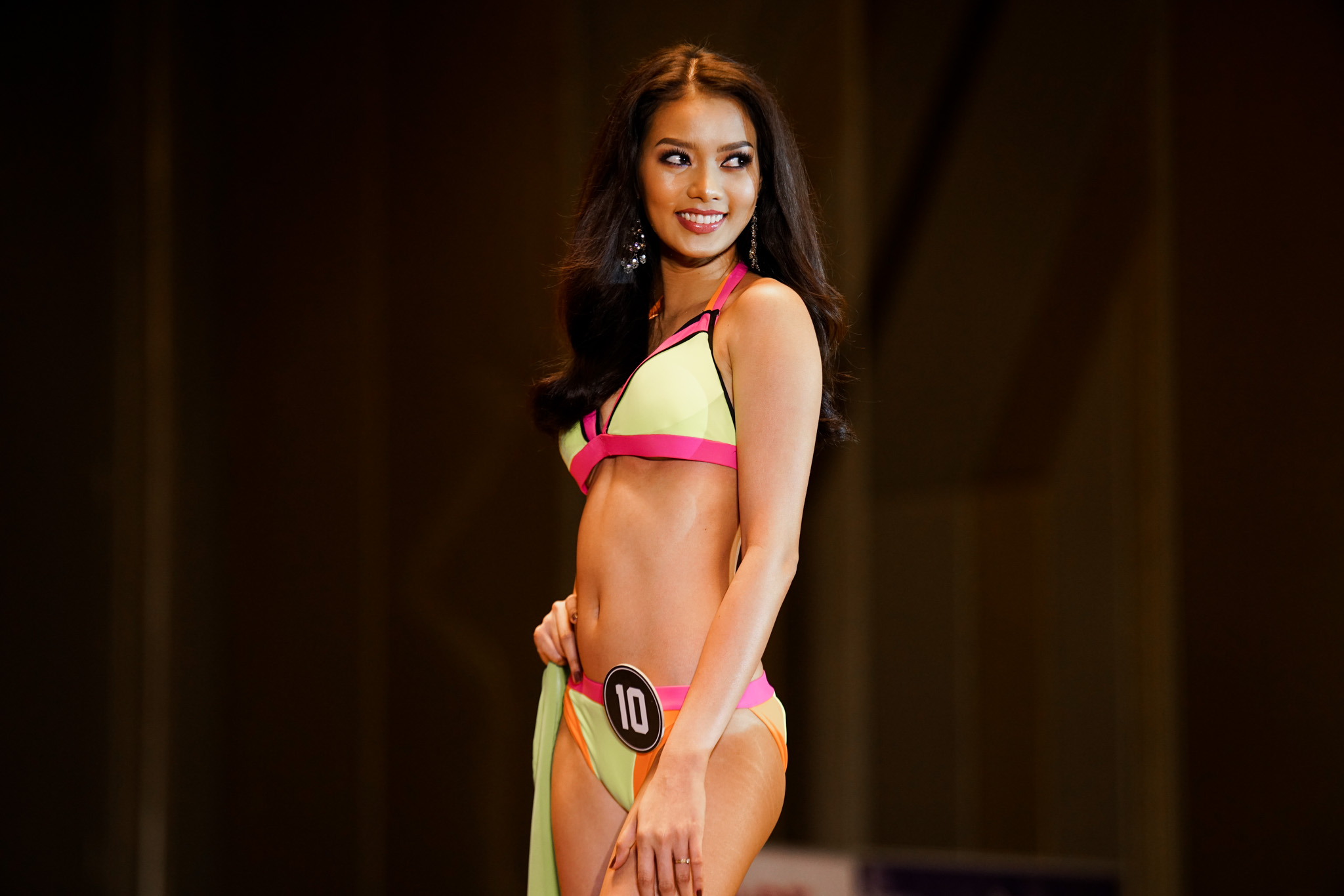 Jehza was 2nd Runner-up in last year's Bb. Pilipinas. But this year's batch seems alot more competitive, so it's going to be a tough battle for her. As was with previous returnees, a runner-up finish does not guarantee a crown the following year. It seems that Jehza's backstory might be key, given that the pageant's love a candidate who has a story to share. She lost both her parents to cancer and is the breadwinner for her family. She has a degree in finance and works with a sports foundation that gives millions of balls to children. She believes that sports is essential in the development of the mind and body of a child.
#24 Dindi Joy Pajares
23 years old, Balanga, Bataan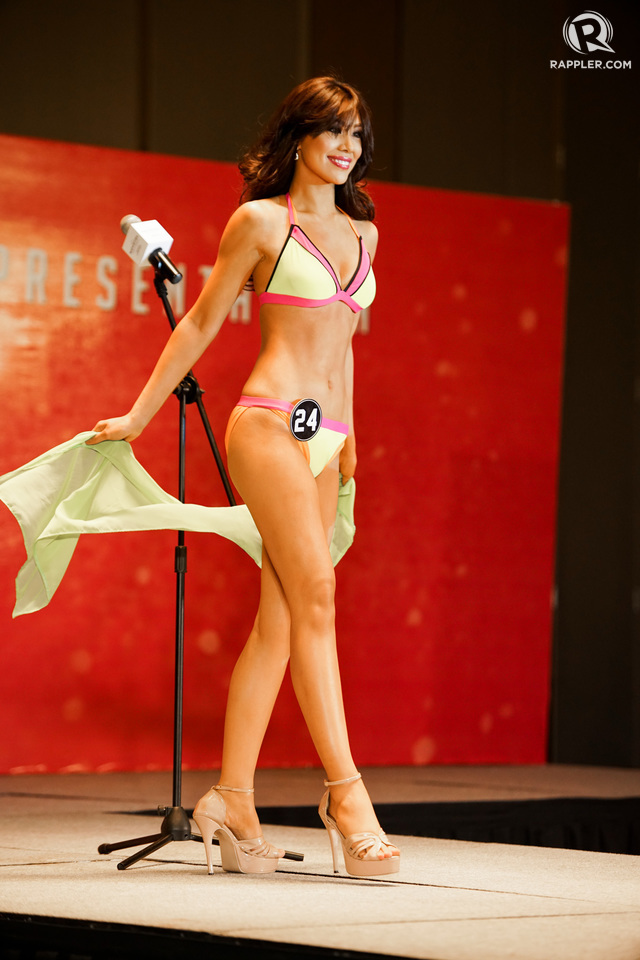 Dindi is both a crossover beauty (Miss Phippines Earth 2011 Top 20) and a returnee (competed in 2016). She was a favorite during the 2016 Bb Pilipinas but finished only as a semifinalist. Dindi has a pretty face, good runway skills, and has a very happy aura. Her second attempt might actually land her one of the crowns. But her biggest competitor might actually be her sister, #10 Kimberly Pajares.
I asked Dindi and Kimberly why they decided to compete in the same year. Dindi replied, "My sister is 26 years old and it's her last chance to join" and gave her a hug. It seems that there is no sibling rivalry but a loving support system for each other.
#12 Angelique de Leon
26 years old, Mandaluyong City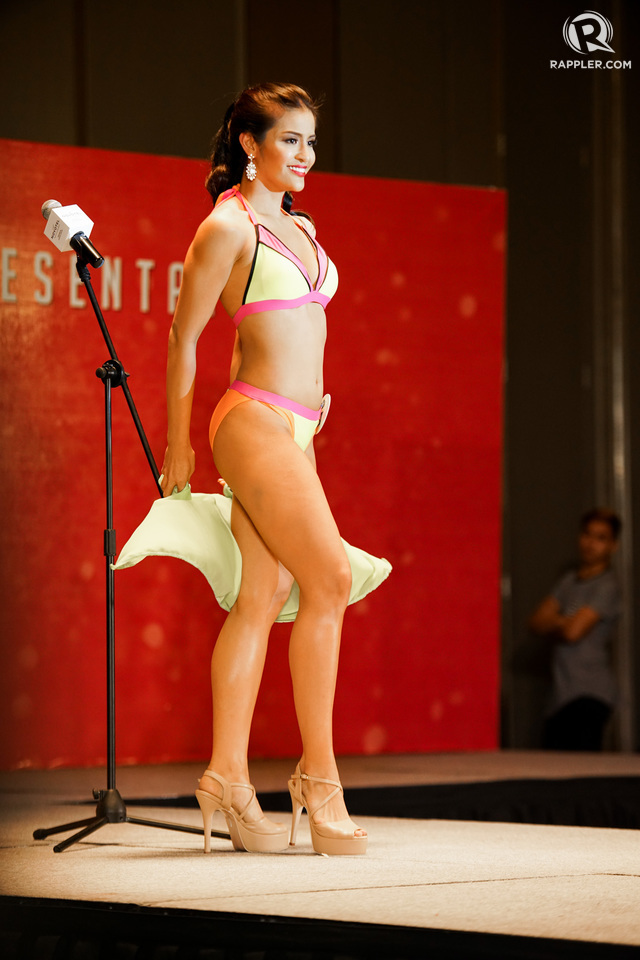 This is Angelique's third and final try. She failed to place in the first two attempts but she continues to forge ahead determined to win a title. Angelique looks very polished and styled very well. Her ponytail gave her a youthful vibe and her stage presence was that of a confident candidate.
#30 Mae Liezl Ramos
26 years old, Naga, Camarines Sur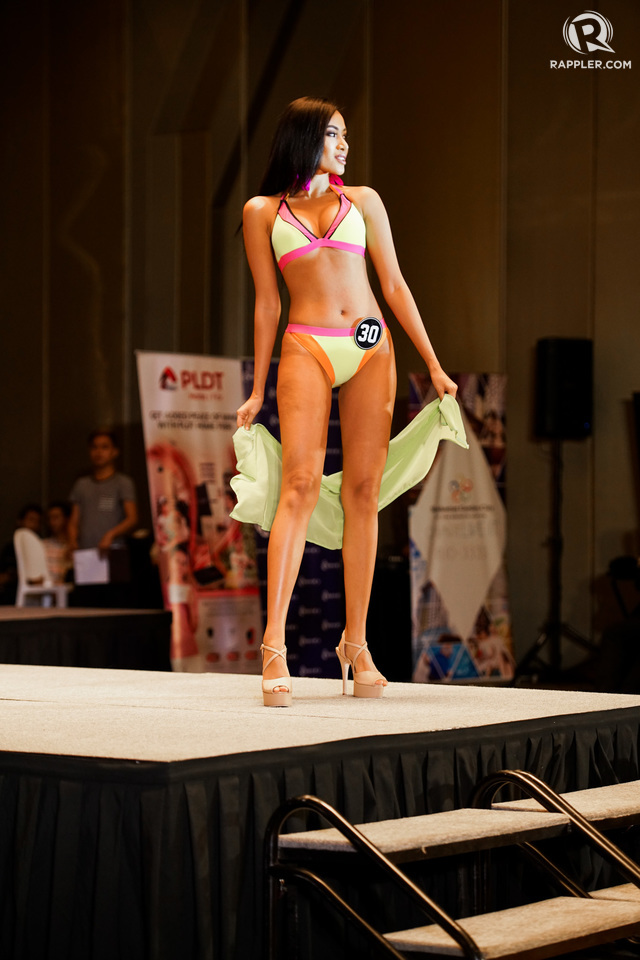 Liezl was in the Top 15 in 2014 and failed to place in 2015. She has a pretty face and very long legs. As with the other candidates with the same age, she sort of has an extra boost of motivation to give it her all because this is her last chance to become part of Bb Pilipinas history. She is a licensed nurse from Ateneo de Naga University. She started competing in pageants as a young girl but will she be victorious in her final attempt now that she is a more experienced, confident woman?
Who among the returnees will prove once again that when you try and try and try again, you will eventually become a Bb Pilipinas. Will they follow Pia's high heel steps and win our 4th Miss Universe crown? Will they become Kylie Verzosa's successor and be the Philippines 7th Miss International?
Watch out for the continuation of my Bb Pilipinas Assessment at the Press Presentation. Next up are the crossover beauties and the newbies.
—
This article originally appeared in Rappler.
All photos courtesy of Rappler unless otherwise indicated.