The Miss World Philippines 2018 preliminary activities culminated in a glamorous evening at the MWP Charity Gala last October 2, at the Marriott Grand Ballroom.
At the very core of these pageants are their solid advocacies – which is why having a charity gala to raise funds for the MWP charity is one of the most important events of the pageant.
Present at the event were MWP national director Arnold Vegafria, MWP general manager Bessie Besana, Miss World Philippines 2017 Laura Lehmann and Reina Hispanoamericana 2017 Teresita "Winwyn Marquez." The event was hosted by RJ Ledesma.
According to Vegafria, "MWP has always been more than just beauty. We encourage our future queens to be responsible, civic minded and creative with their unique advocacies no matter how humble." Since the organization was founded in 1972 by chairperson Julia Morley, it's generated hundreds and millions of pounds in donations for both local and international organizations.
"Here in the Philippines, Beauty With A Purpose has been in action for quite a while. Our beneficiaries include the Philippine General Hospital's Pediatric Cancer Ward, the Tulay Foundation, the indigent children from Smokey Mountain. We also managed to raise US$ 2 million for [the] victims of Typhoon Haiyan (Yolanda) witht the help of the MWO. This year, the main beneficiary is the Jose Reyes Memorial Medical Center specifically the maternity ward," added Vegafria.
Immediately after the heartwarming and inspiring video presentation of Laura Lehmann visiting the Jose Reyes Memorial Medical Center, the audience was treated to the amazing talents of the Top 7 Talent Finalists.
MWP Candidate #6 Danica Reynes performed the inspirational song "Rise Up".
Danica Reynes
MWP Candidate #25 Crystal Freedman danced to the Bruno Mars and Cardi B hit "Finesse"
Crystal Freedman
MWP Candidate #7 Angeline Santos did a song and dance number to "A Million Dreams"
Angeline Santos
MWP Candidate #30 Rose Marie Murphy dressed in native costume and performed a Balanghai dance.
Rose Murphy
MWP Candidate #35 Kimi Mugford belted out Adele's song "One and Only"
Kimi Mugford
MWP Candidate #10 Paulina Labayo entertained and danced to "Moon River"
Paulina Labayo
MWP Candidate #33 Alyssa Muhlach dazzled everyone with her "The Greatest Showman" medley.
Alyssa Muhlach Alvarez
Capping off the evening is the much anticipated Top Model Challenge where all 40 candidates had a chance to sashay down the runway in an evening gown of their choice.
With slightly mid-tempo music, the candidates had to runway with grace and elegance. There was none of the stomping, aggresive runway walks which many are accustomed to doing. It was all about drama and restraint.
There were lots and lots and lots of nude illusion gowns in different finishes from crystals, embroidery and appliques. Future candidates should reconsider this trend if they want to stand out from the rest. Ultimately, it is really boils down to how she carries herself.
The top finalists were deservsing of their spots. But with a highly competitive group of women,, sometimes the smallest points separate them. There were two candidates who excelled in this challenge but did not make the finals – I feel that they deserve to be mentioned for their outstanding presentation.
#2 Jigg Kirsty – The audience gasped when Jigg walked on stage ever so regal. She wore this very elegant green Franko Barrio gown which featured a cape and was devoid of crystals or embroidery except for the embellised gold neck collar.
What made this fabulous was the sexy cut of the top which revealed just enough skin on the side. Jigg's looked elegant in her updo and overall styling was perfection. She really should have been in the Top 7.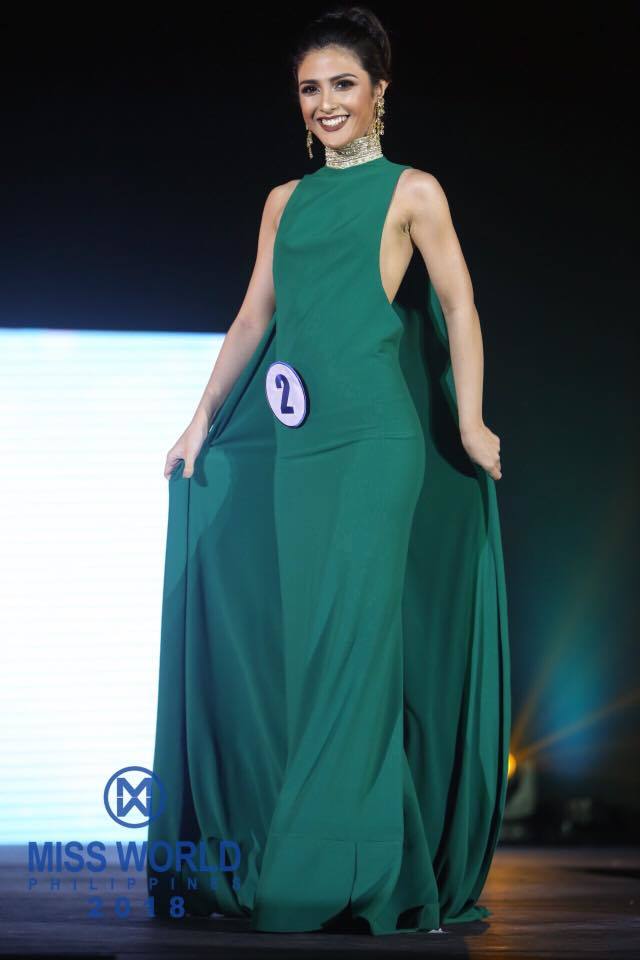 #21 Annalita Vizcarra – She has that quintessential model's body that fashion designers love. It's no wonder that fashion icon Renee Salud chose to dress Annalita in this ivory column embellished with dangling square paillettes, pearls and a slight train.
She looked like a top model walking the haute couture runways of Europe. I wouldn't be surprised if Annalita becomes a true top model after the pageant.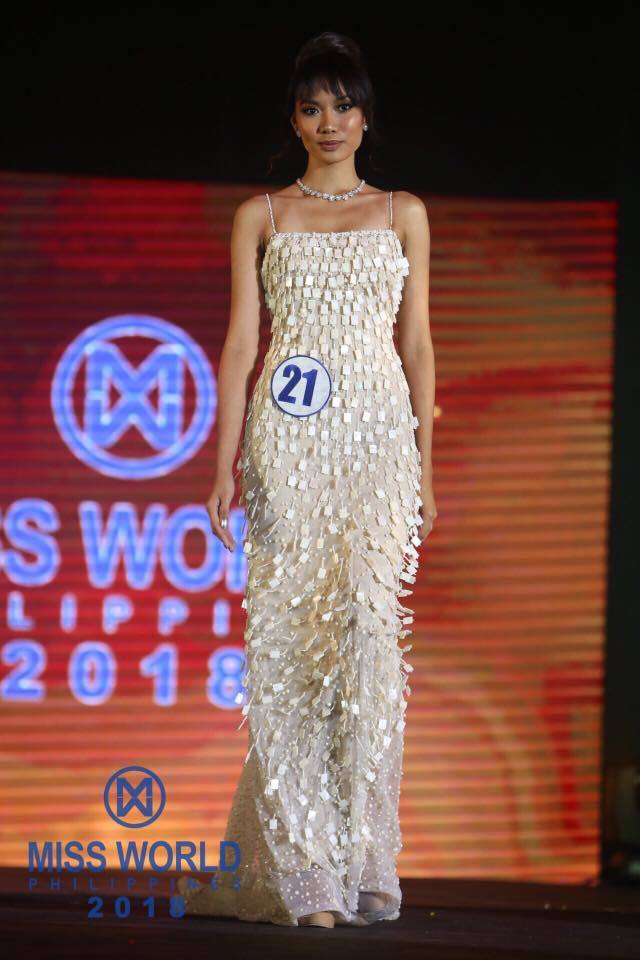 And now for the Top 7 Finalists who were probably ecstatic to make it into the last fast track event for the pageant.
MWP Candidate #5 Kim de Guzman
Golden curves. Fan favorite Kim finally gets her moment to shine, literally! She was beaming in this perfectly fitted fully beaded, gold bustier gown by Ralphie Joseph which had a very high slit.
Gold gowns can be very tricky because they do not photograph as beautifully as they look in person. From the audience, Kim shimmered and sparkled brilliantly. But it was more than her gown, you can see it in her face and aura. The side swept hair with a gold leaf barrette accented Kim's look.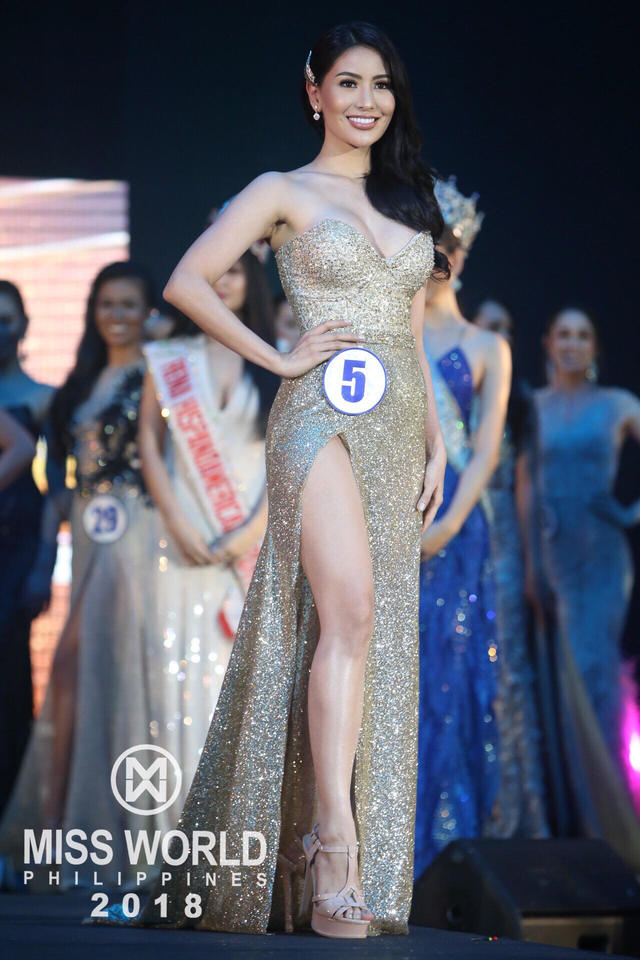 MWP Candidate #16 Maureen Montagne
Frozen fabulosity. She was a vision of calm, fresh and radiant beauty. This ice blue Edwin Uy gown with a slit and train perfectly complemented her fair skin tone and greenish hazel eyes. Maureen worked it very beautifully. She always looks expensive. Maureen's very charming smile and luminescent skin easily made her stand out. If Elsa were Asian, this is how gorgeous she'd be.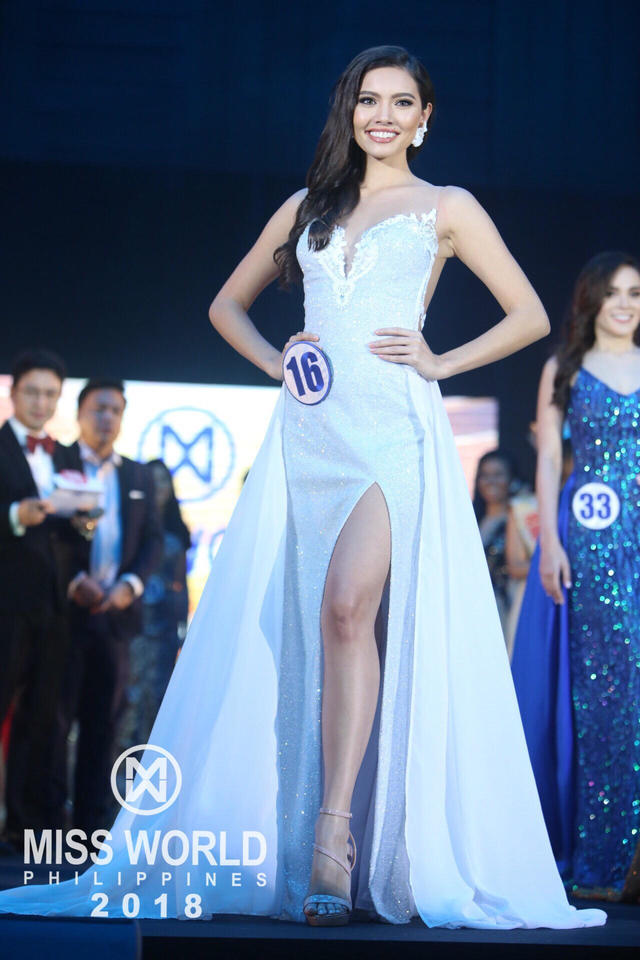 MWP Candidate #23 Marianne Marquez
Model's model eleganza. Maan came out walking full of confidence and flashing her beautiful smile in this blush Steph Tan couture gown with silver wavy details and ostrich feather on the bottom portion of the skirt.
Sporting classic pulled back hair, Maan showed everyone why she is one of today's top models and on the board of PMAP (Professional Models Association of the Phiippines).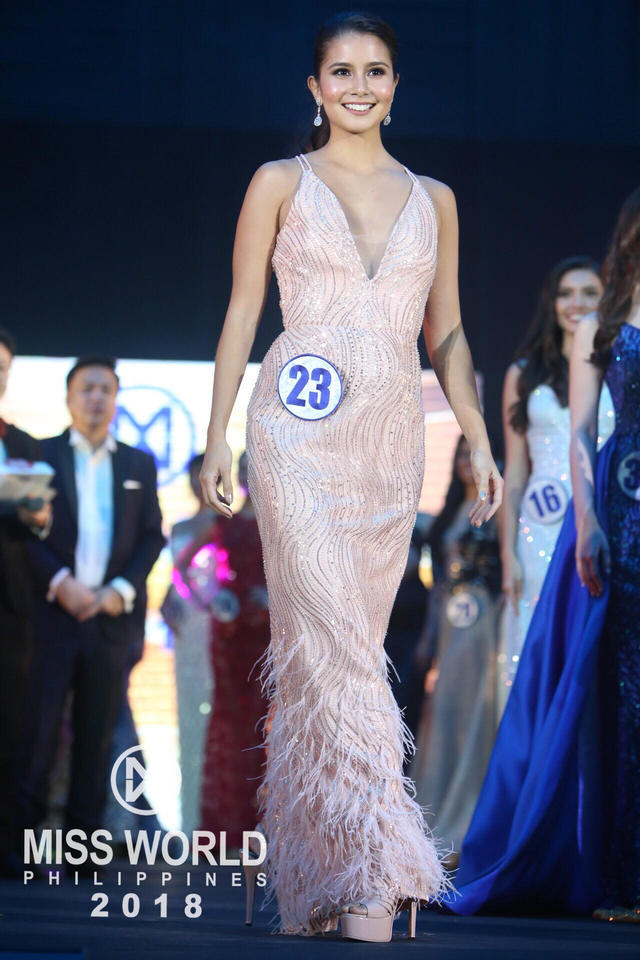 MWP Candidate #27 Katarina Rodriguez – Double thigh high productions. In a sea of nude and gold, Katarina was bound to stand out in this bright red Rosenthal Tee gown with a double slit. She proved her top model experience when she twisted and turned in a very tricky double slit gown while managing to keep the center panel from going between her legs.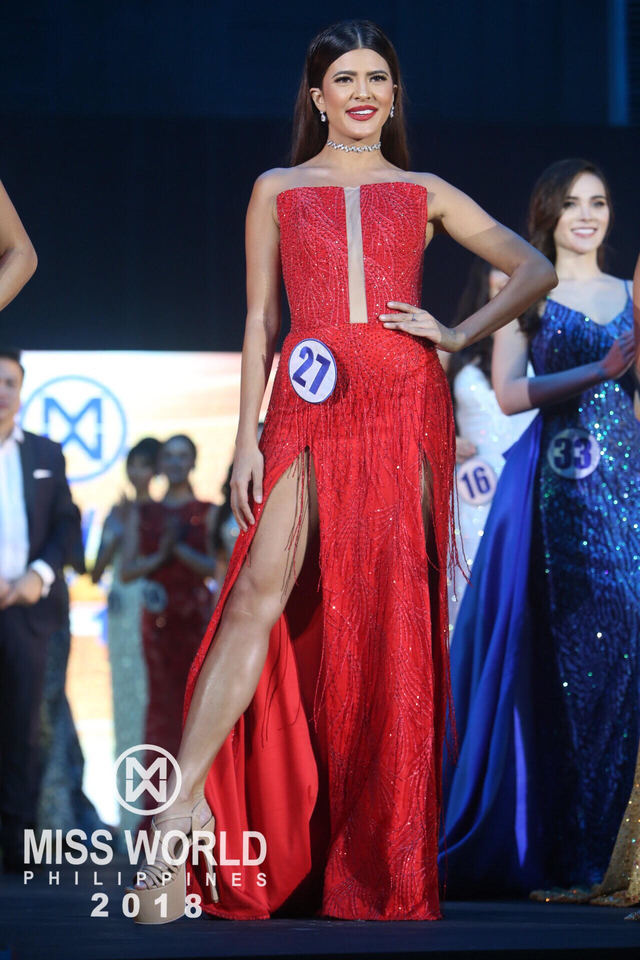 MWP Candidate #33 Alyssa Muhlach Alvarez
The greatest showwoman. Alyssa knows how to put drama on stage. Dressed in a sea blue shimmery column gown by Benj Leguiab IV with a dramatic royal blue satin train, Alyssa looked tall and svelte.
She wowed the crowd when she let that fabric fly in the classic Miss World blue – as if to say "Give me the crown because it matches my gown." It is no surprise to see Alyssa as a finalist because her stage presence is one of the strongest in the batch.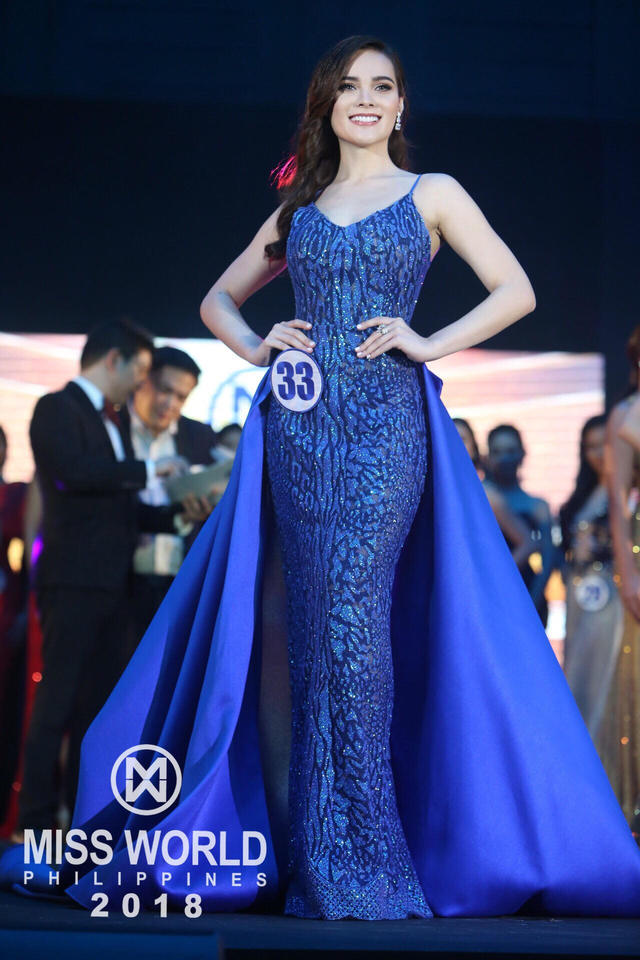 MWP Candidate #34 Denielle Magno
Precious metal pretty. She was a bronze goddess dressed in this gold sequined gown by Rian Fernandez which had a deep V neckline.
This dress, with the wrong styling and on the wrong girl, can be easily ignored as just another nude or gold pageant gown. But Denj's overall styling was magic. The center part chignon, earthy shimmery make-up and simple stud earrings gave her a clean sophistication.
Of course, the key to this beauty is Denj herself. It showed of her morena complexion and highlighted her curves.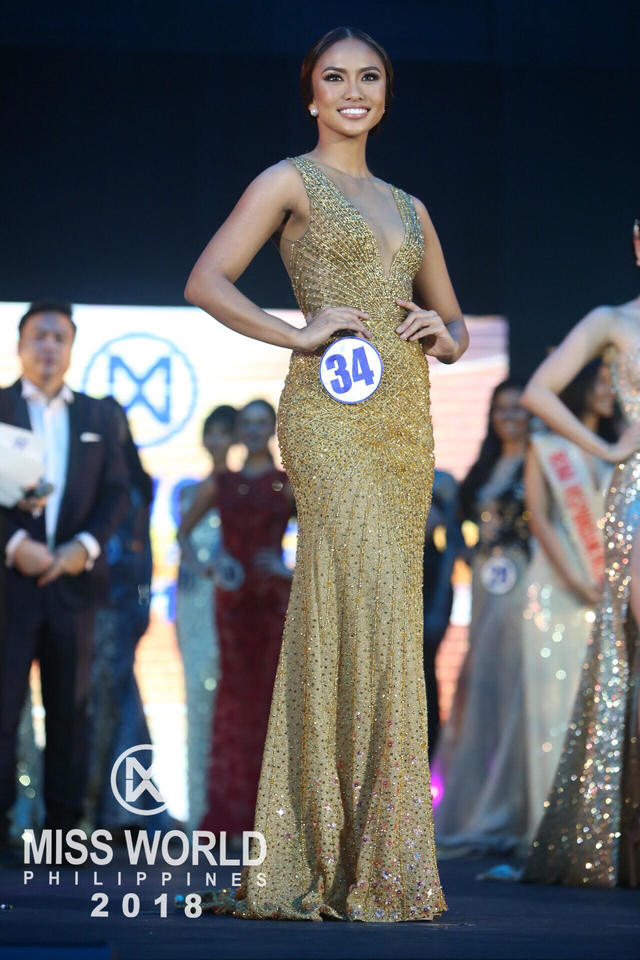 MWP Candidate #38 Katrina Acaylar
Live commercial beauty. When Katrina stepped onto the stage, it was like watching a toothpaste commercial and a shampoo commercial in the flesh. Her smile lit up the entire ballroom and her silky, stright hair shimmered.
Against a red, serpentina Odelon Simpao gown, Katrina was glowing and enchanting. Everyone in the ballroom took notice of this girl as she paraded on stage. Now, that's how you create impact with a quiet, powerful presence.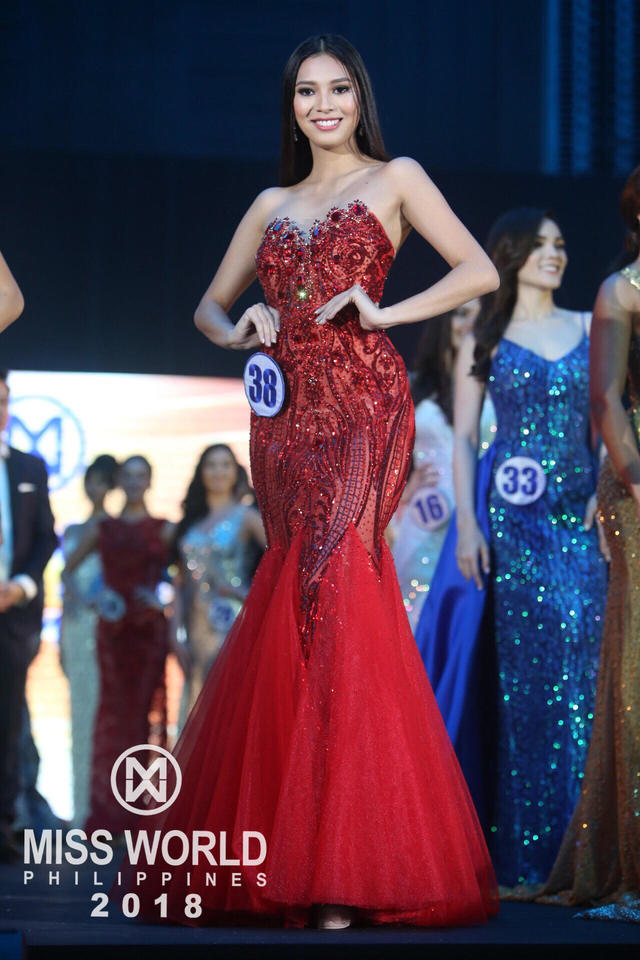 After the Top 7 Top Model Finalists were announced – its implications suddenly became real for the rest of the candidates. As happy as they are for their sisters, their minds began wondering if they had done enough to make it to the semifinals.
Pageants can be very unpredictable and when destiny takes over, it really is anybody's game. They've everything they could up to this point. Now, they should just focus on enjoying the remaining days of their pageant and mentally prepare for the coronation night.
With how these 40 beautiful MWP candidates have performed, the Miss World Philippines Organization will certainly be a winner because there are all these deserving queens.
The MWP 2018 promises to be an outstanding pageant on October 7, 2018 at the Mall of Asia Arena.
This article originally appeared in Rappler.