Celebrities walk the red carpet throughout the year. They have access to all the latest designer gowns and the best stylists. However, there are moments that even the best of intentions can go awry.
Often, a celebrities' personal taste can overtake the stylists' choices. In some cases, their inner personal journeys largely influence their questionable fashion choices. Fashion should always be a personal choice and about personal expression. Kudos to these ladies who were brave enough to take fashion risks and if they looked and felt great in their outfits, I'm happy for them. Unfortunately, these are looks that I am personally not crazy about.
Here are my 3 worst looks from the 69th Emmy Awards.
Ajiona Alexus in Temraza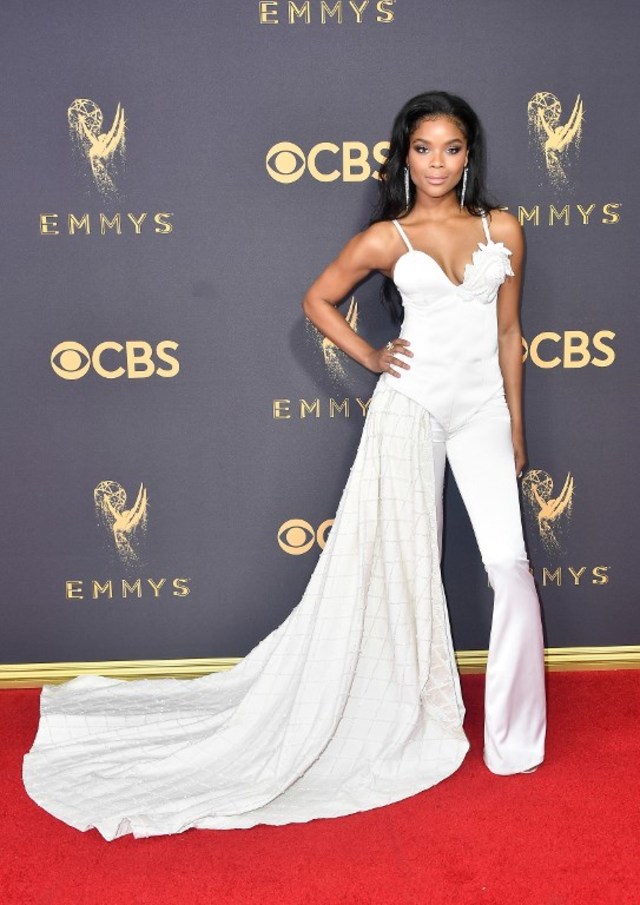 One of the stars of the controversial Netflix show, 13 Reasons Why, and I can name just as many reasons why I do not like this look. I get it, you're 21 and you should be experimenting with fashion. So, she wore a quarter pantsuit, a quarter swimsuit, a quarter skirt with dramatic train and a quarter tank top which equaled a whole mess. It just looks like Ajiona was watching TV in her white pants and oddly shaped tank top and when she rushed out, her blanket got stuck to her hip and couldn't get it out.
Ariel Winter in Zuhair Murad
Ariel Winter of Modern Family, I'm sorry but I instantly categorized this as one of the worst looks of the night. What shocked me was that this gown is by Lebanese designer Zuhair Murad, who is usually one of the designers who can do no wrong. Apparently, he can. As if one thigh-high slit wasn't enough, he gave her 2. Double slit gowns are notorious for that unsightly fabric eaten between the legs as the wearer walks. She definitely had to rearrange her dress to prevent any wardrobe malfunctions as she stepped onto the red carpet. The sheer, heavily embroidered, halter gown just looked more like "Hollywood Streetwalker" than "Hollywood Glam." But given Ariel's consistently ultra-sexy choices, this maybe even be considered modest by her standards. I have a feeling that she is fighting very hard against the good girl image that made her popular. Think the awkward Christina Aguilera, Britney Spears, and Miley Cyrus years, trying to get away from being Disney princesses.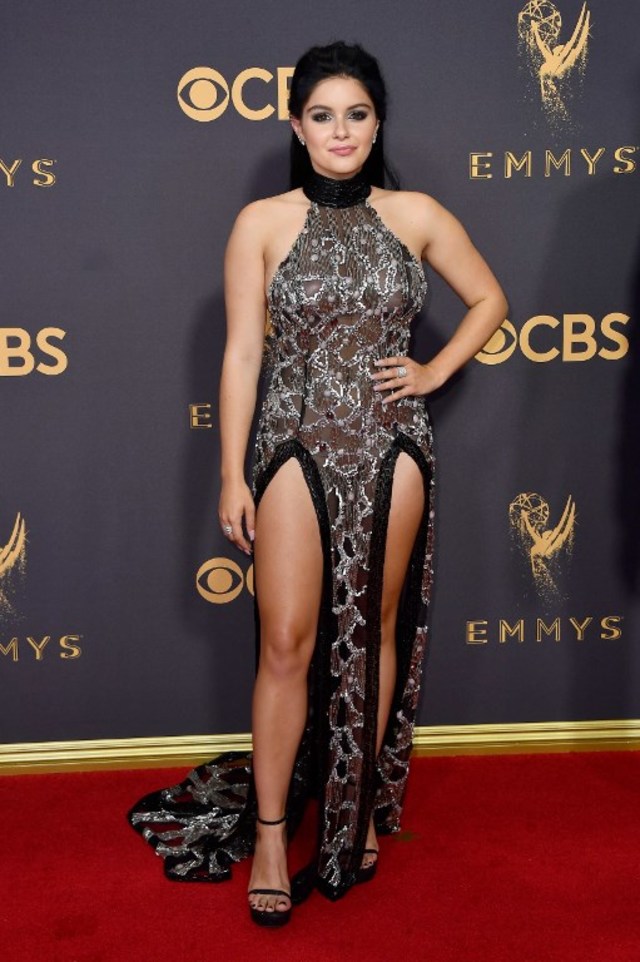 Debra Messing in Romona Keveza
With the return of "Will & Grace," I was looking forward to seeing Debra Messing on the red carpet. Unfortunately, she may have spent a little too long away from the red carpet judging from this couture mess. If only Karen Walker was around to say "Honey, what's this? What's going on?" Her gorgeous mane was glam on top and beach hair below. The jewelry was too chunky and looked more appropriate for a bohemian chic look. The biggest disaster of all was the assymetric Romona Keveza gown with a black belt. I think the fabric qualifies more as high-shine plastic, literally looking like one of those Project Runway challenges made from trash bags.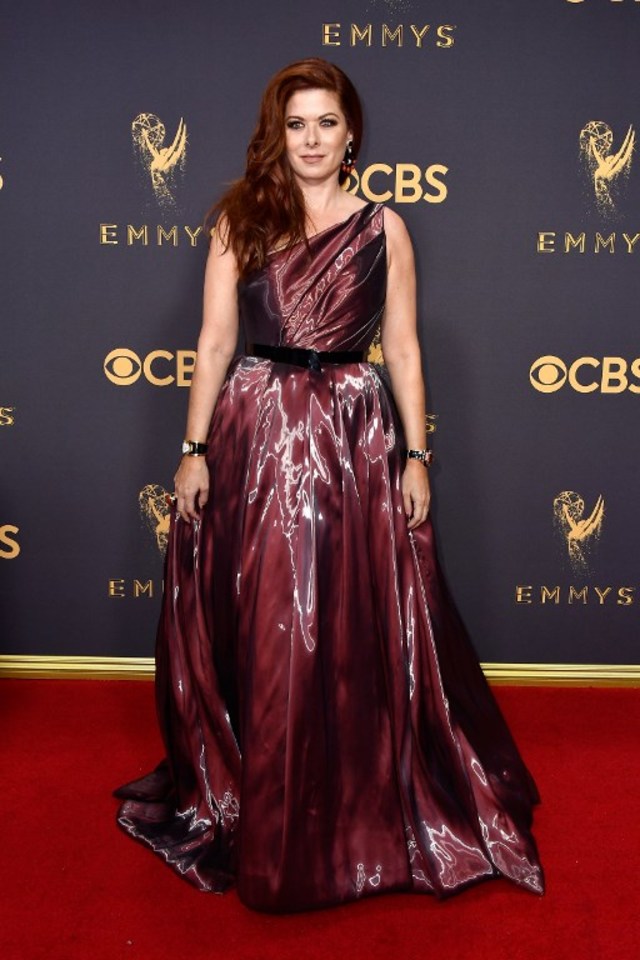 The Designer Factor
Those who follow fashion are sometimes mentally conditioned to like anything and everything from a particular designer. One loses all sense of discernment and taste if a gown is made by an iconic designer. Thankfully, I am not one of those who are blinded by labels. These beautiful actresses are some of my favorites. The designers they chose are also some of my favorites who, in my opinon, can do no wrong… but somehow, they did.
Reese Witherspoon in Stella McCartney
This teal suit-cum-mini-dress in satin was done by Stella McCartney. First of all, it made the petite figure of Reese look very big. It's like a little girl playing dress up with her mom's office suit. The proportions are a bit off and seemed like she forgot to put pants on.
Sarah Paulson in Carolina Herrera
When I think Carolina Herrera, I think elegant, sophisticated, timeless. This disco ball-silver gown with puffed sleeves and a straight skirt that ended just above the foot was anything but. It's as if Sarah was trying on a sample dress that has yet to be altered to fit her thin frame.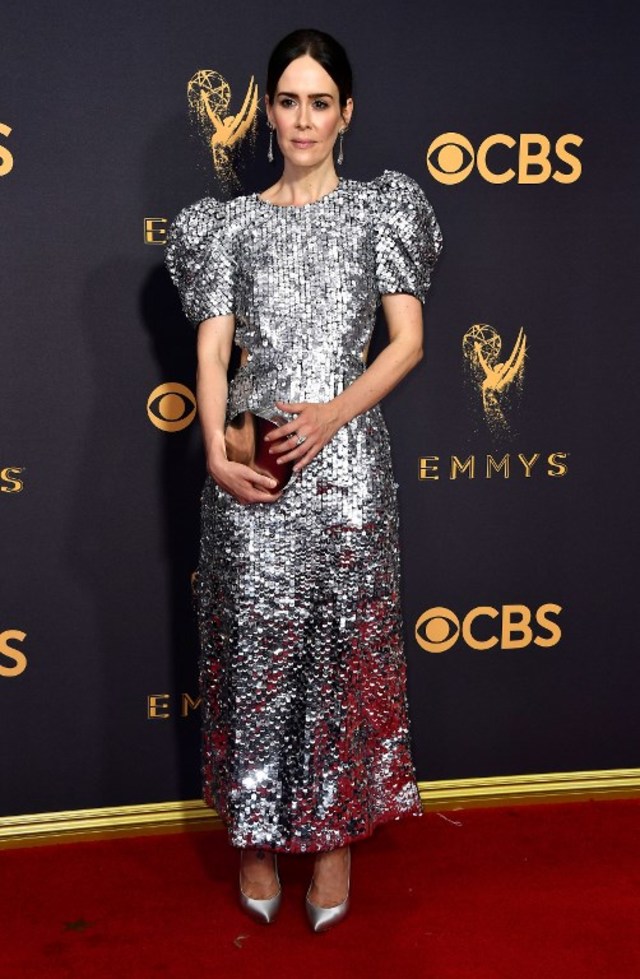 Sarah Hyland in Zac Posen
Sarah wore this sheer, maple leaf print gown by Zac Posen, which me think of Thanksgiving dinner tablecloths. It surely didn't help that Sarah's black panties were peeking above the waist as she posed for the photographers on the red carpet. She was shocked when someone brought it to her attention. This look is something that I do not expect from the talented Zac Posen.
Vanessa Bayer in Zac Posen
Saturday Night Live's Vanessa Bayer wore a floral bustier gown with a full skirt by Zac Posen. I have a feeling Zac was at his grandmother's house when he got inspired by his latest collection. If Sarah Hyland had granny's tablecloth, it looks like Vanessa didn't waste any time getting granny's curtains or duvet cover.
Jessica Biel in Ralph & Russo
Again, the combination of a beautiful woman and an amazing designer doesn't always make for a good look. Jessica is gorgeous but this draped silver gown with a peach chiffon overlay just doesn't work. It's as if her swimsuit cover-up was accidentally sewn into her silver gown. Looks like Ralph and Russo couldn't agree on which fabric to go with and decided on this awful compromise.
Jane Fonda in Brandon Maxwell
At 79, Jane Fonda looks terrific. According to her, the look was inspired by Gwen Stefani whose fashion sense she admires. She combined this Brandon Maxwell gown, emerald-diamond Gismondi 1754 jewelry, and a blonde ambition ponytail and bangs. I do not have any issue about older women wearing younger trends, but this didn't suit Jane. It looked more like Barbie goes to the Emmys rather than a beautiful Hollywood legend's look.
Tessa Thompson in Rosie Assoulin
Thor: Ragnarok star Tessa Thompson wore a multi-colored halter with a sunburst pleated skirt that looks like it came direct from an Asgardian designer. This is more technicolor nightmare than dream. It might be more appropriate for a Pride Parade than for the Emmy Awards.
Carrie Coon in Delpozo gown
There was nothing right about this garment. The pleated tube top and light coral chiffon fabric looked like it had color discolorations on the skirt and was done in less than an hour for a school sewing project. This is a ghastly, unflattering, hot mess.
Shannon Purser in Sachin & Babi
Riverdale actress Shannon Purser wore an emerald green Sachin & Babi gown. Shannon's hair and make-up looked great and she was glowing. Though she looked happy and comfortable in the gown, the design itself looked like it was still in the process of being draped on her body. The left flap juts out like an unfinished bow adding more bulk in places that don't need it. The skirt draping and pleating looked messy and hurried. Don't even get me started with those 5 oddly placed butterfly embellishments that seemed like an afterthought.