On the morning of January 15, 2018, 77 young women woke up with optimism and excitement. Their goal: To win the most prestigious beauty pageant in our country. But to get there, their will and stamina will be put to the test during the long, intense screening that determines the official candidates.
If you thought going to a family reunion was scary – especially with those insentive relatives who ask why you are still single, when you'll be have a baby or say you are fat – you can't imagine what it feels like for these 77 hopefuls. Multiply that stress by a thousand! These women must walk on stage in an empty Kia Theatre in their swimsuit, wearing 6 inch heels, and impress a panel of judges comprised of high society women and the reigning beauty queens.
The ladies, who are from all over the Philippines, come mentally and physically prepared. Many have spent months debating whether to join or not. Many are ready to risk their current titles, ready to leave their jobs, and to subject themselves to the intense scrutiny of social media.
Unlike in decades past where a girl only needed astonishingly good looks to become a beauty queen, physical beauty can only get you so far these days. The current crop of eauty queens are made in the trenches. They are trained with a discipline like those of athletes. They must also be media savvy, public speakers, and fashion models all rolled into one. That is why making it as an official candidate is an accomplishment in itself.
Screening day began with 77 hopefuls who were all presented to the Binibining Pilipinas Charities Inc. (BPCI) Chairperson, Stella Marquez Araneta, the BPCI Exective Committee and the 2017 reigning Bb. Pilipinas titleholders – Rachel Peters, Mariel de Leon, Chanel Olive Thomas, Elizabeth Clenci, and Nelda Ibe. This elite panel of judges narrowed the hopefuls down from 77 to 53 applicants and finally from 53 to the Top 40 Official Candidates.
Before the event itself, we will be looking at this year's crossovers, returnees, and newbies. Crossovers are candidates who have previously participated in a major national beauty pageant (Miss World Philippines, Miss Earth Philippines, Mutya ng Pilipinas). Returnees are candidates who have competed in a previous edition of Bb. Pilipinas. Six of last year's Bb. Pilipinas titleholders were comprised of 4 crossovers (Rachel Peters and Nelda Ibe from Miss World Philippines, Chanel Olive Thomas from Miss Philippines Earth, Katarina Rodriguez from Asia's Next Top Model) and 2 returnees (Mariel de Leon – 2013 and Elizabeth Clenci – 2011).
International Pageant Crossovers
Among this year's roster are two ladies who have already been able to represent our country on an international level.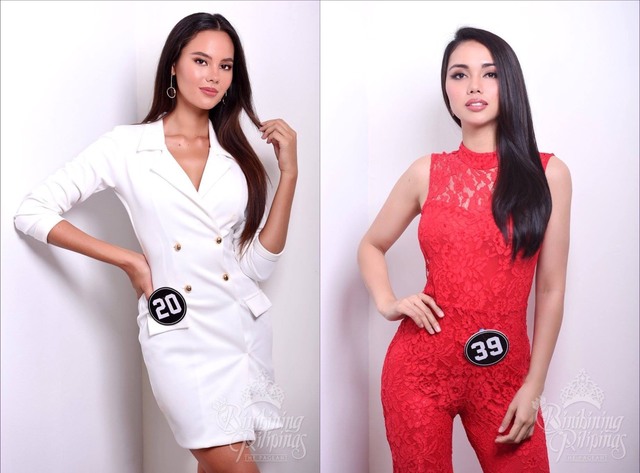 Bb. #20 Catriona Elisa Gray – 24 yrs. old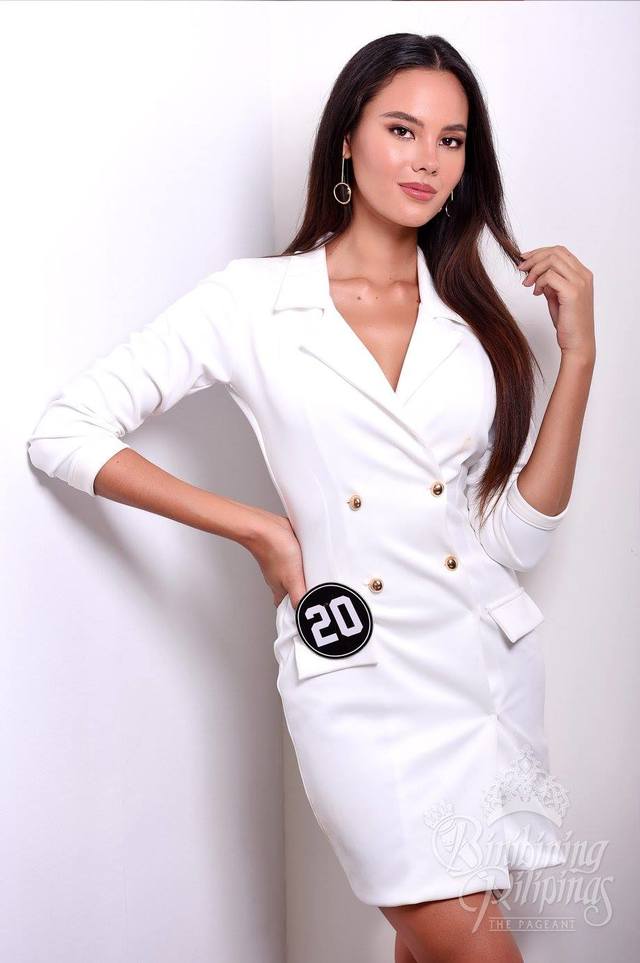 She was Miss World Philippines 2016 and 3rd Runner-up in Miss World 2016. Many believed she was the rightful winner that year and were disappointed with her only placing in 3rd. Her fans clamored for her to join Bb. Pilipinas and redeem herself in Miss Universe. She's embarked on a path that no other Filipina beauty has ever taken. To represent the country both in Miss World and in Miss Universe would be a first in Philippine pageantry.
Catriona categorized herself as an independent, but is still associated with her beauty camp, Aces & Queens. She is undoubtedly the odds on favorite for the Miss Universe Philippines title. In a way, that is really the only title which sees her ranking go up. But Bb. Pilipinas is a totally new ballgame. Repackaging her look to fit the "Universe" mold is the easy part. It would be interesting to see if Catriona has had enough time to decompress from her Miss World persona. Her challenge this yer is to look effortless and natural with a "Universe" vibe. She must remain true to her personality but still project a pumped-up version without looking unnatural or fake.
She has the goods to deliver a knockout performance, plus she has the indie glam team and beauty camp to style her. She has the redemptory motivation to give it her all. But she's also the only candidate with the pressure to come out victorious as Miss Universe Philippines. Any other title would be looked upon as a demotion of sorts whereas her competitors will see any title as a victory. I am hoping that Catriona will be up for the challenge and become the first ever Filipina beauty queen to achieve this feat.
Bb. #39 Trixia Marie Maraña – 25 yrs. old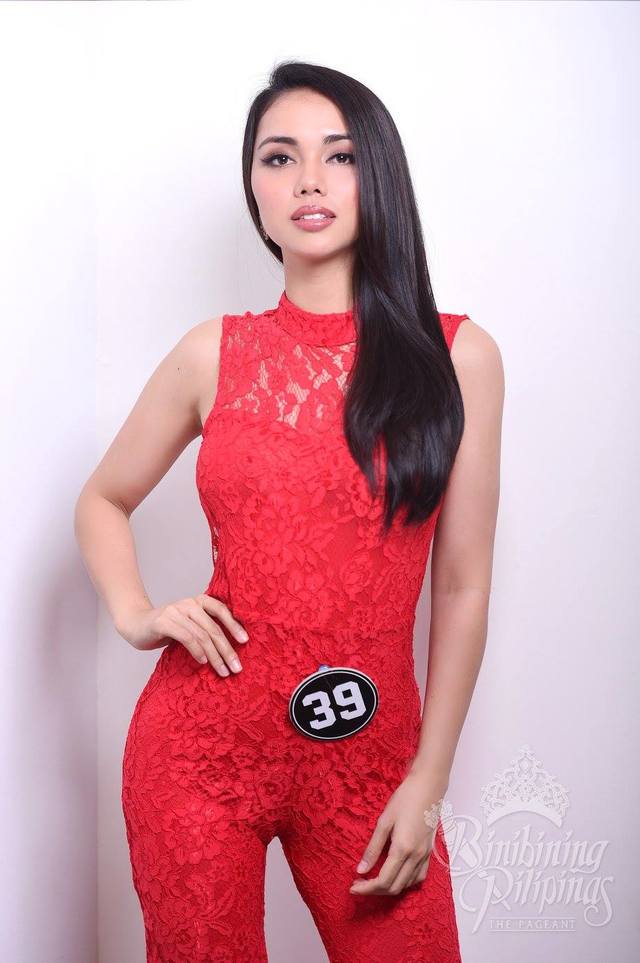 Trixia won the 2016 Miss Asia in Kerala, India, besting 18 candidates for the title. Now, this may not be one of the grand slam beauty titles like Miss Universe or Miss World but it is still a feat to be proud of. What it gives Trixia an edge is the belief that she can win anything. She's proven it to herself in the past and she has what it takes to do it. Her morena beauty and petite figure is classically Filipina.

National Pageant Crossovers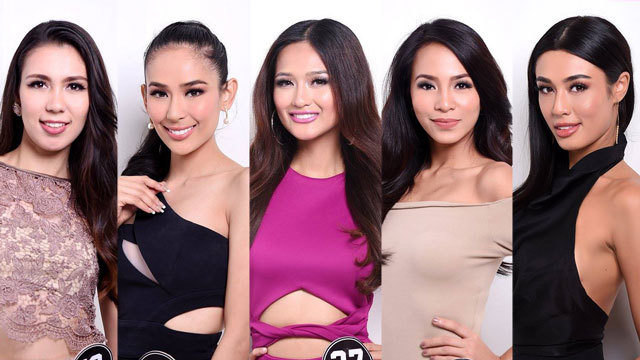 Miss World Philippines Alumni
Bb. #35 Sandra Lemonon – 23 yrs. old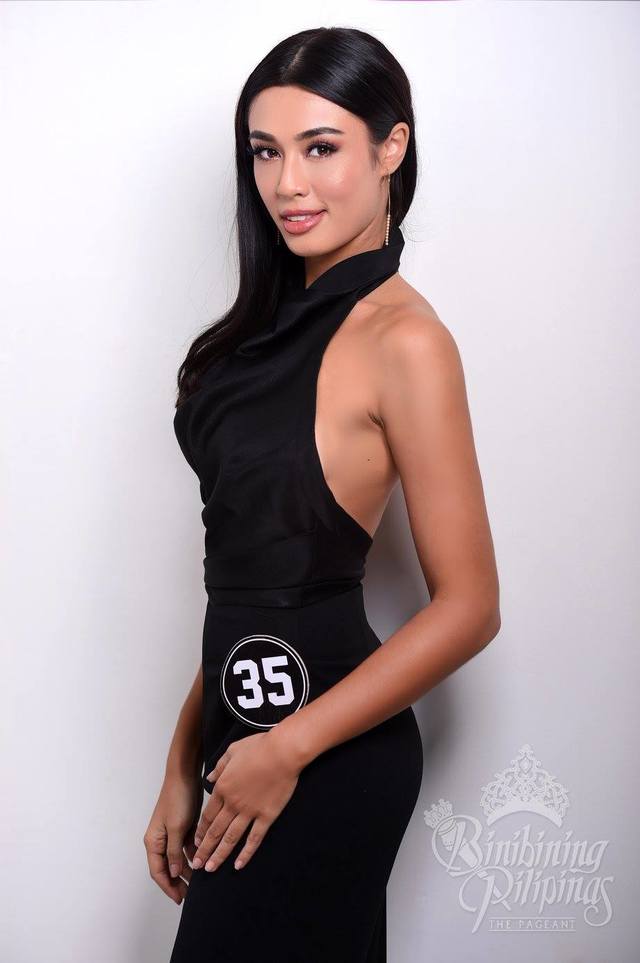 Sandra was 4th Princess in MWP 2016, where she competed against Catriona. She has a beautiful face and moves with a lot of sophistication – she is a model, after all. However, I would like to see her become a bit more bubbly and alive on stage. She needs this bigger personality to shine even more next to the taller girls. Styling will be key to Sandra's success in the pageant. Will Sandra follow the same path as Rachel Peters, who was 4th Princess in MWP 2014 and walked away with Miss Universe Philippines 2017?
Bb. #14 Samantha Mae Bernardo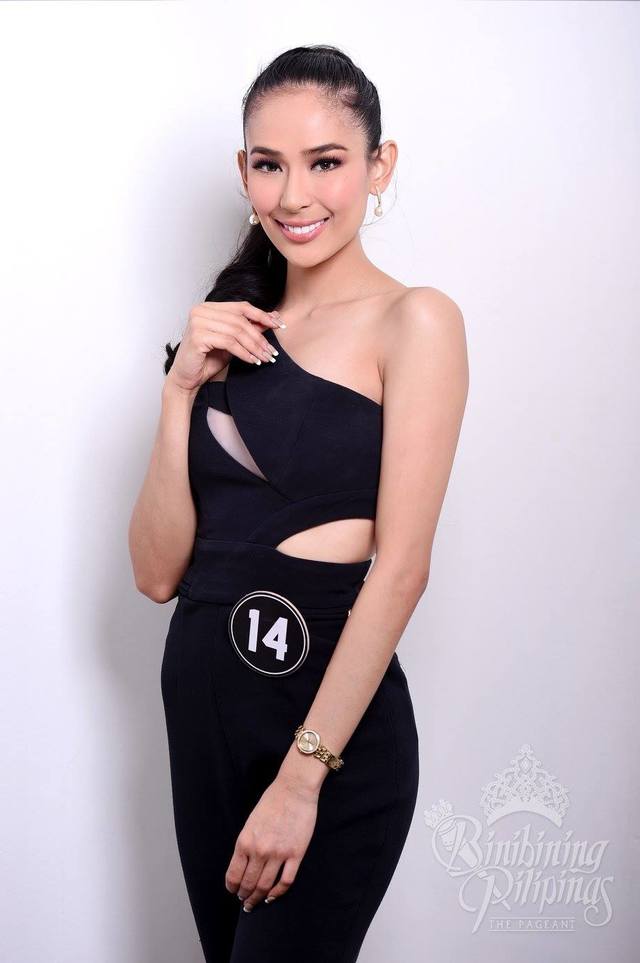 Samantha competed in Miss World 2013 where she placed in the Top 13. Since then, she must have trained day and night to get herself ready. She was one of the brightest stars during the screening. Her pretty face, beautiful hair, runway walk, and poses were all on point. She was definitely a surprise and it would interesting to see how Samantha progresses during the competition. Her experience as a hotelier and as a personality development instructor will surely come in handy. Samantha is definitely one to look out for this year.
Other MWP crossovers are:
Bb. #27 Henna Kaizelle Cajandig (2013 and 2017 – Top 15), 25 yrs. old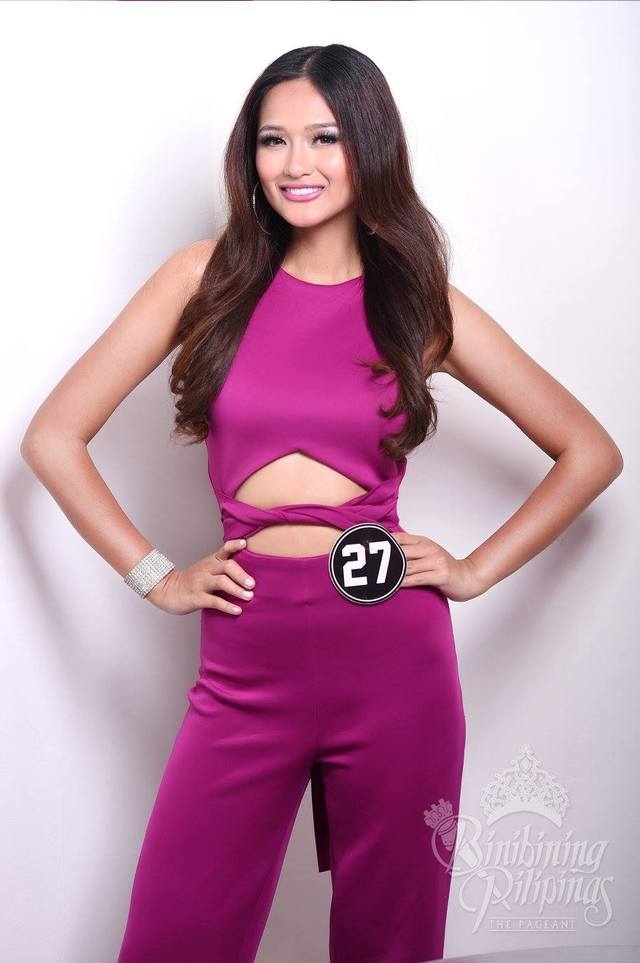 Bb. # 30 Sarah Margarette Joson (2016 – Top 12), 24 yrs. old
Bb. # 12 Janette Roanne Sturm (2015) – 26 yrs. old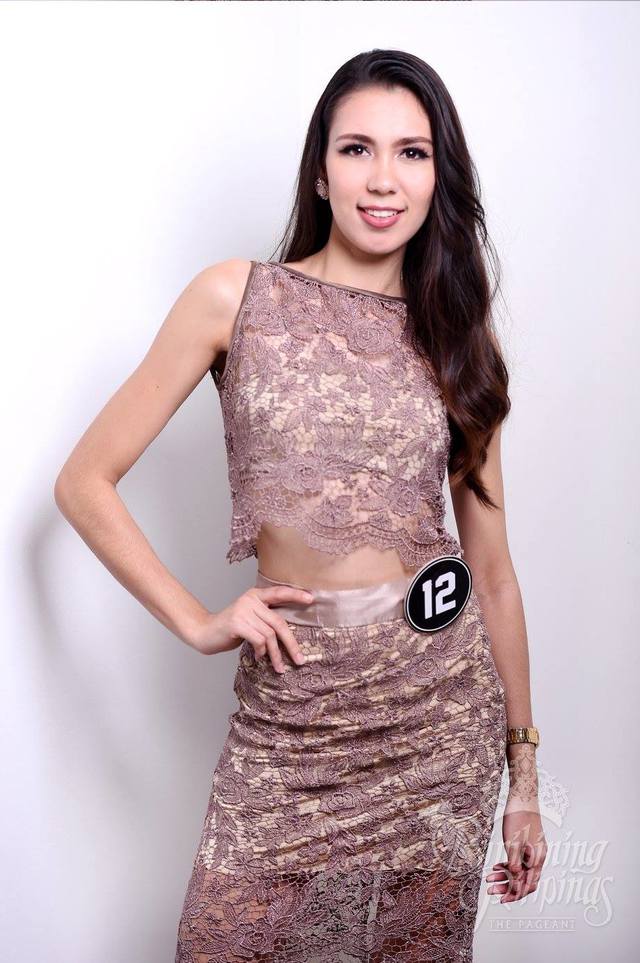 Miss Philippines Earth Alumni
Bb. #3 Muriel Adrienne Orais – 26 yrs. old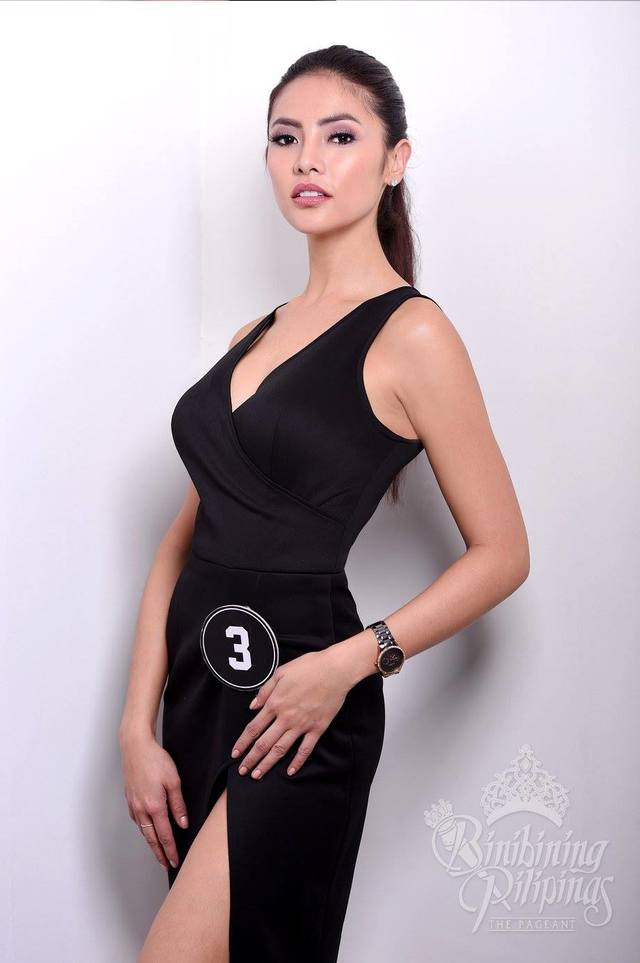 In 2011, Murielle emerged as Miss Philippines – Water (2nd Runner-up). She's picked a great time to join because she was one of the standouts during the screening, with a very fresh and happy face. She may not be that tall but one's eyes are simply drawn to her. Plus, she's not only a registered nurse but is also part of the Presidential cabin crew (flight attendant). I'm sure she is very charming and can definitely be a contender for one of the titles.
Bb. #36 Loren Mar Artajos – 26 yrs. old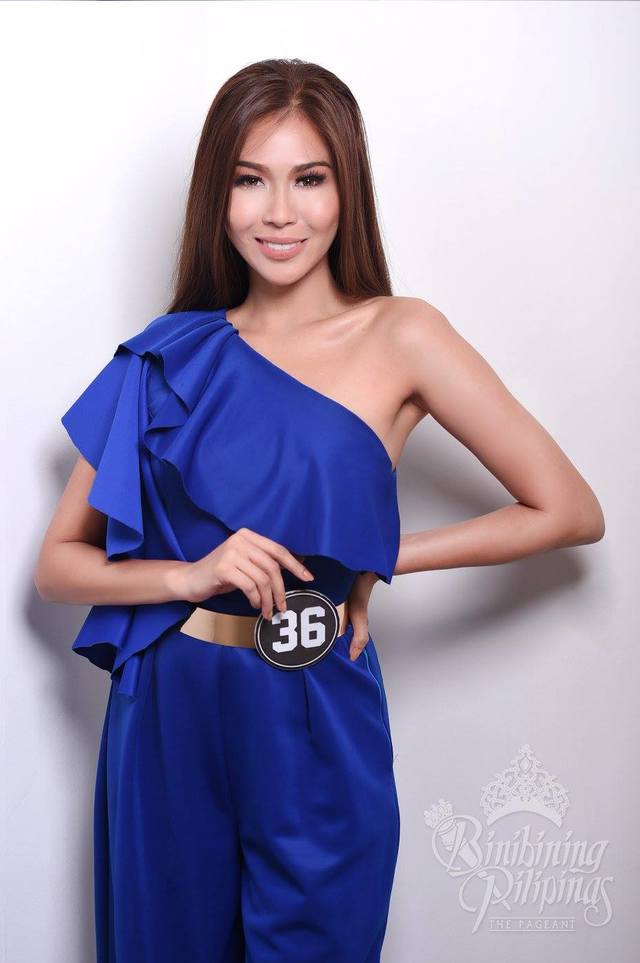 Don't underestimate the luck of Loren. She won Miss Philippines – Water (2nd Runner-up) but later assumed Miss Philippines Earth 2016 when both the winner and 1st Runner-up resigned. Really, what are the chances of that happening? Unfortunately for her, the resignations came after the international pageant so she never got to represent the Philippines. It would be very interesting to see how her Binibini journey will be given that this is a far more competitive competition.
Other Miss Philippines Earth crossovers:
Bb. #37 Patrizia Garcia (2015), 23 yrs. old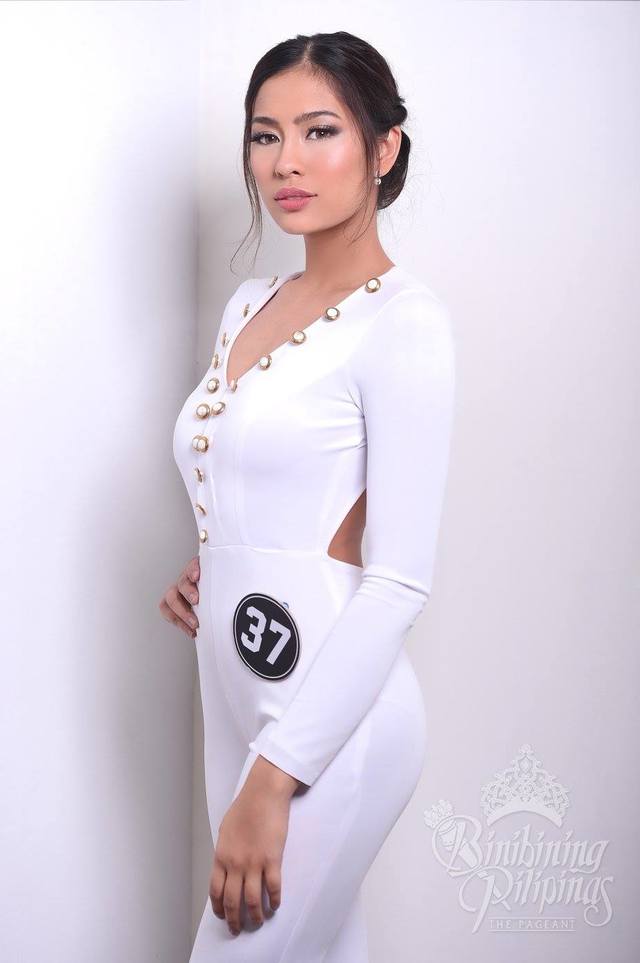 Bb. # 8 Sherry Ann Tormes (2017), 26 yrs. old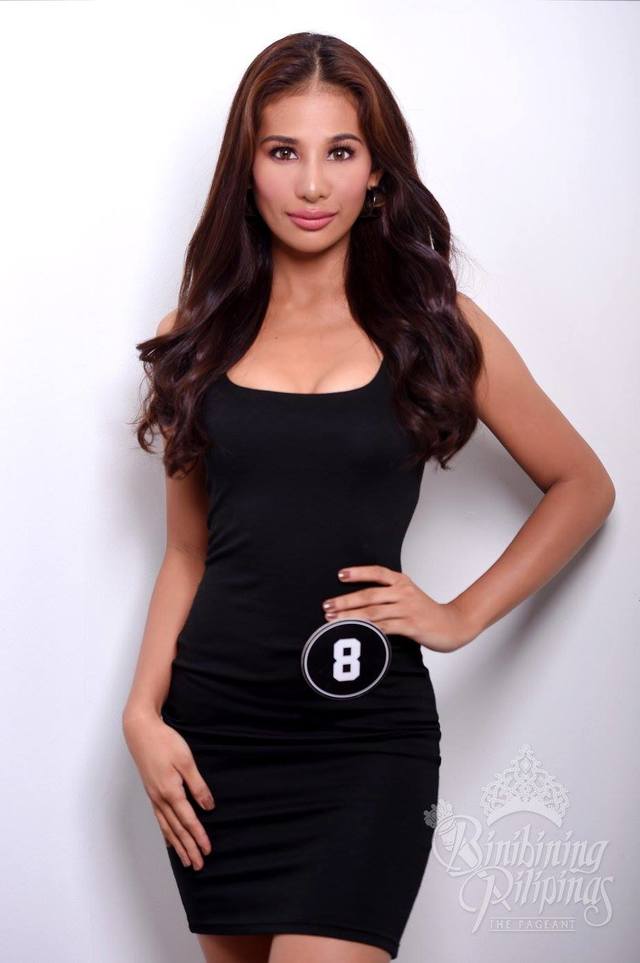 Mutya ng Pilipinas Alumni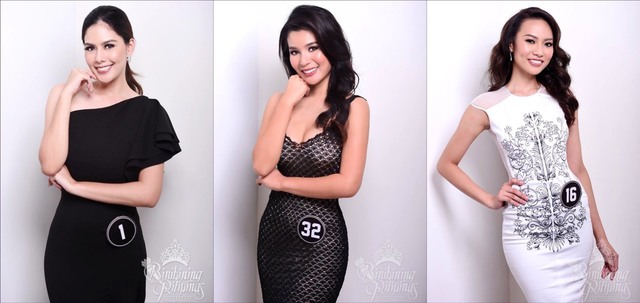 Bb. # 1 Vickie Marie Rushton – 25 yrs. old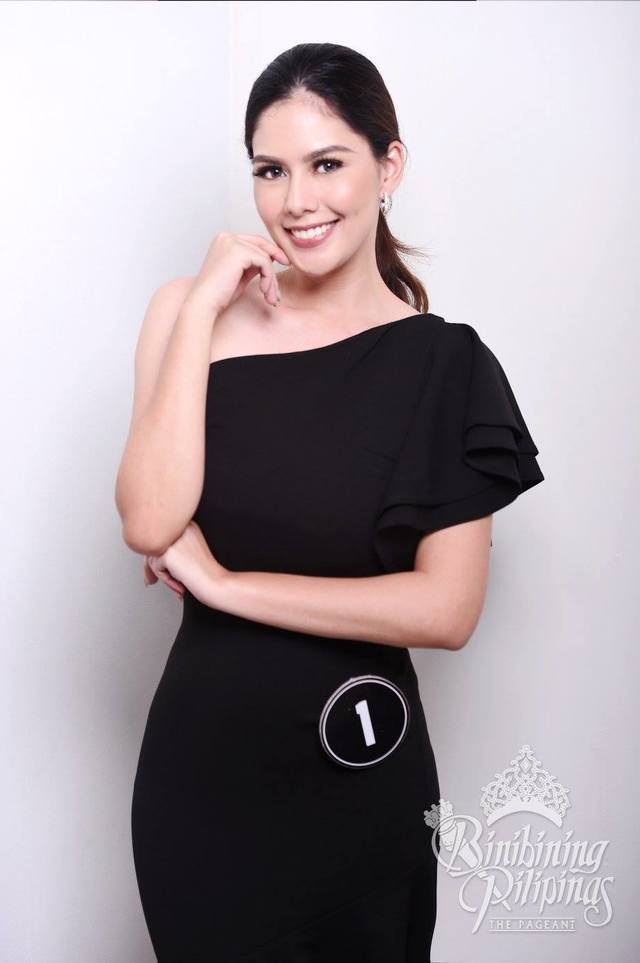 Vickie was Mutya Ng Pilipinas – International 2011 winner. Interestingly, Bea Rose Santiago, Miss International 2013, competed alongside Vickie, but was only a Top 10 finalist. Vickie is no stranger to television and competition – she is an actress and has previously appeared in Pinoy Big Brother. We can be sure that she has the personality and the charm to wow the audience and the judges, but she really needs to tone her body before the finals if she is eyeing one of the 6 titles.
Bb. #32 Eva Patalinjug – 23 yrs. old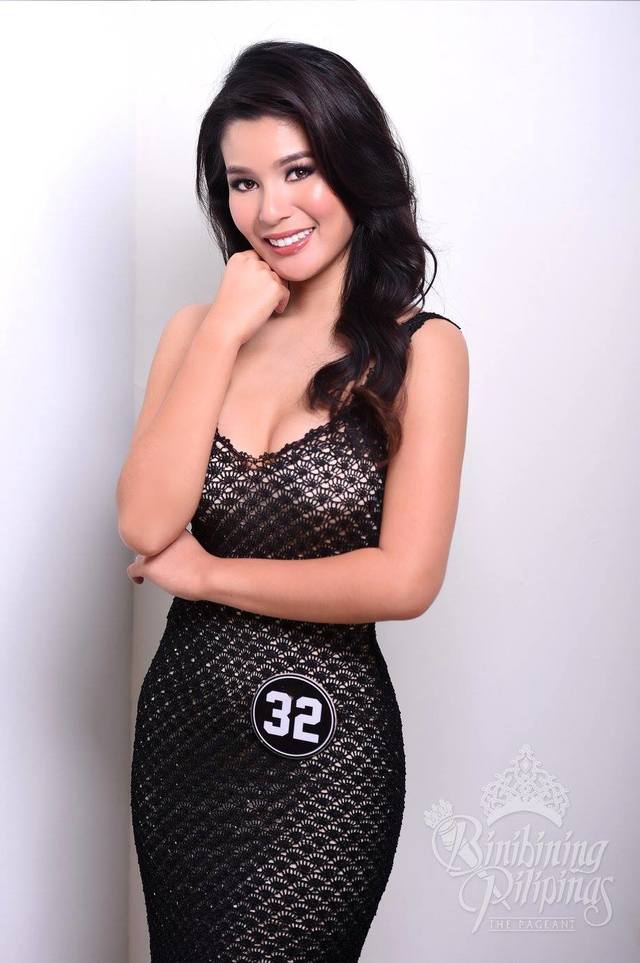 Another Mutya winner is Eva Patalinjug. She was Mutya ng Pilipinas – Asia Pacific International 2014. She is a model but also currently a law student at the University of San Carlos. She was also 1st Runner-up in Miss Cebu 2014. Not only is she a pageant veteran, she's also quite a beauty, with amazing porcelain skin.
Bb. #16 Annalita Vizcarra – 23 yrs. old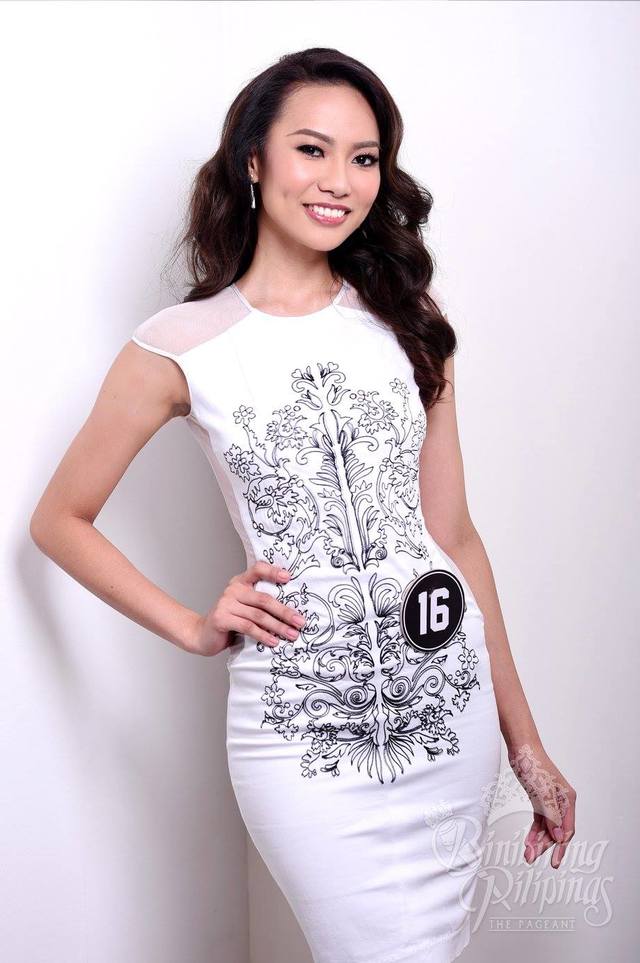 This slender model hails from Negros Occidental and is studying psychology. She competed against Bb. #32 Eva Patalinjug during Mutya ng Pilipinas 2014. She moves very well on stage and with the proper styling, Annalita might have a good chance at entering the semifinals.
RETURNEES (Bb. Pilipinas alumni)
Eight former Bb. Pilipinas candidates have returned and are determined to win one of the 6 titles at stake. It is very important to note that 7 out of these 8 women landed in the semifinals the last time they competed.
Bb. #31 Jehza Huelar – 23 yrs. old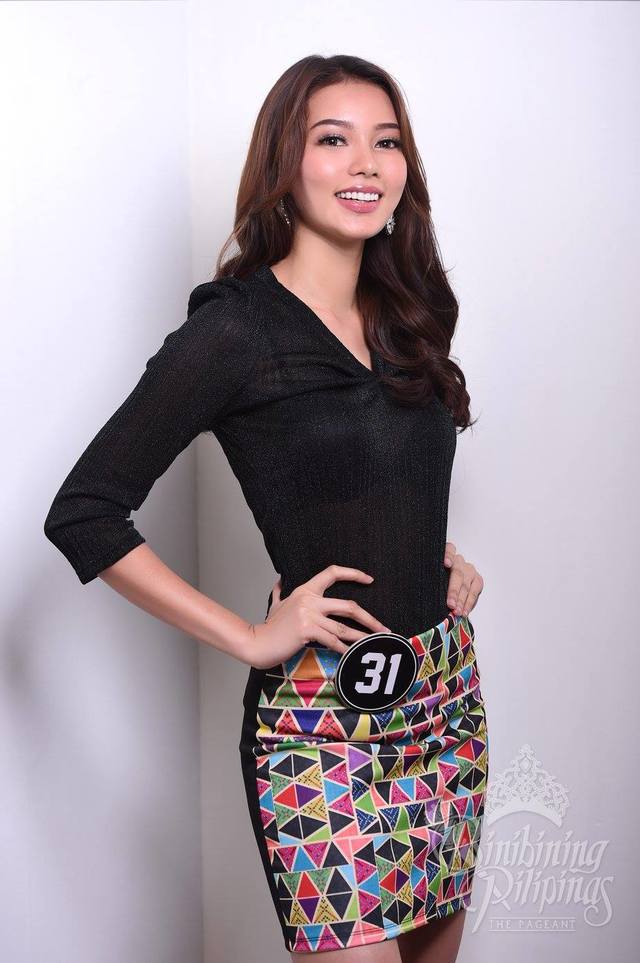 Jehza is hoping that third time's a charm. In 2016, she was 2nd Runner-up in the pageant that produced Miss International 2016, Kylie Versoza. She wasn't as fortunate in 2017, where she was only a semifinalist in a very competitive year. She knows the drill and it's only going to be a matter of destiny for the beauty from Davao.
Bb. #38 Karen Gallman – 25 yrs. old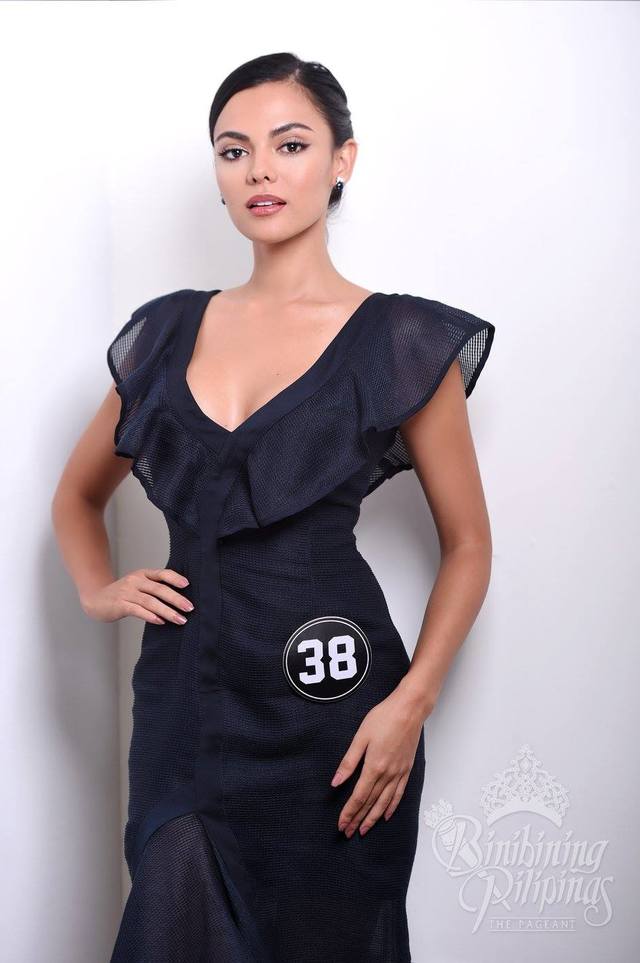 This Fil-Aussie is undeniably one of the prettiest faces in the batch. In 2012, she was one of the semifinalists where eventual winner, Janine Tugonon, would go on to be 1st Runner-up in Miss Universe. Karen is in great shape and has a most amazing personality. My only concern for Karen is her height. Had she been at least 3" taller, I would easily place her one as of the 6 winners for this year. Maybe she will do a Demi-Leigh Nel-Peters during this year's Bb. Pilipinas finals. Let's see how far facial beauty can take her and prove that height is not an issue.
Bb. #15 Juliana Kapeundl – 26 yrs. old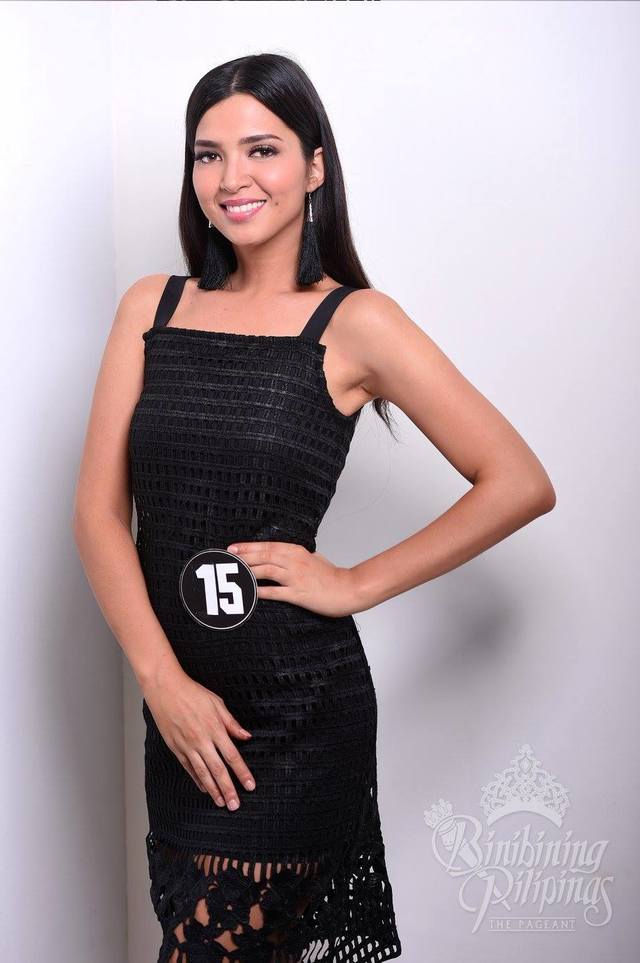 This beautiful CPA from Balayan, Batangas has come back very strong from her 2017 stint. During the screening, her tan skin and overall styling gave her a much stronger look. If she does everything right, Julianna can penetrate the Magic 8 and possibly become a runner-up or even a titleholder. She has a very charming personality plus an almost Latina vibe.
Bb. #24 Edjelyn Gamboa – 25 yrs. old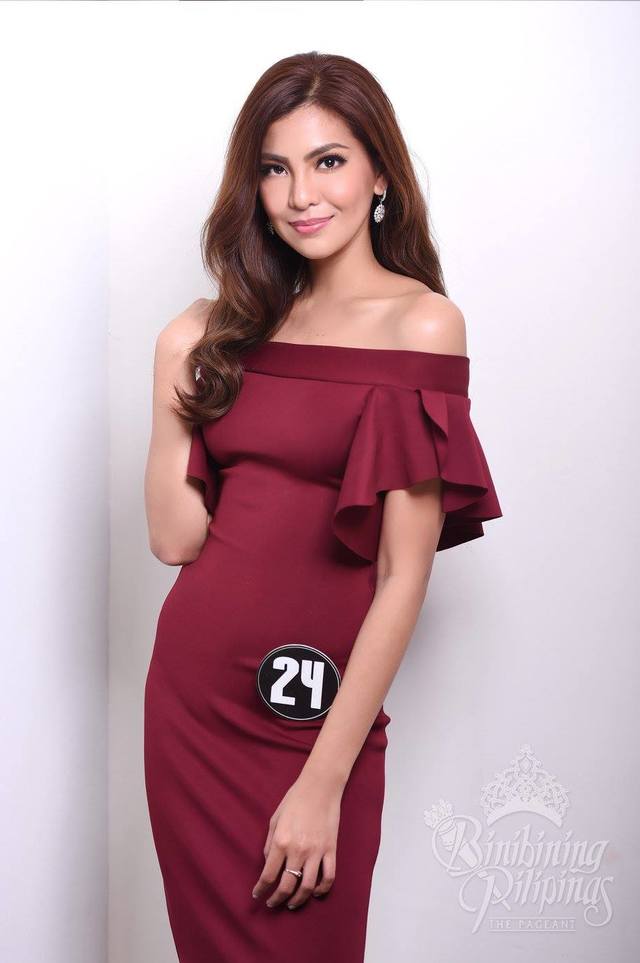 Edj is looking to improve her Top 15 finish in 2016. She has a very exotic and beautiful face. I love her morena look. She also has an amazing body and moves well in an evening gown. What she needs to do is to bring more personality into the game. Physically, she's already stunning, but she needs to stand out from the rest with a livelier presence.
Other Bb. Pilipinas returnees are:
Bb. #27 Henna Kaizelle Cajandig (2013), 25 yrs. old
Bb. # 4 Ana Patricia Asturias (2017 – Top 25) – 25 yrs. old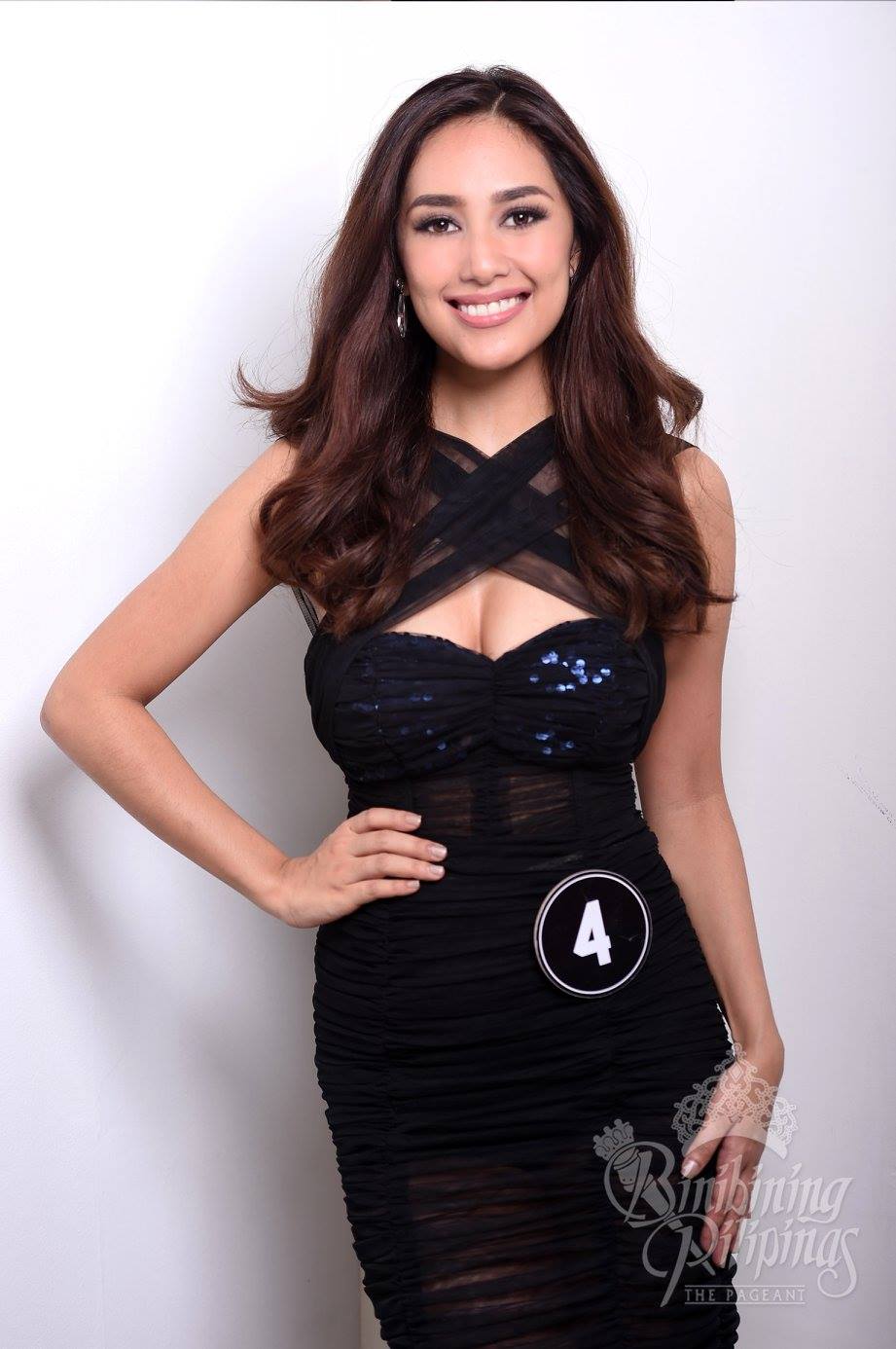 Bb. #13 Kristie Rose Cequeña (2017 – Top 25) – 25 yrs. old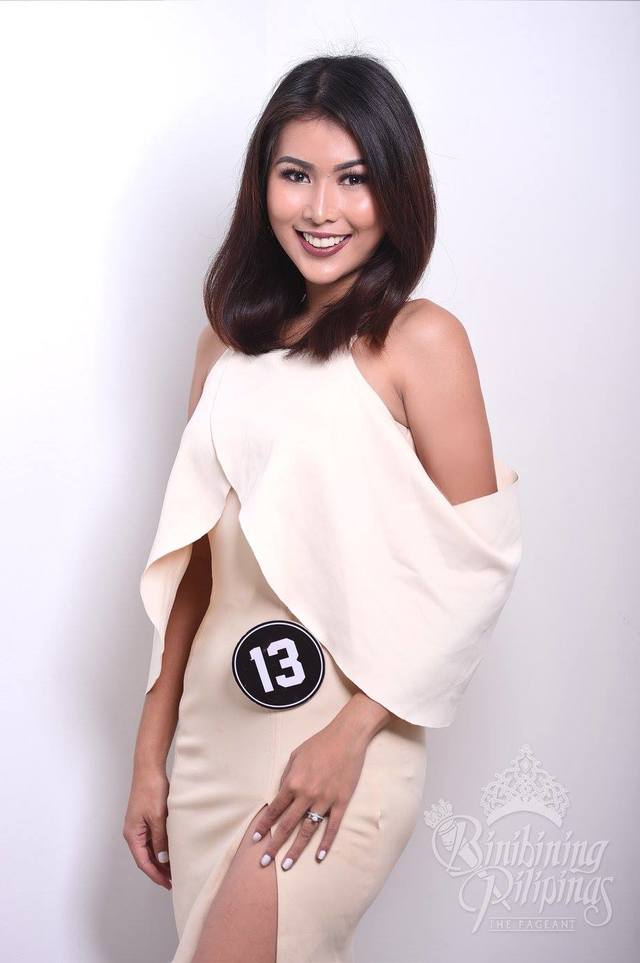 The 2018 Bb. Pilipinas edition promises to be an edition filled with surprises.
As was made clear during the screening results, previous pageant experiences does not guarantee placements for these candidates. Former Bb. Pilipinas contestants, Miss World Philippines' contestants and several regional titleholders who were thought to be a shoo-in did not make it into the Top 40.
It is important for all the candidates to be on their A-game at all times. They should not for one second rest on their rhinestones. However, their past experiences should give them that extra boost of confidence they need to believe that they are worthy of becoming a Bb. Pilipinas 2018 winner.
The Bb. Pilipinas Grand Coronation Night will be on March 18, 2018 at the Smart Araneta Coliseum.
—
This article originally appeared in Rappler.
All photos courtesy of BPCI unless otherwise indicated.